WebCEO Dashboard: The General SEO Report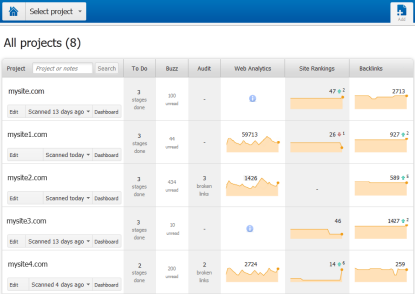 The WebCEO's Dashboard is a top-level SEO report listing all user projects. The SEO Dashboard has several indicators per site signalling about a website's progress. It shows the data characterizing website's performance and it gives information about the incomplete SEO tasks.
The SEO Checklist (To Do) tells how many active tasks you have, i.e. how many SEO and web promotion tasks remain unfinished. The Buzz Tracker gives you the number and refers you to the discussions that are going on (such discussions related to your business are potential backlink pages). The Website Auditor conducts SEO analysis, shows the number and pinpoints technical errors and SEO blunders that have been found on your site.
The SEO Dashboard also provides you numbers and charts related to your website's competitive position: view the website visitors curve to understand if your website traffic is going up (Web Analytics), search engine rankings chart (Rank Checker), and backlinks chart to understand if your search engine visibility is improving.
The WebCEO's SEO Dashboard serves also as an entry to the Website SEO Report (Site Summary) that is a project-level SEO report.
The Website SEO Report includes SEO performance statistics for a particular website. This Site Summary SEO report covers all of the WebCEO SEO tools and checklists.