Site Dashboard SEO Report
Get the Most Important Data from Your SEO Reports in the Site Dashboard
Unlike the top-level SEO Dashboard that includes compressed information related to all of your websites, Site Dashboard is a project-level summary describing each website's performance.
Once you configure and run each SEO tool and start tasks on the SEO Checklists, the Site Dashboard website SEO report will include numbers and charts.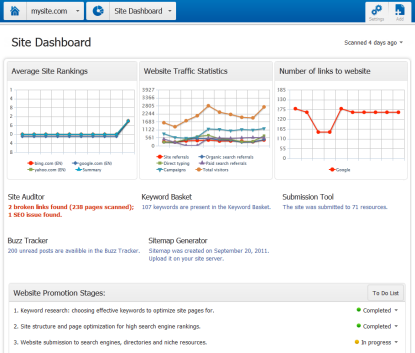 On the Site Dashboard, you will obtain answers to important questions related to your website's health, marketing progress and efficiency.
From this SEO report, you will learn if your website rankings are going up (Rank Checker), if your visitors' trend is growing (Web Analytics), if backlinks to your site are increasing in number, if your website is error-free (Site Auditor - Broken Link Checker), if there are search engine optimization recommendations that have not been implemented (SEO analyzer), and if there are mentions of your brand words (or other important monitored keywords) in the online discussions (Buzz Tracker).
The Site Dashboard will also show statistics on your keyword list (Online Keyword Tool) and on search engines where you successfully submitted your website to (Search Engine Submission). You can also see if there is a generated Sitemap waiting for uploading to your site server.
When you click on a reported number or graph, you will land in the corresponding SEO report or tool.
The SEO and web promotion tasks divided into stages can also be accessed from the Site Dashboard website SEO report. You can manually change status of any stage to remember how many of the SEO tasks have been completed on the predefined SEO Checklists.