17 Ideas for Killer Link Building
Actionable Checklist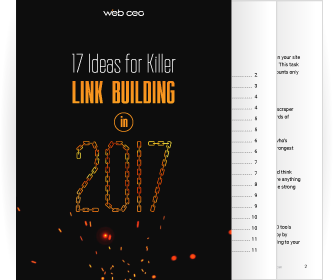 Privacy policy: We will never sell your contact details to 3rd parties
Already a WebCEO user? Get the Guide>>
Link building is one of the cornerstones of SEO - that's a fact. But how exactly do you get those relevant links from authoritative websites? What steps do you need to take?

This "17 Killer Link Building Ideas" Handbook answers these questions and gives you actionable how-tos in the form of a checklist. Real examples that worked for others will work for you, too!

What's Inside the Checklist:

The Skyscraper Technique for creating winning content and what to do next;

Offline events, HARO and other not-so-obvious ways of obtaining backlinks;

Making use of your competitors' content and links and much more - 17 ideas in total.

To help you make a starting point, WebCEO's Competitor Link Profile report will let you discover your strongest competitors and start building links effectively. Register for a free 14-day trial of WebCEO and apply the tips from the Checklist!