5 Signs of Bad SEO
You Should Beware of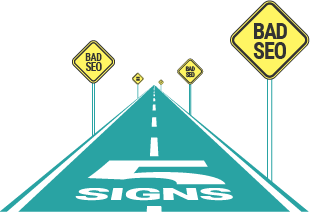 Privacy policy: We will never sell your contact details to 3rd parties or fill your inbox with nasty spam
Have you experienced a drop in rankings with a loss of traffic and a lower conversion rate? This could have been caused by these 5 critical SEO disorders:

MULTIPLE SITE-WIDE BACKLINKS

Such links may be considered by Google as toxic links and dampen your rankings. Be sure to regularly check your site for low-quality backlinks.

Solution: WebCEO's Backlink Quality Check tool > Toxic Links

DUPLICATE OR POOR PAGE TITLES

Google Panda hates low-quality pages and duplicate content. Check to see if you have pages on your site with duplicate, missing or poor TITLE tags.

Solution: WebCEO's SEO Analysis tool

SERVER ISSUES OR BROKEN LINKS ON YOUR SITE

Broken links and inaccessible pages might turn your clients and search engines off. Make it an essential weekly routine to run site health checks.

Solution: WebCEO's Technical Audit tool

YOUR SITE IS NOT MOBILE-FRIENDLY

Mobilegeddon slashed the rankings of many sites last year, so check if your site complies with Google's "mobile friendliness" requirements.

Solution: WebCEO's SEO Analysis tool > Mobile Optimization

NO SOLID WEBSITE THEME

Google Hummingbird is smart enough to pinpoint your theme correctly and rank your site the way it deserves. Make sure to diversify keywords in your content and form link texts to your advantage.

Solution: WebCEO's Internal Links tool

Is your ranking ground falling out from under you? It might be really frustrating to check this all by hand while WebCEO can do it automatically for FREE!