WebCEO Moves Your Site Quality Checks to a New Level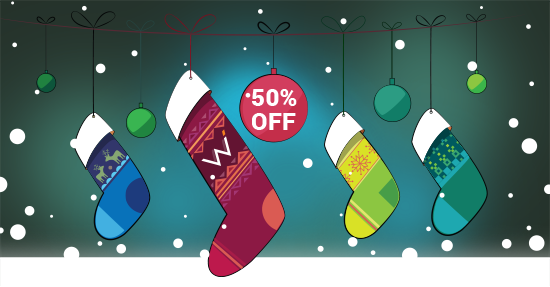 It's Christmas time and that means sharing a positive mood and giving gifts to people we care about. We at Web CEO have done our best to make our stocking stuffer ready in time. Have you noticed the presents under your Web CEO "account tree"?
First, we've just completely renovated our SEO Analysis Tool by adding more ranking factors, so be sure to check it out. Second, you can subscribe to a Silver, Gold or Platinum Plan for 1, 3 or 12 months, and get an equal subscription term for free!
What is new in the SEO Analysis tool?
We totally rethought the SEO Analysis module to get in line with up-to-date search engine guidelines. WebCEO analyzes a website, detects issues that may reduce its rankings and provides advice on how to fix the problems; now in an even more intelligent way.
Landing Page SEO Report
To analyze a landing page, go to the Landing Page SEO report of the SEO Analysis tool, specify the keywords you want to optimize the page for in the report Settings and get a detailed report of what you've been doing right or wrong so far.
The Landing Page SEO report consists of three parts:
Informative tiles that help you evaluate your page progress quickly.  Here you will see the optimization score of the page, the number of critical SEO issues and the issues you may consider fixing, the Google PR, the number of broken links found on the page and the number of internal inbound links the page has.
Keyword placement map helping to overview what keywords are used and missing in the most important SEO areas of the page such as the Title, Description tag, H1 heading, etc. Here you will also be notified about the keyword density in Body text to be sure your texts don't look like spam for search engines.
SEO issues and instructions how to fix them. All found SEO issues are divided into "Critical" and "Consider Fixing" categories, according to their expected effect on a page's ranking. Be sure to fix the critical SEO issues first.
You can move factors from critical to consider fixing and vice versa if you feel this is necessary, or you can uncheck SEO factors that you do not want to check a page for. Click on the image below to get a sample Landing Page SEO PDF report or try Web CEO SEO Analysis for free.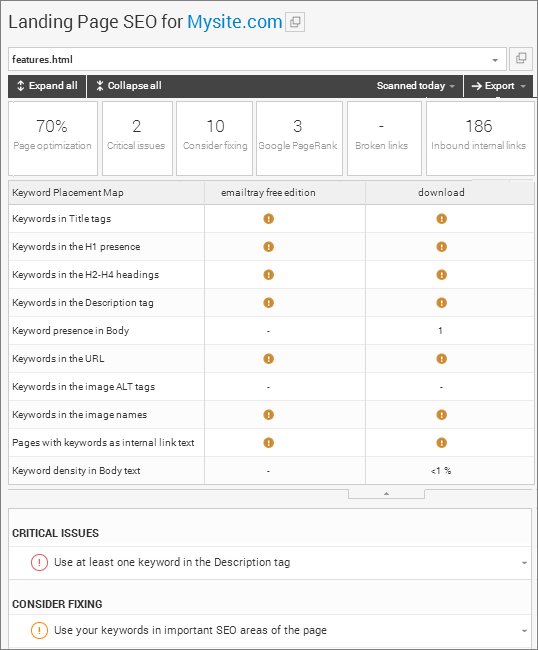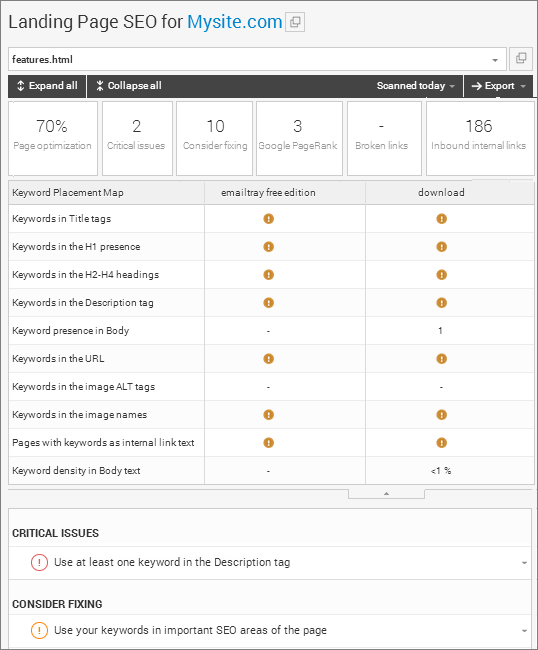 Landing Pages Overview
The Landing Pages Overview report has been created to give you quick information on the most important metrics of your landing page. It integrates data from several WebCEO tools and it is great to see your progress over time (the data in the Landing Pages Overview updates when you rescan the tools). Here you will see the page optimization score, the number of SEO issues to fix, desktop and mobile page speed, the broken links, backlinks, social media popularity, average position on Google and visits for the last 30 days.
Click the image below to see the full screenshot.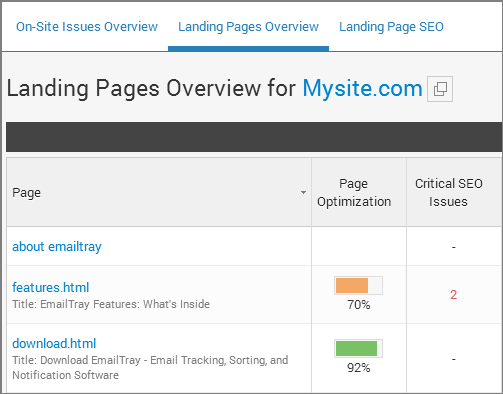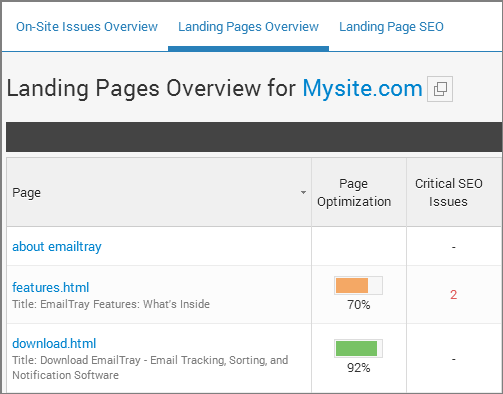 Page Speed
The new Page Speed report, powered by Google, detects issues that make your page load time longer. If your page doesn't load quickly enough, you may lose customers and get lower rankings.
Mobile SEO
The world is shifting towards mobile and it is vital to have your website optimized for mobile devices so you won't lose customers. The new Mobile Optimization report detects issues that may influence your landing page rankings in mobile search and gives you recommendations on how to fix them.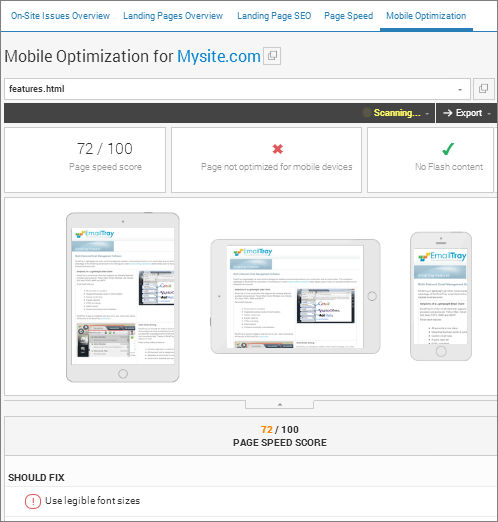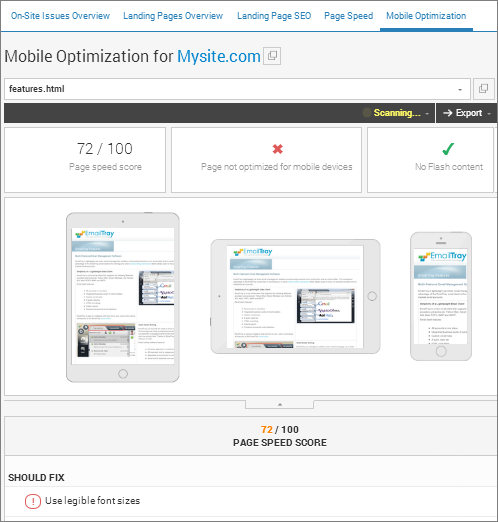 Popular Pages
The Popular Pages report is powered by Google Analytics & Webmaster Tools and is here to help you detect pages that you may not pay enough attention to, considering that your visitors do. Check pages with a high number of impressions but a low CTR; they may need better Titles and Descriptions to bring you targeted visitors. Mark these pages as landing pages and start optimizing them for higher conversions.
Technical Audit
Technical site quality is one of the factors search engines use to rank pages. The Broken Links tool that you know well has now been updated to become the fully functional Technical Audit tool. It investigates your site for broken links, images, missing anchors, server and page access issues and detects slow response time pages.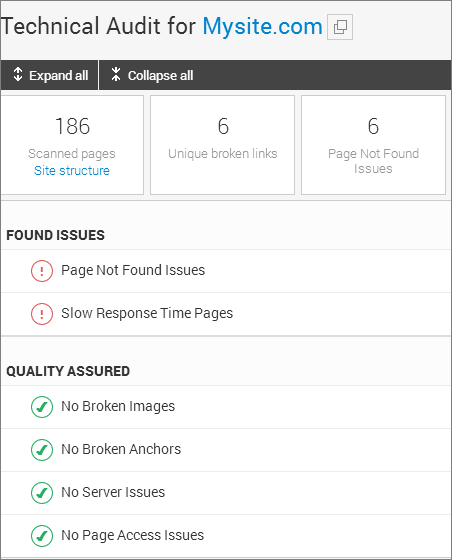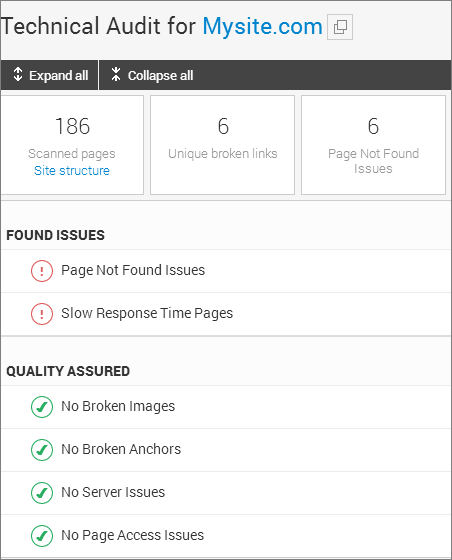 Click the image above to see the full-sized screenshot.
If you have not yet tried out our powerful platform with Google-proof SEO reporting tools, sign up now for any paid plan and get your subscription term DOUBLED.