WebCEO Update: Google My Business Integration for Local SEO [BETA]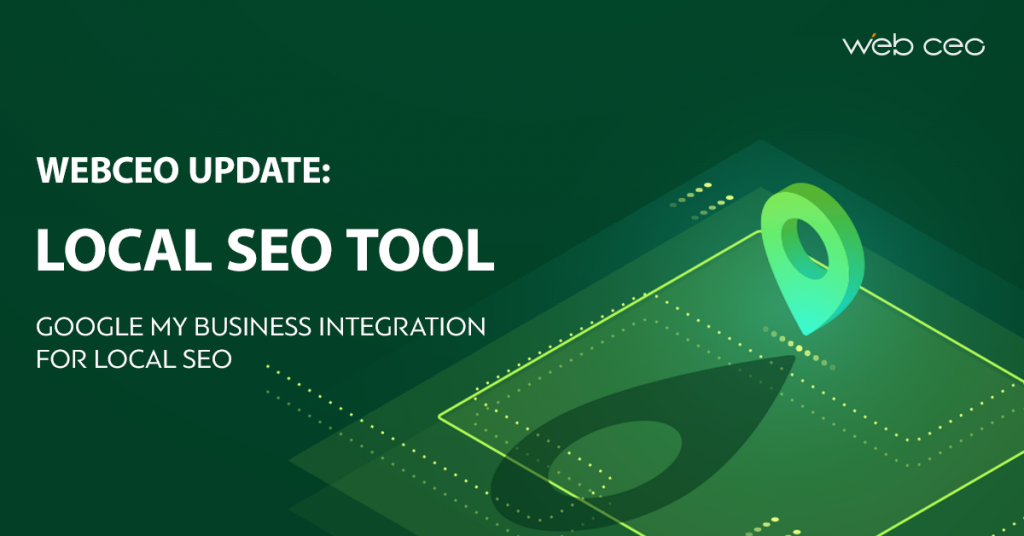 Time flies, new features emerge, new tools are presented. Google never sleeps for its users, and so WebCEO employees almost never sleep while trying to help you be the first and the best.
Today we are happy to present to you a new tool in the WebCEO Platform, which our team has been working on for some time! The aim was an integration with Google My Business; to collect the most crucial data regarding your local competitors to provide you with necessary statistics for local business management. We have succeeded in creating something amazing and now we want to share our excitement with you!
If you are a locally oriented businessperson, this release is for you. If you want to keep track of your local performance better than your competitors do, we are here for you. Fasten your seatbelts, WebCEOers, because we are going to open a new page in local business management.
You may ask:
"We already have the original Google My Business. What is your version for?"
And the answer is:
No need to leave WebCEO to deal with basic Google My Business data in one place;
Historical data will be provided with deltas;
Enjoy Google My Business integration with the other SEO tools;
Local competitor overview (introducing the Maps Rank Checker).
Google My Business is surely a great application to boost your local visibility and attract local customers. No doubt. However, the original Google My Business is enormous in terms of data provided: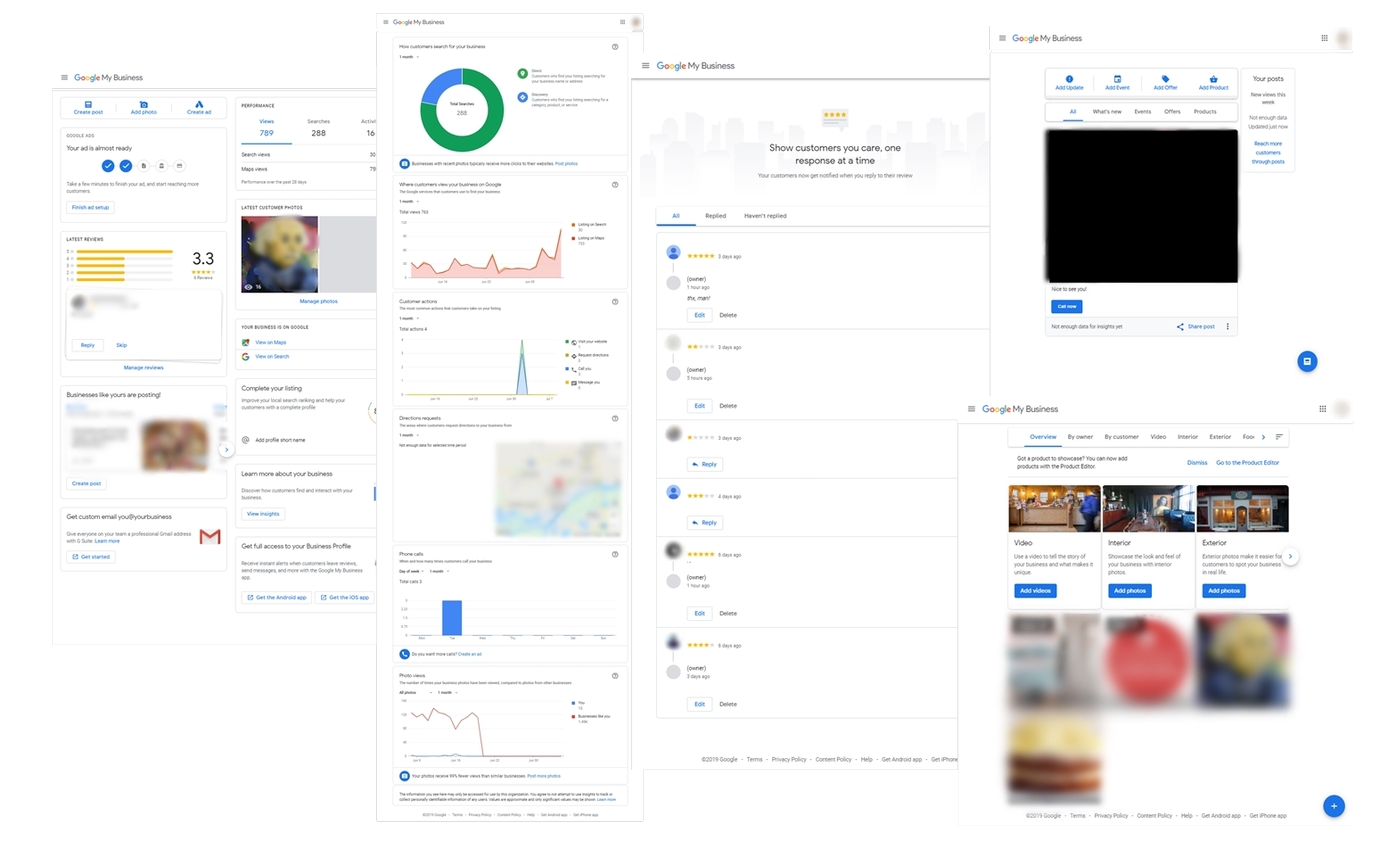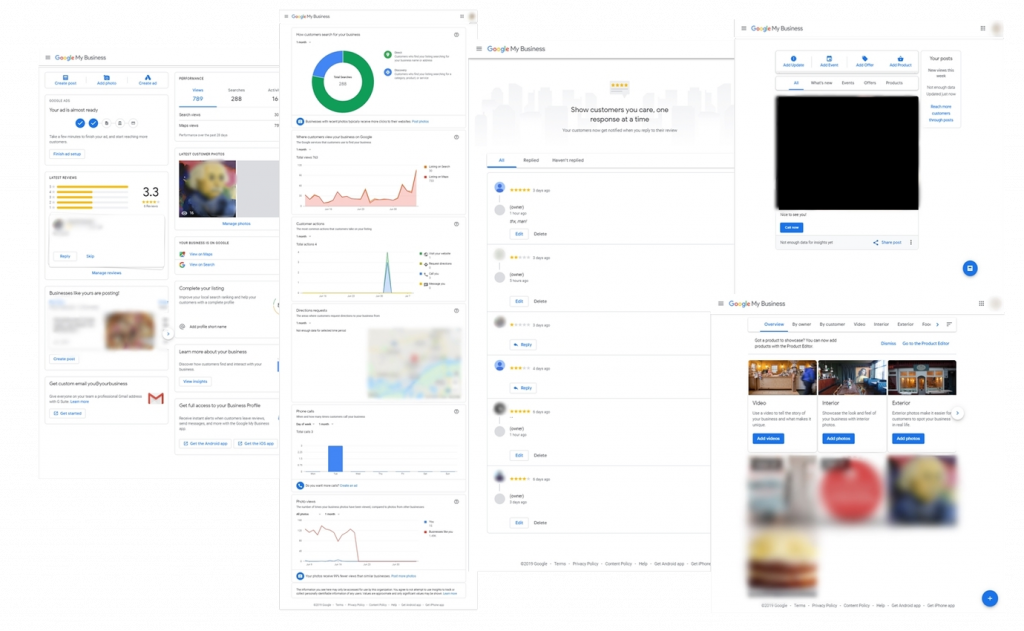 Here WebCEO's Google My Business Tool [Beta] takes the stage, dusting your statistics and giving you a picture of your local business performance outlining only essential components.
Let's take a look at the various parameters presented by WebCEO in a very useful new SEO tool: Location Insights, Reviews, Local Competitors.
 I. Get a Birds-Eye View of Your Google My Business Performance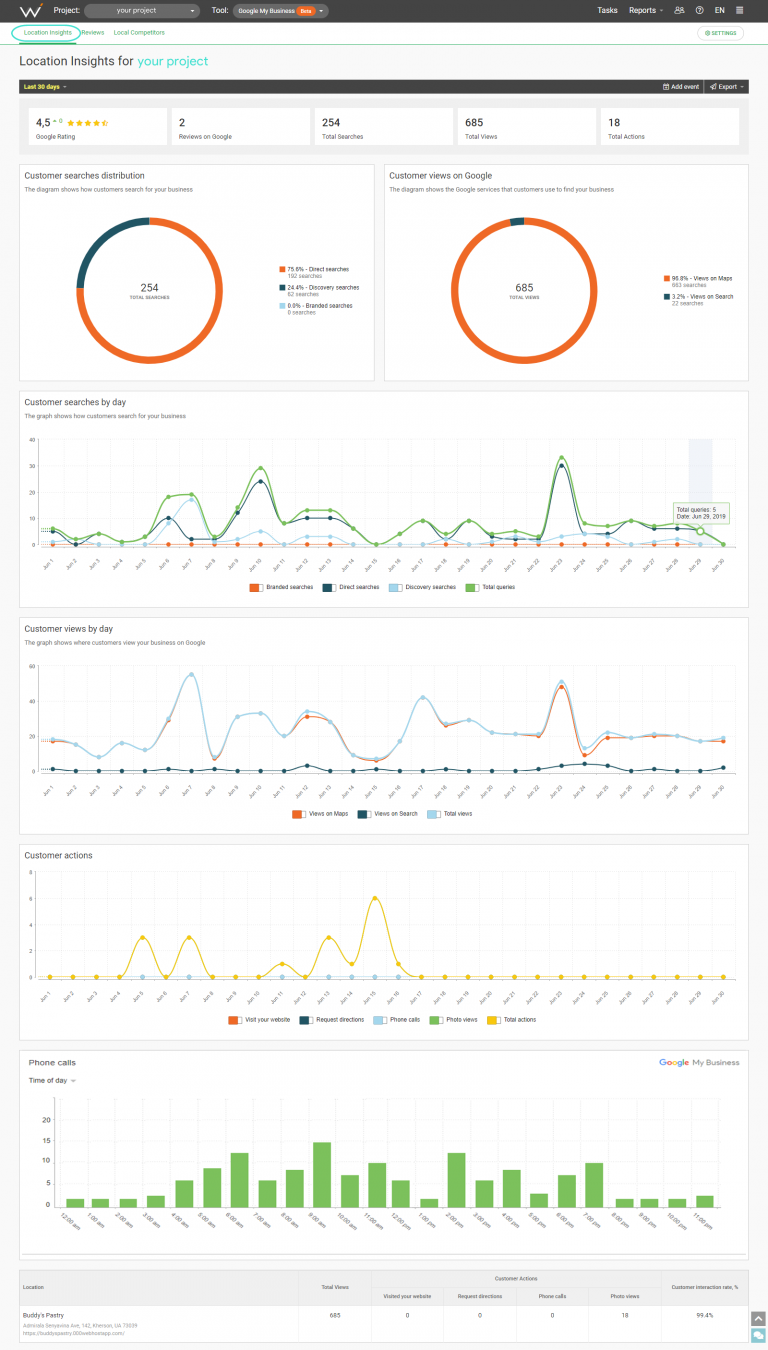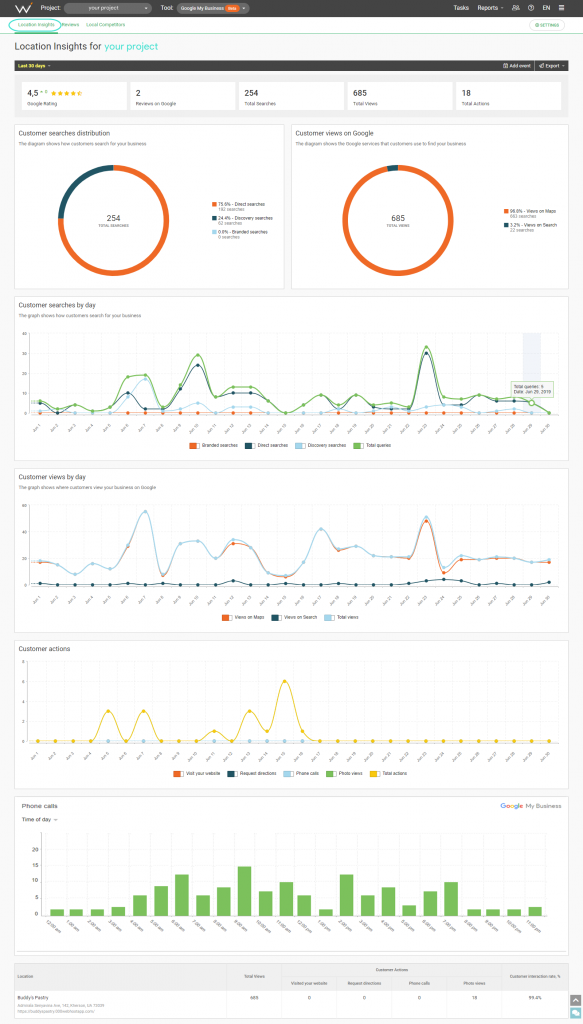 While Google produces quality, we prefer to combine it with simplicity.
"Location Insights" shows you statistics concerning your visitors on Google Search and Google Maps, their behavior, and the success of your local business. A feature you may like a lot is the brief overview at the top, which allows you to complete a quick analysis of changes if you don't want to dive into details: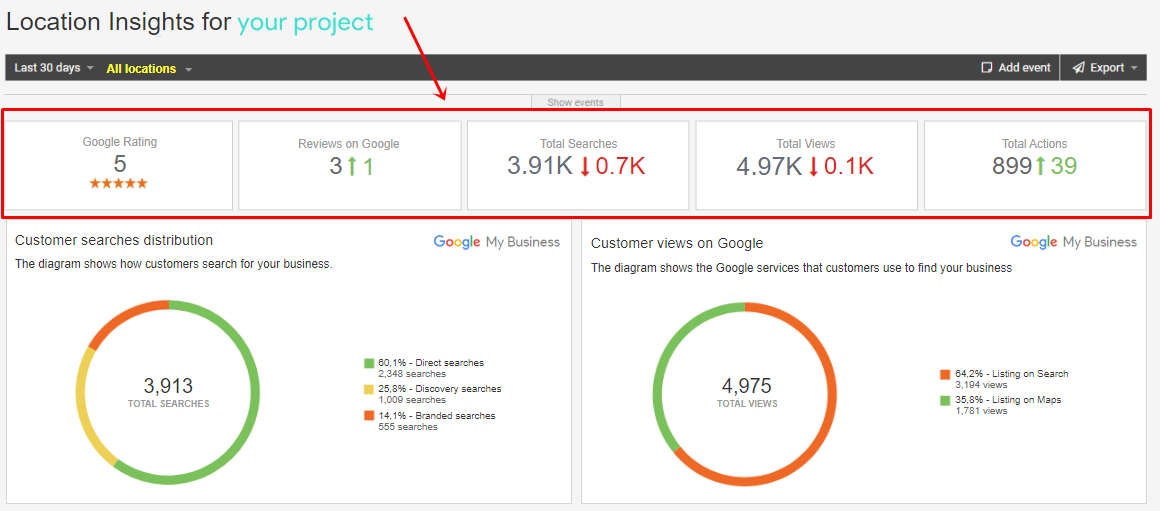 In comparison with Google My Business, this is more comfortable. Yes, Google My Business also has a brief overview, however, it is much bigger and you will need to go to other sections in order to find extended data in this category regarding your performance through various time periods. Thank you, Google, but my time is limited.
With WebCEO you will just need to scroll down a bit to get more detailed information in the same section. Our mission here is to save your time (and nerves).

WebCEO's Google My Business Tool [Beta] takes the information from your Google My Business account and shows you not just a figure, but your rating inflation or deflation. Next to your average score there is an up and down delta arrow which will show an increasing (green color) or decreasing (red color) position and by how many points you've succeeded or failed in comparison with the previous scanning.
Google My Business itself gives you only your current rating:
So, track your success with our team!
Reviews on Google Over Time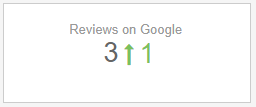 A simple section which shows the quantity of reviews you received through Google Maps for the last week, month or three months and, of course, green or red up/down delta arrows and numbers will show whether people are glad to leave a comment or something is wrong.
Google My Business itself doesn't show you data regarding the quantity of new reviews along with the amount this number has decreased or increased in comparison with previous time periods. Thank you, Google, next.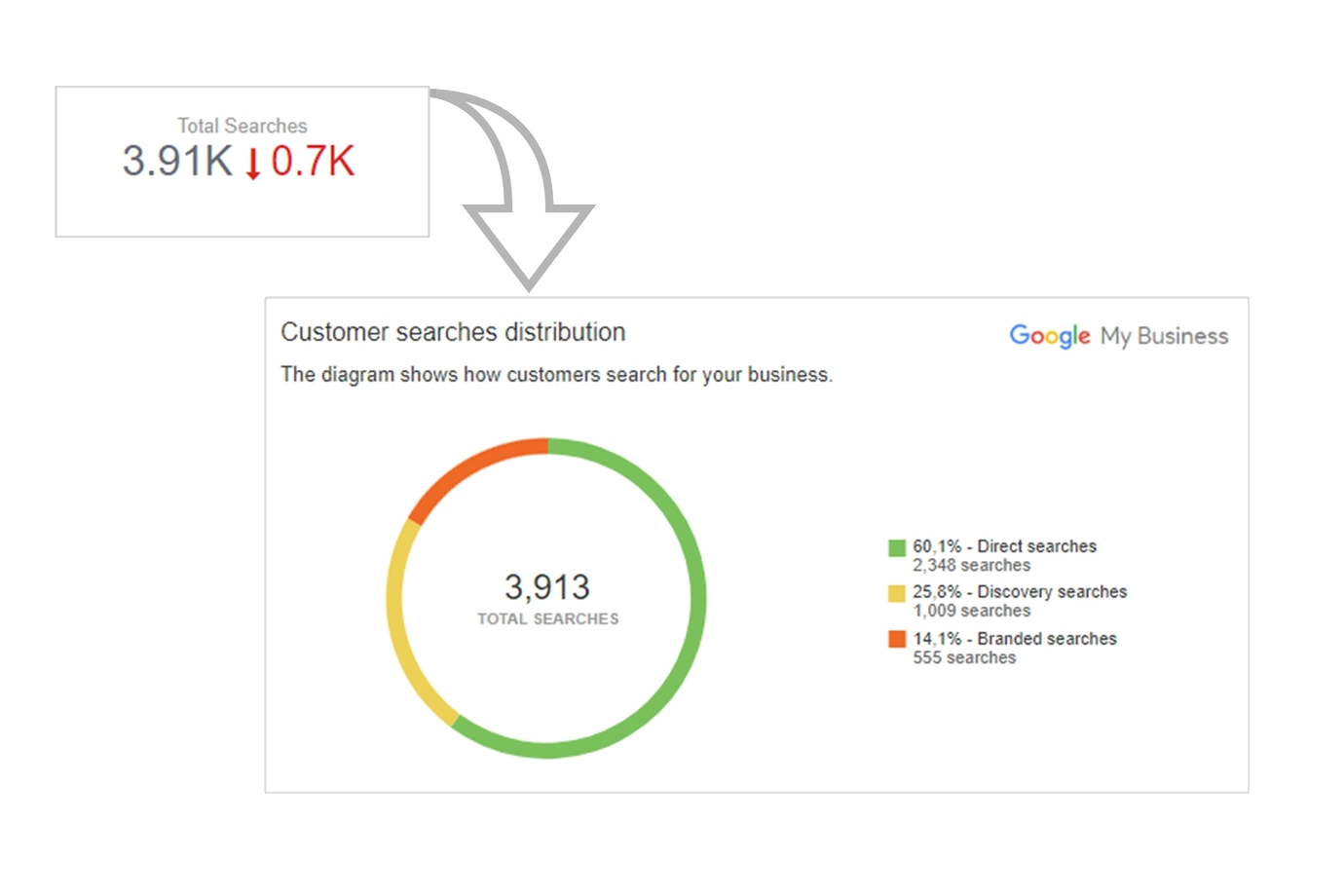 The name of this feature describes its goal: to show a local business owner HOW people have found his or her place on Google Maps. Pay attention to the fact that you receive not only the number of searches, but also a detailed report on the percentage of various types of searches:
whether people found you by typing the name of your place (or a shortname) in a search box (direct searches),
seeing your business in a specific category, product catalogue, or service list on Google Maps (discovery searches), or
encountering your listings by accident while searching for brands which somehow relate to your sphere (branded searches).
As a bonus, you also get our up/down delta arrows and numbers to show how much traffic you got or lost for the last week, month or three months.
There is also an opportunity to track this kind of data by day with the help of a line chart which is also included in the list of Location Insights' features: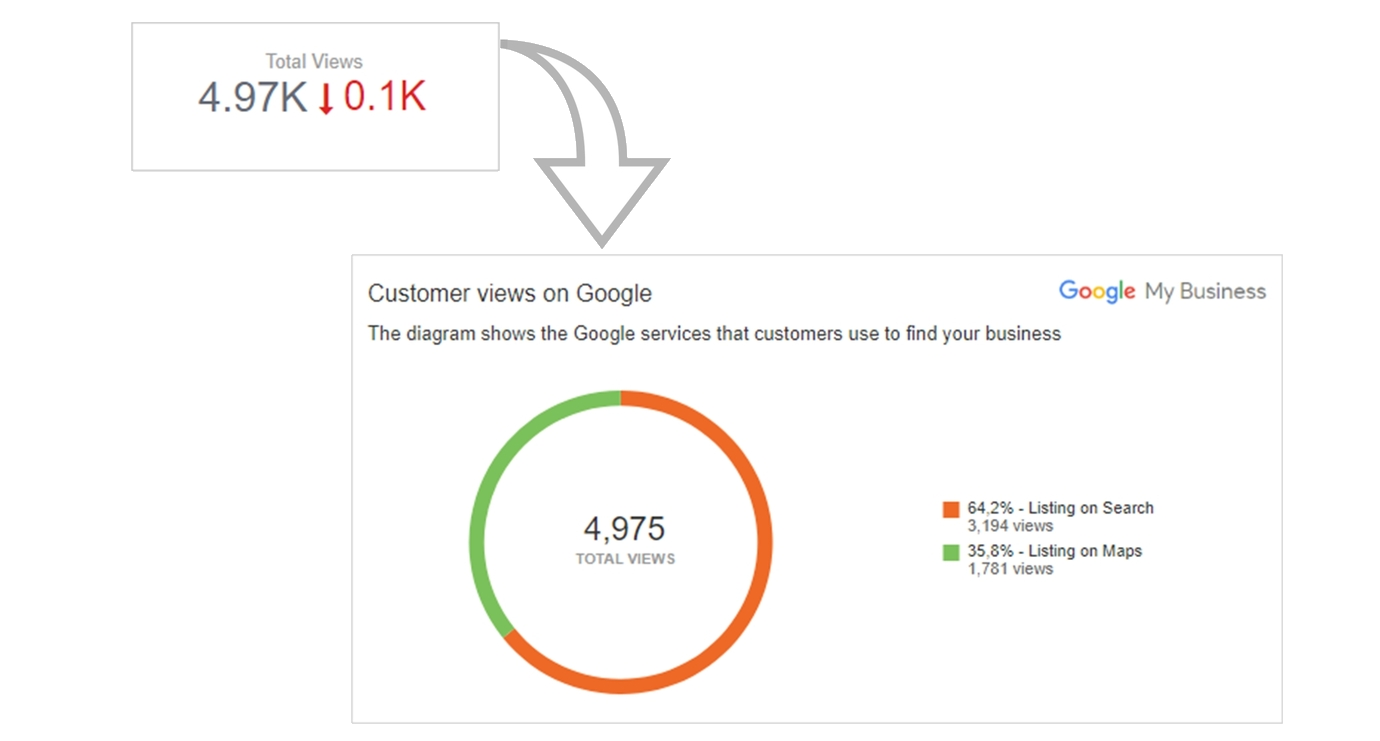 Pretty simple and extremely useful simultaneously: this feature shows WHERE EXACTLY people found a local business on Google. There are two variants as you can see: on Search and on Google Maps.
Why is this important?
Simple: you should be the first everywhere and we want to help.
As you know, Google tries to make local search results more independent from organic search results, and your positions in those two types of search may vary. So, if a local business is good enough in organic search results (shown in the image above), but plays badly in local search results and vice versa, this is a warning call that a business owner should pay more attention to a website's optimization or Google My Business optimization.
We can't forget about the line chart which shows data by day. With this you can easily learn the pattern of your viewer growth and on which kind of search you maintain the best positions.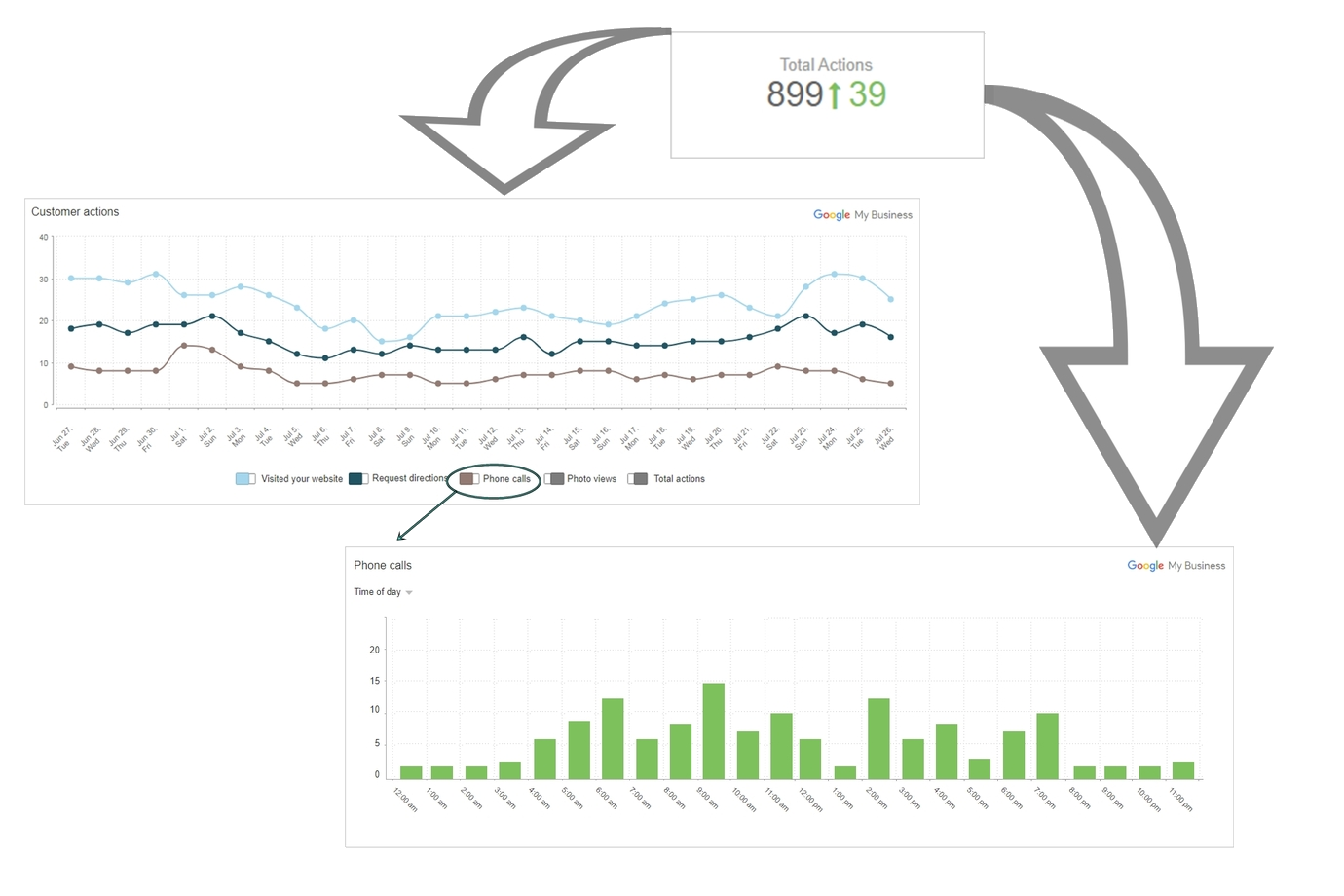 The Feature "Total Actions" shows people's behavior regarding your local business on search and gives detailed statistics in figures about the:
quantity of visits to your website;
number of requests to see your business location directions;
amount of phone calls to your office via Google Maps with a detailed bar chart by time of day or day of week;
quantity of photo views.
You can see a table at the end of the page, where the same statistics are provided, but in clear figures, without diagrams and bright colors, if this type of data presentation is more comfortable for you.
We also provide something you can't find on the diagrams –> the customer interaction rate in percent.

Compared with Google My Business, such a presentation is again more user friendly and simple. By alternating circle diagrams, tables, bar charts, and line charts, we try to help you to more quickly understand different types of information. Once you remember our pattern, you can visually process needed data more quickly without leaving our SEO platform. Moreover, you can see your positions shift with the help of deltas. Google doesn't do this for you.
If you are an owner of a chain of restaurants, cafes, bars, and other venues, we will take care of you! WebCEO provides users with a comfortable way to switch between different locations of a business and we show data concerning:
all locations together in a combined report;
one exact location you need;

We are sorry, Google My Business, but you are a little bit complex at this point. If a user wants to check a specific location's statistics, it's tough to switch from one place to another: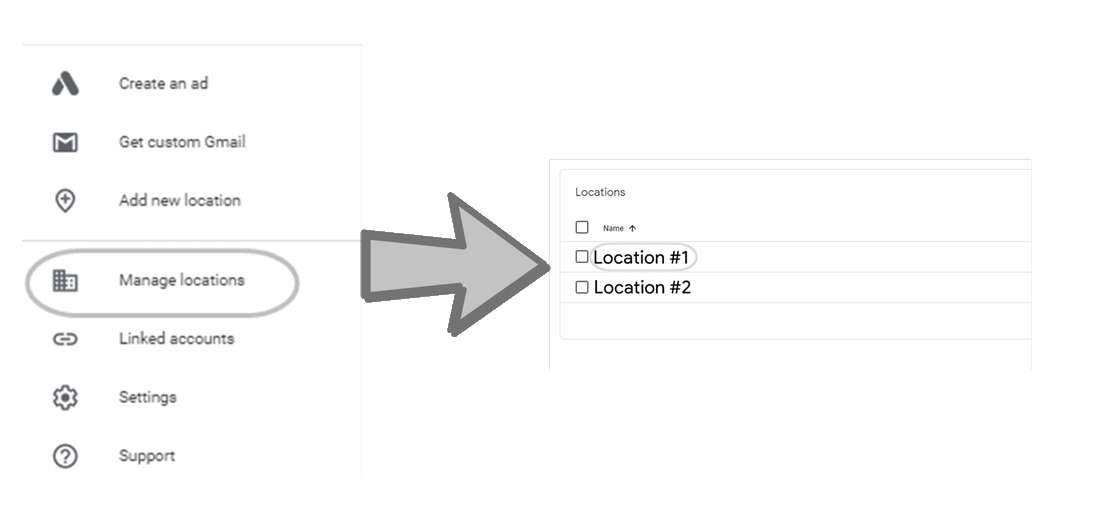 …and then you will still need to navigate among sections while in WebCEO you just switch instantly.
II. Attract New Customers by Checking and Analyzing their Reviews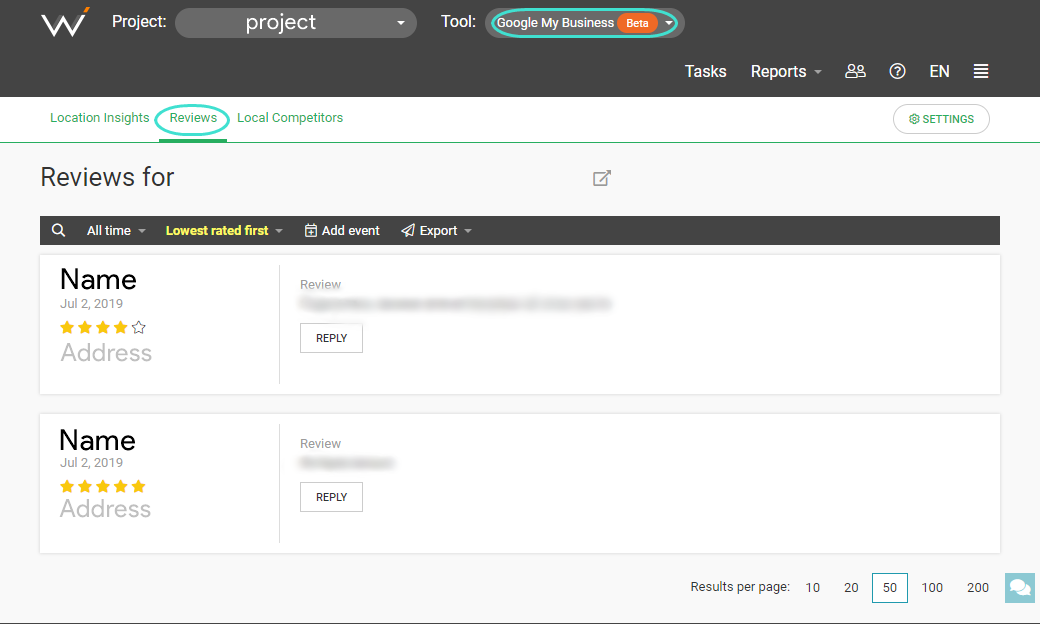 This feature makes WebCEO Google My Business [Beta] especially useful for those local business owners who receive a lot of reviews, because you can now reply to all of them with no need to enter the service! You can do it straight away from WebCEO, and also delete or edit them.
There are two handy filters you can use to sort reviews:
time filter, which presents you a list of reviews for the last week, month, or during all the time:

rate filter, with the help of which you can see a list where at the top will be reviews sorted be rate or time of submitting: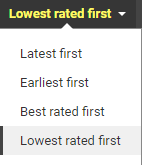 In Google My Business itself, you can't rate your reviews by their freshness! WebCEO can.
Besides, you can also conduct a search of reviews: if you need one particular review with valuable information concerning the level of service, food, etc. at one of the locations, but you can remember only several words, you can just type them in a search box and get the needed review(s).
Also, you can type any words which may be related to the quality of service at your restaurant/bar/café (e.g. "awful", "bad" or "brilliant") and see if there are any matches regarding how well your workers perform.
Why have we decided to add this feature?
Because this is essential. People are your bread.
That's why engagement is always an important thing! By answering the reviews, thanking and maybe rewarding people for bad or good reviews, you will reassure them as to your reliability and earnestness as the owner. They can see that you care about each word they said, and this raises trust and a desire to return to your place. And this is one of the easiest ways to see if your business needs any improvements.
III. Get Essential Info On Your Local Competitors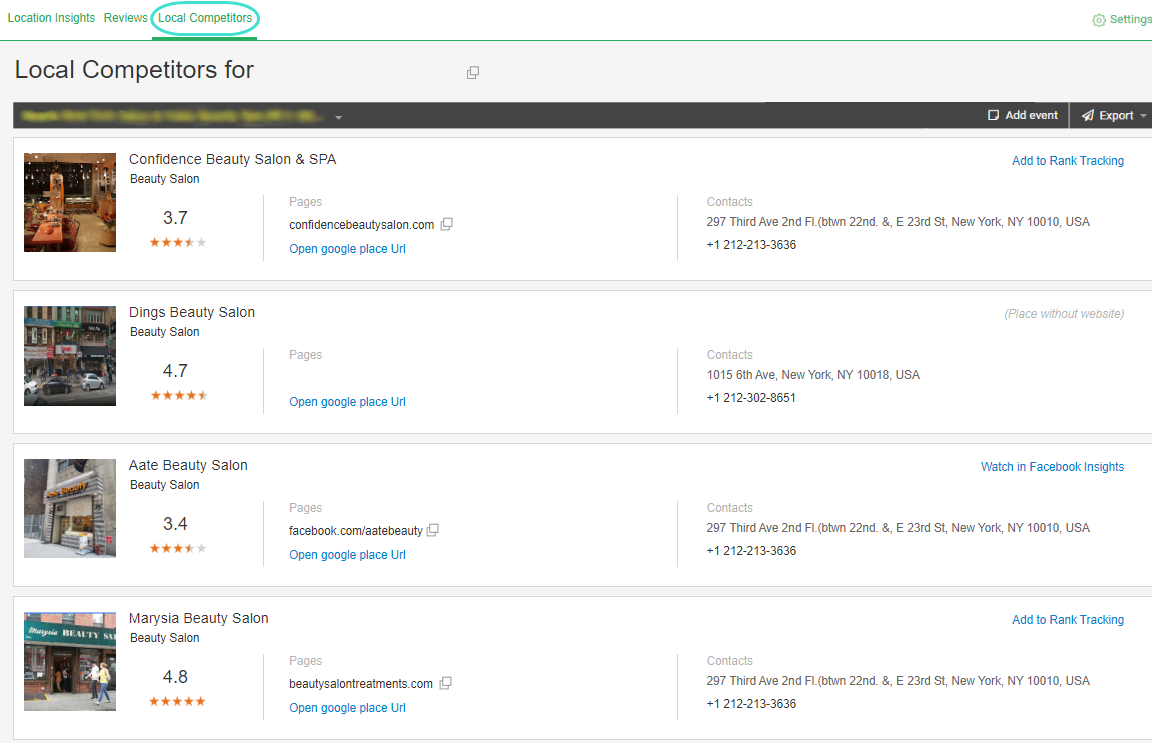 Take the Cherry from the Top of Your Local Competitors' Cakes!
You can't lose your local competitors from your line of sight, especially if you have a lot of locations and this mission is harder to carry out.
The Local Competitors feature is like a "Google Maps Rank Tracker", which shows your success with local SEO over time and gives a clear picture of your real competitors. You will never find this feature on Google My Business and we are happy to give you access to this as part of our SEO platform!
From now on WebCEO will show your local competitors with data from Google Maps. With this you constantly see the:
name, phone, and address of the competing venue with its website;
category of a competitor's business;
Google rating;
Google Maps coordinates: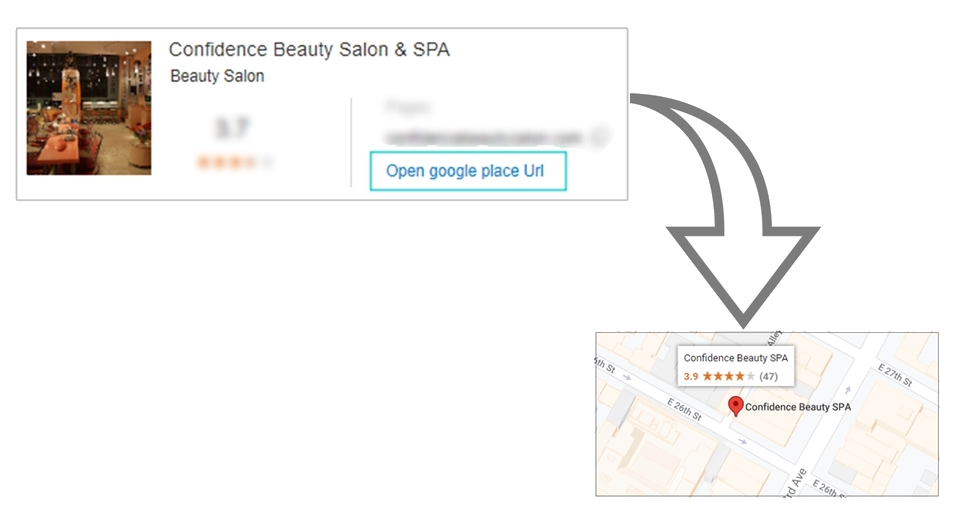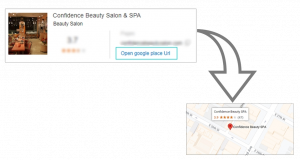 An interesting detail: the list order of your competitors will be similar to what your potential clients see on Google Maps while searching for a place in your category.
[EXTRA BONUS]
LEARN ABOUT COMPETITORS YOU'VE UNDERESTIMATED!
In the list of your local competitors, you can analyze those missed earlier. Then you can easily add the local business of a competitor to the other WebCEO tools in order to keep track of their performance and guard your rank position! Consider their positions on SERPs, the backlinks they have that you don't yet have, and their social media engagement, all via the appropriate WebCEO tools.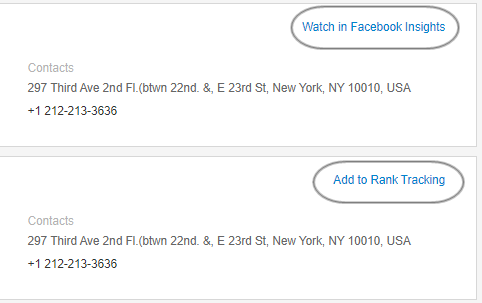 WebCEO is always here to help you outdo your competitors!
Scanning and Reports
Scanning can be carried out daily for local business owners to always be on the ball and satisfied with the freshest data.
People who have been with WebCEO for a long time know that we provide our users with branded consolidated reports, and, of course, those who run a local business can include data taken from Google My Business into these reports!

Limitations for Price Plans
So far WebCEO sets the following limitations for WebCEO's Google My Business [Beta]:
Free trial: 1 location for a project.
Solo Plan: 1 location for a project.
Startup Plan: 3 locations for a project.
Agency Unlimited Plan: 5 locations for a project.
Corporate Plan: 5 locations for a project.
The Future Is Coming: Learn What You Can Wait For  
WebCEO is not Google, yet we learn fast what's going on with them.
We try our best to care not only about our users, but also about their websites.
WebCEO always provides users not only with the results of their performance, but also provides tips about how to make those results better. And this time we will not leave you without useful pieces of advice! You can look forward to the upcoming updates and follow our helpful guidance in order to be the first on each type of Google local search result!
IN CONCLUSION, if your niche is a local business, this tool is definitely for you! WebCEO will help you to maintain your business performance, keep an eye on your competitors and build up a connection with your customers! Don't miss your opportunity to do all this.