Your SEO Strategy Guide for 2019
How to Master SEO Trends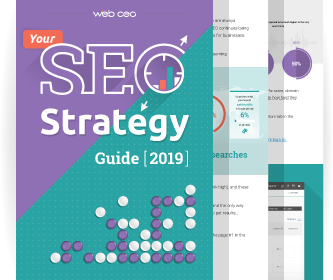 Privacy policy: We will never sell your contact details to 3rd parties or fill your inbox with nasty spam
Search Engine Optimization (SEO) means not having to constantly pay for website traffic. You can hire a team of specialists to put your site on Page #1 of Google - for a very hefty fee, that is... Or you can do it yourself. Seriously? SEO on your own? Yes, you can!

This SEO Strategy Guide for 2019 has got you covered.

Just like Batman has a plan for everything (even not having a plan), this do-it-yourself SEO Guide has plans for:

How to design a website structure that will maximize your rankings;

How to provide a superb UX that will keep users coming back;

How to use your competitors' strengths against them, and many more!

The guide comes with all the tools you need to get your SEO campaign started - and never stop until you reach the top. Register for a free 14-day trial of WebCEO and apply the tips from this Guide!