12 Big Steps for Small Local Business SEO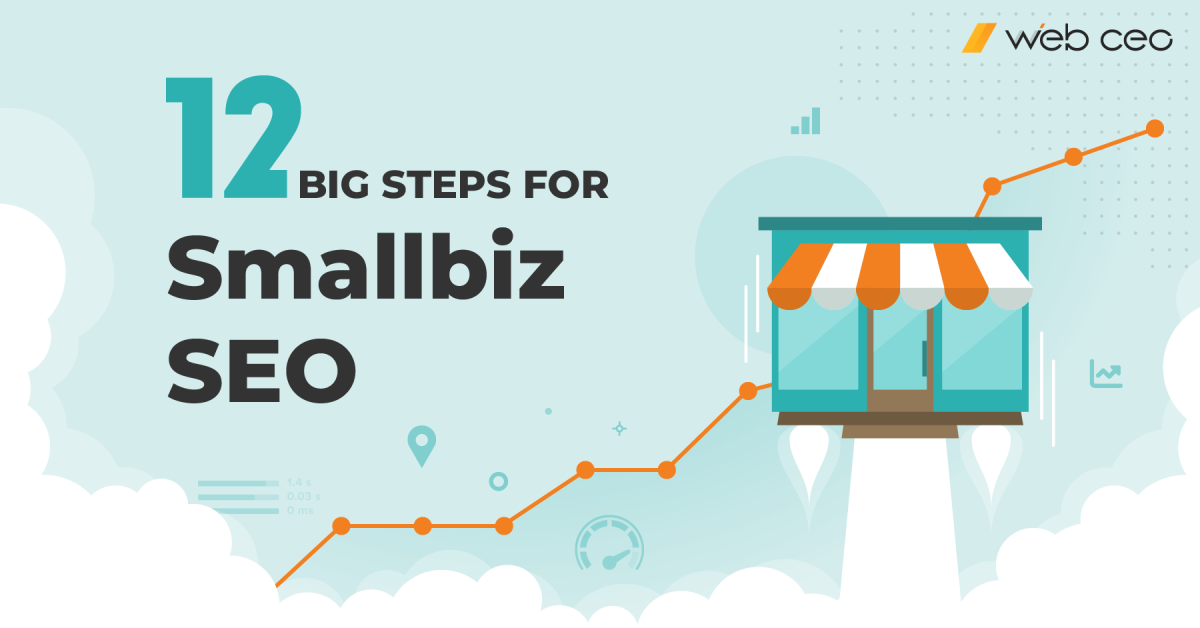 In this day and age, it's hard to find a business that doesn't have its own website – literally. No online presence means no customers. Modern businesses are completely dependent on the Internet, and it's especially true for small businesses which have to compete with giants in their industry.
But if you have a website, you are off to a great start. All you need to do is make yourself more visible on the Web – through the means of small business SEO. The path is long, but nothing you can't handle. Now, what makes a good SEO strategy for small businesses?
1. Create content for your target audience
If you are a pro, this should be a piece of cake for you.
Before everything else, there is content. Websites live or die by it. Your site's purpose is to convince potential customers that you have what they need; therefore, your site must have every bit of relevant and useful information.
For example, a website for a dentist clinic would benefit greatly from detailed descriptions of each provided service. They would convince visiting users that the clinic is run by professionals who know their job, as well as assist in picking the service they really need. What's more, detailed information is a direct signal to search engines: this website is actually useful and deserves a ranking boost.
In short: figure out what sort of information your customers need and put it on your website.
2. Find and use keywords
Type a few words in Google search, and websites will appear. You want yours to be there, too – and on page #1. How to make it happen?
It starts with finding the right keywords (for using on your site). But how can you tell the right keywords from wrong?
They are not too short, simple or vague. Only the most famous businesses can rank for keywords like those. (Examples of what not to use: donuts or tasty donuts.)
They are descriptive and specific. For example: healthy gluten-free donuts. But we can still do better:
They reflect user search intent. For example: healthy gluten-free donuts delivery. With a keyword like this, it's impossible to mistake what the users want when they type it.
They include words like near me, closest, in (city). Location-based keywords are especially important for small businesses.
They have a decent number of monthly searches. You want at least a few hundred per month.
So how do you find the keywords you need for your small business? With SEO tools, of course. Here's what you can do with WebCEO's Keyword Suggestions tool: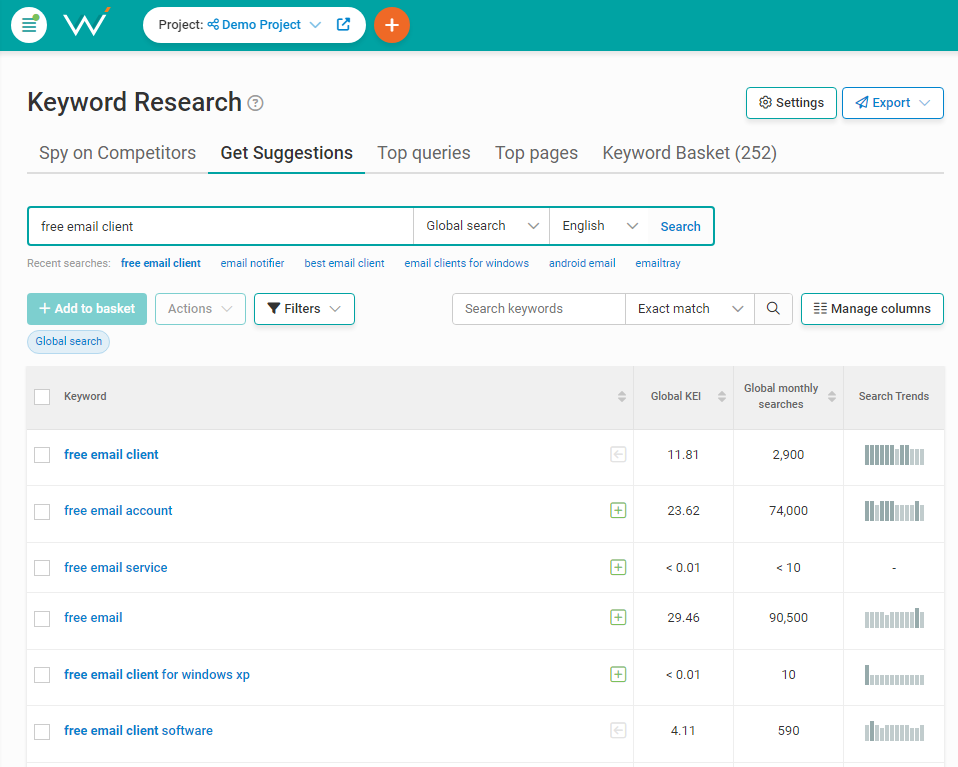 Don't forget to press that Settings button and fine-tune the tool to your business' location. Do that and you'll know exactly how effective the keywords are in your area.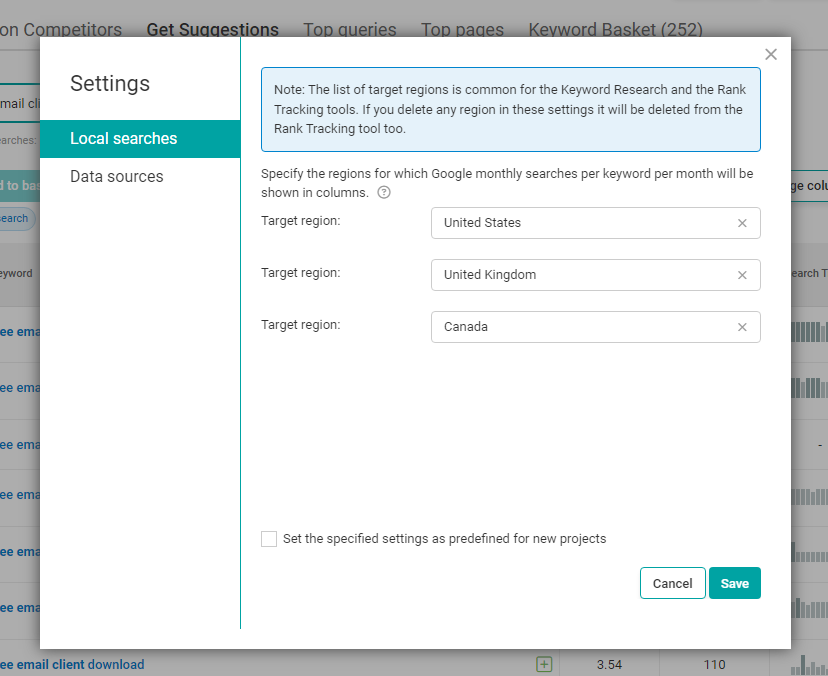 Once you have your keywords, put them in these places:
Page titles;
Page meta descriptions;
Page URLs;
Image filenames;
Image ALT texts;
Link texts;
H1-H4 headings;
Anywhere you can use them naturally in your texts.
And stick to these recommendations so your keywords don't cause your site any harm:
Avoid optimizing one page for multiple unrelated keywords.
Likewise, avoid optimizing multiple pages for the same keywords.
Include your keywords in text sparingly, in a natural way. Like you would use them in a live conversation.
3. Identify local competitors and get valuable information from them
There's no business, big or small, without competition. And if you want to overtake your competitors, first you must know who they are. Maybe you already know a few of them; SEO tools can help you find even more.
You can easily find local rival businesses with the Dangerous Competitors tool.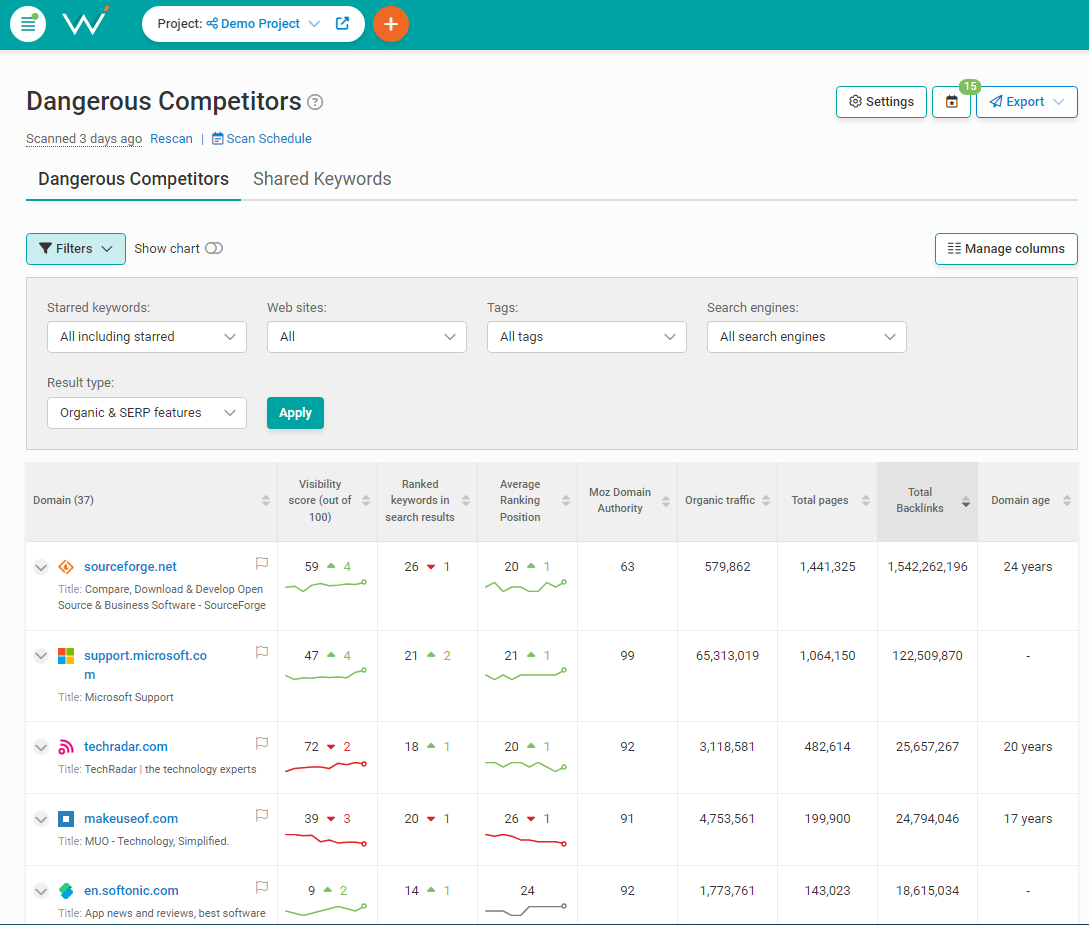 How do you use it?
First, open the tool and click on the Settings button.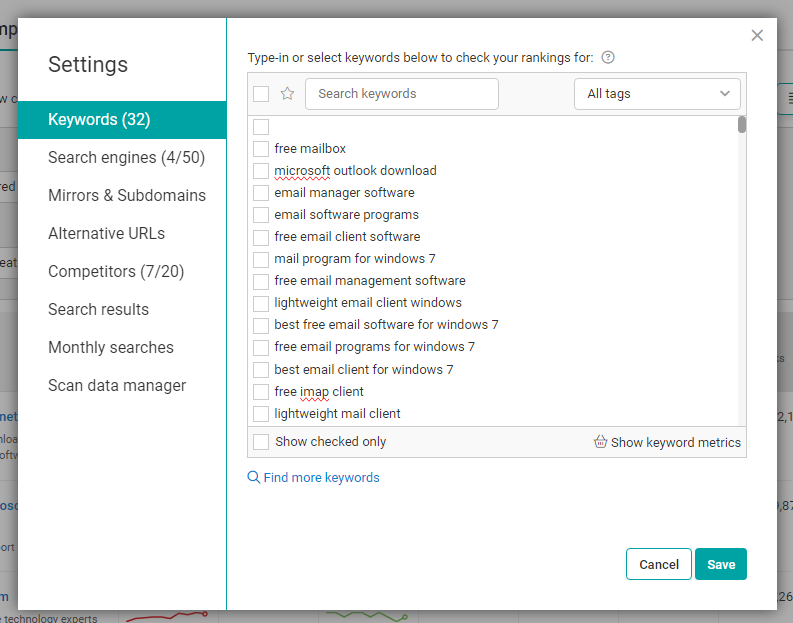 Then follow these steps:
Enter your target keywords in the Keywords tab.
Enter your preferred search engines in the Search engines tab. Make sure to set the correct location.
In the Competitors tab, you can enter the URLs' of the competitors you already know. If you don't know any yet, the tool will find some for you soon enough – be sure to enter them here then.
In the Search results tab, select all the types of search results that are relevant to you.
In the Monthly searches tab, select your target region.
Press Save.
And after some scanning, Dangerous Competitors will generate a table with websites who are the most likely to be your direct local competitors. But keep in mind that no tool can think for itself, so it's going to need a human's judgment – your judgment to choose the correct websites. Visit them one by one, find out if they are really your competitors, and if they are – only then add their URLs in the Competitors tab in Settings. With that, WebCEO will keep monitoring their metrics for you.
What else can you do with their sites?
Check out their content for ideas. Topics, writing style, types of content they post, even just design appearance – you can find inspiration anywhere.
Find their weaknesses: what do they do worse than you? Do they have any pages that should be easy to outrank?
Collaborate with them. If you can participate in an online event together with a competitor (or even in just a write-up), then it's a good boost to your online presence in terms of both exposure and expertise.
Use their sites for link building. This warrants its own segment, and it starts right now.
4. Find sites where you can make local backlinks
SEO is impossible without link building. You need other sites to link to yours and acknowledge it as worthy of users' time, or you will not get anywhere.
But first, you need to find sites that could realistically give you backlinks. How?
Meet your new friend, Competitor Backlink Spy.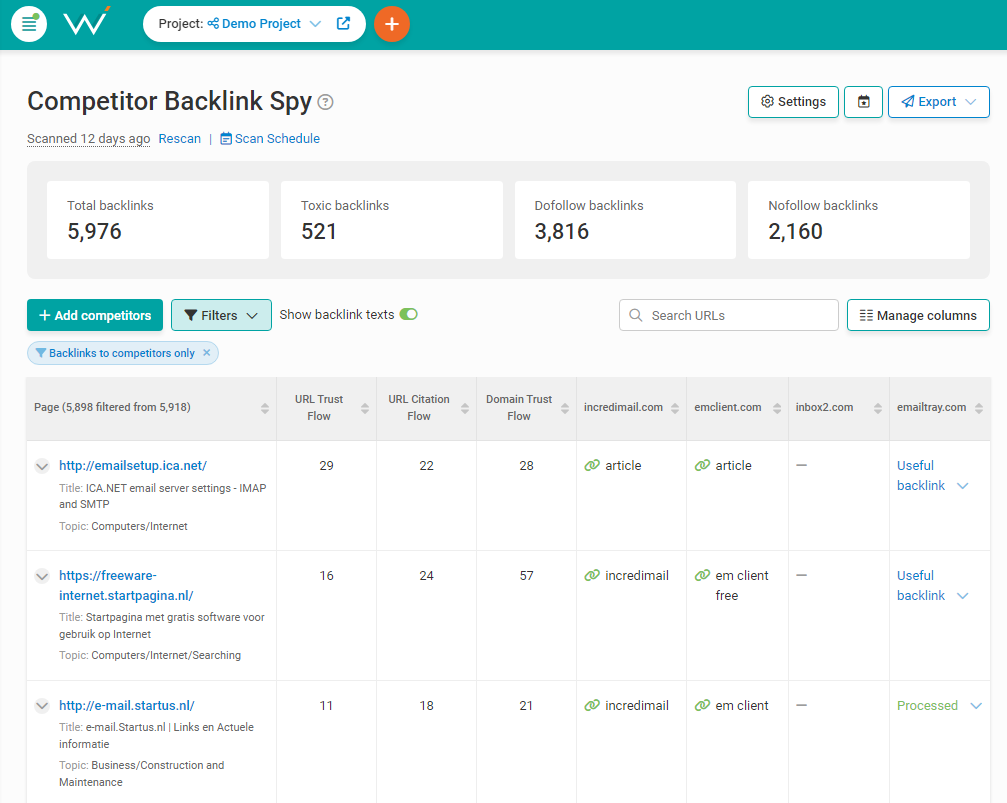 The idea is to find out which sites are already linking to your direct competitors. Once you do, you can start looking for ways to create your own backlinks there. If you already know who your competitors are, keep reading; if you don't yet, feel free to go back to the previous segment.
Open the Competitor Backlink Spy tool and click on the Settings button.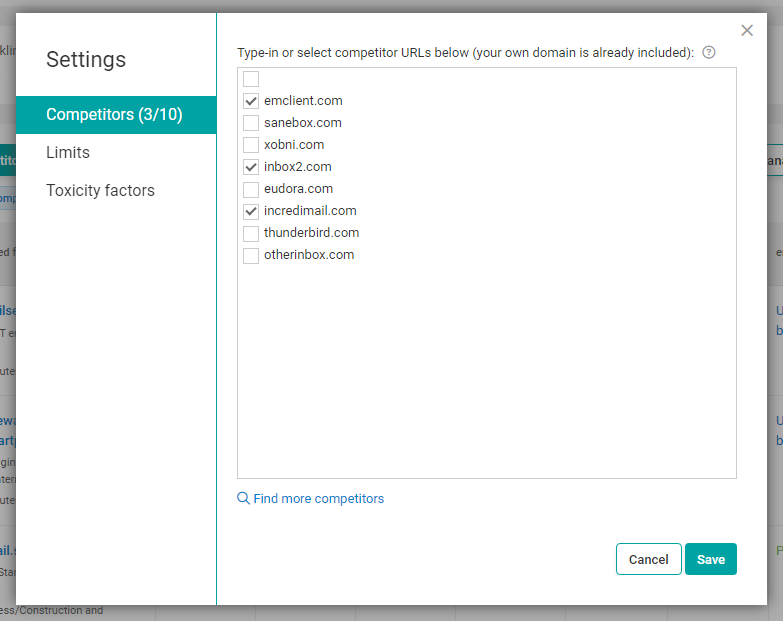 In the Competitors tab, enter your rival websites' URLs and be sure to check their boxes. Then press Save.
The tool will spend some time scanning and generate a table with everybody's backlinks – yours and theirs. More accurately, those will be pages from other sites that link to you and them.
You want to look for the pages which link to your competitors but not to you: those are your potential backlink donors. Visit those sites and judge for yourself if they could provide you with a relevant and authoritative backlink. And once you find a site you like, it's finally link building time!
5. Get listed on local business directories
Google can find pretty much anything, but searching becomes easier when you can narrow it down to just the kind of content you need. For example, there is YouTube for videos. And for small businesses? There are business directories.
Some of the best (and completely free!) directories include:
Foursquare
Yellow Pages
Hotfrog
EZLocal
eLocal
Manta
And there are many more you could find. Especially if you do a specific Google search like "business directories for (your type of small business)".
6. Use social media
Did you know that on average, people browse social media for 2 hours 24 minutes a day? No wonder platforms like Instagram, Pinterest and Twitter (or is it Xwitter now?) have proven to be so excellent at promoting content.
Roughly 2.5 hours should be plenty of time for your small business to appear on somebody's radar. But for that to happen, you need to be present in social media.
What are some effective ways to run a social media page for your small business?
Upload a recognizable profile picture.
Add as much information about your business as possible: contact info, address (with embedded map), open hours, prices, photos of your location and your products etc.
Place a call-to-action in the first scroll.
Use an automatic chatbot (if the platform supports it).
Reply to users ASAP when they message you.
Follow users who follow you. They follow you because they like you, and they will like you even more if you follow them back.
Post diverse content: short posts, long reads, polls, photos, images, share interesting posts from other pages.
Be active on your competitors' social media pages – it's the easiest way to expose yourself to your target audience.
Pin important posts.
7. Provide good user experience on your site
Everybody knows this simple rule of the Internet: if a site doesn't work well, people won't use it. So it goes without saying your site has to work like a well-oiled machine.
How do you ensure your site works well?
Have a good, user-friendly design. And if you can fit everything important – your business' name, logo, links to the most vital pages and a call-to-action – in the first scroll of your homepage, then it makes a good design even better.
Make it load quickly. A tool like WebCEO's Speed Optimization can check your site's current loading speed and offer advice for improving it – for example, reducing your images' file size.
Make it mobile-friendly. Likewise, the Mobile Optimization tool checks how well your site works on smartphones and finds where you can make improvements – such as making your site's design responsive.
Fix errors ASAP. Find all errors on your site (varying from broken links to server issues) with the Site Audit tool and fix them.
Use a chatbot. Popup chats are incredibly effective at engaging visitors and turning them into customers. Of course, first you have to fill your chatbot with all the answers your visitors might need.
Use heatmaps. Apps like CrazyEgg can generate maps showing what users do on your site: where they click, how far down they scroll etc. As you can imagine, it's incredibly useful for finding flaws in your site's design.
Use call-to-actions. A well-placed CTA can turn any site into a money-making machine. Are you nudging the visitor towards placing an order or making a purchase? Don't forget to follow it up with a shiny button.
Use A/B testing. When you create a new page for the purpose of making money, it helps to release a few different versions of this page to see which one generates the best response from visitors.
8. Collect positive reviews
Competence. Professionalism. Top-notch service and products. There are so many good things to say about you.
Customers must know how great you are. And who can vouch for you better than customers themselves?
That's why you should collect customer reviews. Most of the time, customers leave reviews if you simply ask them. It's the most affordable part of small business SEO!

There's no better way to signal to the world that you are the real deal. And there are so many places where people can leave their reviews:
Google;
Social media;
Review platforms;
Your own website;
All of them count. So make sure you are using them all.
9. Use Schema Markup to enhance your search results
Schema Markup a.k.a. structured data. What is it and how do you use it?
Long story short, if you use it on your site's pages, then Google can add more information to your search results. You must have definitely seen snippets with extra flair and without it. Here's a side-by-side comparison:

Without structured data, your search results look vanilla and boring. The prettier-looking ones are more likely to steal clicks from you. And that just won't do.
Fortunately, structured data is easy to learn. Meet Schema.org, a very helpful collection of all Schemas you could possibly want. If there's a business, no matter how big or small, there is a Schema for it. It's only a matter of finding the one you want to use.
For example, if you run a law firm, then you will likely want to use items from the LegalService Schema: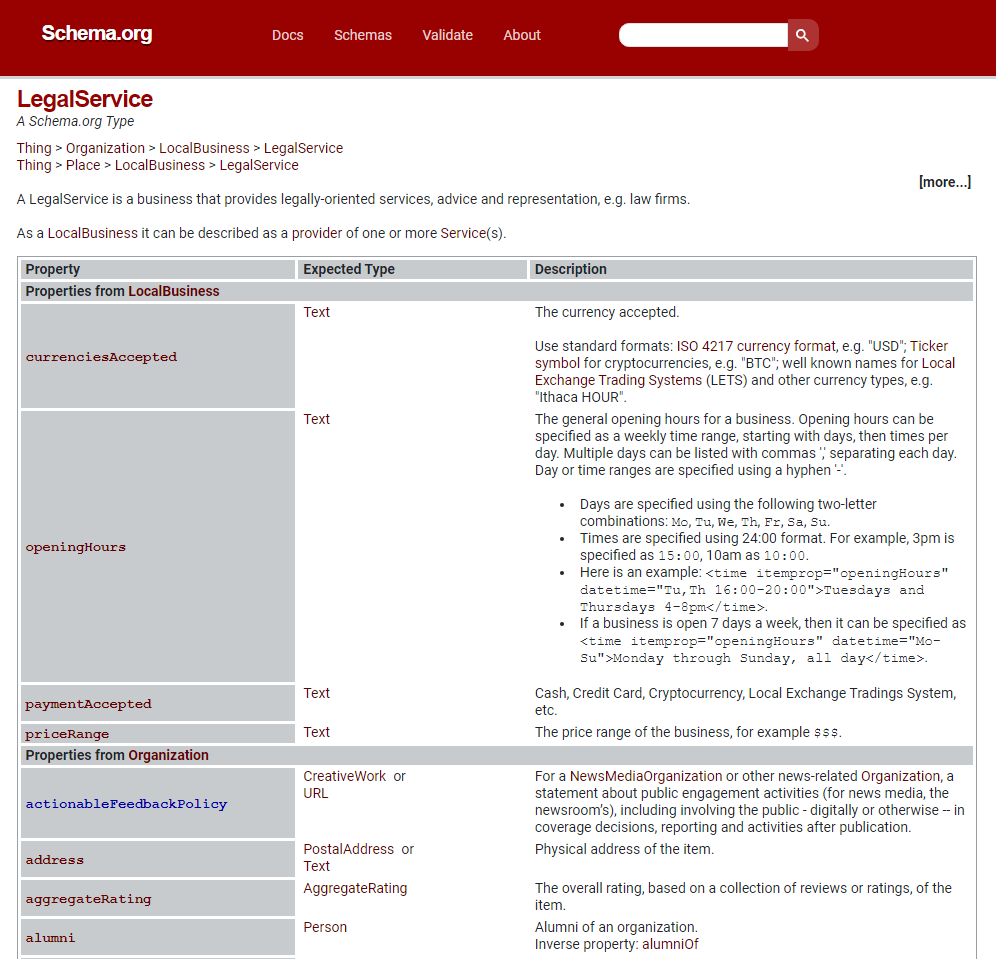 Once you've identified the right Schema for your small business, what's next? Adding it to your pages, of course. You can do it manually, or you can use Google's Structured Data Markup Helper.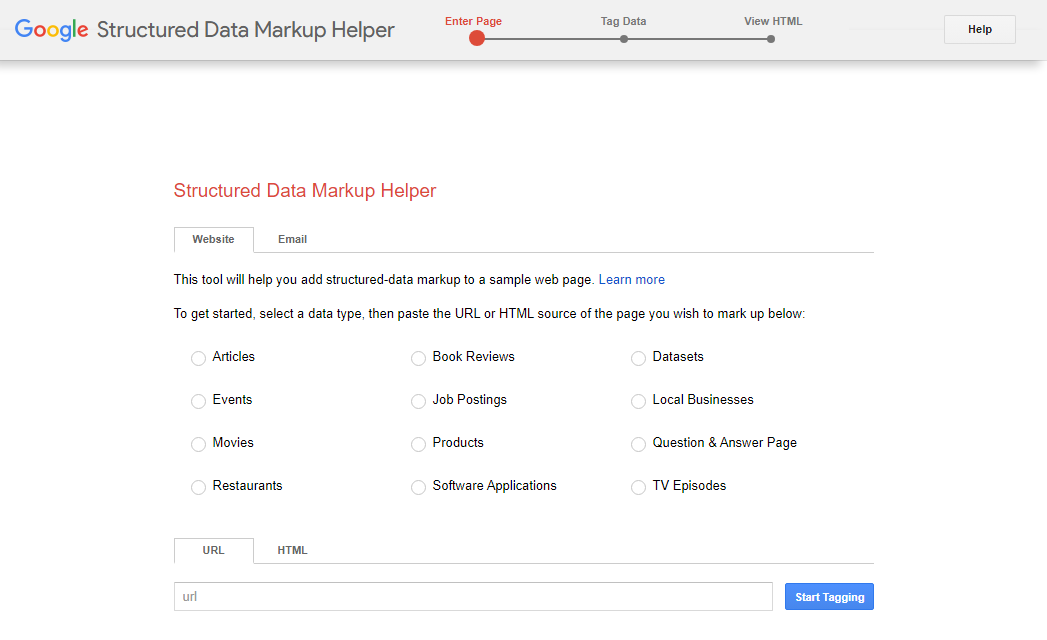 Select Local Businesses, enter your site page's URL and press Start Tagging. Your page will load with the markup tool ready for work. Simply highlight the elements you'd like to appear in Google and choose the right tag for each of them.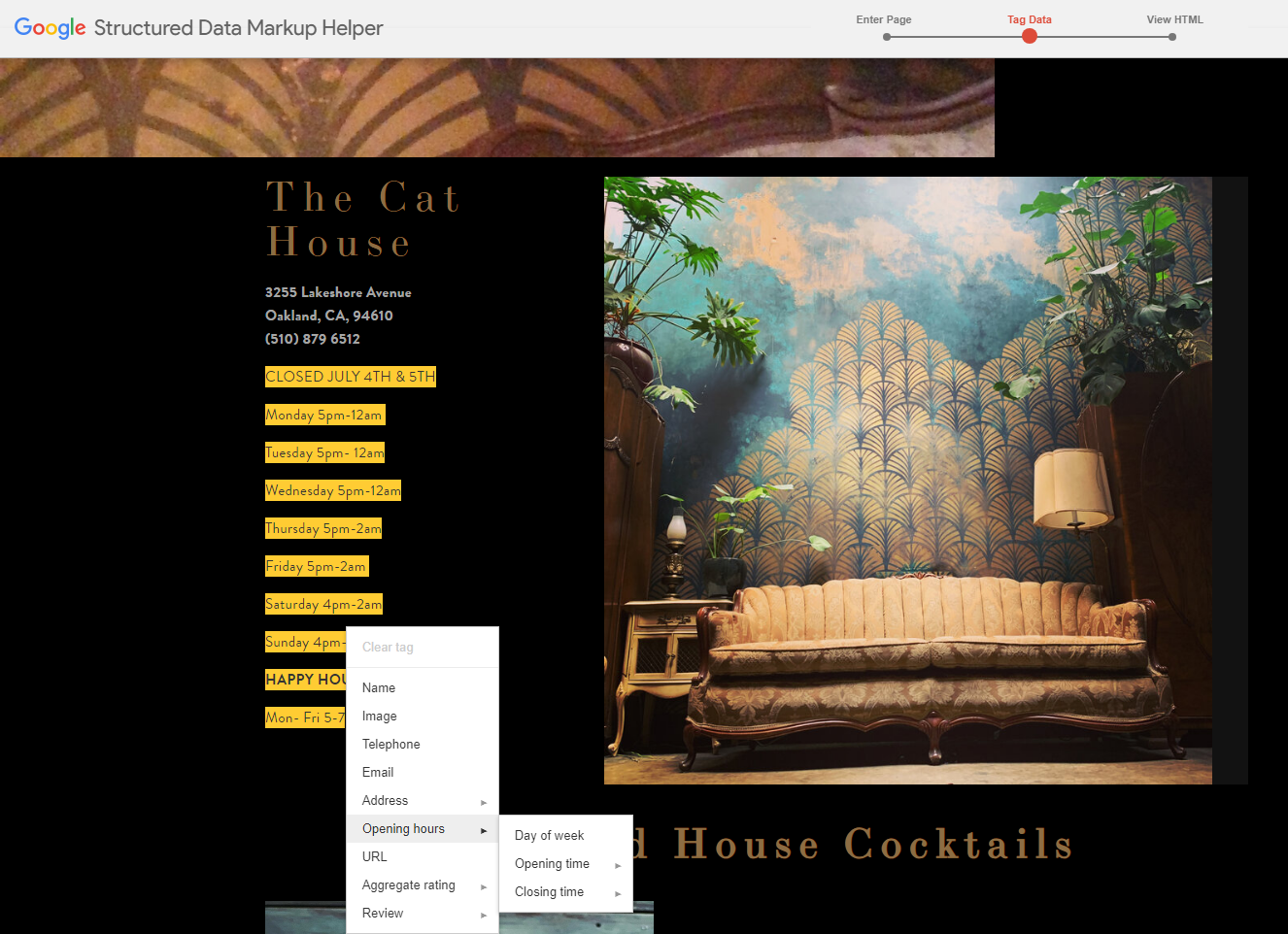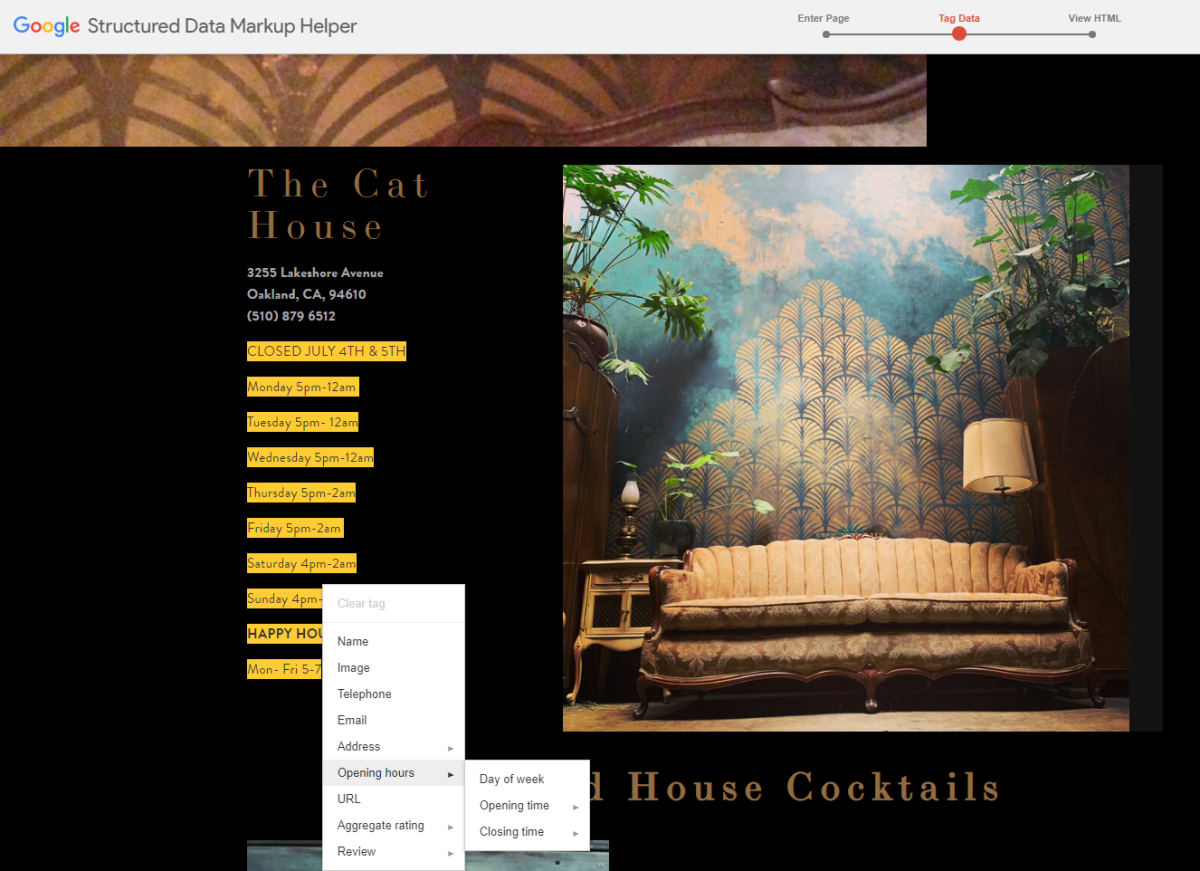 Once you are done, click Create HTML to generate the code with all the structured data. And then you just add it manually to your page's HTML code. That's it!
Enjoy your new and beautiful rich snippet. Your customers certainly will.
10. Have contact information on your site
It's a very obvious must have for any local business. After all, how are the customers supposed to find you if they don't know where you are? This bit of info is so important that Google awards it with a minor ranking boost – or rather, doesn't award not having it.
Make sure your site mentions every existing way to reach you:
Phone number
Email address
Physical address (and you should also embed Google Maps with your location)
Links to your social media (Facebook, Twitter, Instagram etc.)
WhatsApp, Skype and other contacts
And for good measure, put all this information in every listing you've made for your small business: in social media, business directories, review platforms, Google Business Profile. Make it available everywhere you've left a record about your business.
11. Analyze user activity and conversions with Google Analytics
There's a crucial piece of data you cannot afford to miss: what customers do on your site.
Do you know how they use your site? Which pages they visit, which elements they interact with, how many of them click on the Buy button? Sounds pretty important, doesn't it?
And thankfully, you can find all this information and so much more in Google Analytics. Note that you want the new GA4 version, as the older Universal Analytics version is no longer supported.
So if you haven't already, connect your site to Google Analytics 4 and start monitoring these reports:
Acquisition: to see how much traffic you get and where it comes from.
Landing page: to see user activity on your most important pages.
Engagement: to see conversions and how users interact with your site. But using this section requires setting up some events first.
You can even type the name of a metric you want like "bounce rate" into the search bar and get an instant answer. But all that is just scratching the surface; the new and updated Google Analytics is even richer with useful data than its predecessor.
So don't be afraid to explore and experiment. You'll know you are doing a great job when the majority of your visitors turn into customers and keep coming back.
12. Track your Google rankings
Congratulations on making it this far. You have exerted a truly titanic effort. What comes after everything you've done?
Monitoring the results of your labor, of course.
It takes Google some time to notice all the SEO progress you've made, so it won't happen all at once. But if you want to know the exact moment you rise in rankings, then you need to monitor the situation closely. And for that job, we have SEO tools – namely, the My Site Rankings report.
The Tool Summary screen will give you a quick overview of your ranking situation…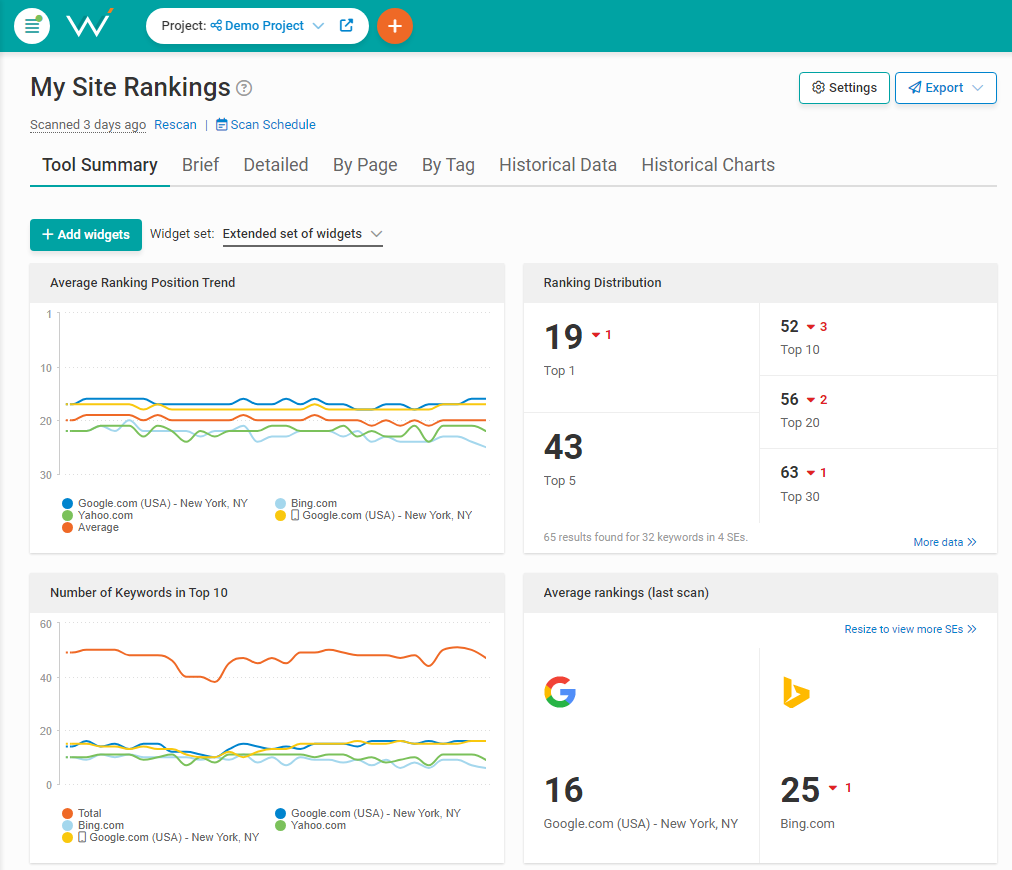 And if you like detailed reports, then knock yourself out with the data from the other tabs. Notice the Manage columns button: that's where you customize your ranking reports by including the data that's relevant to your cause.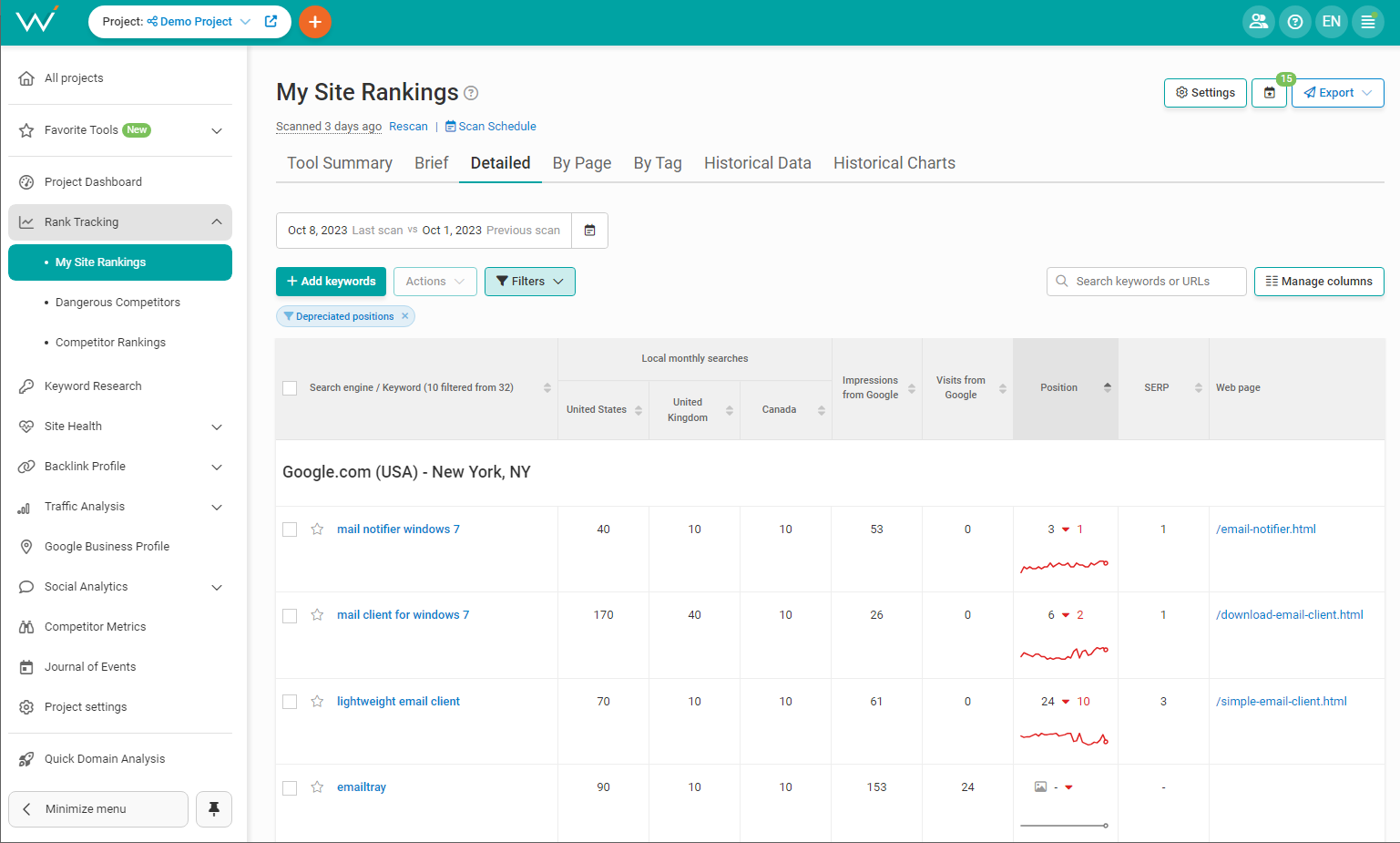 And if you want the tool to generate reports for you automatically, click on Scan Schedule and set the dates when you would like to receive reports.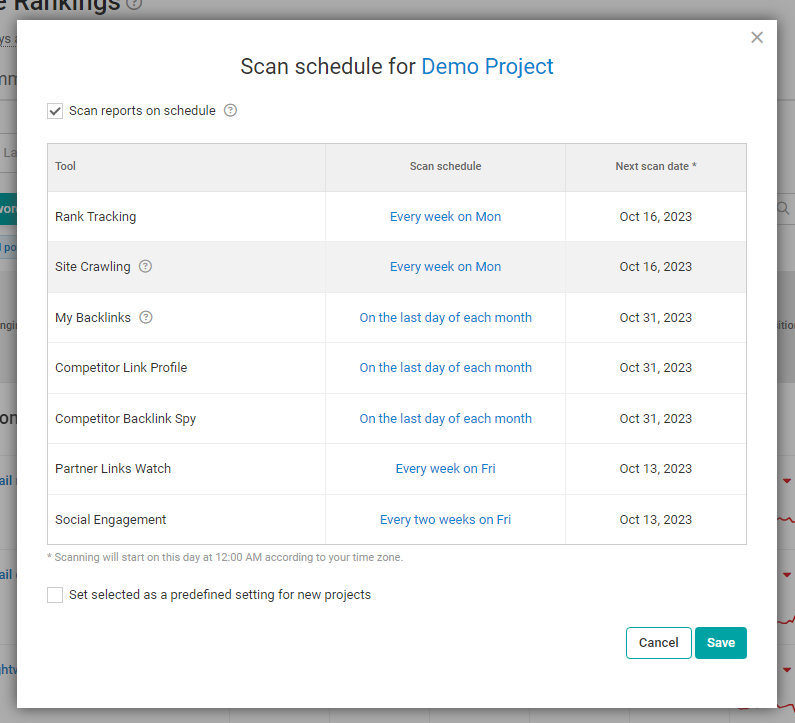 If anything good or bad happens to your site rankings, you will be informed immediately. And then you will be able to act accordingly.