SEO News: AdWords, Link Schemes and Twitter Search
Google announced an update that changes how each keyword's 1-10 numeric Quality Score is reported in AdWords. They say that, now, the Quality Score in your reports reflects the factors that influence the visibility and expected performance of your ads. However, the way the quality score is calculated isn't changing, so ad performance won't be affected by the new reporting.
Google says they are unifying all their AdWords display tools in one easy and streamlined location. The Contextual Targeting Tool, the Placement Tool and the Google Ad Planner are now moved to the new Google Display Planner. Google says this will let you add all the keywords, placements or other targeting ideas you choose directly into your campaigns with just one click.
Google updated the link schemes document under their Webmaster guidelines. Link building is getting even tougher. Now massive article marketing and guest posting campaigns with keyword-rich anchor text links are no-no. Google is also against links with optimized anchor text in articles or press releases distributed on other sites. You can do guest blog posts but if you are doing it with the intent to gain keyword-rich anchor text, be warned.
Twitter is finally rolling out kind its version of "universal search results" on Twitter.com.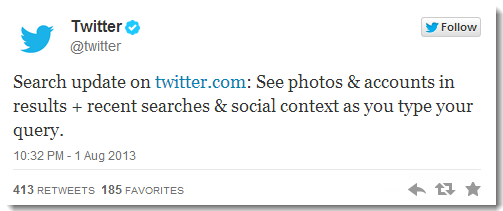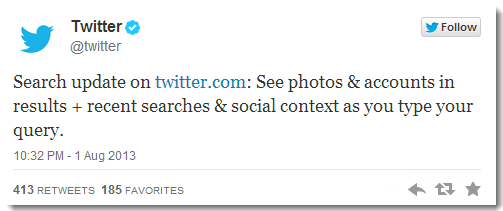 There are three primary changes to Twitter.com's main search results panel:
Accounts are now mixed into the search results.
Photos are now showing as search results.
There's also a new Photos tab on the left, joining the "Results" and "People" filters.