How to Succeed In Enterprise SEO With WebCEO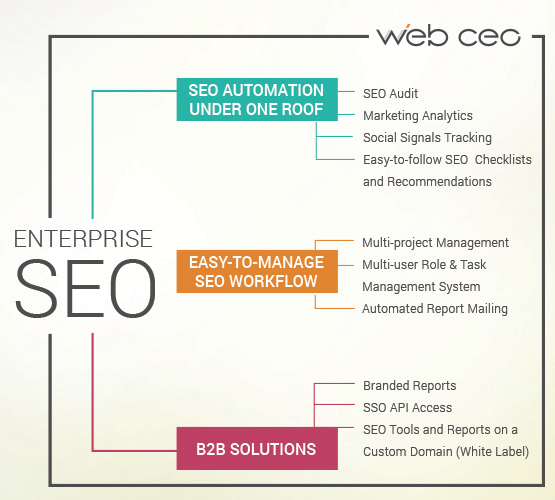 In 2015, Search Engine Land has featured WebCEO in its famous Enterprise SEO Tools Guide. This is quite an honor! Here is a synopsis of key features that got our service listed as best-of-breed enterprise-level SEO tools software.
The growing complexity of Internet Marketing has encouraged the SEO industry to shape up. Its savvy stakeholders have kept their expertise up-to-date and fine-tuned. Their on-going strategies now include well-integrated marketing automation software. More and more companies have created enterprise-level online brands with thousands of pages of content to optimize and hundreds of external and internal links to keep control of. The use of marketing automation software, especially SEO tools, is now critical. Here are some questions you should ask when choosing the right enterprise SEO tools provider.
When we say Enterprise SEO we mean the type of SEO campaigns that need to be implemented and maintained by enterprise-level companies. Enterprise-level companies usually have multilingual websites with more than 1000 landing pages organized in a thoughtful URL hierarchy with multiple hosting servers, consistent content creation, a digital marketing strategy, strong reputation management and a dynamic online community.
Enterprise SEO campaigns will include a basic and advanced approach to search engine optimization.
A Basic SEO approach would include:
Setting business goals based on a potential customer persona analysis.
Configuring a business traffic and performance tracking system (integration with Google Analytics and Google Webmaster Tools.
Evaluating and fixing crawl/audit issues (i.e.: duplicate content, slow page speed, server access errors, broken links, improper 301 and 404 redirects, multiple redirects, poor mobile user experience, non-search friendly images, Flash/Ajax issues, canonical tags issues).
Keyword research, categorization and landing page mapping
Internal link structure implementation and optimization
Link-bait content building (blog posts, infographics, case-studies, guides etc.)
Visual content ideation, creation and optimization
Micro-format optimization
An Advanced SEO approach would include:
Inbound link building (including directory and review site submission, guest post campaigns, native advertising etc.)
Social Media Marketing
Cross-channel integration between SEO, content marketing and social media marketing
On-site and off-site performance monitoring (i.e.: country-specific, city-specific and mobile search rank tracking, earned backlink analysis, removal and acquisition, landing page SEO analysis, website traffic analysis, social signals tracking).
Competitor performance research and analysis
Website performance reporting
Ongoing adjustments to existing on-page and off-page optimization based on delivered data.
Only enterprise-level SEO software allows you to integrate, scale and improve all of the basic and advanced approaches to your SEO, content and site performance data in order for you to dominate organic search results.
Here are the hallmarks of proper enterprise-level SEO accurately as practiced by Web CEO's SEO Software:
Real-time built-in diagnostic tools to parse and identify site-wide and off-site issues with easy-to-follow checklists and recommendations.
Third-Party Analytics Data Integration to inform and evaluate keyword discovery, backlink analysis and site monitoring data integrated with Google Webmaster Tools, Ahrefs, Google Analytics and other third-party partnership services.
SEO Workflow Automation to schedule and deliver easy-to-customize reports with user-friendly dashboards and widgets.
Competitive Analytics provided in the form of informative widgets driven to gauge how well you perform against your competition.
User-Role Task Management System to build vertical and cross-functional collaboration between CEOs and their employees and contractors, such as webmasters, marketers and content managers.
Easy-to-Access Branded SEO Reporting to provide well-designed and individually branded PDF and CSV reports that can be easily shared to any user on your own sub-domain or emailed on a schedule to any client.
Single Sign On API Integration to provide remote access for and to third-party services. With API you can easily create, manage and export SEO data generated in your Web CEO account in order to combine and build your own SEO tools and offer branded SEO reports to your own clients.
White Label Program to provide large-scale digital agencies, web hosting companies & CMS developers with the ability to host their own branded SEO tools or show read-only reports on their own custom domain.
Using enterprise SEO software like Web CEO, you can get more BENEFITS than from a single-function solution:
Run 14+ SEO tools within one interface
Get unlimited access to SEO data, analytics and web performance
Keep up-to-date with SEO algorithm changes
Benefit from an efficient SEO team collaboration workflow within your organization
Get real-time data with automated reporting
Sign up for any of the cost-effective WebCEO Enterprise-level SEO Plans and save time while managing your enterprise SEO campaigns.