WebCEO Update: New Solo Plan for New Users & Better SEO Tools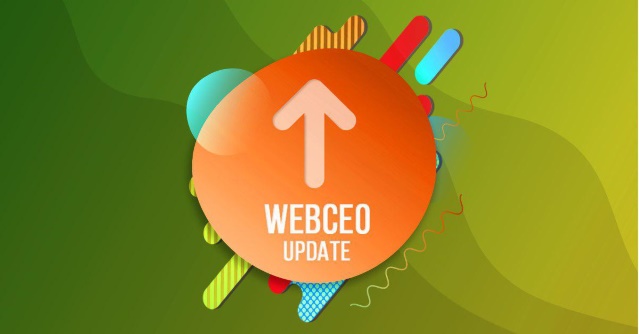 The holidays are over, but there's still enough room for one final New Year's present!
We are happy to announce WebCEO's first major update for 2019. The update can be broken down into two major parts.
First: some of our SEO tools have become better at doing their job. We've taught them new tricks and made them more powerful. Our old-time users will undoubtedly notice how much the UX has changed for the better – kudos to our developer team.
Second: WebCEO now introduces an entirely new subscription plan called the Solo plan (1 project, 50 keywords). It was specifically made for users who are new to SEO and to our tools. If you don't know how to do SEO, it's going to change today!
Both groups of users will find themselves pleased by what our team has created. Do you want to hear what exactly makes these two innovations so great?
Well, let's not keep you waiting!
1. New features
Let's start with the general improvements made to our tools. What's new with WebCEO?
Task Manager
It's common business for several SEO specialists to unite in a team and split the SEO objectives between each other. In situations like this, keeping track of who does what is a priority. This part of our update will be helpful for users of WebCEO's white label domain feature.
If you have used WebCEO's Tasks before, you should be familiar with auto-tasks – automatically pre-generated SEO tasks, created from the results of a tool scanning for website issues, that you can add into your working plan without having to create them manually. So what's the improvement?
Task Manager now has a new auto-task that's automatically added to your list of tasks upon scanning: Analyze your competitors' new backlinks and look for missed backlink opportunities. Wordy, but valuable. Backlinks are raw ranking fuel, and we want to make sure you always have as many quality backlinks as you can gather.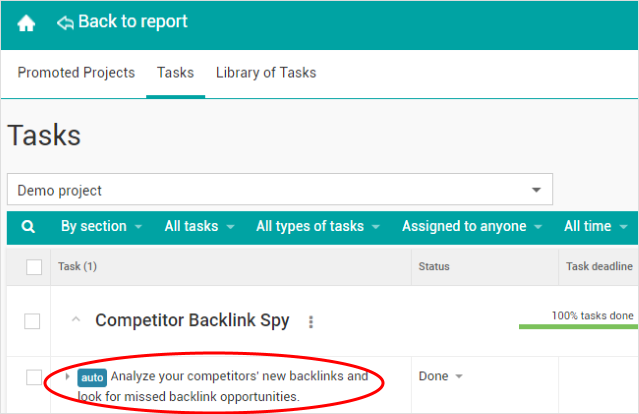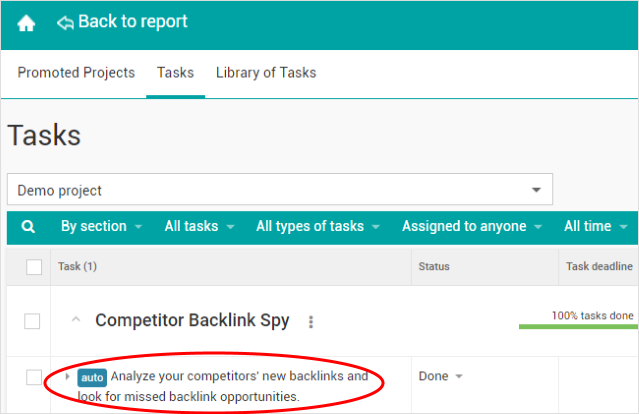 Technical Audit
Our tool for weeding out technical issues has made a step towards improving your online security. Now there's a new type of error WebCEO's Technical Audit can detect: unsafe links to HTTP websites. These errors will be named "mixed content issues" in your reports.
Why are those links a problem? As you know, the HTTPS protocol is more secure than its older HTTP version. If you accidentally lead your users to another site which will compromise their security, they won't be happy with you. Don't treat your users' experience carelessly; always keep your technical SEO game in its top form!
Scan your site now, you might find more unsafe links than you'd expect.
Project Settings
Do you remember how it used to be when you wanted to change any of your project's settings? You had to switch between multiple tools to configure each one individually, wasting precious time on loading new pages. Frankly, you can still do that, if you want… But that's so 2018.
You have a better option now. Project Settings is now a separate page which can reconfigure all of the tools.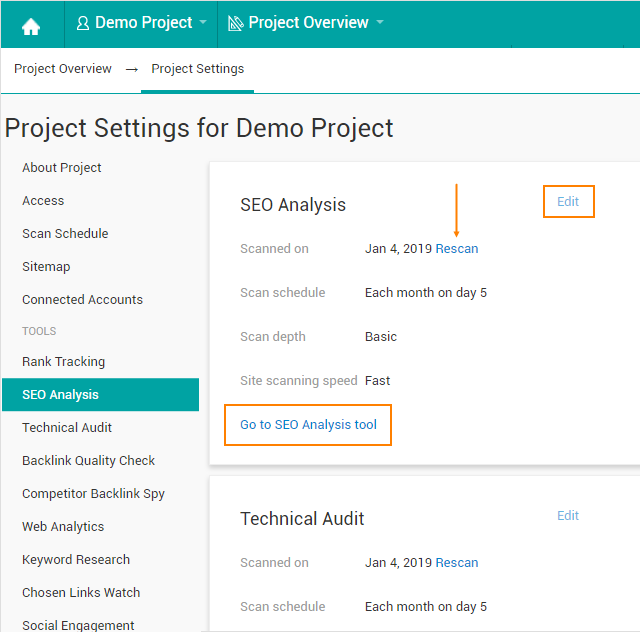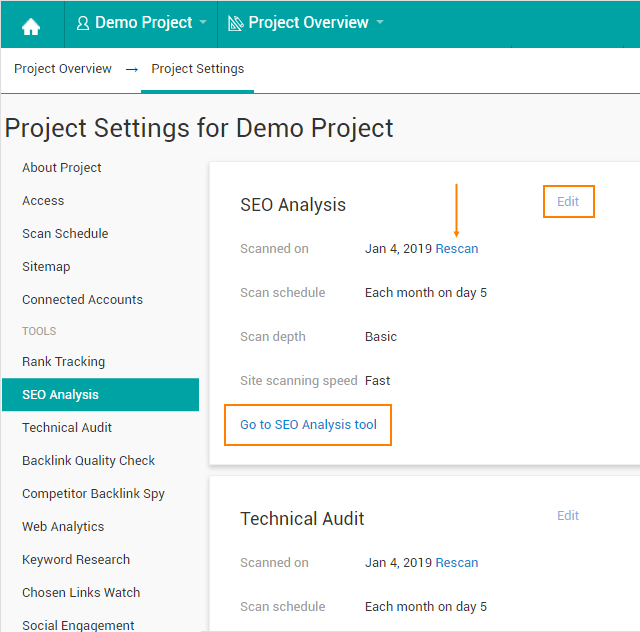 And it's not a popup window anymore. This update has definitely made things take a turn for the better.
Help Center
A minor, but pleasant and useful change in our Help Center: screenshots are clickable now. Long have we been forced to shrink big, highly detailed images into their smaller versions, throwing out so much valuable information. Not anymore. As of this update, you can finally view them in full size with a single click.
It's good for us, too, because our team can finally let loose with the images we put in our guides.
Competitor Backlink Spy
Now it's time to announce the biggest of the minor changes, second only to the creation of our new Solo plan. What's new with our tool for spying on your competitors' link profiles? Hope you're ready for this. Here goes…
Competitor Backlink Spy is finally available for free trial users.
Until now, it was the only tool you couldn't enjoy if you were subscribed to WebCEO's free trial. But that, too, has been left behind in 2018. The future is a perfect excuse for newer and better traditions!
Same as with every other tool, Competitor Backlink Spy's free version's functionality is limited compared to other plans (in order to whet your appetite for more). Free Trial users can pick up 10 backlink opportunities based on a competitor backlink analysis.
2. "Plan… Solo."
I wonder if this naming choice was inspired by one of the recent popular movies. But that's beside the point. Only one thing matters: WebCEO has developed a new subscription plan for its users, named the Solo plan.
"Is this plan for me?"
Let's see. Do you know how to do SEO? If you answered "no", then this plan is for you.
The Solo plan is aimed at users who are completely new to SEO and SEO tools. It's designed to guide users through the process of optimizing their website with the help of a very obvious interface and many, many tips for what to do next.
For example, let's take a look at the project creation wizard Solo users will see after signing up. Regular users will notice it's different from the wizard they've worked with.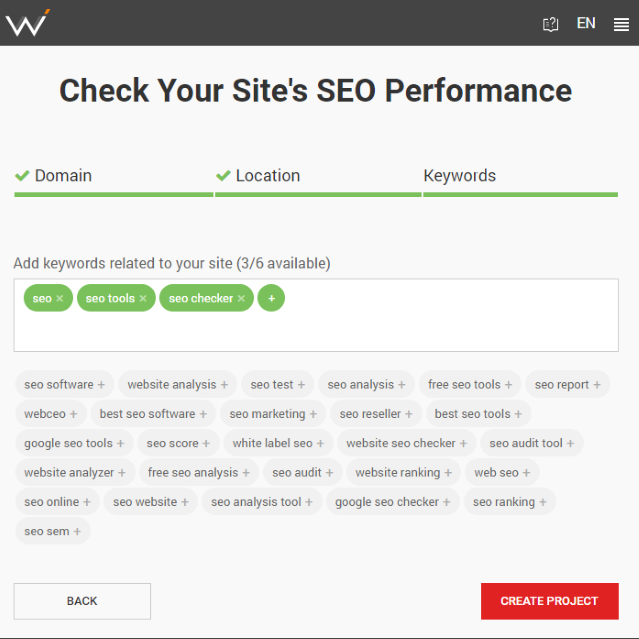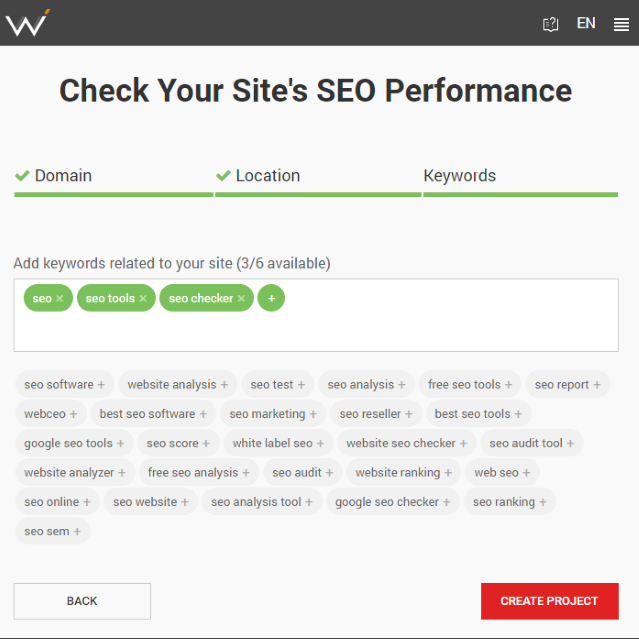 Once you've completed the three steps shown in the screenshot (entering your website's URL, selecting your location and choosing your keywords), the service will generate your very first SEO report where it will describe in detail how drastic your current SEO situation is. Be ready to see a lot of red numbers and words. They will be par for the course if you're just starting to optimize your site.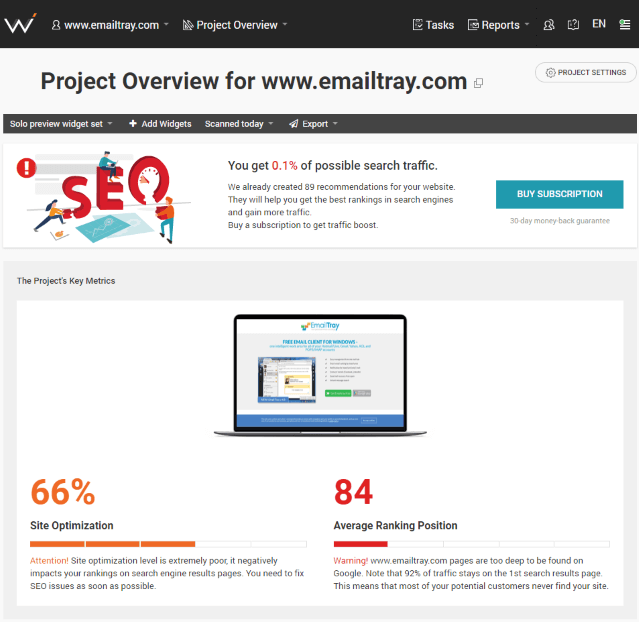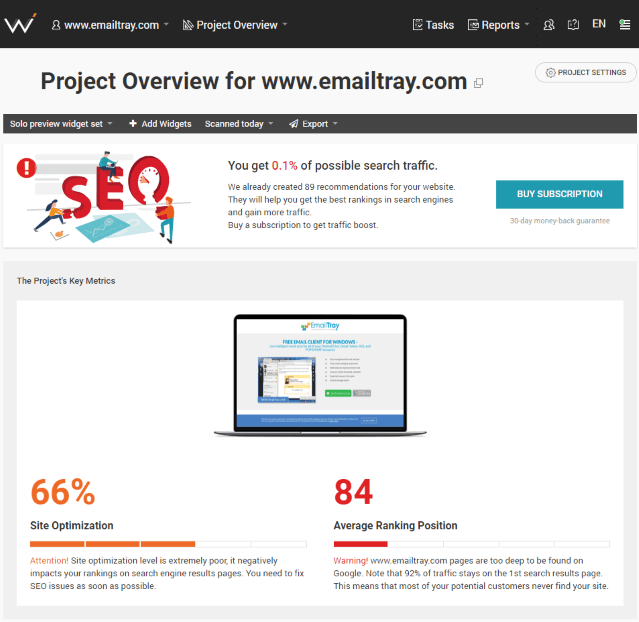 (This is just the tip of the iceberg. Click here to view the full, uncropped image.)
"Looks cool! What do I do next?"
This preliminary SEO report is free. You can even copy the link to your report in the address bar and send it to others – for example, to your boss who wants to know how your website is doing. Once you've purchased the subscription, the rest of the plan's features become available. That's when you'll see all the suggested steps for your site's optimization.
Click on Tasks to see everything you will need to do.


Then click on any task to see what tools you will need to complete them. There will be links to those tools, as well. I'll say this with confidence: working with SEO tasks in WebCEO has never been easier.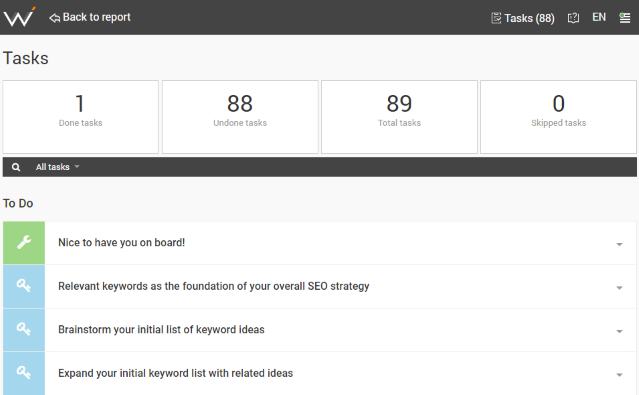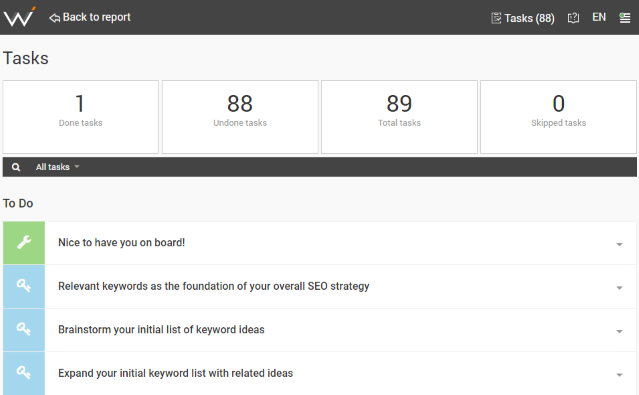 Our service will automatically rescan your site every week. You will then receive an email with a report of weekly changes in your SEO situation. The email will even include a link to your SEO tasks so you can jump straight back into work again. Handy!
---
Do you feel like trying the new Solo plan out for yourself? I promise you won't be disappointed. If you haven't joined the ranks of WebCEO users yet, now's the time to do it!