12 SEO Software Hacks Your Marketing Agency Probably Dreams About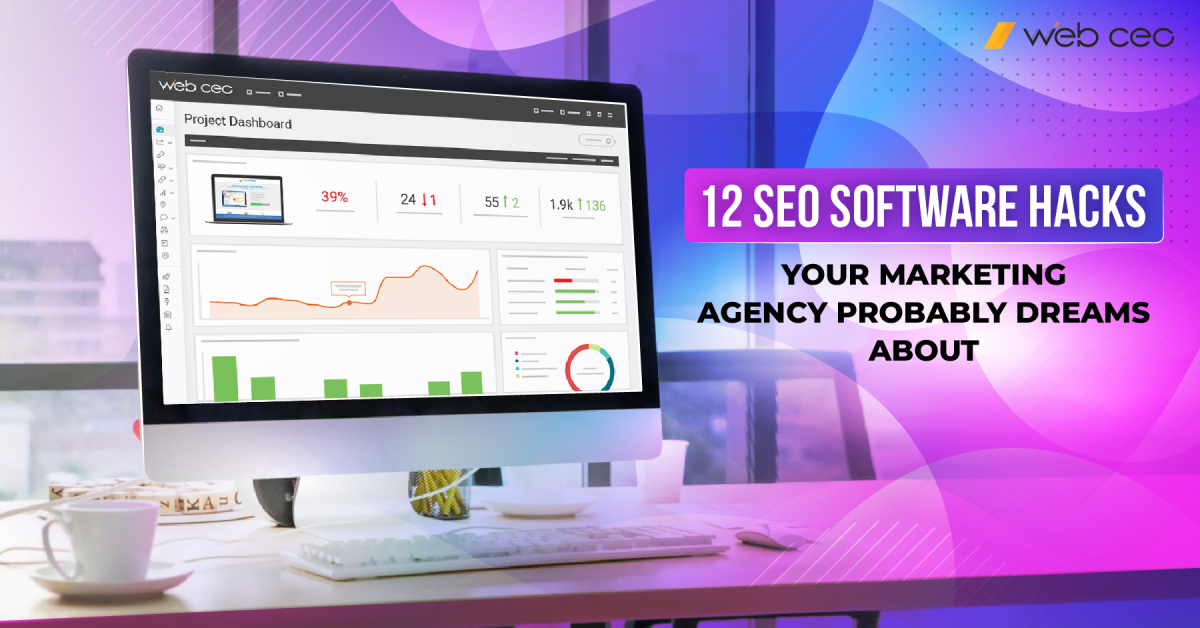 SEO is a challenge. Even one website can take a lot of time to optimize. And SEO agencies deal with many, many more websites, all at the same time. How do professionals handle it all? Not by cutting corners, that's for sure.
Instead, SEO pros rely on powerful software with hacks and features designed to get the job done faster AND without sacrificing the quality of their work. Sounds too good to be true? You be the judge.
Here are some SEO hacks that will definitely make your life easier.
Get interested SEO leads while you sleep
What about sending a personalized demo SEO report to EACH interested visitor of your site, without you moving a finger?
You've got it right, EACH visitor of your site who clicks on a 'Get your free SEO report' button, will enter their domain and contact details, and soon get a personalized SEO report with errors, which can be fixed… obviously by YOU or your digital agency!
Easily embed a 'Free SEO audit' button on your site, customize the SEO report template with your branding and contact details, and WebCEO will start doing the rest of the job for you!
Import hundreds of client sites to your SEO platform with the help of an API
If you have your own database of SEO prospects, it's very easy to add their domains as WebCEO projects. Then you can get any amount of SEO data about their sites without having to manually create a WebCEO project for each!
This is a powerful WebCEO feature exclusive to the Agency Unlimited plan. And that's just scratching the surface. The API can also be used on a white label domain – in fact, more on that in the next section…
Set up a white label SEO platform on your own domain and pretend you've developed your own SEO tools
One of the most thrilling features of WebCEO is the ability to "privatize" SEO tools, allowing users to host them on their own sub-domain or domain with personalized branding.
You can legally resell our SEO tools under your company's name, fully customizing the interface to include your private logo, header, footer, and color scheme. This level of customization ensures that your clients perceive it as an original service with your brand identity.

Setting up a White Label Domain might seem complex if you aren't used to creating subdomains in your hosting panel and CNAMEing them elsewhere. However, our support team is always available to assist you, or you can request a 30-minute demo to have all the nuances and features thoroughly explained.
Limit access to your corporate SEO platform by role in your SEO team
The more clients you have to service, the more SEO work will be on your plate. That calls for teamwork and delegation of tasks.
Therefore, it's a tremendous help to have an SEO platform specifically designed for teamwork.
But then you have to worry about not stepping on each other's toes and deciding who gets access to what. Fortunately, WebCEO's got you covered there too!
In the User Manager, you can create teams and add other users who have a WebCEO account or who have an account on a special white label domain. Then give them access to the projects of your choice (meaning they won't be able to touch your other projects). Teammates will be able to use the Tasks section, but they will not be able to change the SEO tools' settings, so you won't have to worry about them messing anything up.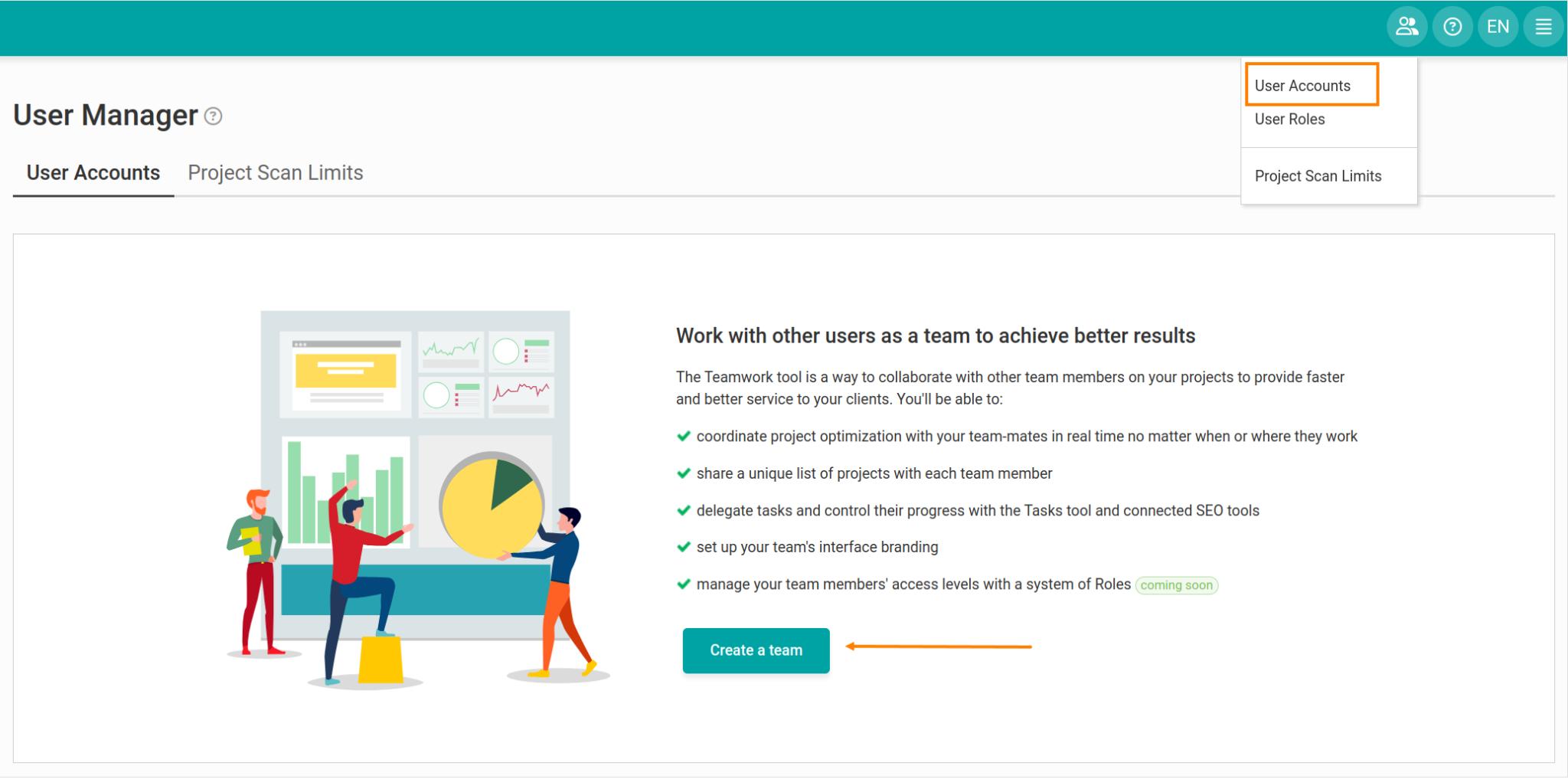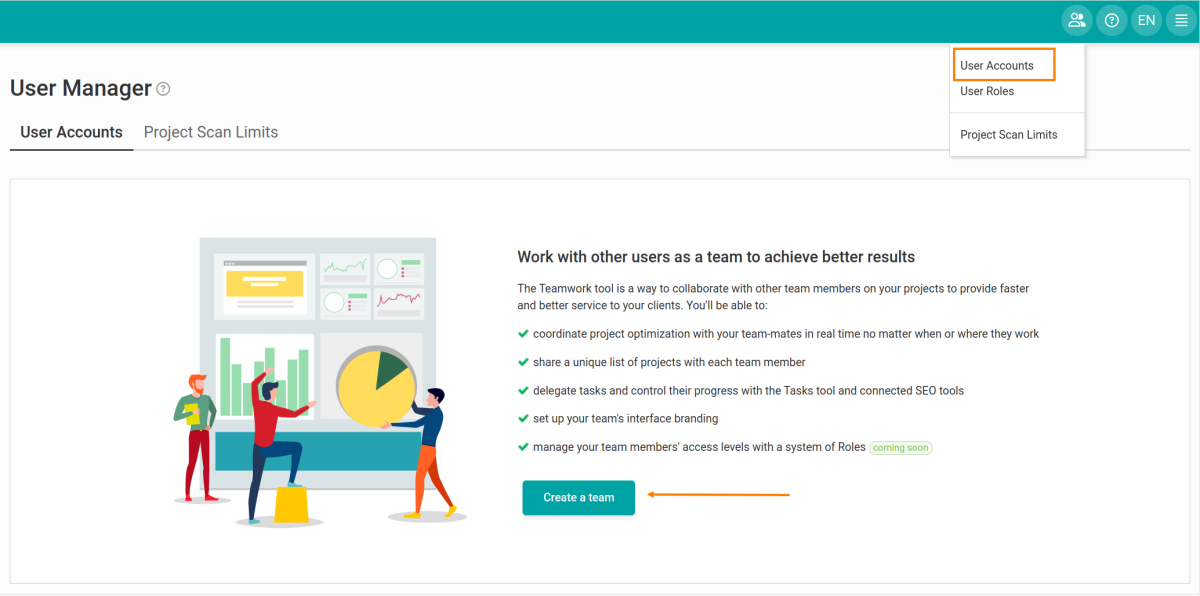 Set up SEO audits to run automatically and ALERT you in case of errors or issues
Search engines regularly update their algorithms, leading to an ever-increasing number of SEO issues you can wrestle with. Overlooking these issues can lead to your clients losing their rankings. Counter this with the WebCEO Audit Tool. Our Auditor highlights SEO issues on websites and provides detailed instructions on how to fix them.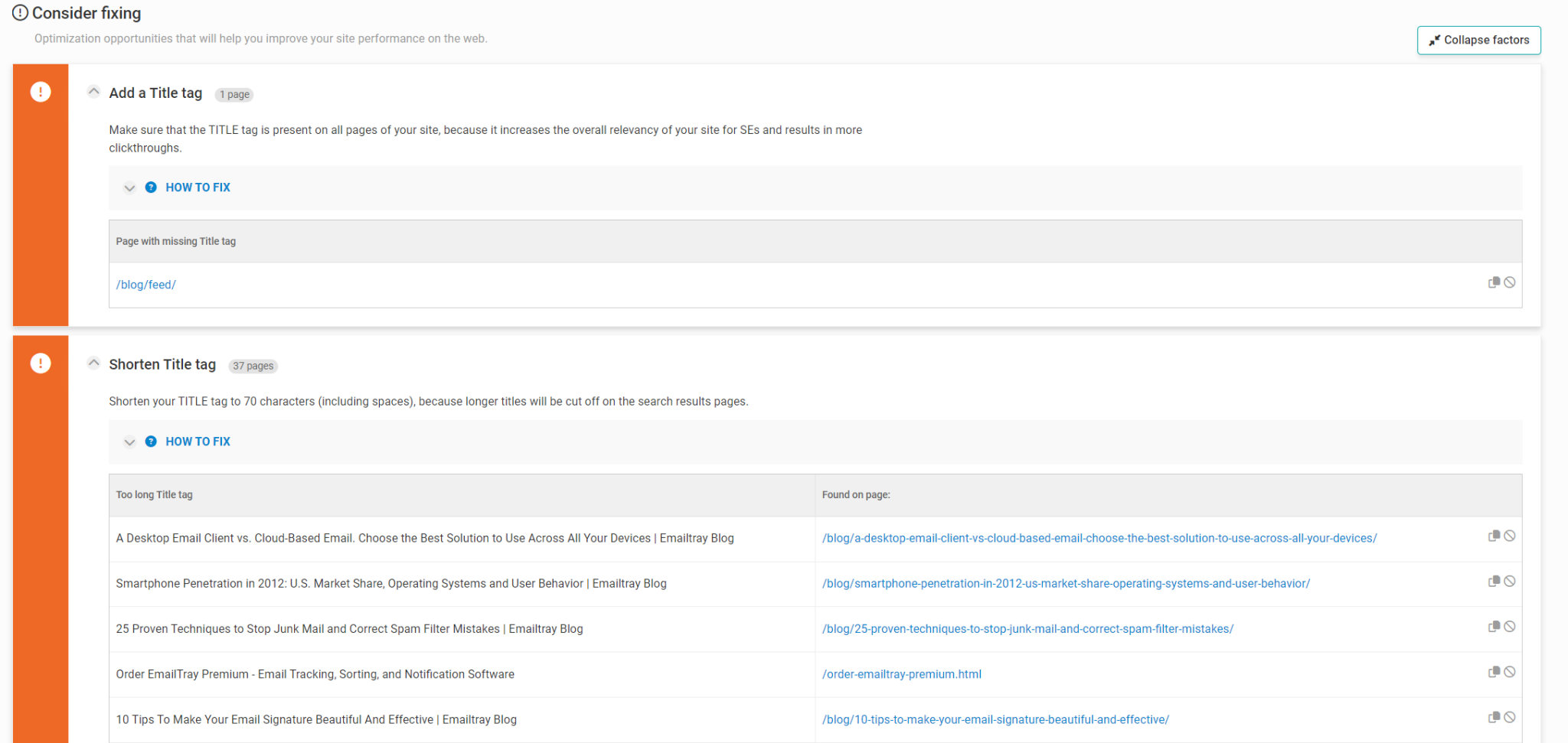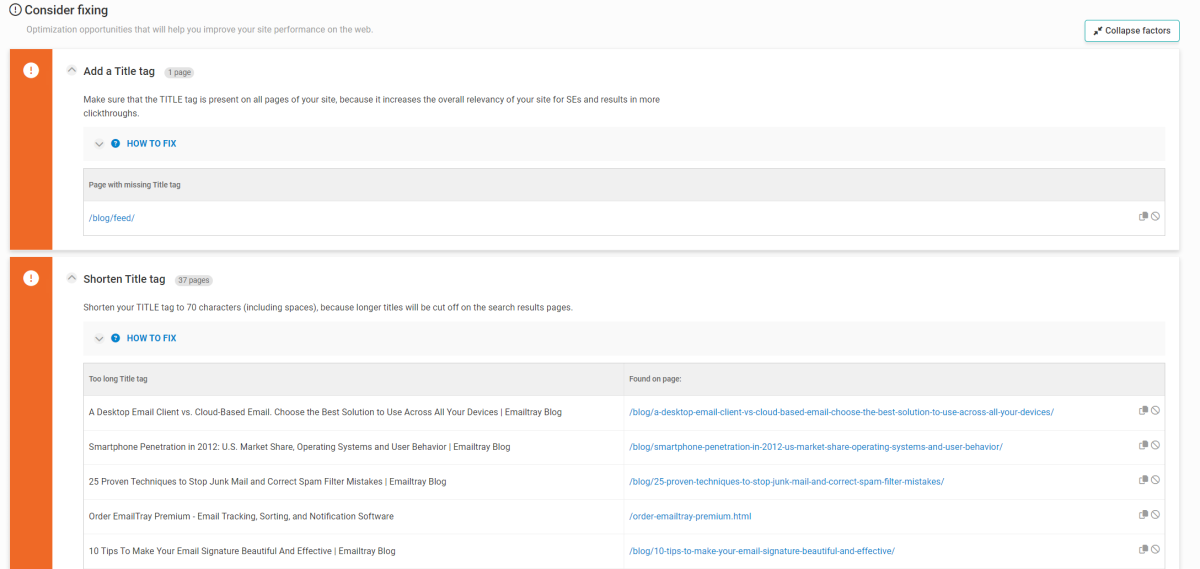 To customize your scan frequencies, go to "Scan Schedule" and select how often you want to perform the audit. It's not necessary to do it every day, but we recommend scheduling it at least once every two weeks.
To gain complete control over your website's SEO, enable email alerts to receive instant notifications about any technical issues identified on your site after a Technical Audit report scan. Utilize the Alerts tool to stay abreast of minor and significant changes (broken links, improper redirects, mixed content issues, etc.) ensuring that corrective actions are taken promptly.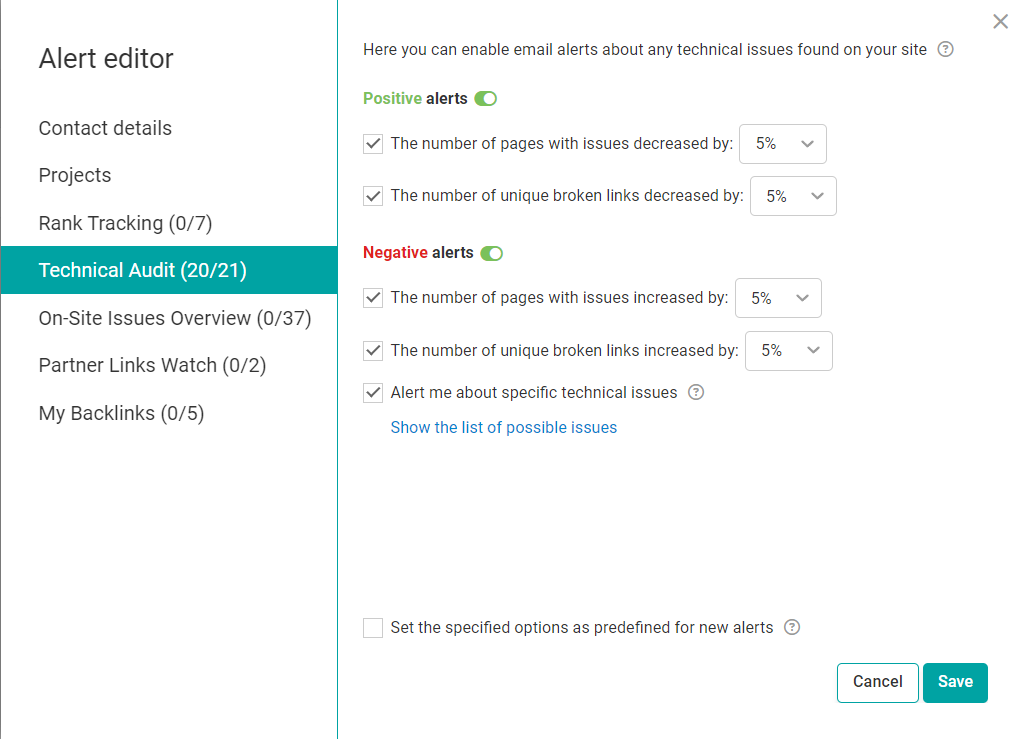 Have SEO autotasks generated for your team members after each SEO scan
SEO is a lot of work, and someone has to keep track of it all. Why does it have to be you? Let the SEO platform itself take care of it!
In WebCEO's Tasks section, you can create any number of tasks that are required for improving your client's SEO situation (e.g. fixing broken links). And you don't even need to create them manually: not only can tasks be autogenerated from fresh scan results, but the Tasks section comes with its own Library containing a large variety of pre-made, common SEO tasks, all grouped up.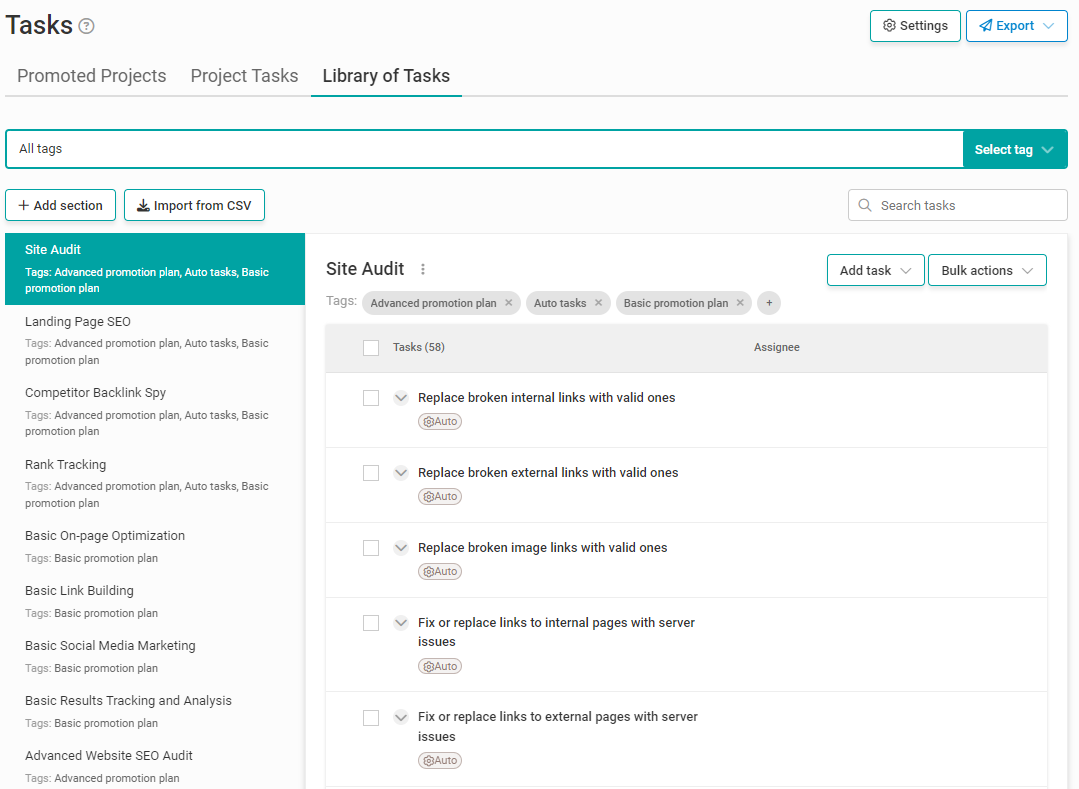 Simply choose the tasks that need to be done right now – and if you are working in a team, you can assign them to your team members individually. Then they can update their progress right there in the Tasks section.
And, as stated above, if a new SEO scan finds fresh problems on your client's site, requisite new tasks will be automatically added.
Have the keyword rankings of your clients tracked from MULTIPLE LOCATIONS
No, you don't need to run offices in different locations. Neither do you need to buy multiple IP proxies to check these rankings.
Simply add your targeted keywords to the WebCEO Rank Tracking tool and select all targeted locations (down to the city or zip code) to be tracked.
You can set up WebCEO to activate rank checks once a month, biweekly, weekly or even daily (depending on your subscription plan). Or you can manually scan when you need to.
Discover thousands of backlink opportunities with WebCEO's Competitor Backlink Spy
SEO is a game for smart people, so we need to make smart moves. One of them is unlocking new link-building opportunities hidden in our competitors' backlinks profiles.
Input your competitors' URLs, and discover valuable websites whose owners are currently linking to them and who might be interested in linking to your site as well.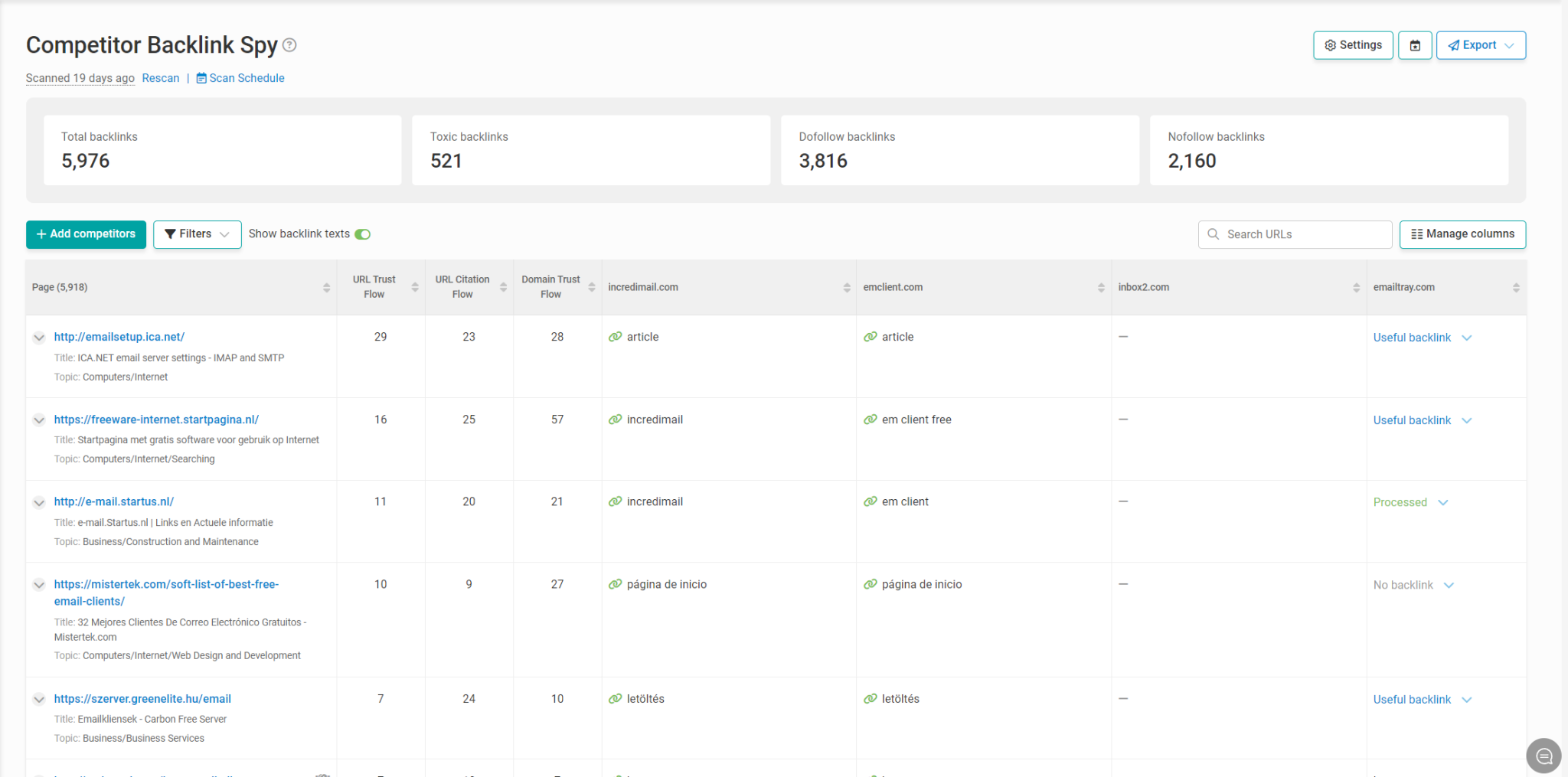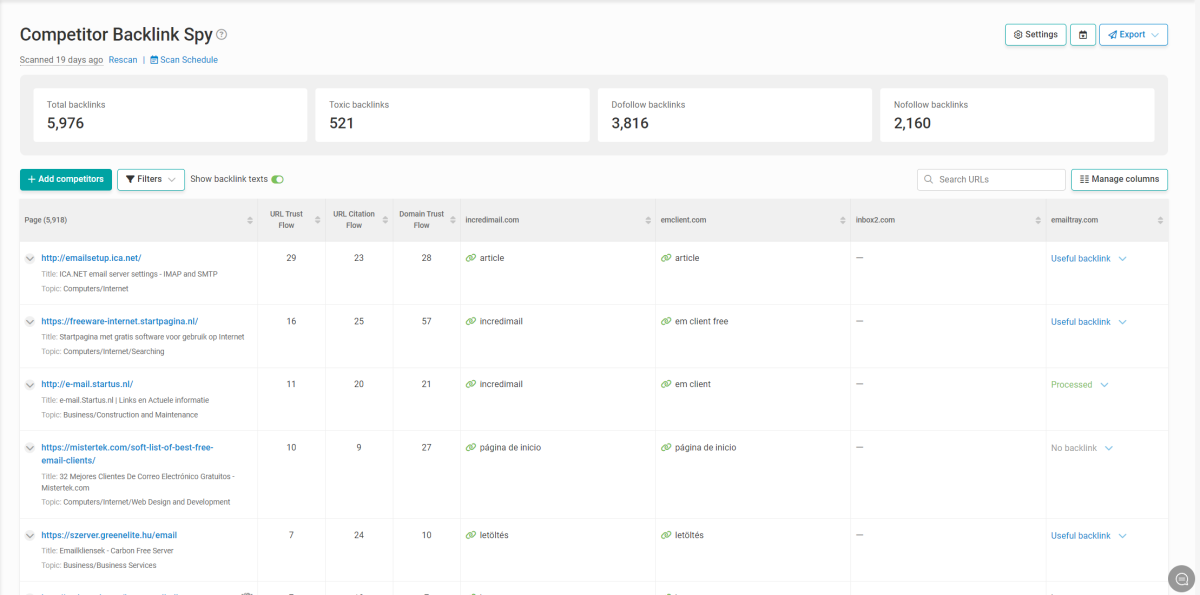 In the report, you will gain insights into the total number of prospective backlinks your website can realistically acquire, enhanced with filters to identify link opportunities that align with your specific needs.
Use settings to customize the number of backlinks displayed from each competitor.
Discover the most DANGEROUS organic competitors for each client site
It's already hard enough to cherry pick SEO competitors for one site (since it's mostly about discovering who outranks your client for their chosen keywords). Imagine having to do it for a bunch of your project websites!
Fortunately, the right SEO tools make it much easier, no matter how many clients you have.
Simply use WebCEO's Dangerous Competitors tool to analyze a website's niche and keywords, and it will find direct competitor domains based on those. If you'd like to find competing webpages instead of competing domains, you can do this in WebCEO's SEO Content Assistant tool.
Note: if your clients turn out to be each other's competitors, it may be a good occasion to prepare some popcorn.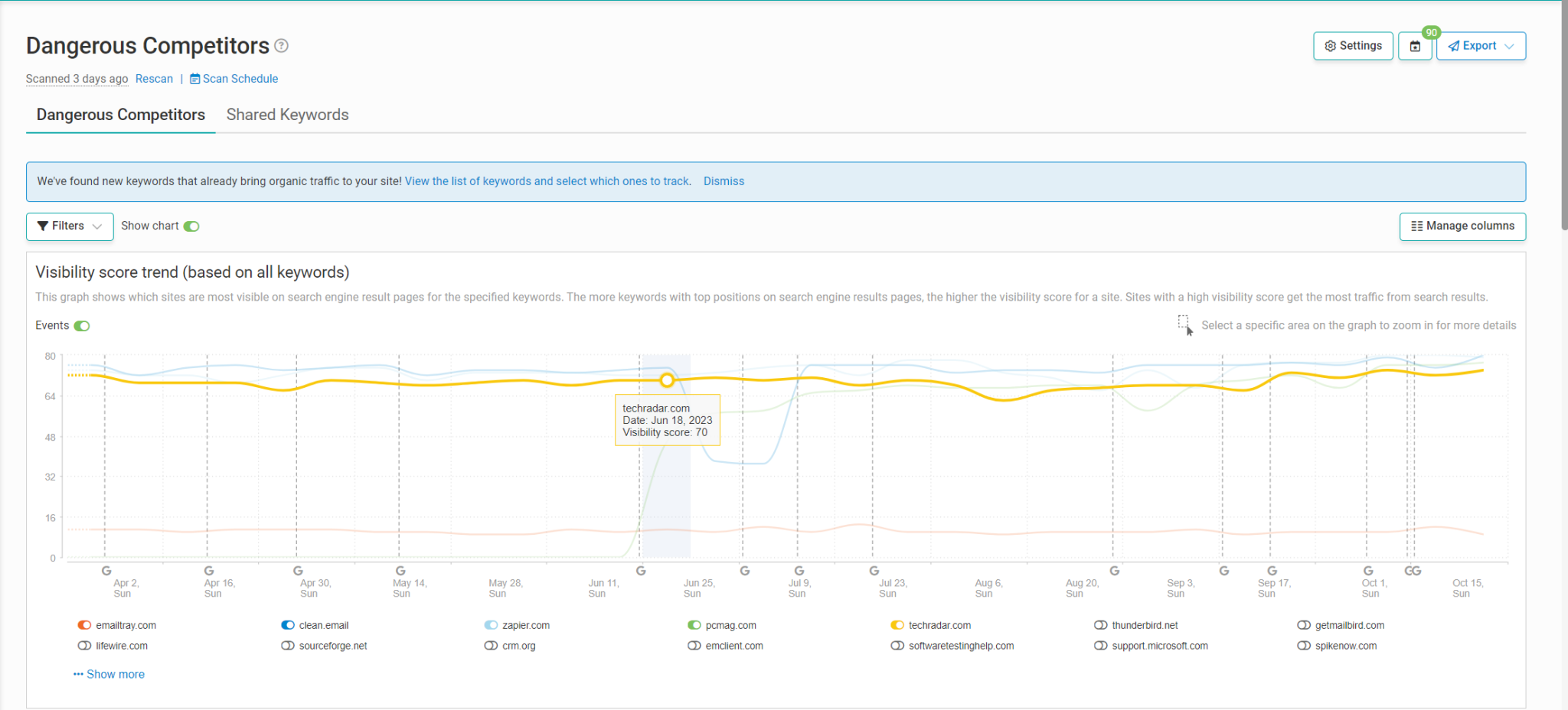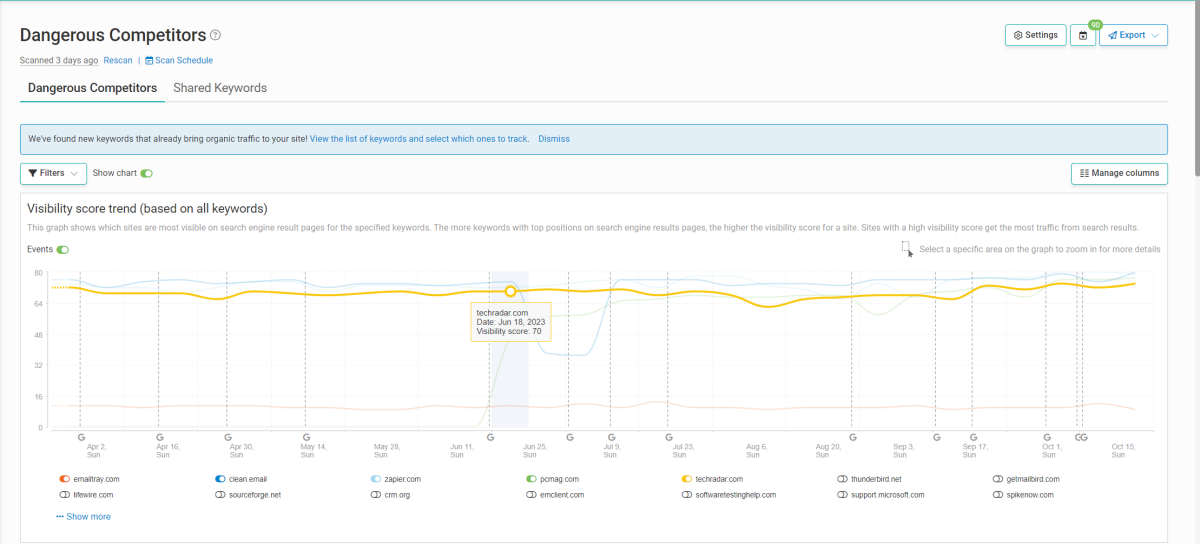 Have your client sites checked for TOXIC backlinks on a regular basis
All websites need to build backlinks in order to rise in rankings.
Alas, no website is safe from acquiring low-quality backlinks along the way. Even worse, it's possible to intentionally sabotage a website's link profile by filling it with spammy backlinks (which is known as link bombing or spamdexing).
When is a backlink bad? When it comes from a page with a low URL trust level, or when the page is littered with outbound links,or the linking page is completely irrelevant to you..
Backlinks like that don't bring any value and may even hurt your client's authority.
The best course of action is to find those toxic low-quality backlinks and get rid of them all, everywhere. And you need to do it on a regular basis.
It may sound like an enormous effort, especially with many clients at once, but WebCEO's Toxic Pages tool makes it trivial.
If you are too busy to ask the webmasters of spammy domains for precise removal of each toxic link, then you can mark as many of them as you want for removal with the in-built Disavow feature. Note you can disavow both domains and URLs. We recommend disavowing an entire domain if the page that links to you is really bad. In this way, if they create a new page to spam link to you, you've already told Google that you've disavowed it.


Finetune customized SEO Dashboards for your client sites
When given the option, who doesn't like personalizing their tools?
Complex tools like SEO platforms benefit from it more than you can imagine.
After all, everybody has their own approach to how they run their sites, how they do SEO and what kind of results they want to see.
Which is why WebCEO's Project Dashboard is full of widgets that can be dragged and dropped and otherwise customized to appeal to literally any SEO specialist.
The dashboard can include not just WebCEO's own tool widgets, but also integrate widgets featuring data and graphs from Google services: Analytics, Search Console, Ads. Combine all analytical data with SEO data into one marketing mix!
You will have full control over its appearance. You can go for a minimalistic look with only a few report widgets, or you can make it as detailed as you want.
Include all the reports you want to show to your client and put the most important ones at the very top. You can enlarge or shrink the widgets while you're at it.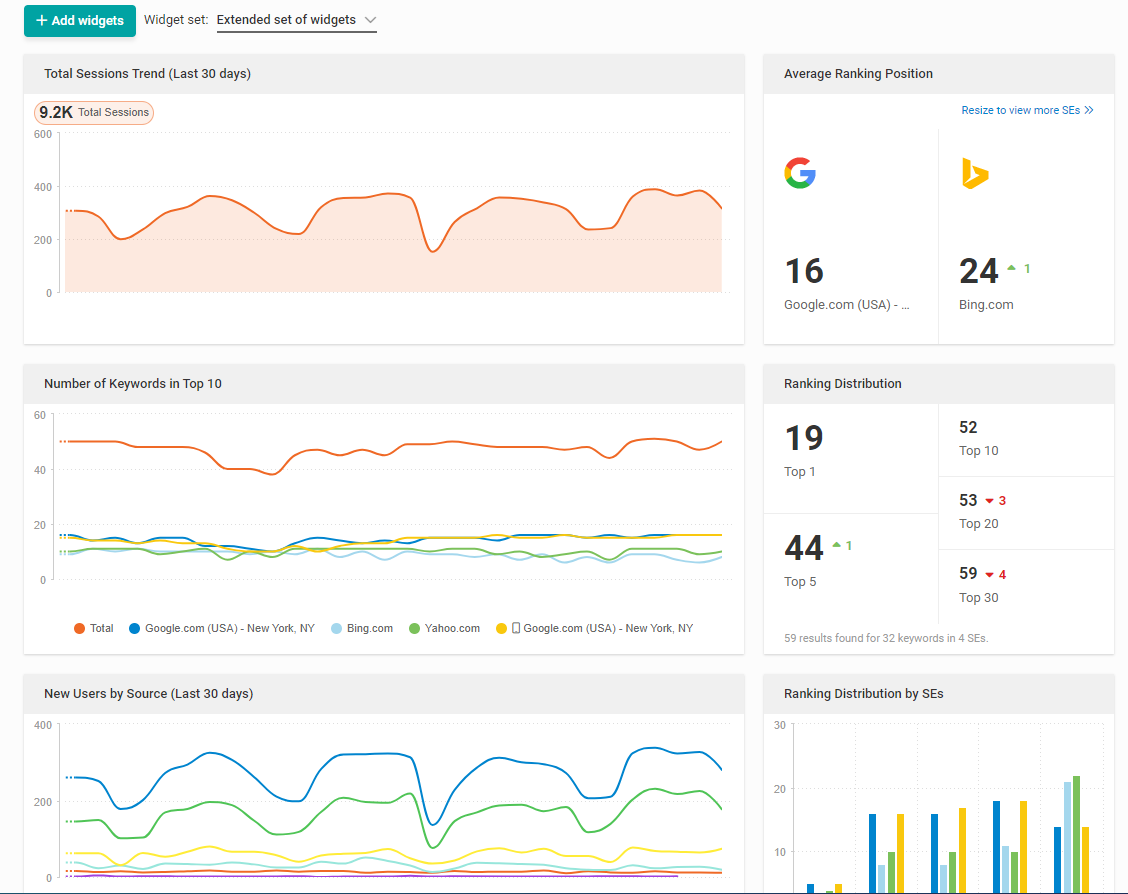 Have professional-looking SEO reports emailed to your clients automatically under your own brand
While the dashboard offers an overview of your client's SEO situation, the real meat lies in the SEO reports.
What's more, they offer you even more freedom with customization.
Choose what SEO information you want to include in your reports and set them to be sent automatically whenever you prefer. Monthly, weekly, or even daily if that's what your clients want.
But the best part is the option to hide your relation to WebCEO. Design your own cover page with your own logo, embed your agency's contact information, and voilà!
Now you can send your own original reports, compiled by none other than your SEO agency.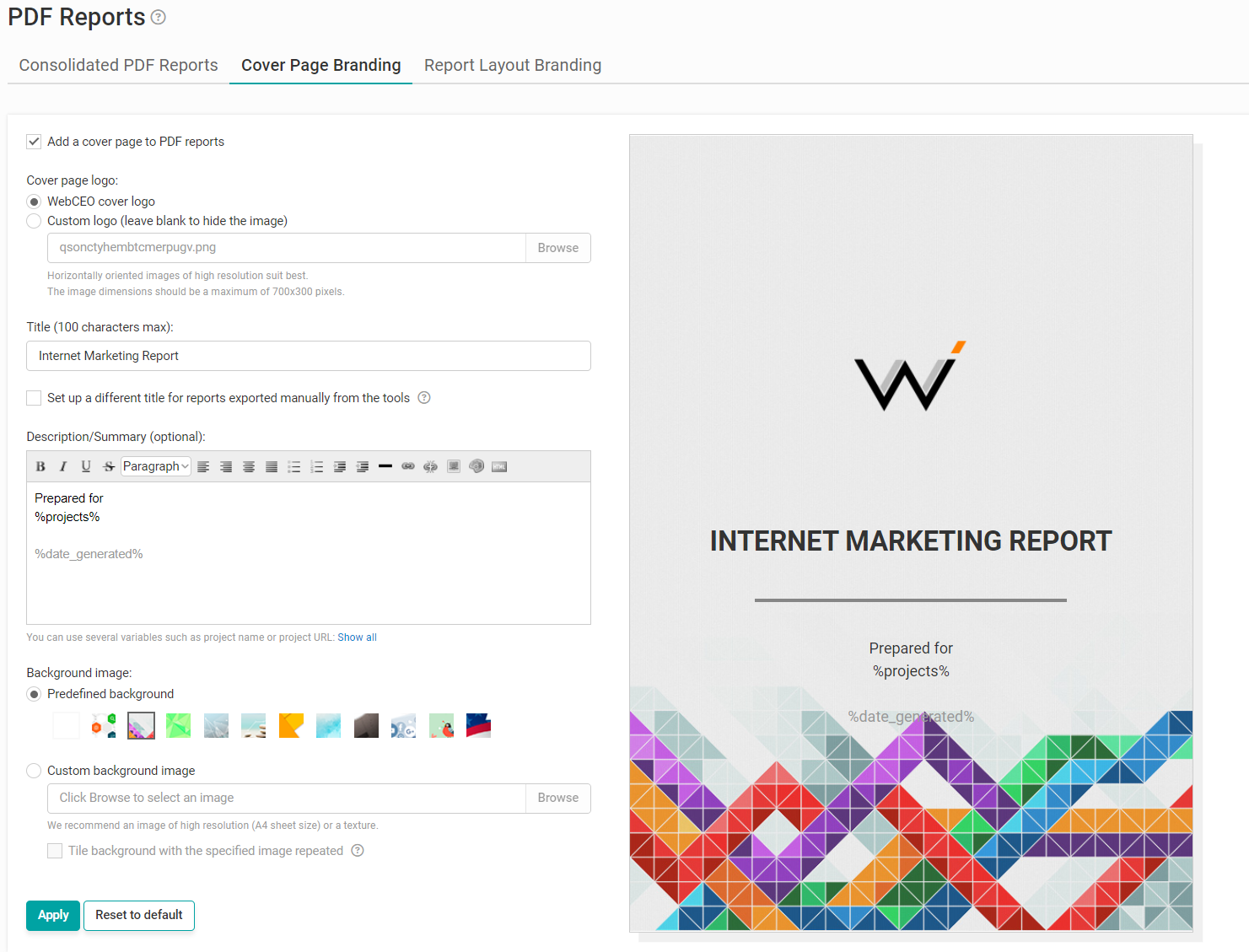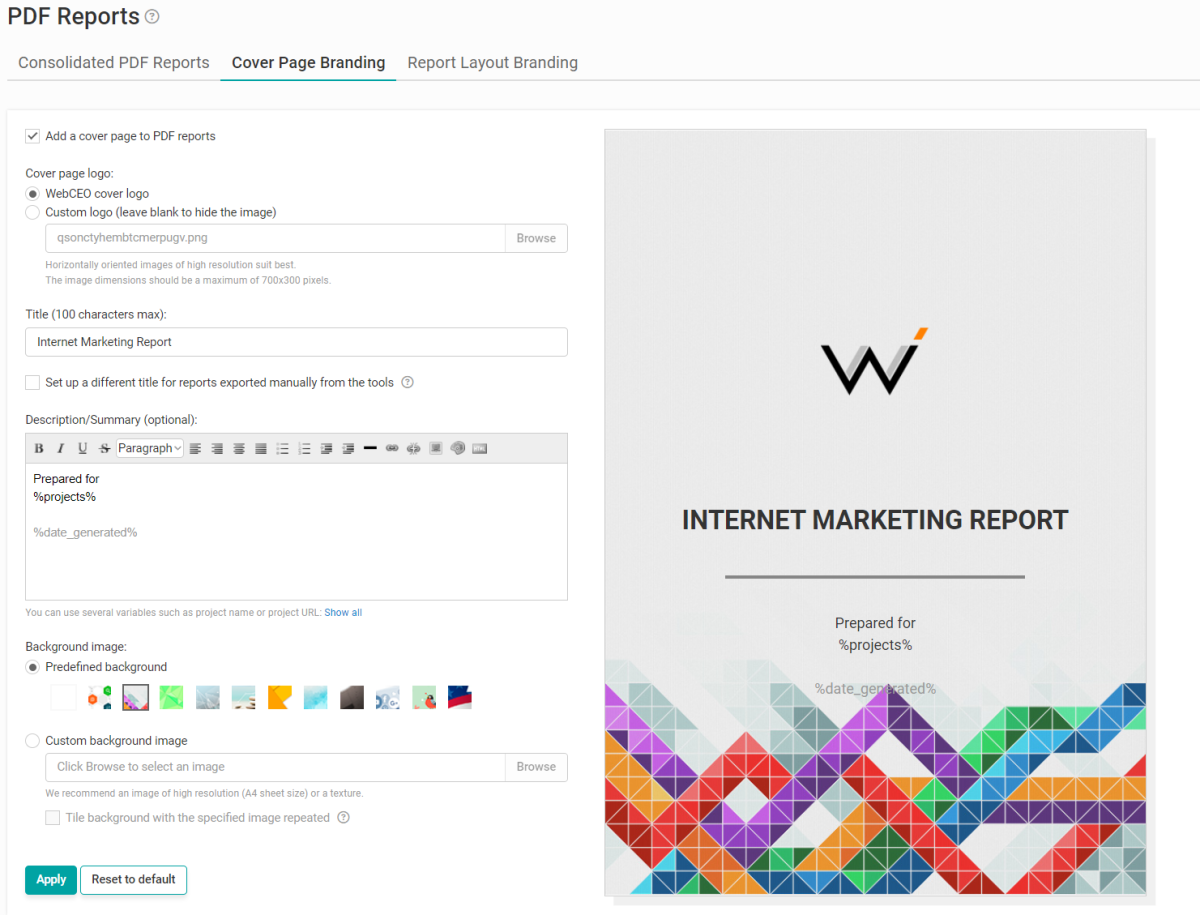 So you'd better give the dashboard and the reports a good makeover. Creativity wins the clients' hearts.
Wrapping up
Remember that online search always evolves, and so does SEO along with it. As tools become more developed to matchsearch engines' new capabilities, new SEO hacks will inevitably emerge. Keep an ear to the ground for new SEO know-hows – and if you miss any, WebCEO will be there to share the news.