20+ Best SEO Tools in 2019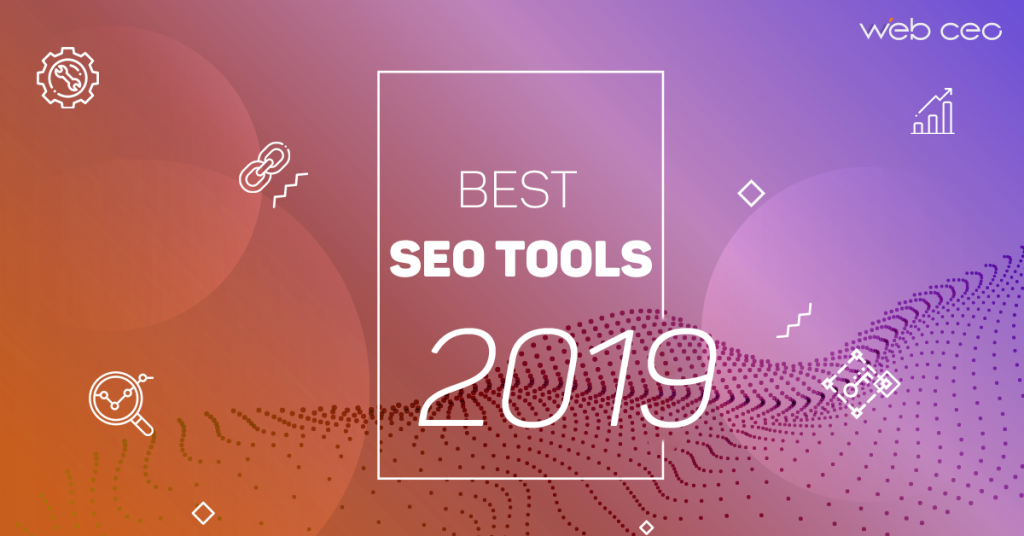 In just a few years, the best SEO tools have moved online, now performing in the cloud to collaborating users. These users can access their projects from any device, anywhere in the world. This is why online SEO software is so popular. The only serious choice people are making these days is between having free online accounts or mining the advantages of paid subscriptions.
A contemporary SEO tools list would include more than 80 online SEO programs to choose from, but a comprehensive, really good, web agency oriented set of tools can make a big difference – you can work smarter and faster with them. Some users prefer a mix of top SEO tools, while others go for all-in-one platforms. Let's take a look at the current field:
BEST SEO TOOLS 2019
Keyword Research tools
Site audit and SEO analysis tools
Link building tools
Rank Tracking tools
All-in-one SEO platforms
First, we can't ignore Google SEO tools. The best free SEO tools you can get in the niche are run by Google. There's Google Keyword Planner, Search Console, Trends, Analytics, PageSpeed Insights. All marketing people need to be logged into these on their browsers.
Keyword research tools
those that show you keywords you haven't thought about but your potential customers have been thinking about:
Answer The Public 

This free SEO tool provides a lot of keyword suggestions from Google and Bing. They call themselves 'a goldmine of insight for today's marketers'. You can see an aggregated view of search queries with hints about the motivations and emotions of the people typing them. This will really help for inspiration and consumer insight in the age of Google. However, to use the full functionality of Answer The Public you will have to pay $99/mo.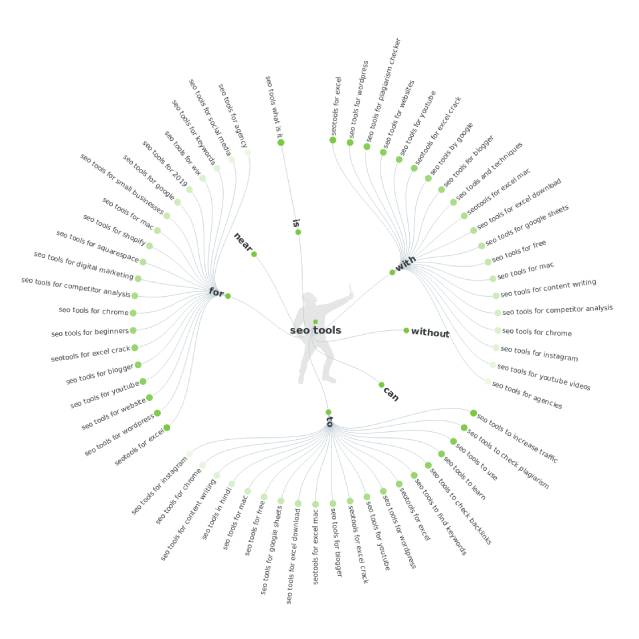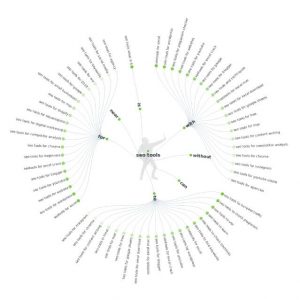 Summary: This online SEO tool is really great to find keywords you never thought about; however, the tool may show keywords which are not relevant. Also, it may not work as well with very specific keywords.
Official website: https://answerthepublic.com/
LSIGraph 

LSI (latent semantic indexing) keywords are keywords related semantically to a main keyword. Such keywords help search engines understand your content better. LSIGraph offers you a number of keywords for your niche & topic so it's up to you to produce contextually unique content. With a subscription you get an unlimited number of LSI keywords with important metrics such as precise search volume data and latent semantic value; you will be able to discover top performing content, serve your clients with White Label CSV & PDF reports and monitor your profitable keywords with the Project Manager Library. LSIGraph's Basic plan will cost you $24/mo and the Premium plan is $27/mo.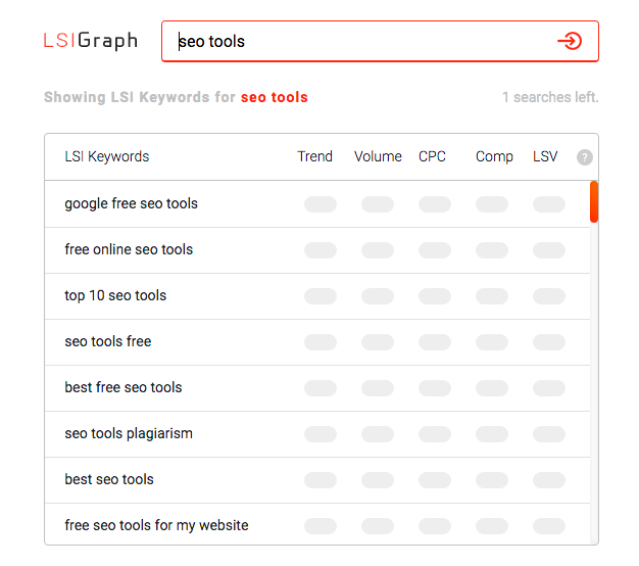 Summary: These keywords won't drive you to position #1 instantly, but this will help your content ranking over time, when SEO effort has already been put in.
Official website: https://lsigraph.com/
Google Search Console 

This is a free Google SEO tool and it's a shame not to use it. Google Search Console will help you find underestimated keywords which people are already using in their Google searches to find your website. You can also analyze your site's impressions, clicks and each keyword's average position on Google Search as well. With the help of Google Search Console, you can make your website shine on Google Search results.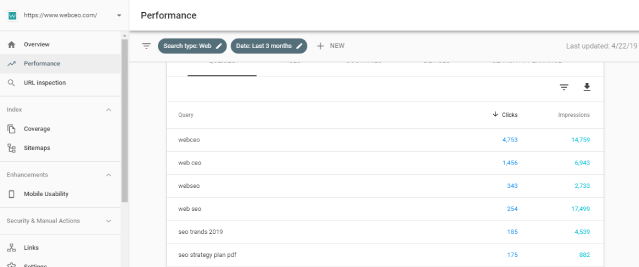 Summary: Every list of the best SEO tools includes Google Search Console. Keywords from Search Console will help you understand what people have already been searching for when they visit your website.
Official website: https://search.google.com/search-console/about
AdWords Keyword tool or Google Keyword Planner Tool 

These are also free and they will help you get plenty of keyword suggestions, so you can research them and narrow your keyword list. You can also get bid estimates, so you can plan your advertising budget. Once you have found the best keywords for your website, you can add them to your advertising plan. You can also add them into a major SEO tool platform like WebCEO. You may finalize a list and launch a marketing campaign any time you are ready.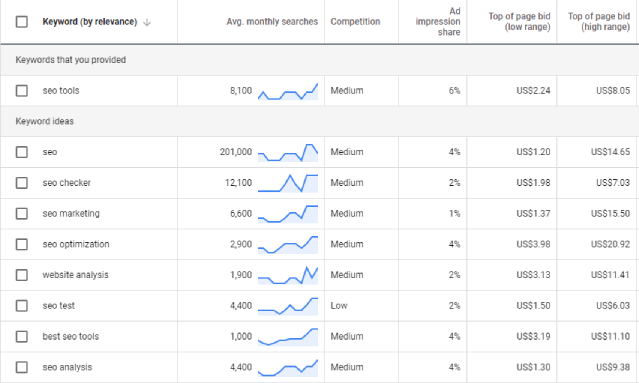 Summary: Google Keyword Planner is a must; it's really informative. But you will have to wait until your account is matured to see accurate data.
Official website: https://ads.google.com/home/tools/keyword-planner/
Well, everything looks good, but when it comes to doing even more effective work, you will face the downside of free keyword tools. They usually have low limitations and really lack statistics data. You will have a hard time evaluating monthly searches, bid competition, search trends etc. – so it might not be so easy to pick the most effective keywords on a free tool. Even the AdWords keyword tool won't give you precise data when you have just created a vendor account: you will only see huge ranges (for example, 1-10k). Once your account has matured, you will see more precise data, but that takes time and money. Which brings us to
WebCEO's Keyword Suggestions tool

This gives you a definite, not an estimated, number of a keyword's monthly searches from the get-go and offers additional metrics that most other SEO tools don't even have: for example, search trends (how a keyword's monthly searches have been fluctuating throughout the year), a keyword effectiveness coefficient, clicks and impressions. WebCEO's keyword research tool can also show the number of local searches per month for an area of your choice. You can also estimate your advertising budget with the bid competition number.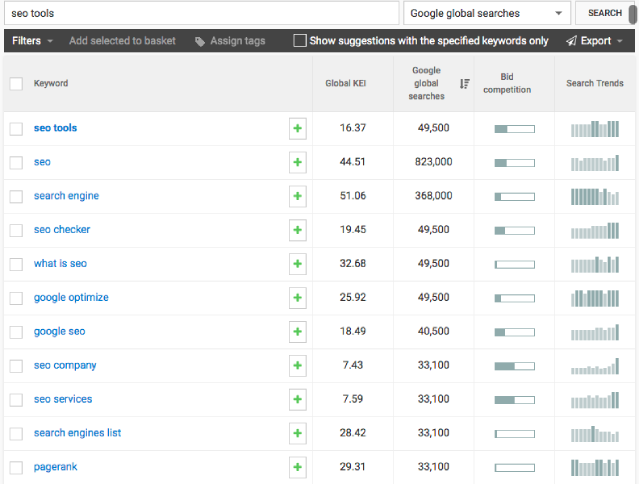 Summary: Relevant keyword suggestions, precise keyword effectiveness metrics, accurate and high quality data and good usability are united in the WebCEO Keyword Suggestion tool. I absolutely love it.
Official website: https://www.webceo.com/
Site audit and SEO analysis tools
Google and the visitors of websites love fast loading sites with zero technical issues. So you have to audit your site for errors on a regular basis. Mobile friendliness, page speed and errors – every factor is critical.
Google Search Console

This tool allows you to check the mobile friendliness of your website and see if there are SEO issues (like duplicate titles and descriptions). You may even receive email alerts when Google identifies issues on your site. Unfortunately, it won't show you a full list of technical and SEO issues on your website. An additional site audit tool is a must-have too, so you can see a full picture.
Summary: Good enough for an instant check of a website's technical issues and mobile friendliness, but it won't compete against the top SEO tools.
Official website: https://search.google.com/search-console/about
Deep Crawl

The tool is designed to make websites accessible and effective. They offer great capabilities for solving technical and SEO issues. With DeepCrawl you are able to audit your website, learn and understand your website architecture, recover from Panda or Penguin penalties, compare your website to your competitors and more. DeepCrawl fits both in-house SEO teams and Agencies & Consultants. Users say that it is easy and works reliably. It will cost you $89/mo for 5 projects.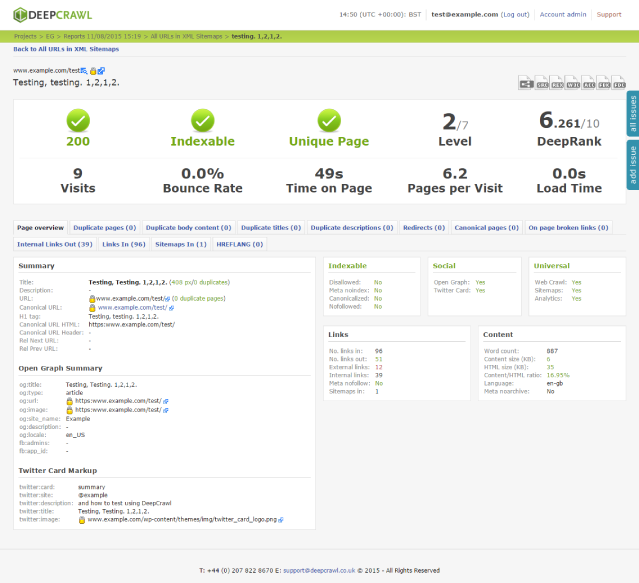 Summary: Fits agencies and enterprises, but sometimes the tool crawls websites too slowly.
Official website: https://www.deepcrawl.com/
BrightLocal

This is a great choice for those who are working for locally oriented businesses and doing local SEO. It will be easy for you to uncover technical issues with the site's local SEO profile. The most useful thing about BrightLocal is the ability to audit, clean and build citations from the most popular sites. Also, with BrightLocal you will never forget about Google My Business – we all know how important it is to register one's location and keyword descriptions with search engines.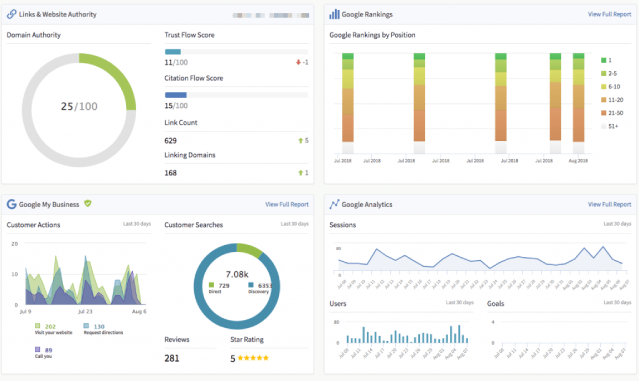 Summary: Their automated reports look really good! You'll have to schedule a report and then wait a long time until it is scanned.
Official website: https://www.brightlocal.com/
You should ask yourself if you really need a standalone tool for technical/SEO audits. The big all-in-one SEO programs offer great auditors, so it will be much easier to use a platform instead of a variety of different SEO tools with separate logins.

For instance, WebCEO has Technical Audit and On-Page SEO tools which scan your site for technical and SEO errors, respectively. Both are completely free if you use the free trial and they won't add to the variable cost of an agency level paid plan.
WebCEO's On-Page SEO tool & Technical Audit tool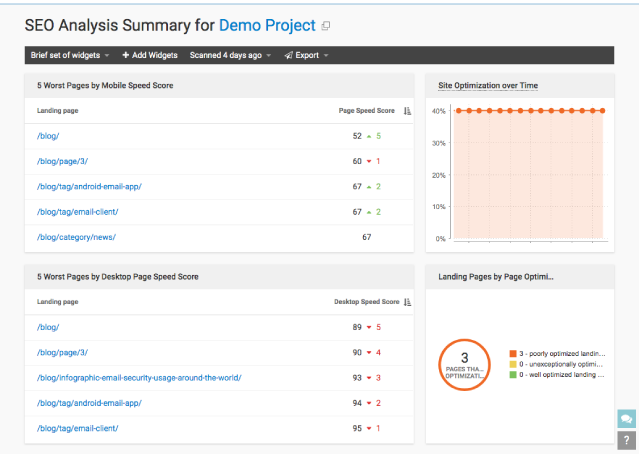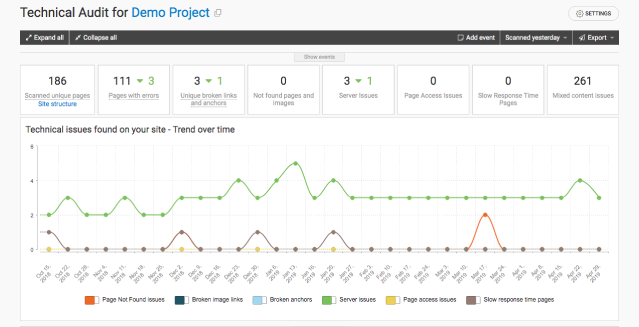 Summary: A technical audit for webmasters and an SEO analysis report for SEO specialists are exactly what you need to keep your website user- and search-engine-friendly. Scanning is quick so even if you forget to schedule – it will only take a minute or two!
Official website: https://www.webceo.com/
Next in line are the tools all SEO professionals love:
Link building tools
Majestic

It shows special metrics like trust flow, citation flow, historical index, fresh index, etc. With all these metrics you can see your improvements and progress. You will see must-have data on your backlinks, so you can estimate if they are naturally earned or you'd better get rid of them. Also Majestic is a data provider – and the best SEO tools use their data.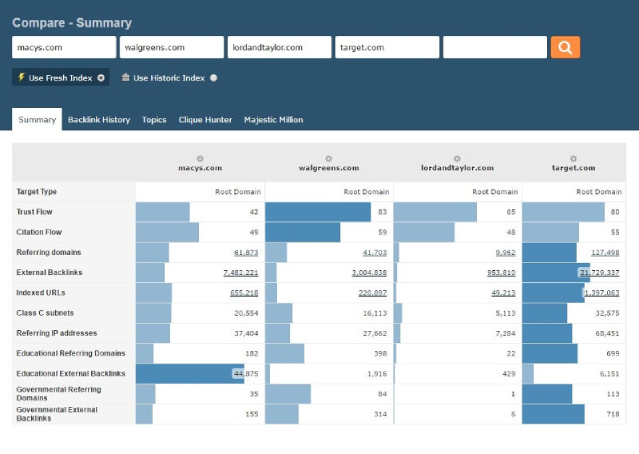 Summary: Majestic is really cool and affordable – the biggest database on the web, with an easy interface and good usability. However, there are SEO programs that show backlinks divided into two columns: natural and unnatural.
Official website: https://majestic.com/
Ahrefs

This platform is also well known for their backlink opportunities. Ahrefs offers its proprietary metrics such as DR (Domain Rating), UR (URL Rating), AR (Ahrefs Rank) which are used to estimate backlink popularity. Also, Ahrefs is not a data provider so you will have to buy a subscription to their platform to have access to their backlink tool.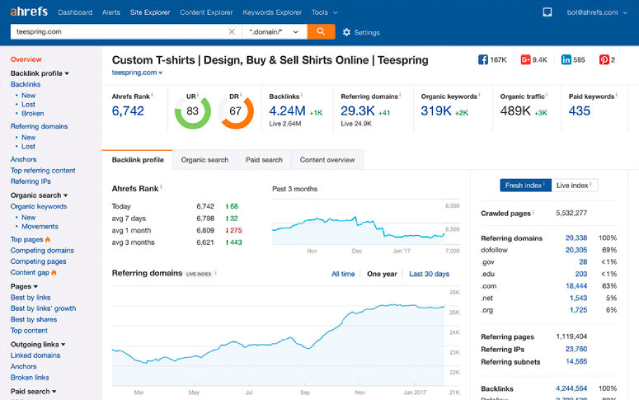 Summary: This SEO software has a lot of valuable information and you just have to get used to its interface. However, it is not cheap and won't do for small businesses or solo SEO specialists.
Official website: https://ahrefs.com/
Linkody

Linkody is an amazing backlink monitoring tool that every webmaster should possess. Its main focus is set on monitoring your backlinks as well as tracking the success of your link-building efforts.
What's more, Linkody automates the whole process for you! You will get notified when you gain or lose any backlinks and you will have a full overview of the necessary SEO metrics to assess your backlinks. To help you improve your link-building strategy, Linkody will give you insights into your competitors' link building strategies.
With a wide variety of subscription plans starting from $14.90/month, you will find the most suitable subscription for your needs.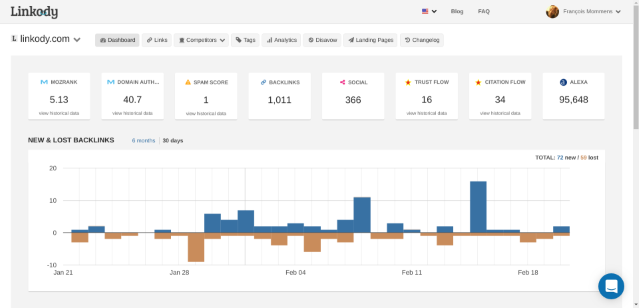 Summary: This SEO software analyzes your backlinks as well as your competitors' while also keeping an eye on the backlinks you are losing. Its detailed reports help you sculpt a link profile full of high-quality backlinks.
Official website: https://www.linkody.com
Link Research Tools

This is a useful tool designed for link building and analysis. There are a few great features like link prospecting and outreach. Their most popular feature is Link Detox which scans all your backlinks and shows the ones which are at risk of a Google penalty (or already are under penalty). This tool makes identifying unnatural links easier, and a chart shows your backlink situation in percentages. In a quick glance you can analyze your backlinks and decide what to do next.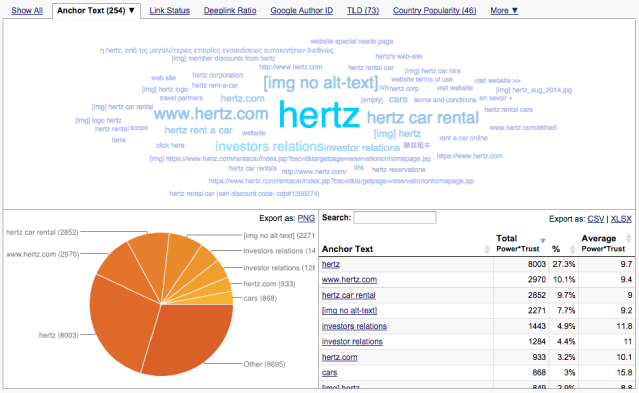 Summary: These online SEO tools are just what you need when you are running short on time and need a quick backlink profile analysis. They also offer other important SEO tools and detailed reports.
Official website: https://www.linkresearchtools.com/
WebCEO's Backlink Quality tool

This is another big shot in backlink research. It does way more than keep track of your link profile; it aims to maximize the effectiveness of backlinks in your SEO campaign. Its Toxic Pages tool finds potentially dangerous backlinks, and the Competitor Backlink Spy looks at the specific backlinks of your competitors and sorts them by which ones link to more than one of your competitors or which links have the highest domain or URL authority and/or citations.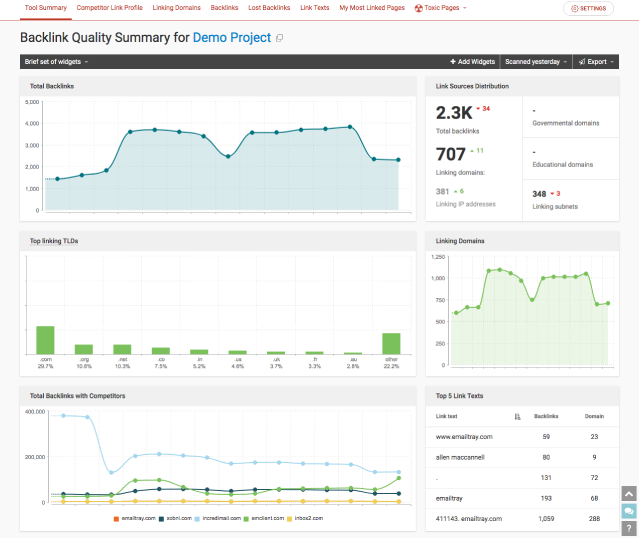 Summary: With WebCEO's Backlink Checker tool you can easily and quickly check if your backlinks are powerful, relevant and natural. You can find toxic links and disavow them – which is really important for SEO! You can also see the backlinks your competitors share with each other but you don't have yet! This is a huge help and it's cool they built this while using Majestic's database.
Official website: https://www.webceo.com/
Rank tracking tools
Google is completely local now, and obviously you will want to track your rankings across all the locations your customers are expected to be searching from. Rank tracking tools will always cost you some money.
Pro Rank Tracker

This tool offers Rank Tracking, Analysis & Research and Reporting. This is a good tool to get up-to-date and easy-to-analyze SEO rankings for your website. Pro Rank Tracker supports most popular search engines, including organic desktop and mobile results, and other search elements. All the data you get can be analyzed so you see the progress. This tool also offers reporting options, so you are able to generate reports (white-labeling options are included) and send them to your clients and colleagues. Monitoring of 500 keywords will cost you $49/mo.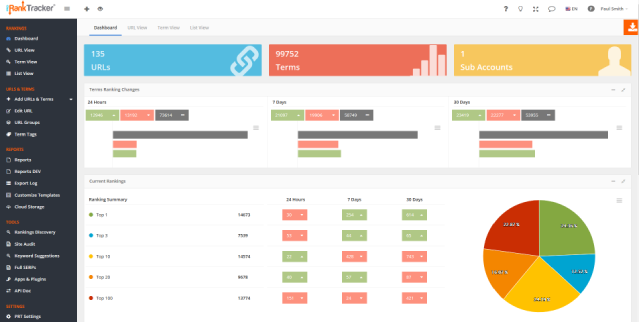 Summary: The tool is really good for rank tracking. You have to keep in mind that if you track the same keyword for a different location, on desktop and mobile search, it will cost you as 4 different terms.
Official website: https://proranktracker.com/
WooRank

The tool allows you to track your global and local (by country) keyword rankings. Unfortunately, you can only rank by Google USA or Google – Your Country or Bing USA or Bing – Your Country so rankings data won't be super accurate. You will be able to sort your keyword lists by search volume and rank; you will also be able to track changes in your rankings over time. This is standard for the industry. As for the pricing, tracking 50 keywords will cost you $59/mo.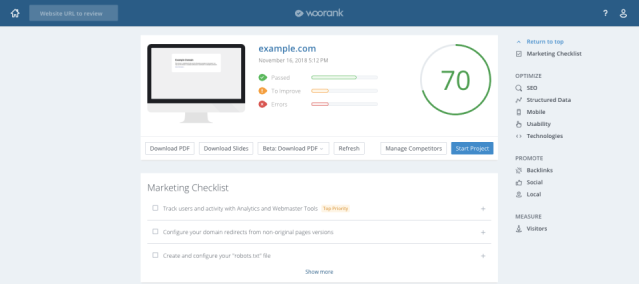 Summary: Users enjoy WooRank's simplicity and user-friendliness. I wish they had more accurate location data and the crawler was faster!
Official website: https://www.woorank.com/
SEO Monitor

It shows your SEO performance on one big dashboard. This tool takes data from Google Analytics, combines it with your rankings and allows you to solve issues. So you are able to easily and quickly find keywords which are already popular and converting.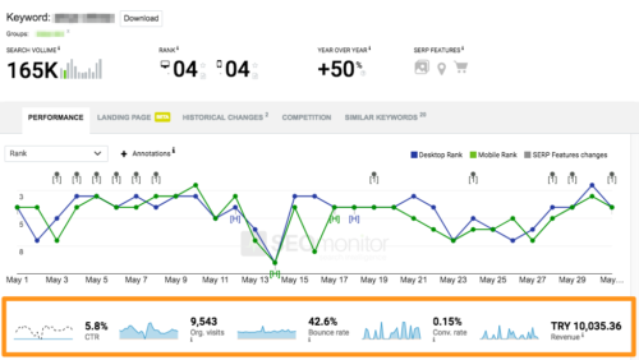 Summary: At first, their interface is like a challenge. You have to look attentively to find powerful features. Luckily, their support is always ready to assist.
Official website: https://www.seomonitor.com/
Advanced Web Ranking

This is a hybrid of a keyword research tool and a rank tracking tool. Its functionality has a lot in common with SEMrush, Authority Labs etc. Users enjoy getting what they need from the tool with no bells and whistles; such as advanced Featured Snippets ranking data.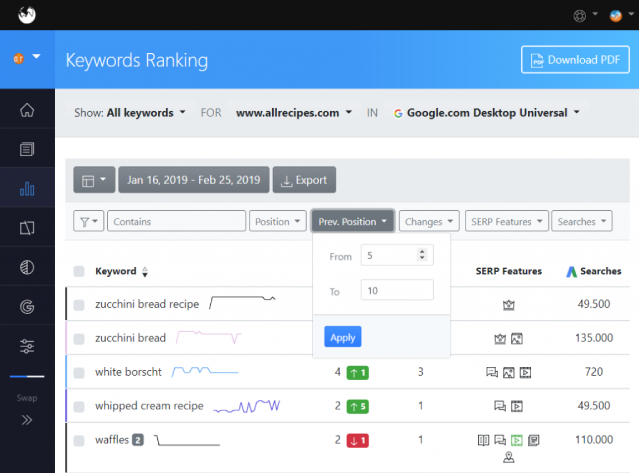 Summary: Tracking your performance is easy once you get used to the interface of the tool. The reports take time to be generated so it is better to schedule them.
Official website: https://www.advancedwebranking.com/
WebCEO's Rank Tracking Tool

This tool offers detailed reports on your keyword rankings, including vertical rankings like Places, Images, Featured Snippets, Knowledge Panels, etc. They show rankings by keyword, by website page and by location. Your competitors will be ranked too, if you configure this in settings. Moreover, WebCEO's Rank Tracking tool shows your ranking down to the city or zip-code, as well as device used and browser language, so you can be sure that data is really accurate to what narrow target markets will actually see when they search. All this is available in the free trial.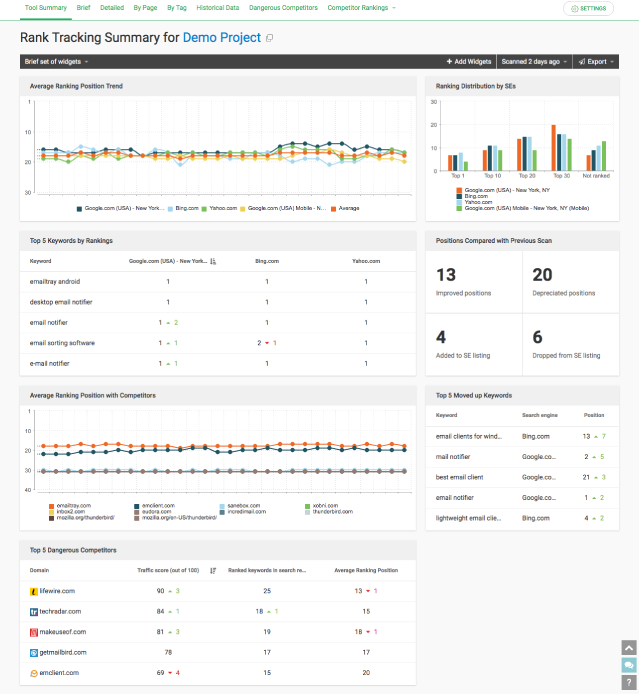 Summary: Global and local ranking data, all types of search results, including Featured Snippets, better known as Position Zero. They always have accurate localized data in professional-looking reports. That's exactly what I need from a rank tracking tool.
Official website: https://www.webceo.com/
ALL-IN-ONE SEO PLATFORMS
All-in-one SEO platforms can be more practical to use: there will be no need to switch between different tabs in your browser and always do separate reports. With a platform, you will feel free to focus on your goals while the software takes care of most of the monotonous tasks. So, which of the best SEO tools do you have in mind now?
SEMrush

At the very beginning, this platform was a great competitor metrics tool. But after a few years of work, they turned into a typical online SEO software: a rank tracker, an SEO auditor, a backlink checker etc. Using this platform will cost you $99/mo per user. That said, every additional user will cost you $70/mo. SEMrush has its own backlink tool, which is not the best, but they have integration with Majestic if you pay extra.
Summary: Some tools may be confusing at first. You can give this platform a try with the free trial period and understand if you like it or not.
Official website: https://www.semrush.com/
Ahrefs

At first, Ahrefs' specialization was with backlink checking. They had one of the biggest backlink databases in the niche – over 16 trillion known backlinks. Then they decided to develop more marketing SEO tools and offer a full SEO & marketing platform. Ahrefs is known for comparing websites, backlinks, PPC, organic keywords and shifts in rankings; it's also good for page evaluating and exploring keywords. However, users have also been calling Ahrefs pricey and difficult to navigate and use. 
Summary: This platform is mostly known for its backlink opportunities. They are doing really good in the niche, but the data in the non-backlink related tools is not always accurate.
Official website: https://ahrefs.com/
Moz

Moz has its own tool for backlinks and every SEO professional knows about its metrics: Domain Authority and Page Authority. With these metrics you are able to evaluate your website's link profile. They offer a keyword tool, a link explorer, a rank tracker, an on-page grader, a web explorer and other online SEO tools. However they don't have any tools for social media marketing. Their Keyword Research tool won't give you precise info on local keyword demand per month – only ranges, so you'll have to guess what keyword will be more useful among many.
Summary: Moz is quite popular, but their Rank Tracker doesn't have instant rank checking so you will just need to wait in a line. Sometimes there is just no time for that.
Official website: https://moz.com/
WebCEO

Having been the choice for digital agencies and optimization nerds since the turn of the century, the WebCEO platform comes with advanced tools for everything SEO: keyword research, backlink research, technical and code audits, rank tracking, social media citation monitoring, sitemap creation, manual submissions, internal link auditing and landing page optimization tools, all combined with competitor monitoring and research. Unlike SEMrush and other platforms that draw data from Majestic, the WebCEO Majestic backlink data doesn't cost extra with fixed price plans and is only 40 cents per 1000 backlinks found when using the WebCEO Agency Unlimited Plan.
WebCEO is best known for its white label SEO implementations where partners operate their own tools on their own domains or subdomains. You can also place a lead generation button on your website to give your site visitors free site audits.
WebCEO fixed plans have no extra costs while the WebCEO Agency Unlimited Plan is very clear about its variable costs including $2 per active project per month + $4 per 1000 rank queries + 40 cents per 1000 backlinks found + 49 cents for processing more than 5 free site audits per day for your site visitors via a lead generation button. And that's it. No hidden costs exist.
Official website: https://www.webceo.com/
In conclusion, to choose from all these best SEO tools, you should first decide which SEO tools and features you really need. Sometimes you can benefit even from Google SEO tools, but in most cases you will need a full SEO tools list. So, just calculate your monthly budget, remembering there may be limitations and hidden costs for different tools. This may help you pick the best SEO software.