10 Christmas Wishes for 2020 from WebCEO for Your SEO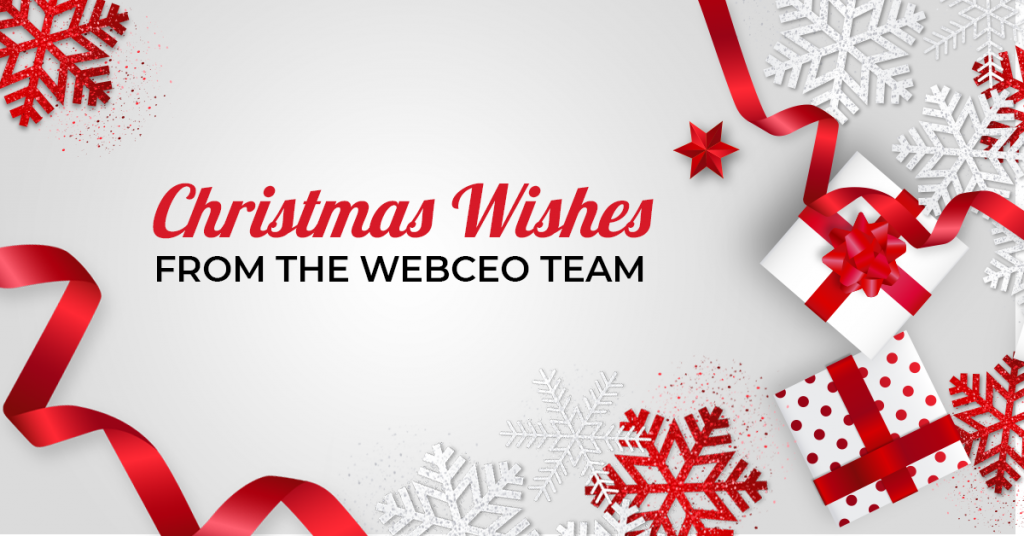 Merry Christmas to all your homes and home pages!
Have you already cooked your Christmas turkey? Or do you prefer ham with cranberry sauce? The time flies way too fast, as eggnog is already waiting to be drunk and colorful lights are blinking on the walls and Christmas tree, spreading the holiday spirit to every corner. Santa will soon be by your chimney carrying his bag full of presents and dreams that will come true in 2020!
This is the end of a decade! Can you believe this? This is not an everyday event!
If you are at home now, celebrating the holiday already, it's high time to light up your fireplace, put on your warmest and softest sweaters, put presents under the decorated Christmas tree or fill Christmas socks with little surprises for your relatives! Prepare some hot tea or cacao, if eggnog is not your cup of tea, and say kind words to people who surround you every day! It's Christmas, guys! That very day for kindness and wish lists, plans for the next year and carols under the falling snow.
The WebCEO platform is not an exception to this! We all have wishes we want fulfilled in the coming year. Let me present some 2020 WebCEO Christmas Wishes:
MAY YOUR HEAD EXPERIENCE NO ACHE BECAUSE OF ANOTHER GOOGLE UPDATE!
From a user's perspective, we all understand that Google algorithm updates are not a bad thing at all. These help users get the best search results and provide them with satisfying conditions for work. Still we want to wish you one thing: May your website fare well against any updates and not experience any rank drops!
MAY YOUR RANKINGS GO HIGHER & HIGHER & ALWAYS BE ON FIRE!
Website rankings are important. This is that very thing each webmaster literally fights for. The higher your rankings, the higher your website is on SERPs. We want to wish you really productive days of working on your website's performance. Be brave enough to reconfigure your strategies, choose new keywords and optimize your website and content for them. Make 2020 the starting point for your greatest achievements in the new decade!
MAY THE KEYWORDS YOU CHOOSE CAUSE TREMENDOUS BREAKTHROUGHS!
Keyword selection plays one of the most important steps in the process of your website optimization. Do it thoroughly and you'll see great results. Neglect the matter and you'll see how your website goes down. We don't want you to experience the latter, which is why we work hard every day. May this year bring you more ideas and keyword combinations you might use to break into the SERP's top spots!
MAY THE LINKS YOU BUILD BRING YOU ONLY TRAFFIC AND GREAT SEO VALUE!
Backlinks are the goal of any webmaster and copywriter. To receive a link from an authoritative source is a dream come true, especially if your website has just started its work. Write great content on popular, in-demand topics and get your backlinks! However, we have something to add here: may all your future backlinks be semantically relevant to the content you create!
MAY GOOGLE LOVE YOUR QUALITY CONTENT!
Some websites have a tendency to produce content that is not as great as it was in earlier days. Still they receive a lot of backlinks while resting on their laurels. We wish you to always produce only high quality content and be highly appreciated with valuable and DESERVED backlinks!
MAY 5-STAR REVIEWS IMPROVE YOUR LOCAL RANKINGS!
Following local SEO procedures has become more important for local businesses. Since Google no longer displays self-serving reviews in the SERPs, now it is essential to gather great reviews in other directories to increase your popularity and attract more of an audience. May your work be rewarded with the recognition of customers who will not be shy to express their opinions and give a maximum amount of stars to your business!
MAY YOUR WEBSITE APPEARANCE FACILITATE THE BEST USER EXPERIENCE!
A great user experience is appreciated a lot. Even if you think that it is not as important as a service's functionality, then I'm sorry to disappoint you. People like with their eyes and prefer services that look great and are convenient and easy to handle simultaneously. In 2020, this trend will continue. If you are going to redesign your website or create a new one, may the user experience on your website be of the highest quality and greatly reviewed by visitors in the future!
MAY THE COMING YEAR MAKE YOUR BRAND NAME STAND OUT FROM THE CROWD!
A lot of experts say that working on your brand recognition is essential for your SEO nowadays. We couldn't agree more. The more frequently your company/product/blog name is mentioned outside your own website, the more trustworthy and recognized you will become in the eyes of users and search engines. We wish your brand to be known everywhere and attract more and more attention every day!
MAY THE WEBCEO TOOLS MAKE YOUR SEO DREAMS COME TRUE!
We work hard every day to provide our users with the best SEO tools possible. We always appreciate your feedback and take it into account while considering new updates and improving the service's performance. We have some grand plans for 2020 and hope you will be looking forward to their realization!
MAY YOUR HEALTH BE STRONG AND YOU YOURSELF ALWAYS INSPIRED!
Work takes a lot of our time and strength. We often forget about our health and put other obligations to the fore. Your body and your brain need some rest from time to time, so let's not betray ourselves and take care of our health – mental and physical – together. Let's make the coming year full of beautiful events!
This is just a half of all the wishes we wanted to share but… this is Christmas and we're all busy so we decided to mention only the most important ones! Feel free to add your own points in the comments section.
May this Christmas be the best and warmest! Merry Christmas!