7 Things You Need to Optimize Your Content for SEO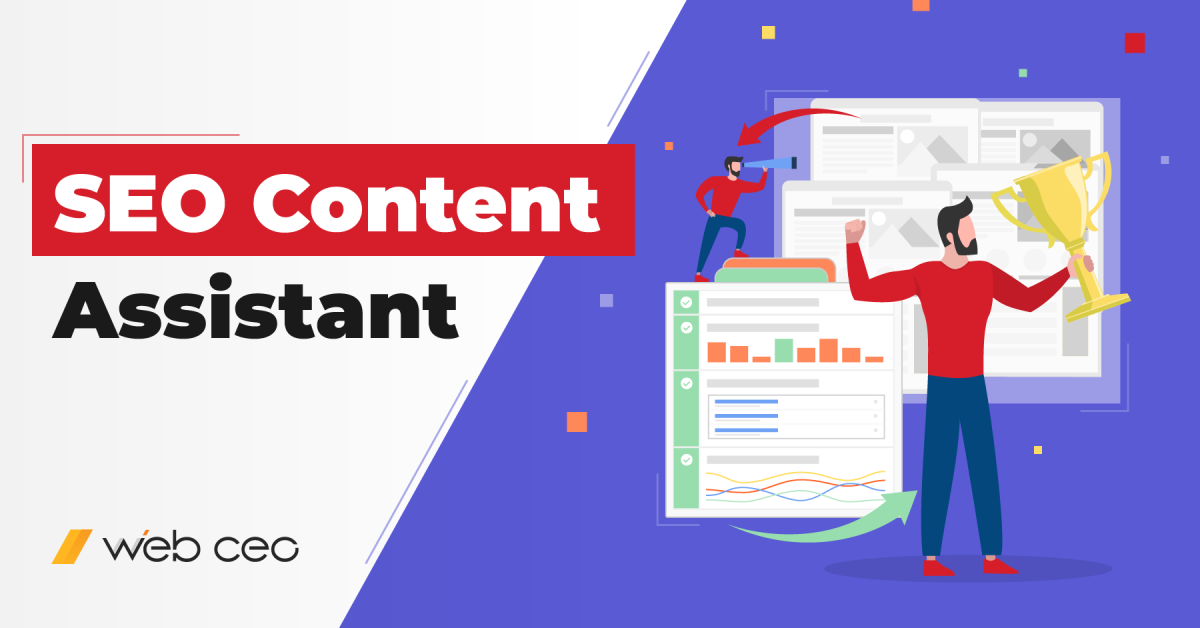 Everybody wants users' love. To obtain it, we create content and try to make it as excellent as we can. But no matter who you are, there is always somebody else with superior content… and that's great! The Internet would be a very boring place if content creators weren't constantly trying to one-up each other.
Content can be excellent, but it can never be perfect: there is always one detail or another that you could improve. Have you ever wondered how to refine yours?
It may be a lot of work or it may not – that depends on your progress so far. But you can do a lot even in just a single day. Let's get started.
1. Be In-Depth, but Mind the Formatting
People don't like walls of text, but they like long reads.
Sounds like a paradox? I don't think so; there's a stark difference between the two.
Walls of text: look intimidating and boring (and often are boring);
Long reads: look promising, are easy to read and effective at teaching new things.
It's all about perception. And perception of text comes from its formatting.
If you want to format your content to be more readable, these tips can help you:
Short paragraphs are better than long ones.
Negative space pleases the readers' eyes.
If you think your font size is small, increase it.
Break long sentences into shorter ones.
Use lists (both bulleted and numbered).
Highlight the important parts with bold, italics and colors.
Use headings and subheadings before distinct sections.
Just this step alone can drastically improve almost any content piece. And we are just getting started.
2. Always Check Grammar
Even if you've always failed English at school, there's still hope!
There are plenty of tools which check spelling and punctuation for you. Good old Microsoft Word does it automatically as you type. However, many users don't find Word potent enough and enhance it with add-ons – or straight out look for other tools.
Pick your poison. As long as you don't forget your commas.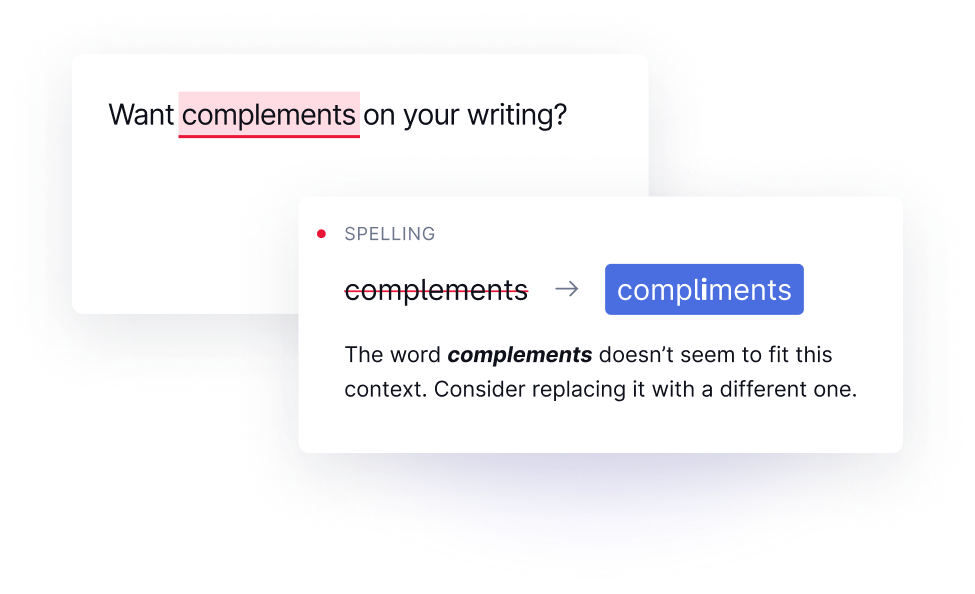 3. Be Unique, Don't Copy Others
Plagiarism is the greatest sin you can commit as a content maker. Copy somebody else's content, and it's a race to who will denounce you first: Google or users. If you are lucky, Google will hide your crimes from its search results before any users see it – the damage will not be permanent then.
Of course, it doesn't mean you need to Google every sentence you write to make sure nobody has used it before you. But large chunks of text are definitely a no-no. Unless you include one as a quote and list a source.
If you have doubts about your text's originality, run it through a plagiarism checker like Grammarly (it's free).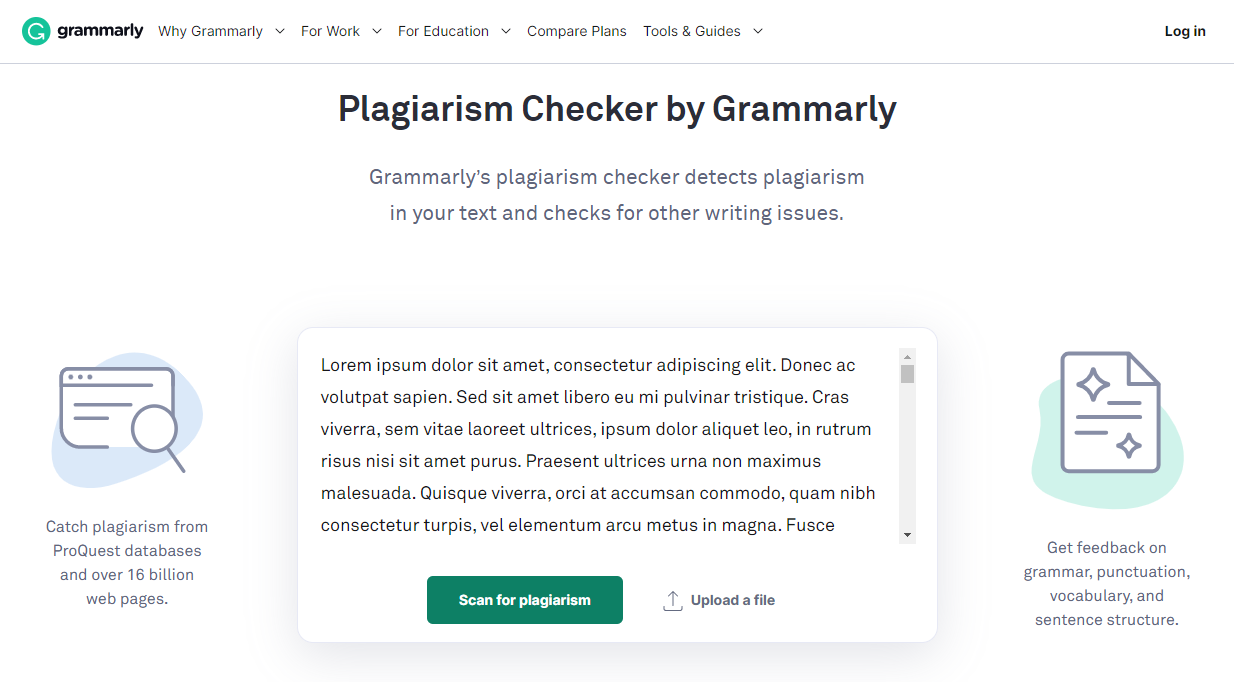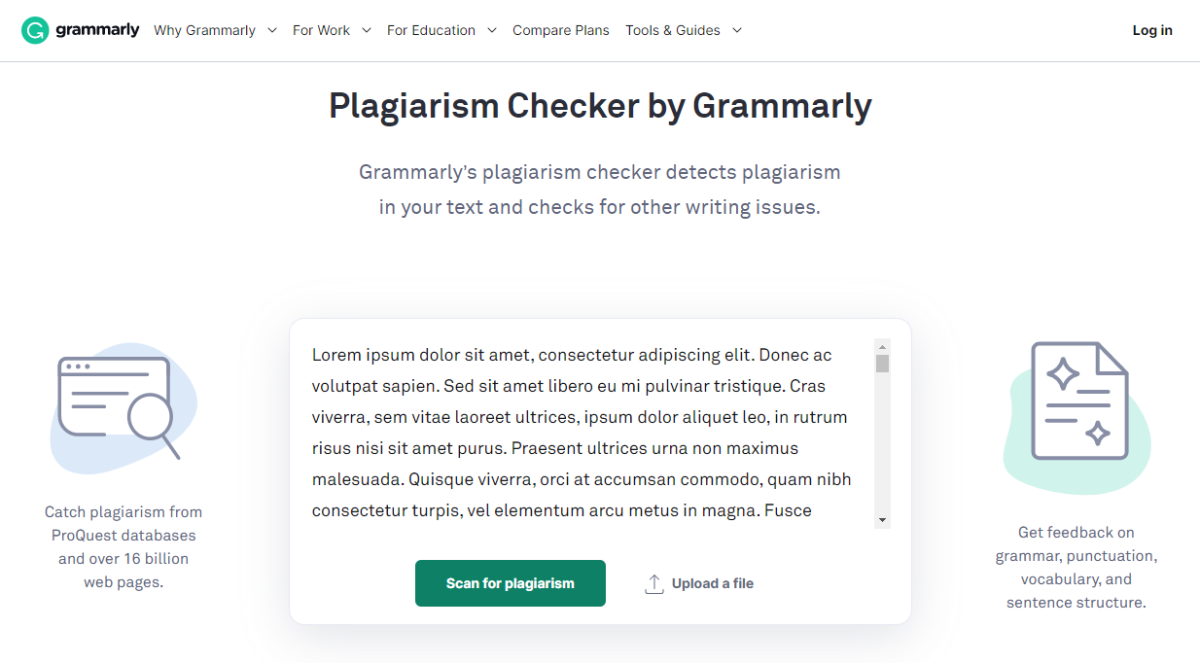 4. Write It Yourself, Don't Trust AI
Another mistake you may be tempted to make is use an automatic article rewriter. Sorry not sorry, ChatGPT!
For better or worse (I'm inclined towards better), text generating algorithms are not advanced enough yet. You can't trust an AI to craft useful content – unless that's exactly your selling point. Remember when somebody made an AI watch 1000 hours of Batman movies and write its own script?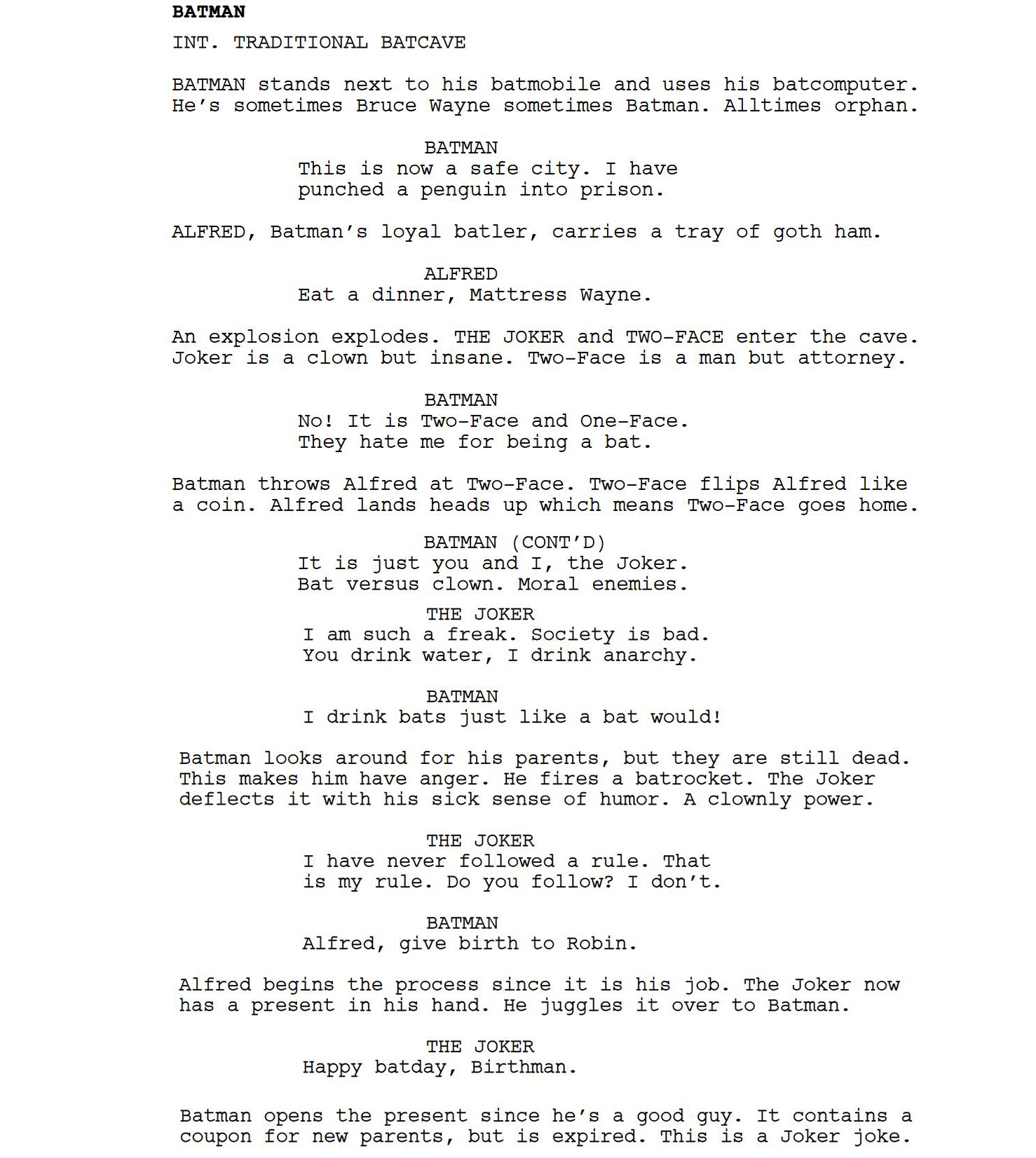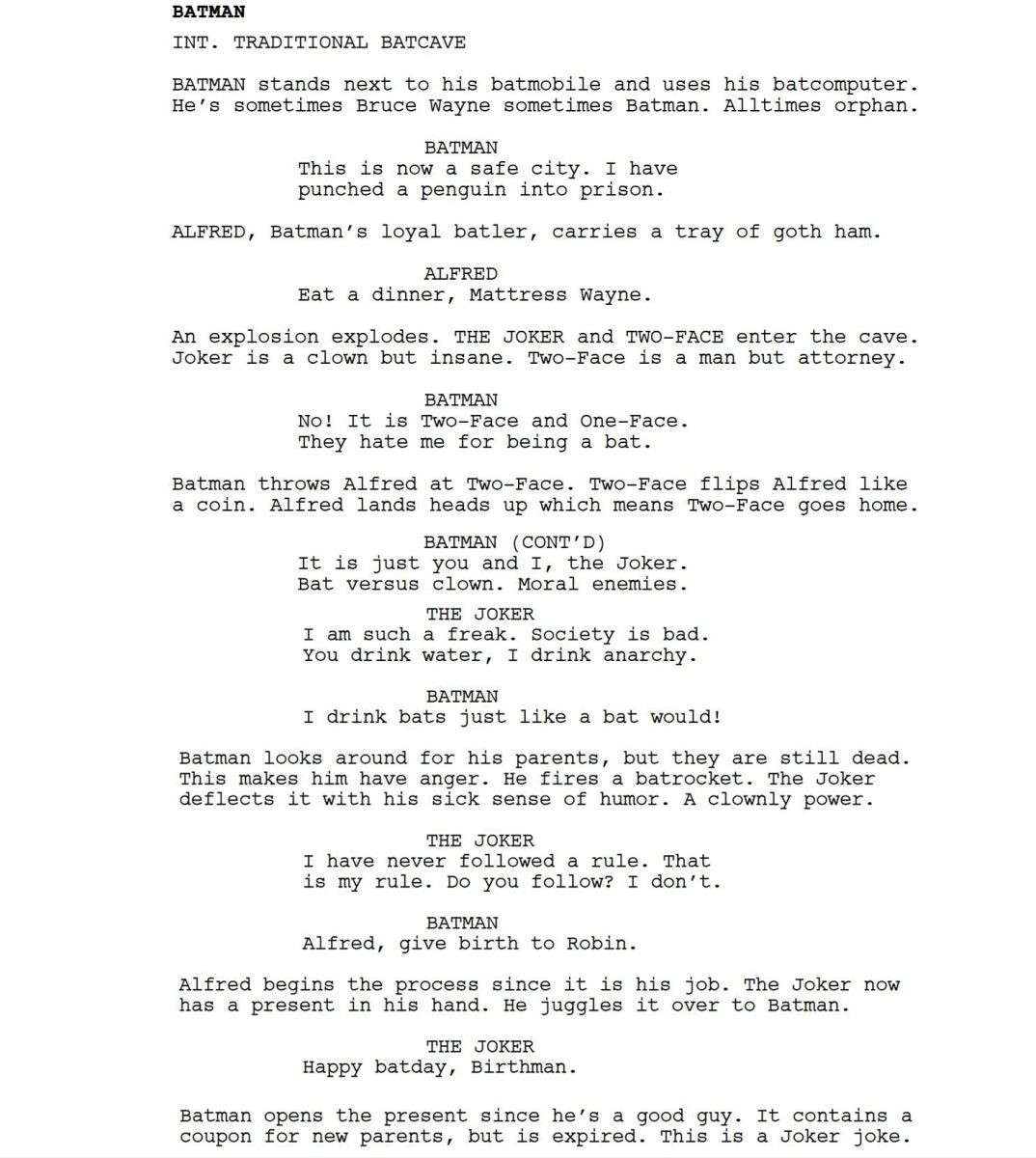 If that's your gimmick, power to you. But in any different case, if you want to create something that will ring with the users, a human touch is absolutely necessary.
5. Add Pictures and Videos
Let's also not forget about visuals. The user experience is not the same without them.
Images naturally complement text. Even when you've already formatted your text to perfection, an informative picture or two will make it even better. Just make sure all your images work properly – scan your site with WebCEO's Technical Audit tool.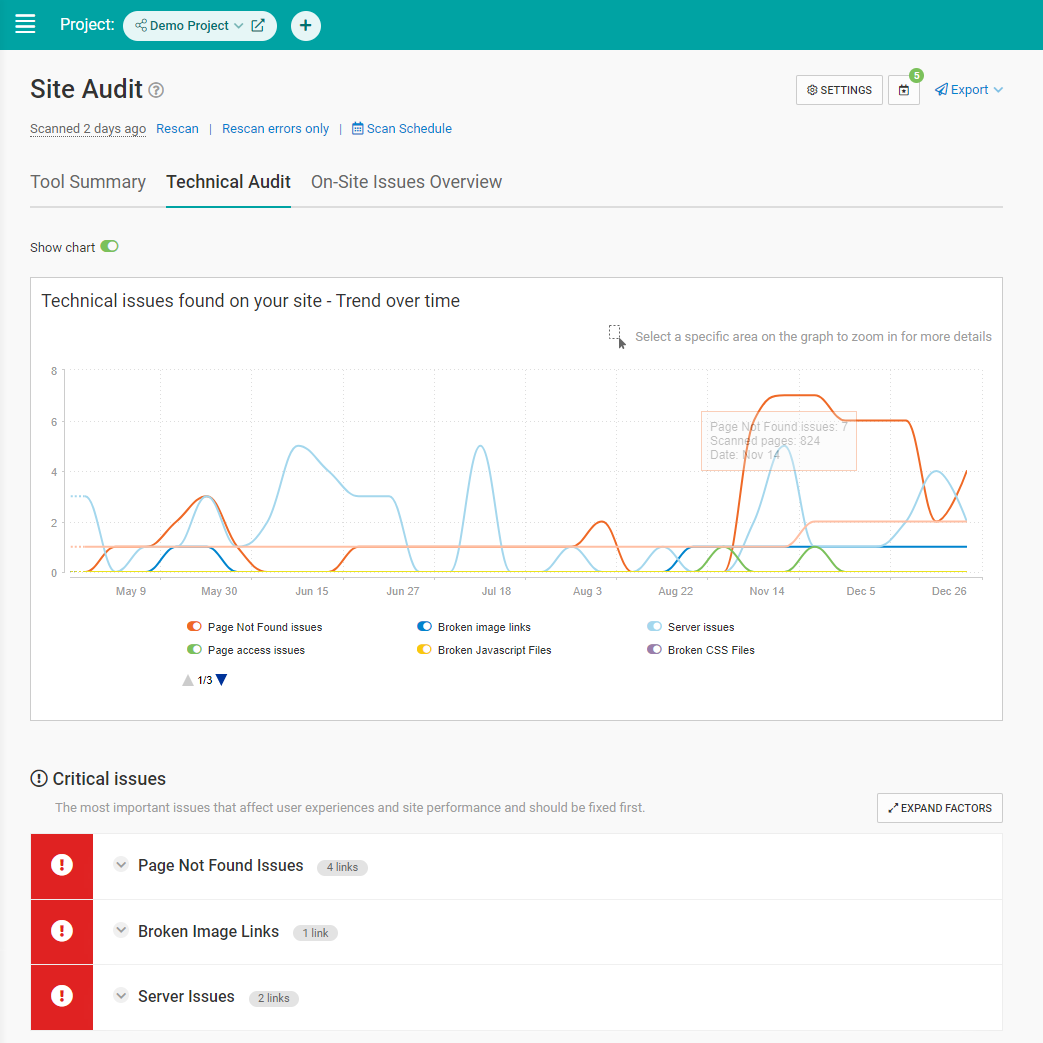 Videos work greatly too, except the other way around: text complements them. However, users appreciate having both options. Some users prefer one of the two and will be glad they can choose, and some users are omnivores who will read and watch. It's your duty to make them happy.
6. Learn From and Surpass Competitors
Now you have a great piece of content on your site that users love. All that's left is get some love from search engines too.
And that's easy! Make your content more SEO-friendly by analyzing your top competitors.
One way to do it is by entering your keywords in Google and visiting the top 10 search results one by one. Sounds tedious? I'm not saying you shouldn't do that – it never hurts to be thorough, certainly not when you want to create something awesome.
But there's a way to speed up the process. And for that, WebCEO has prepared the SEO Content Assistant tool.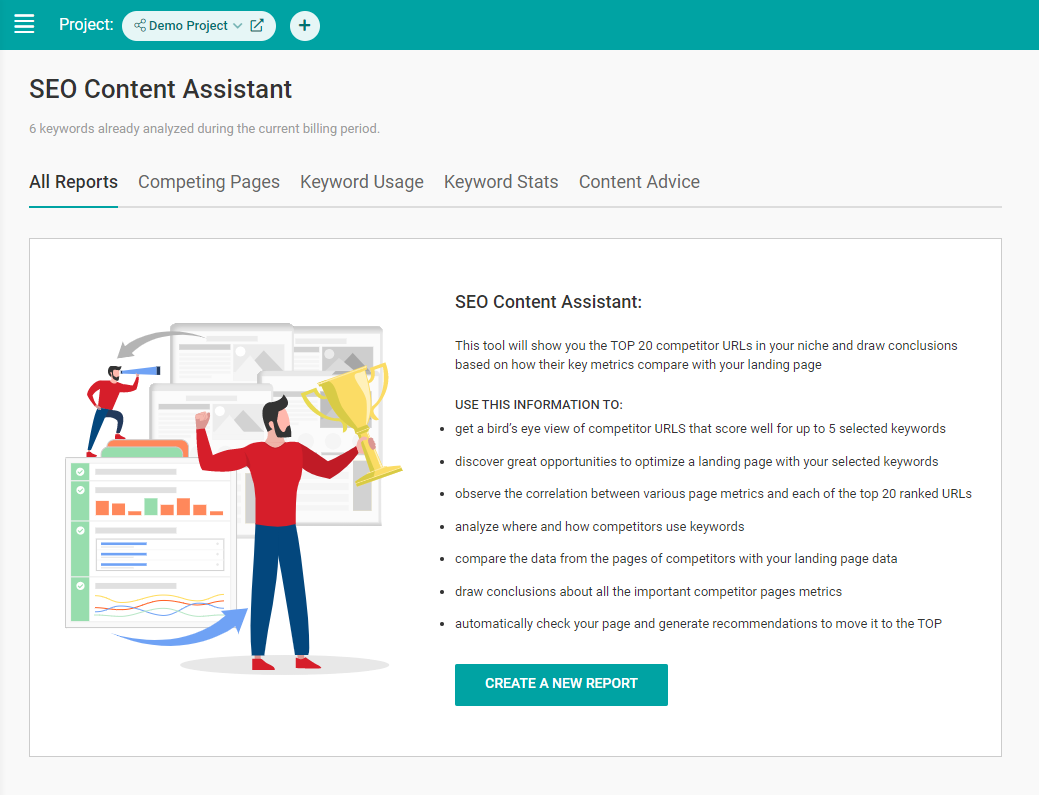 How does it work? Really simple. You take a page from your site, and the tool compares it to a few other pages made by your competitors.
Step 1: Create a new report
In the All Reports tab, press the New Report button.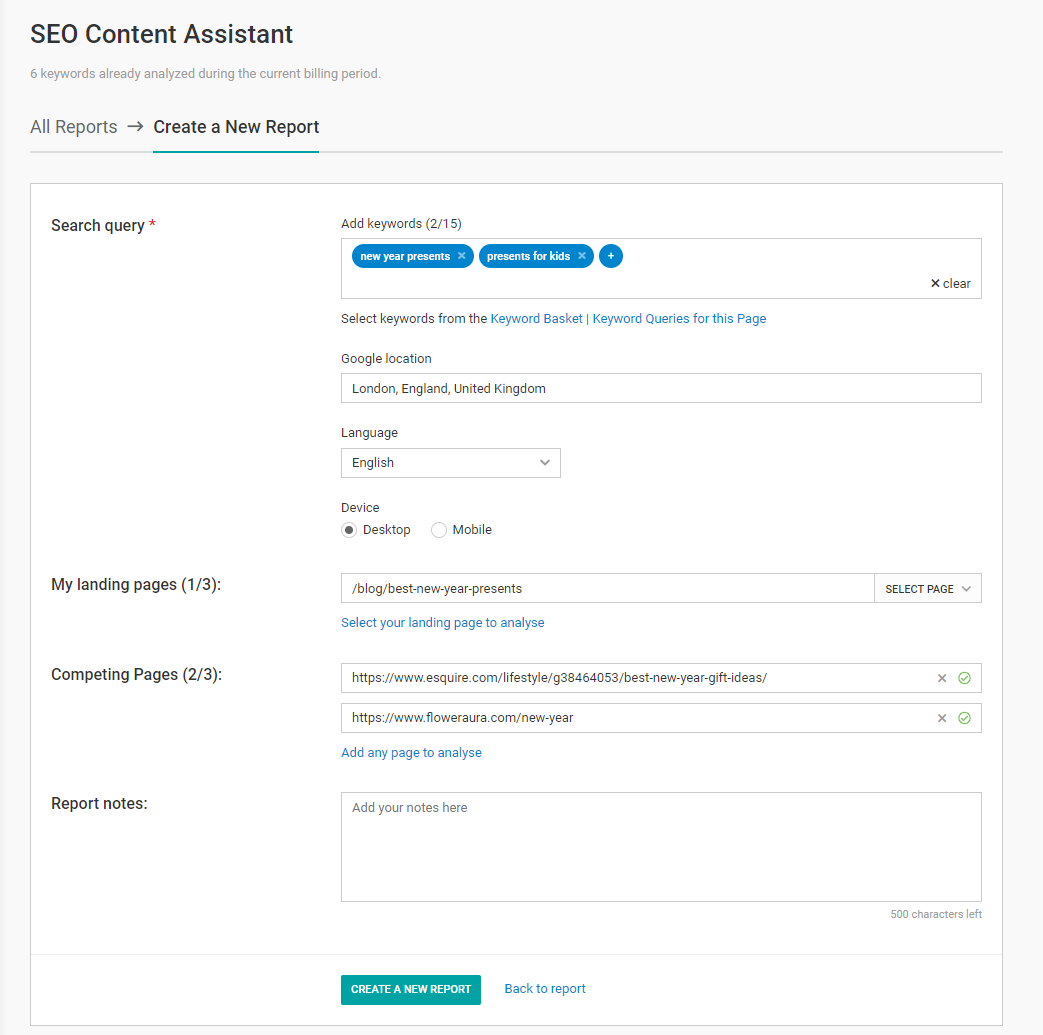 Next:
Enter your keywords (up to 15);
Enter the URLs of your pages (up to 3);
Enter the URLs of your competitors' pages (also up to 3).
Important: all pages must share a topic, or the tool will not be able to give you useful advice.
The other fields are optional, but can help provide more context for the report. When you are done here, press the Create A New Report button, then click on your report's name.
Step 2: View the report
You will end up in the Competing Pages tab. The report will look like this: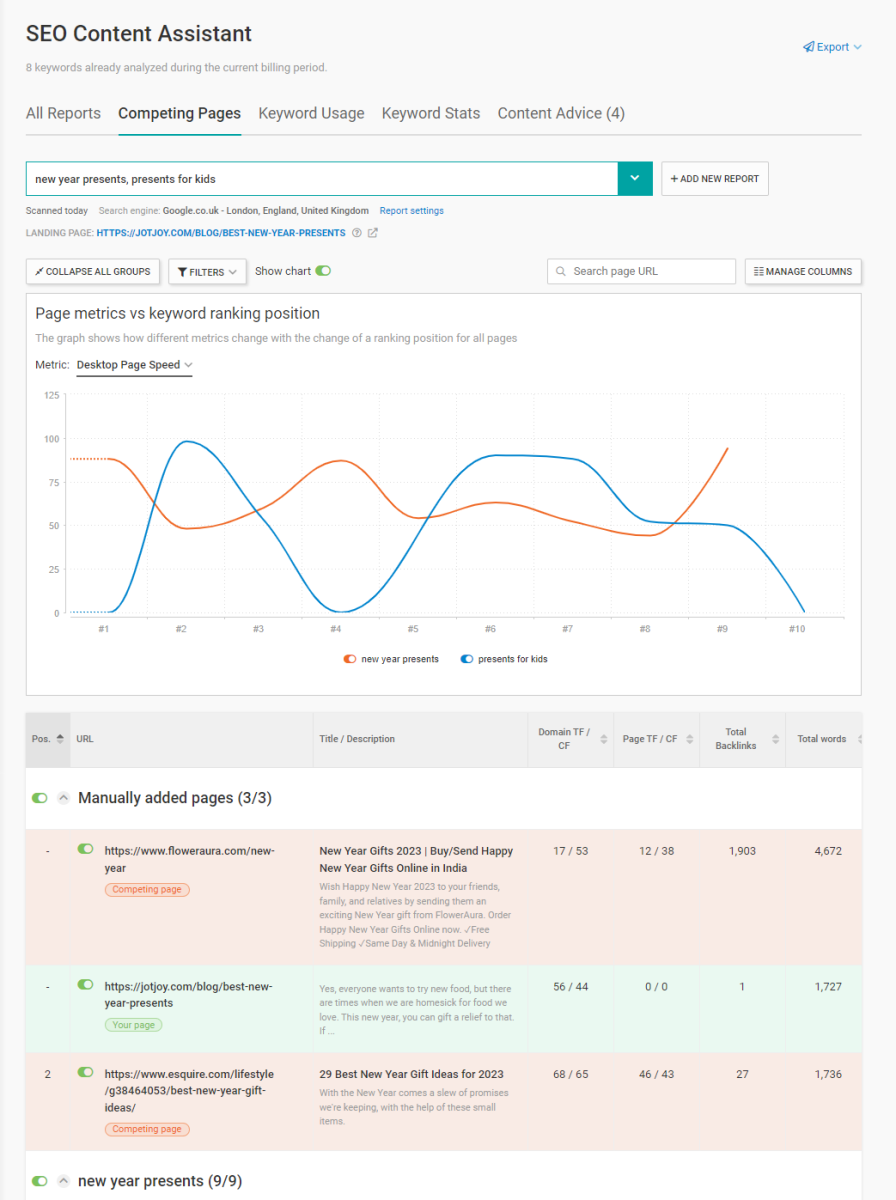 Are you wondering what does that big, eye-catching chart shows?
Well, in addition to the pages you've added yourself (your own and competing), the tool will add a few more from Google's 1st SERP. The chart will sort them all based on their ranking position and display a metric of your choice for each of them.
For example, the number of words: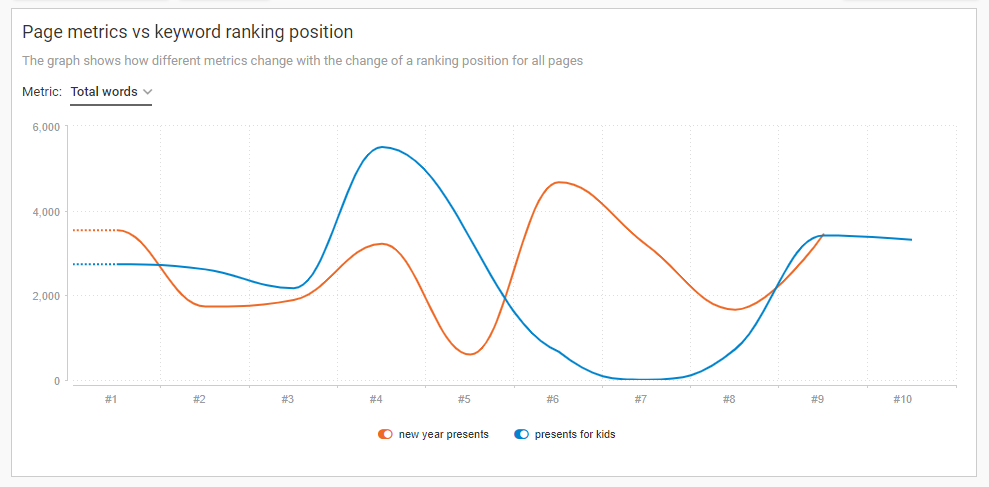 Or readability ease: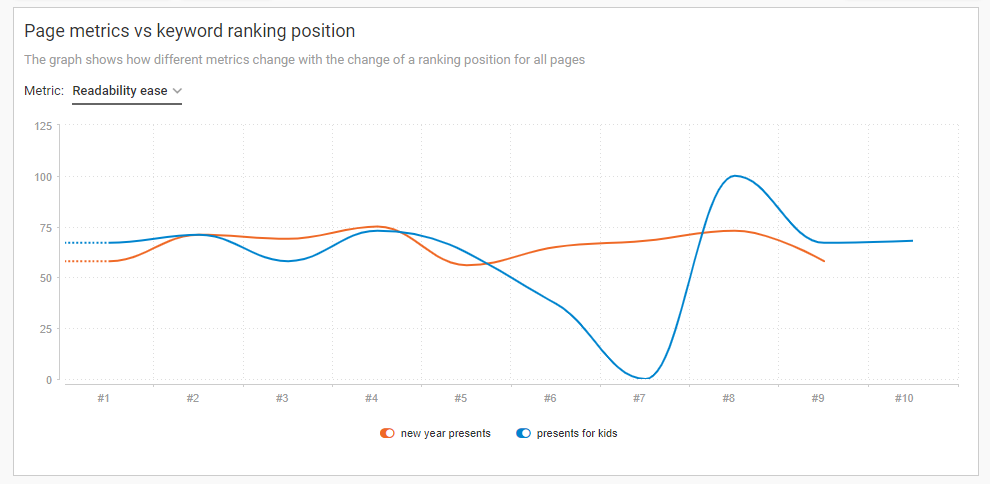 Each of these metrics affects a page's ranking position in a different way. By viewing the top 10's metrics, you can make your judgment about what works for each page – including your own. For example, the chart might reveal you need to work on your word count or page load time.
Step 3: Check how your competitors use keywords
Next tab is Keyword Usage. You can find there two important things:
Presence of keywords in all the important places: URL, title, description, H1-H4 headers, body;
Most frequently used words and phrases.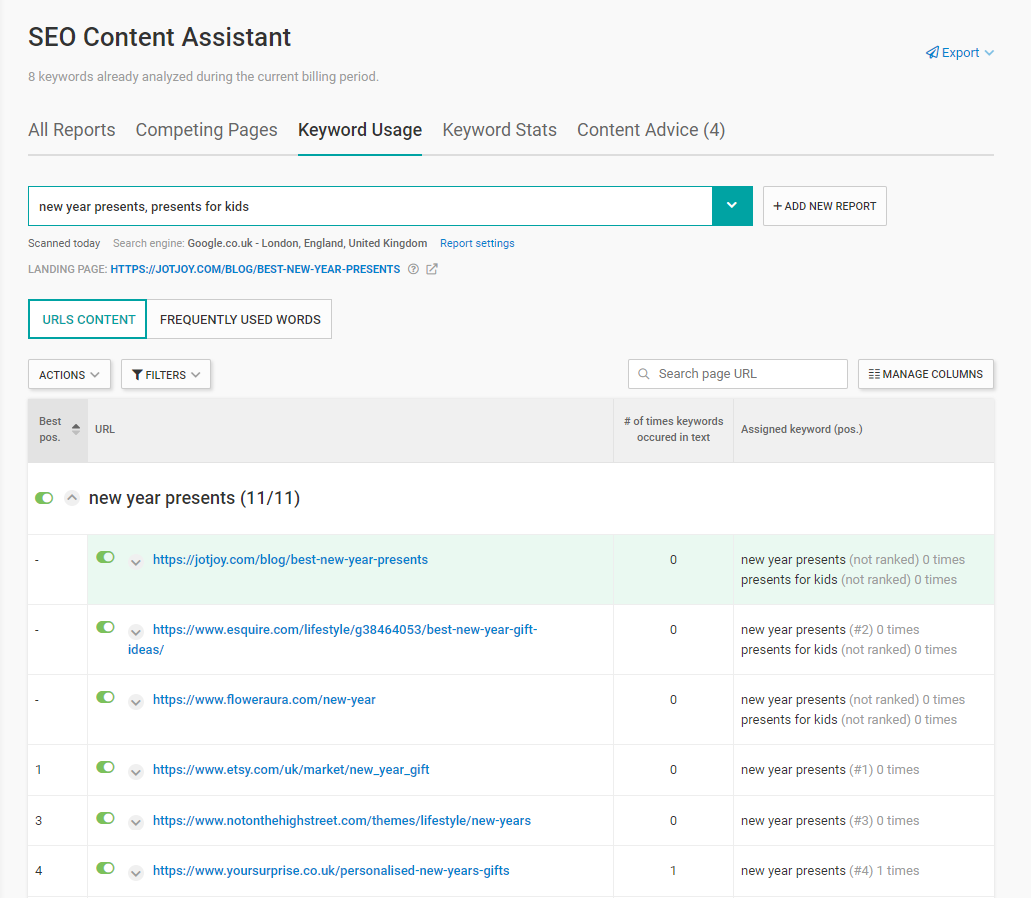 The next tab, Keyword Stats, adds another piece of the puzzle: effectiveness of your keywords, based on how often your competitors use them. If your more successful rivals use your own keywords often, you are definitely on the right track. If they don't, you might need to consider different keywords.
Step 4: Get your personalized content advice
Lastly, visit the Content Advice tab.
This is easily the most useful feature of the SEO Content Assistant. Based on all the metrics you've seen so far, the tool can give you recommendations for improving your content – and no two pages will receive the same advice.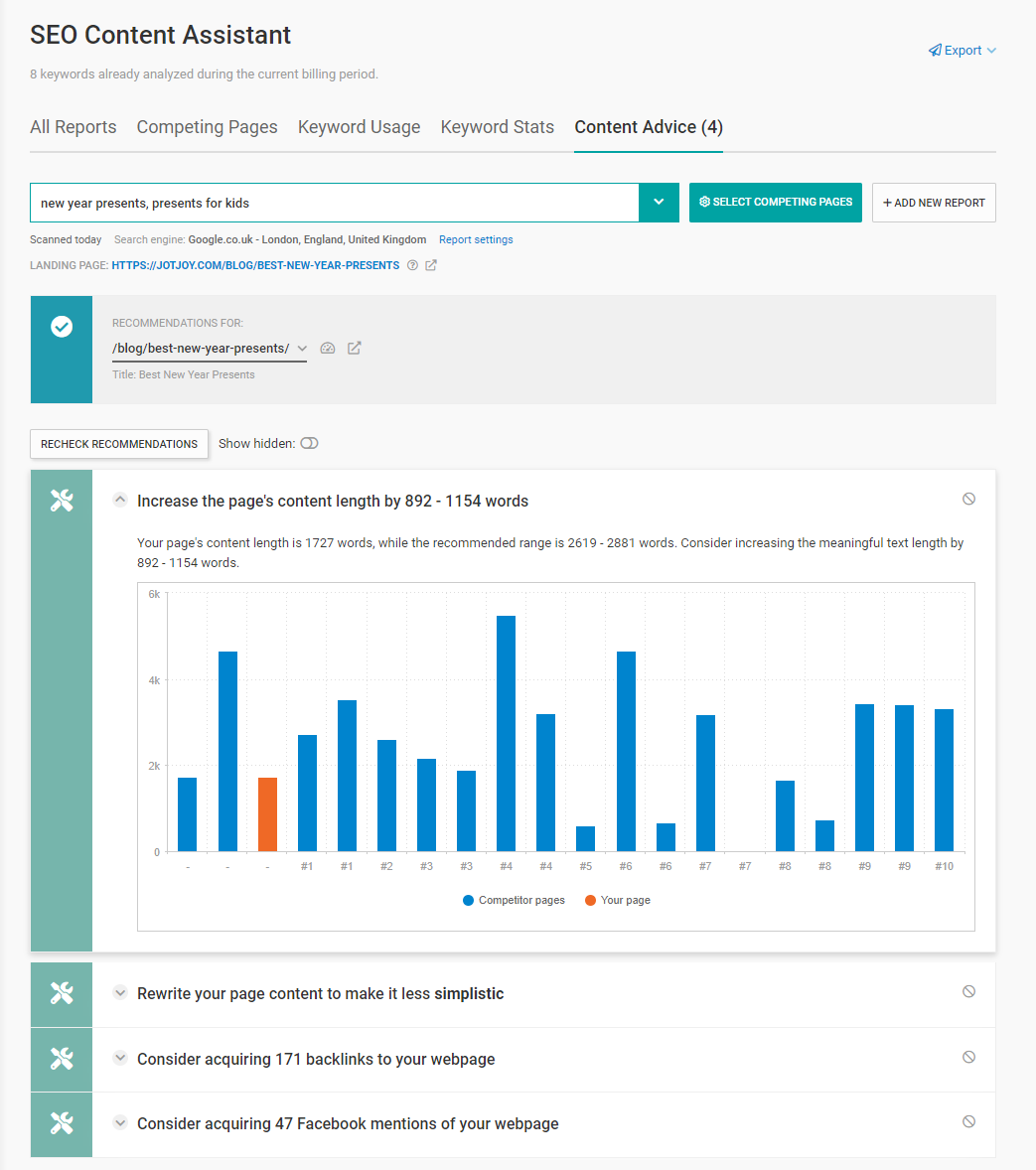 And it's as straightforward as can be. Whatever your content may be lacking, that's what the tool will suggest you should work on.
Are you missing keywords somewhere? Put them there.
Do you have fewer backlinks than your competitors? Build some more.
Is your content too short? Expand on it and make it more in-depth.
And so on. In other words, these are quick SEO tips that you can act upon right now and get results.
7. Use Call-To-Actions
And let's remember about one of the most important steps you should never skip. While the visitors are on your site and wowed by its content, channel that excitement into conversions!
When a section ends and reaches the part where the user finds out what they need to do, immediately follow it up with a call-to-action. Any lower on your page, and the user's impulse will be gone before they click.
And if you can fit a CTA organically in the very first scroll, that's just perfect.
What's next?
The standards for quality content are so high that relying on various tools is unavoidable. Of course, no tool is all-powerful and all-encompassing. As much as we all would like a single SEO tool that could be used for everything, there are way too many different aspects to SEO.
So the best advice we can give you is this: always be on the lookout for new ways to improve your content. We will be doing the same, and as soon as we find something good, you can be sure we'll put it in the SEO Content Assistant.