New Google Update: How to Make Your Content More Helpful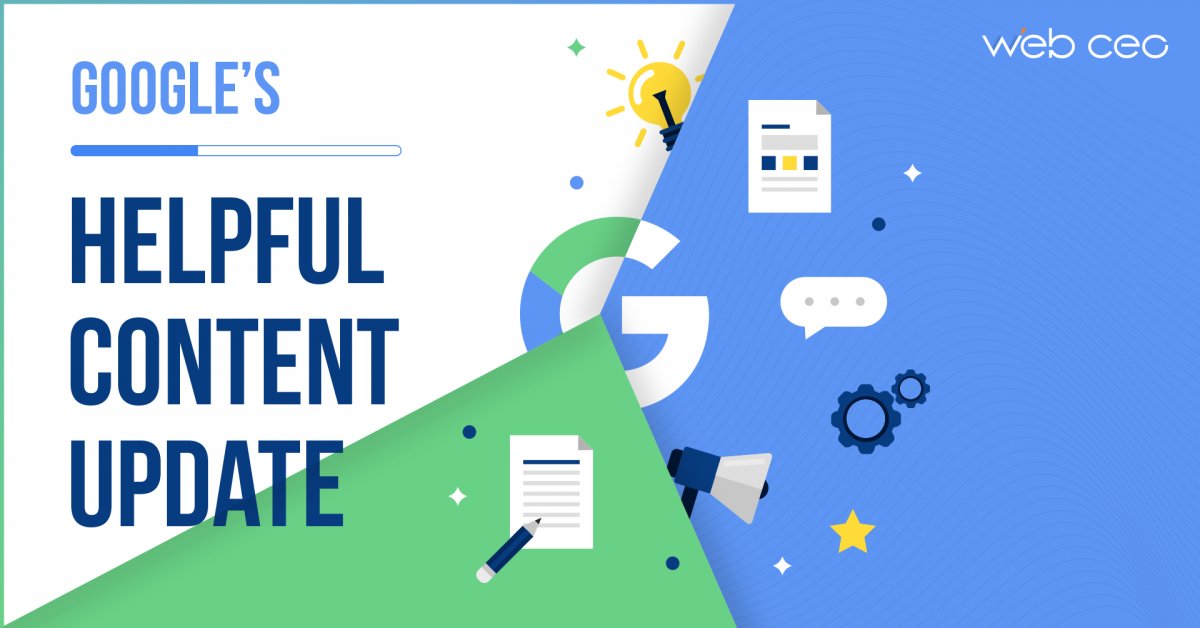 Don't you love it when Google makes waves with its major updates?
Earlier this September, the search giant finished rolling out a new core update. The immediate effects were as usual: some websites didn't even notice anything, while others reported fluctuations in traffic and/or rankings. Thankfully, the SEO community knew why it was happening because Google warned everyone in advance.
Maybe you've felt the effects, too? Even if you haven't, you want to know what's going on, trust us. Google updates should never be ignored, and this one is particularly big (although it's still warming up). Let's give you a quick rundown.
What is Google's Helpful Content Update?
As is the case with literally any algorithm update, Google wants to give users better search results. Only the method differs.
This time, Google's preference appears to be content. Sites with better content receive more love, and vice versa: low-quality content earns you lower rankings. What's more, it affects entire websites rather than individual pages. That's right: all of your site rankings will be re-evaluated based on your content's quality. All content you have on your site.
Cheerful news, isn't it? But Google never demands the impossible from webmasters. Even the worst-case scenario can be overcome with a solid plan.
Was I hit by the Helpful Content Update?
There's an easy way to find out. Just check how your site rankings and traffic behaved before and after September 9th. This information can be found in Google Search Console…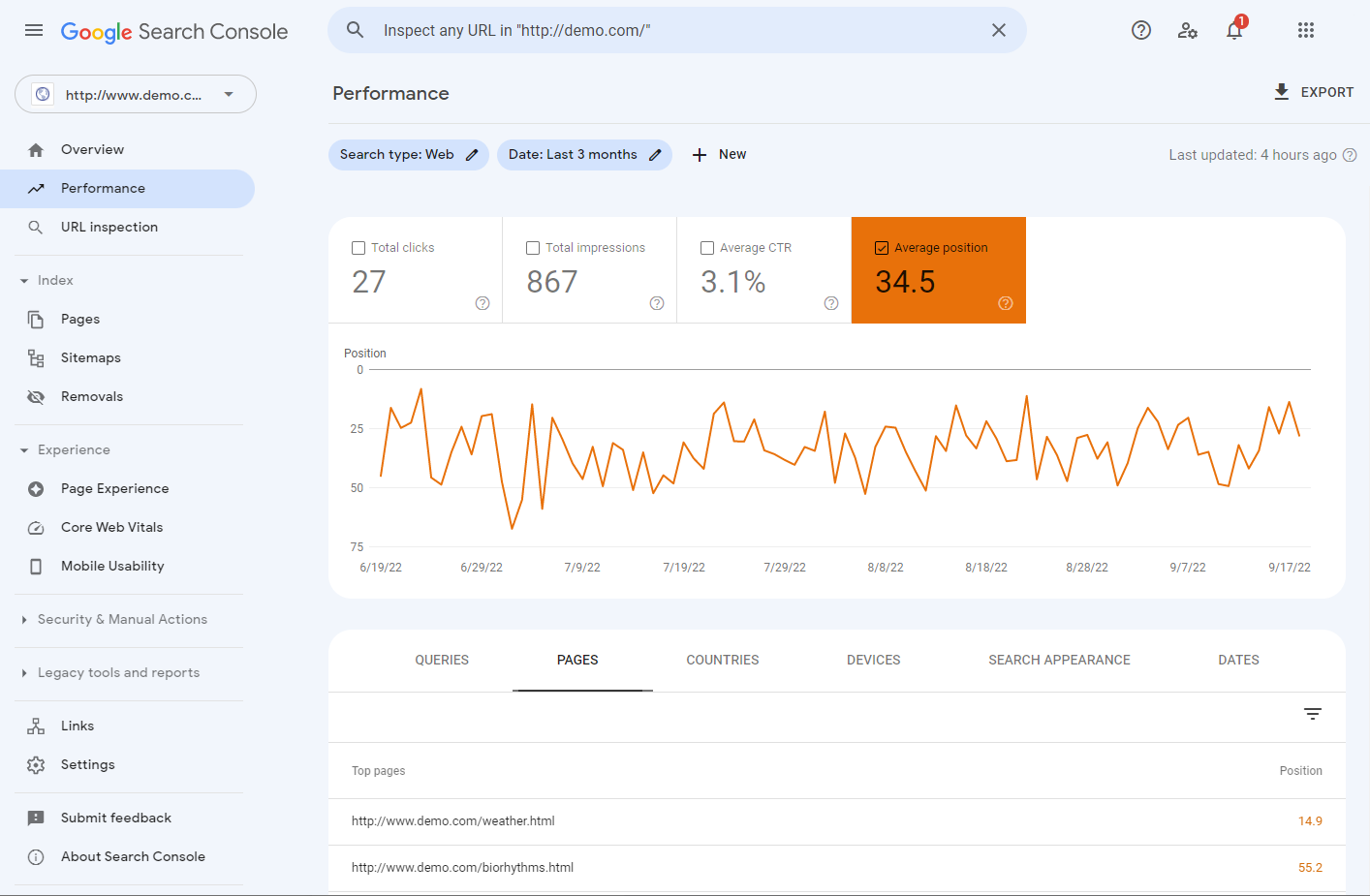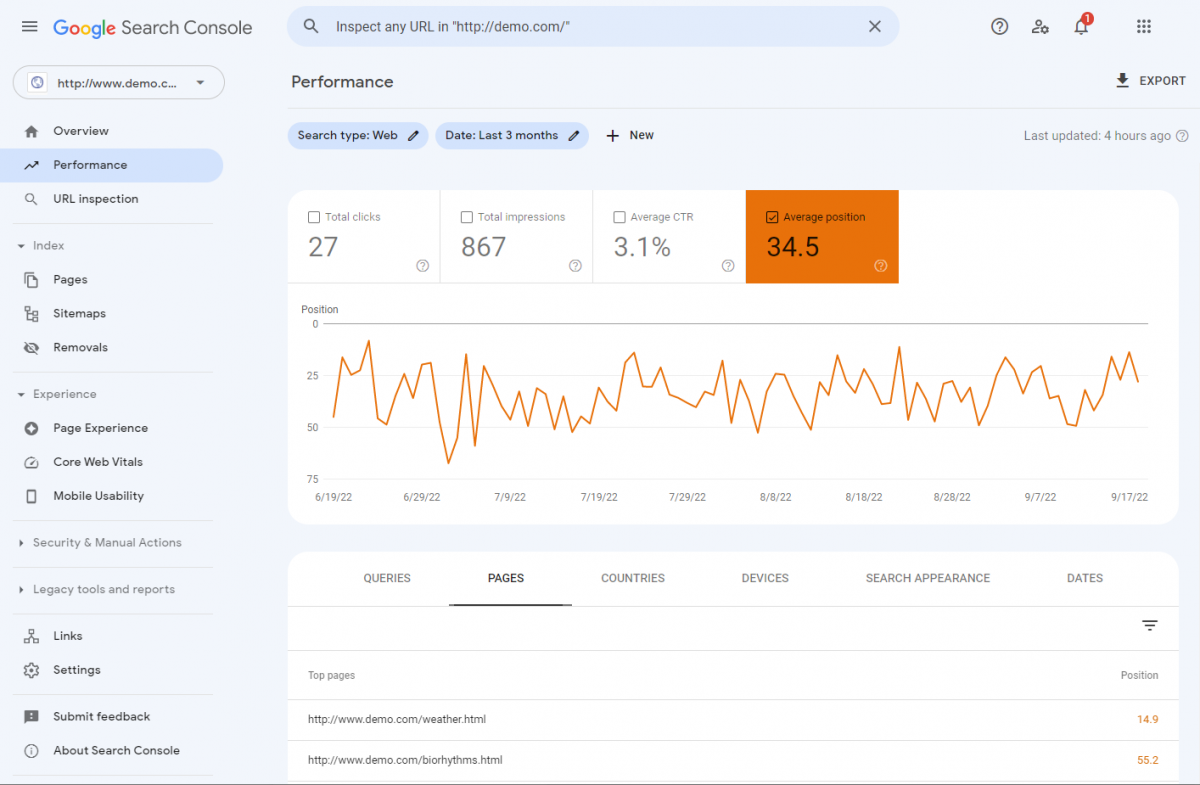 However, we recommend connecting your GSC account to WebCEO for an extra bit of useful information.
You see, WebCEO keeps track of Google's updates and marks them on the chart with Search Console's data. This is the easiest way to see if the Helpful Content Update has done anything to your site.
Here's what the Top Pages report will show you: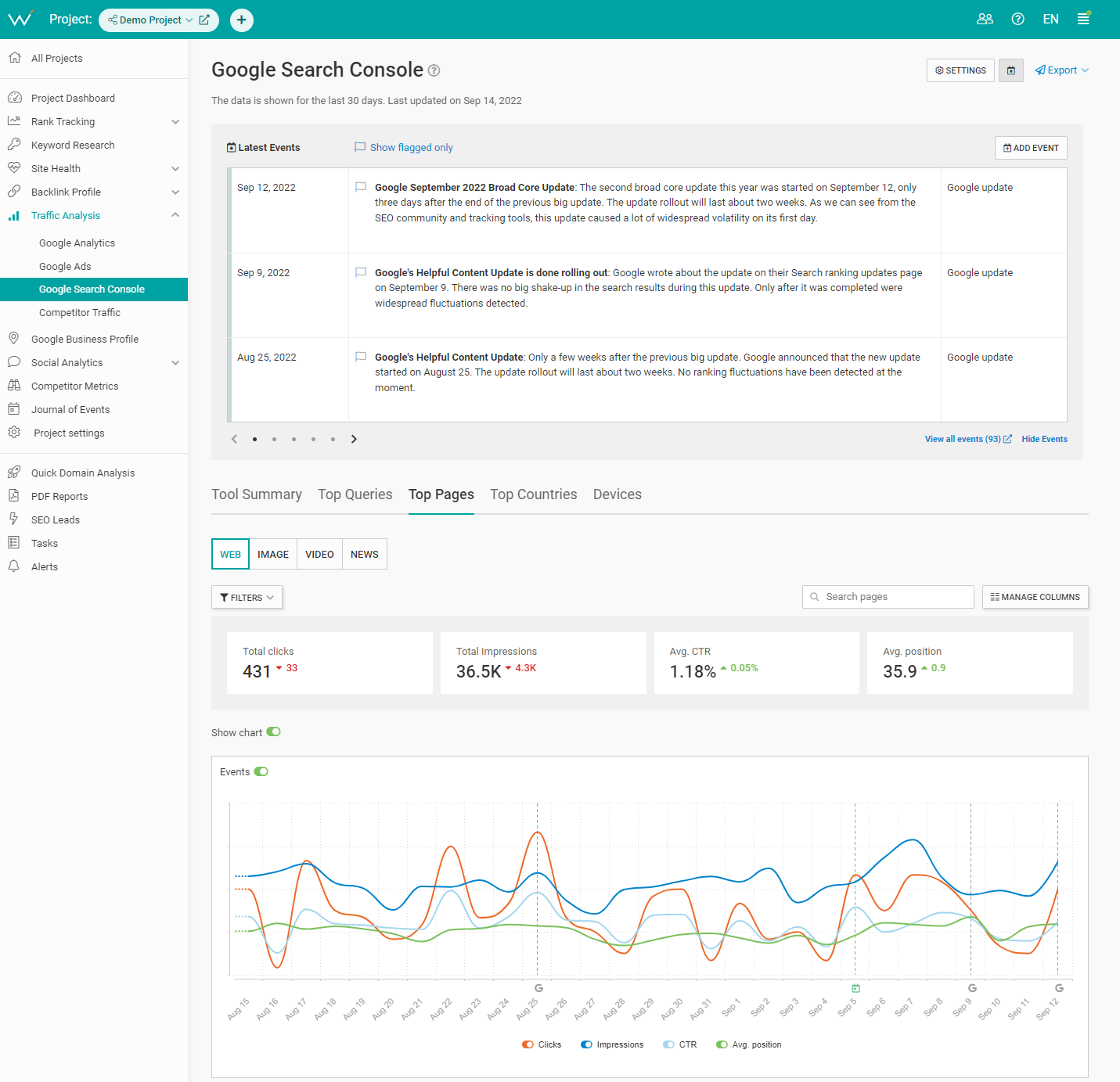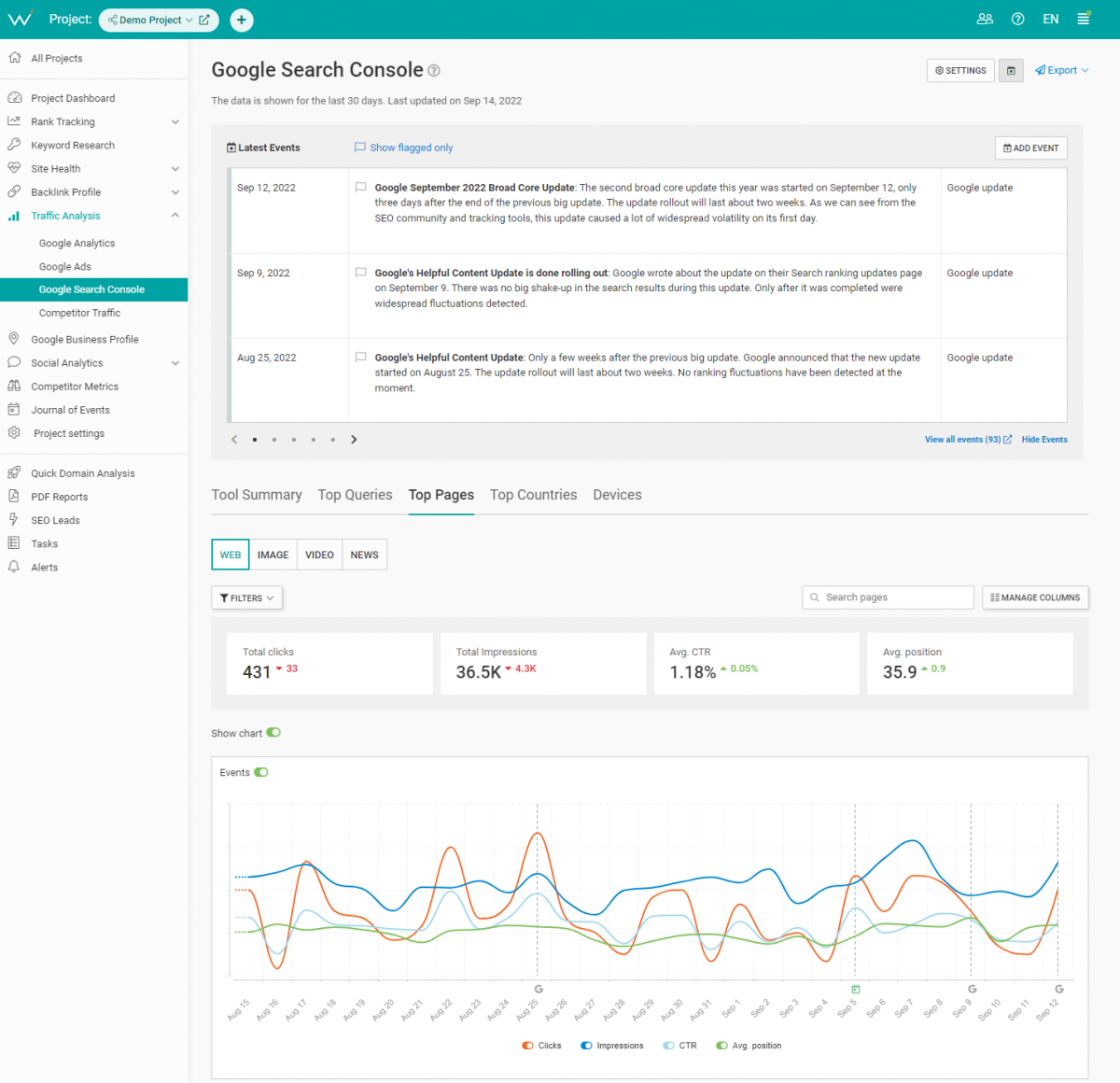 In addition to that, you can view the list of the latest Google updates for more context. (You can even add your own events to this list: for example, if you have done anything notable for your SEO which could affect your site's performance in search engines and you'd like to track your progress in the report.)
Look for September 9th on the chart. It will be marked by a G icon. If you see any unusual fluctuations past this mark, the Helpful Content Update could be the reason.
And if that's the case, why?
Who is targeted by the Helpful Content Update?
Google's goal is the same as always: present the most useful and valuable content. This update merely raised the bar on what it considers valuable – or, rather, made it official.
When does content fall short?
It offers too little or no value. If a user isn't satisfied after visiting a page, it clearly needs improvement.
It's optimized for search engines rather than for users. On-page SEO is important, but don't forget the human whose needs matter even more.
It's made without any real expertise on the subject. If others can tell about it better or make a more compelling offer, they will definitely outrank you.
It's unrelated or too loosely related to the site's niche. Google doesn't think that a jack of all trades is better than a master of one. When your content steps outside of your site's specialty, Google may see it as a cheap attempt to grab more traffic from users who don't need what you have to offer.
It's automatically generated. No good level of quality can be expected from content that wasn't made by humans. Unless that is the selling point (e.g. AI-generated Harry Potter chapters).
It's just clickbait. Pretty self-explanatory. Nobody likes clickbait content.
If you have anything like that on your site, that's what you must improve. With that in mind, what is the next step?
How to optimize your site for the Helpful Content Update
Let's start with what you shouldn't do: wait until you get hit by the update. You can take preemptive measures right now to soften the impact – if it comes. And if it does come, you will find it much easier to deal with.
Since the goal is to raise the quality of your site's content, two obvious actions come to mind:
Improve what you have;
Delete the pages you may deem unnecessary.
But the catch is, this is a site-wide update. At the moment, there's no telling just how much low-quality content is enough to tank your rankings. The most bothersome scenario may call for a full content revision on your site.
And if your page count is in triple digits or higher, then I can hear you groan from way over there. Do you see now why it's better to start early?
All right, the task is to find low-quality content on your site. Where are the easiest places to look?
Pages with a low word count.
Google has stated they don't have a preferred word count. However, more often than not, you will need more words rather than fewer to explore a topic well. The tricky part is bringing up the word counts for all of your pages to help you find the offenders.
If you made your site in WordPress, there are plugins for that, such as WP Word Count. Alternatively, Screaming Frog can do it.
Pages with low Google rankings.
These are way easier to find.
Open the Top Pages report in WebCEO and click on the Avg. position column to sort it in descending order. All your lowest ranking content will appear at the top of the table, with a delta displaying recent changes.


In other words: if a page has lost rankings after the Helpful Content Update, it might be just what you are looking for. If it isn't, keep digging through the table and through the pages.
Pages with high Google rankings.
Surprise! Well, not really. Site rankings are a fluid thing, and even the best content doesn't stay on SERP #1 forever. Your competitors are working hard to make sure of that.
Once again in the Top Pages report, sort the Avg. position column in the ascending order. Visit your top ranking pages and see if their content could be improved in any way. Most likely it can. At least you know you won't have to delete those pages.
Wrapping up
The Helpful Content Update has only just finished rolling out. We won't see its full effects until some time passes – weeks, or maybe months. However, Google is pretty clear about what it wants from websites and their content, and it all boils down to two simple points:
Deepen your expertise;
Go all out when you write.
What can you learn today? What can you do on your site today? It's all up to you!