How an Ex-Marketer Recovered from Burnout and Succeeded in Local Business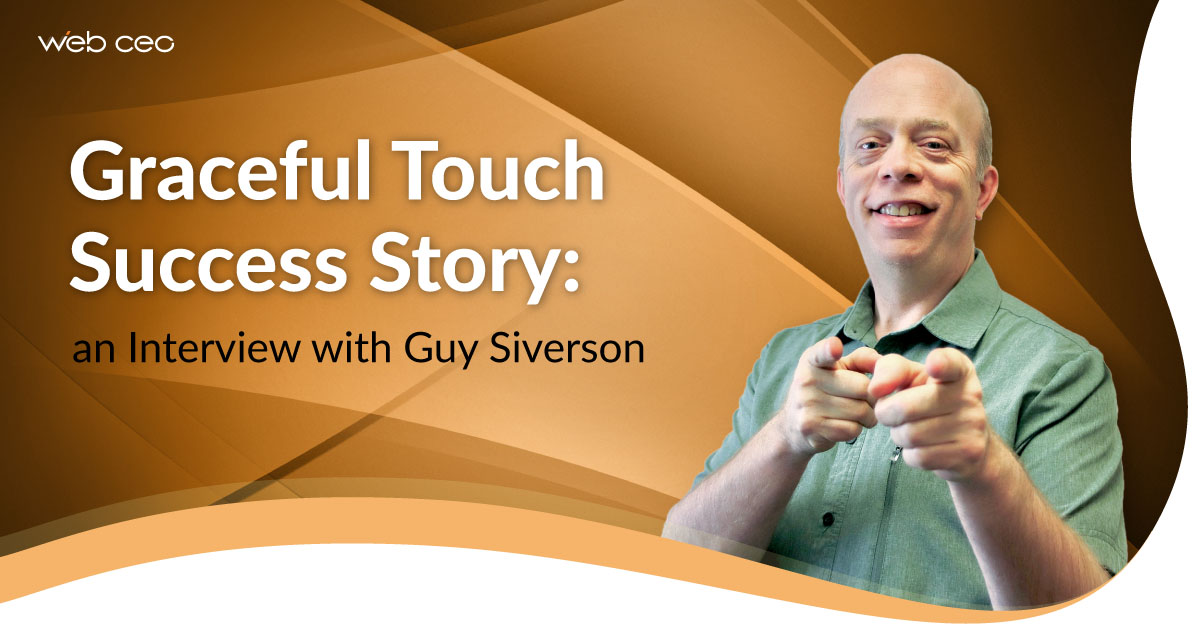 Guy Siverson was a self-employed marketer in the past. He used to do everything by himself: SEO, Social Media, Videos and more. He couldn't maintain the stress in a healthy way. One day he found himself with a BP of 200/100. It was obvious Guy needed to take a retreat.
A few years later, Guy opened Graceful Touch: Rapid City massage therapy.
Graceful Touch provides clients with muscle therapy, pain relief, increased mobility, and body relaxation using the art of massage. Graceful Touch is owned and operated by Guy and Irene Siverson.
We decided to ask Guy about the challenges he faced while working on this new business, in light of his previous burnout as a marketer.
Sophie Campbell: We are happy to know that your business is flourishing with the WebCEO marketing platform. How long have you been doing SEO?
Guy Siverson: In 2013, my previous business ViralTNTeam launched. It had amazing success. To gain clients we used Elance until this system was merged with ODesk and became UpWorks. Suddenly I had a severe client attainment issue that would be the end of ViralTNTeam.
Sophie: What was the problem?
Guy: Part of the problem was my inability to find clients while also navigating all the online marketing activities including SEO, Social Media, Videos and more. I just couldn't maintain everything in a healthy way. All the stress of my failing business found me with a BP of 200/100. Not good.
Sophie: That is really not good. How did you return to the business?
Guy: After writing a lot about massage therapy on Quora, in November 2018 my wife and I opened Graceful Touch: Rapid City massage therapy. I had a website, but I wasn't going to do SEO for it. Fortunately, a friend convinced me otherwise.


Sophie: But why didn't you want to optimize your website and gain new customers?
Guy: I had no interest in doing SEO or web marketing because of the nightmare that had become my life back in the days of the previous business. As I turned up the marketing efforts for Graceful Touch, it wasn't long before I was once again inundated with multiple tasks from every direction. The stress of my digital marketing days was beginning to rise again.
Sophie: Did you try some other SEO tools?
Guy: I've worked with tons of different tools and resources in my day. Tools like Majestic, Ahrefs, MOZ; there are others. They all had the same two results:
Drained money from my bank account.
They had confusing platforms with poor support.
So, one day, while surfing the Web, I ran across a reference to a tool I hadn't tried before. It was WebCEO. I was intriguingly unimpressed.
Sophie: Sometimes it's good not to have any expectations about a new thing. There is way more joy in finding yourself wrong later.
Guy: Yes, I didn't expect WebCEO to be any different. Actually, I was about to discover exactly how wrong I was.
Sophie: What was surprising for you about WebCEO?
Guy: One of my first discoveries was the ease of navigation within WebCEO. Of course, there is a definite learning curve. However, compared to the other tools it was nothing! Especially when WebCEO provides live walk-throughs via screenshare apps like Skype. During that walk through we talked about everything.
Sophie: Was this walk-through comprehensive or you needed some more assistance?
Guy: It was thorough but it was overwhelming. I was soon to discover a major difference in the support from WebCEO compared to the support departments of other companies. Simply put, the WebCEO Support Angels like to have fun while getting the job done.
Sophie: You know that our support team is always there for you 🙂
Guy: Definitely! I came up with my first question and within moments I had an answer. I ask a lot of questions. The answers I receive from support are always informatively thorough. It's like they always have more than enough time to give me red carpet treatment. I love that!
Sophie: It's great to know that using WebCEO brings so much pleasure for you. Let's talk about the results you gained!
Guy: Well, the results for my Google Maps and Google organic rankings are amazing. Take a look:
nearby massage – #1
near me massage – #2
massage therapy – #2
massage therapist – #2
massage therapist near me – #3
massage therapist nearest – #2
massage therapy nearest – #2
massage therapy nearby – #3
These are all local geo Google Maps results for my local area.
Sophie: These results are great! But what's more important is the number of clients you actually get from the web. I am sure you get a lot of conversions; describe them please.
Guy: Oh, just last Friday I received a call from someone wanting to buy a gift certificate from us. Turns out they found us on Google. Thanks, WebCEO. $450 later the deed was done – not bad for my day off!
That was followed by another $150 purchase from someone else that found me at the top of the results. We get these calls all the time now.
Sophie: Seems like there's been a growth of traffic to your website. Did you notice something unusual in any of the reports?
Guy: Perhaps you mean this WebCEO report: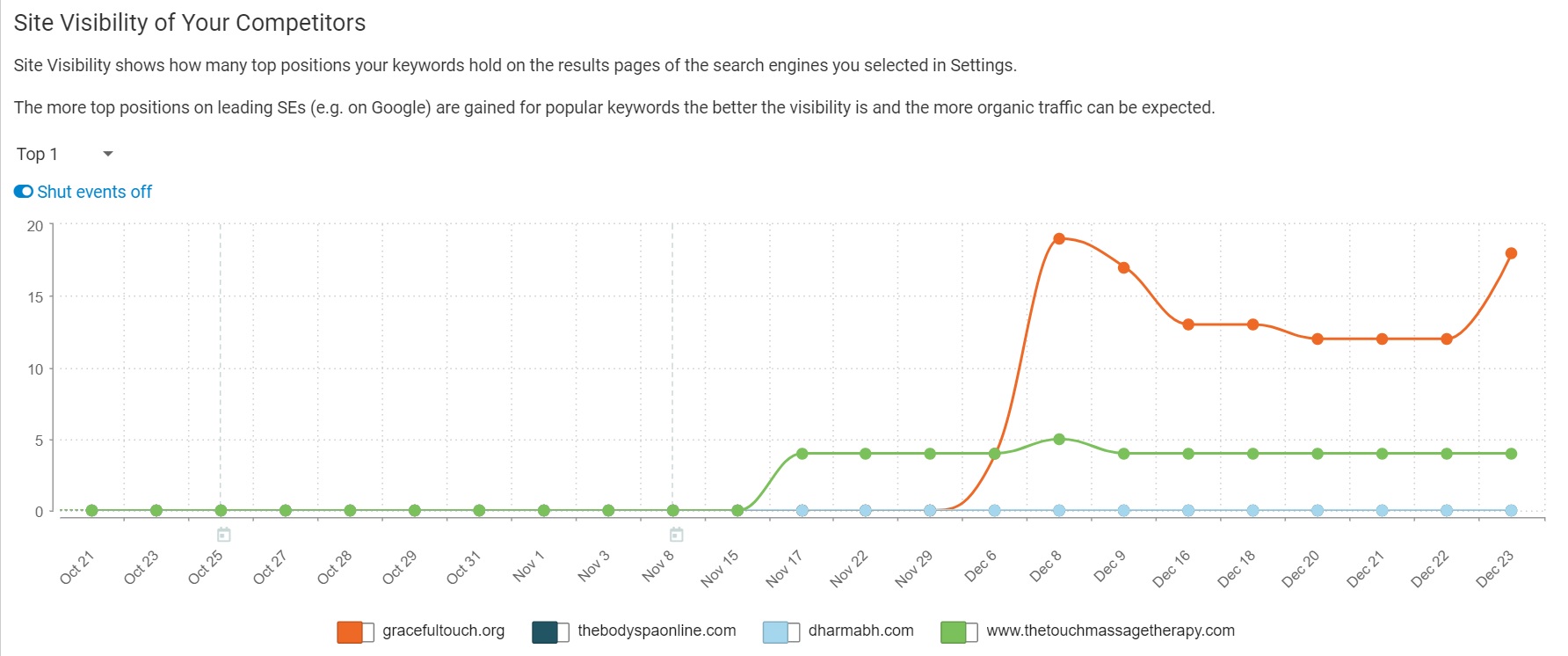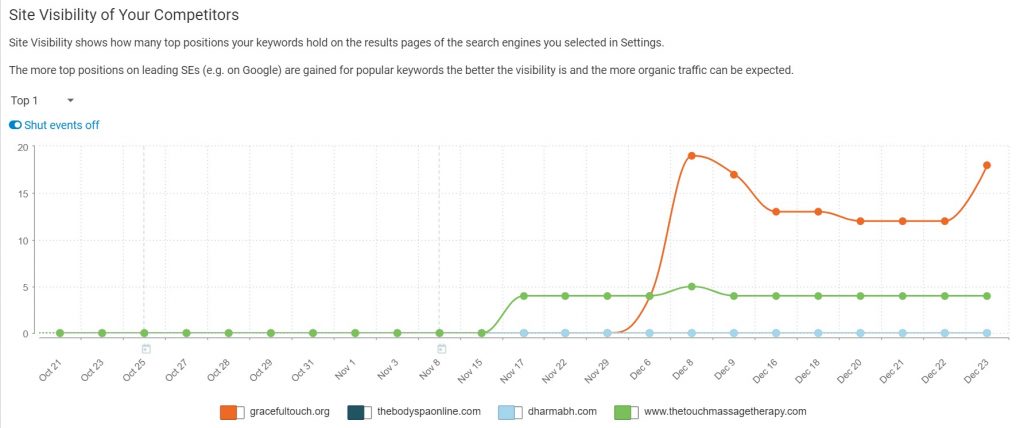 The red line is mine. Even though we are the newest kid on the block, we are killing the competitors.
Sophie: Wow! Seems like you are really on top! These results wouldn't have happened if there was no hard work done. What SEO tools were a must for you in the beginning?
Guy: In the world of digital marketing, every day there is a new keyword to target. However, with WebCEO, I was easily able to target a specific landing page.
For example, I very much want to take all the traffic from my area when it comes to "nearby couples massage near me" type keywords.
Thanks to being able to keyword traffic to specific landing pages, I am getting into positions on Google everywhere. This is leading to increased phone calls like the one we received yesterday from a couple that wanted a massage. That's an additional $175 for Graceful Touch.
Sophie: What are your Top 3 WebCEO resources?
Guy: I could speak about all the amazing tools which have brought me to a site optimization of 83%. This is not perfect but yet I am getting wonderful rankings on Google thanks to its ability to guide me in fixing things internal to my website.
However, if I were to pick the thing I love most, it would be the integration of the task list for me to understand what needs to get done and what doesn't.
Another tool I really like from WebCEO is the Web Buzz Monitoring system. I have yet to utilize it to its fullest capability. But the way that WebCEO allows you to interface with Facebook and other social media platforms is excellent. I plan to get more involved in this area as time marches by.
Sophie: A professional tip: how often do you recommend SEO & technical audits? How often do you usually schedule reports?
Guy: I schedule automatic scanning and reporting twice a month, so I have enough time to check issues and fix them. I use the same scanning and reporting schedule for Rank Tracker, Backlink Checker, Web Buzz Monitoring tool and many other tools.
Sophie: What SEO task is the most challenging for you?
Guy: One of the hardest things for me to do is build backlinks. However, that has now become a non-issue with the competitor spy tools that produce these types of results:


At first, I wasn't sure what all those different columns meant. But the WebCEO Support Angels walked with me step by step until I understood everything they are bringing to this table for my success.
Sophie: Other SEO tools were helpful too, weren't they?
Guy: Other tools give stats. Other tools give numbers. Other tools give results. WebCEO does all the above and they continue forward by actually caring about you and your success on the Web.
Sophie: And what do you find so unique about WebCEO?
Guy: While I do think that each tool is amazing, if this was the complete package that made up WebCEO, I probably wouldn't be as excited. However, when you put all their power together in one package, make it easy to navigate, and provide first class fun support, there is absolutely no other option that beats WebCEO. At least, as a local business owner in my own right. That is my opinion.
Sophie: Guy, thank you very much for your inspiring story and so many good words about WebCEO! I am glad it became less stressful to maintain all your marketing routines.
Guy: Exactly. I am a slightly unique client in that I am presently a small business owner in my own right. Having just completed our first year in business while holding an A- rating with the BBB, which I believe, in part, WebCEO can take credit for.
How?
Thanks to the power you brought to my services I now have a very important commodity, called clients.
What's so unique about a small business owner using the web to build a healthy client base? Nothing. Nothing, ezcept my previous business was focused on web marketing with SEO at the helm. I've worked in the SEO industry for well over 10 years, so I have much more than a surface knowledge when it comes to what is required for success on the web.
And I am here to say that all that knowledge can easily be found in WebCEO. But that's not all. Each month they release a technological update, thus accruing more and more power.
I am clearly convinced that while other tools may attempt to compete, there is nothing quite like WebCEO.