How to Do SEO for Gambling Websites: Real Experience from South Africa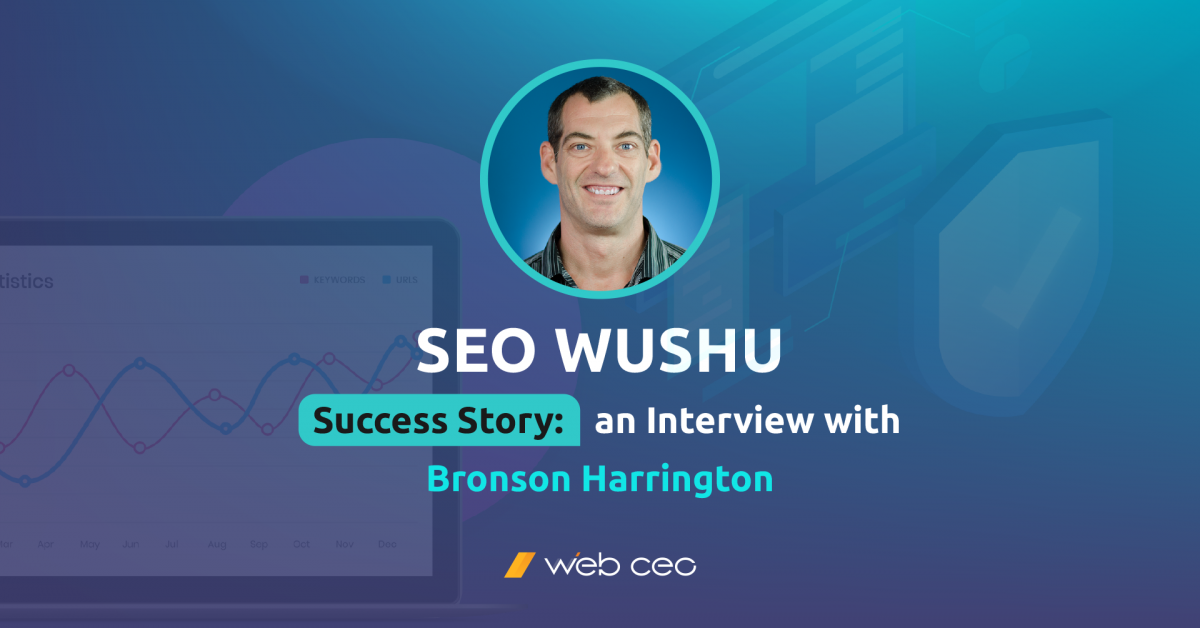 Hello to everyone who keeps track of our SEO success stories from other WebCEO users! Today's SEO star interview is with Bronson Harrington, an SEO consultant from Costa Rica. He shares his twenty-year SEO experience in the online casino and gambling niches and gives some advice to our audience.
GENERAL BACKGROUND OF AN SEO SPECIALIST'S WORKFLOW AND GOALS
Allen MacCannell: Nice to have you with us today, Bronson! Thank you for joining our experience sharing project! How long have you been working in the SEO niche and what challenges have you faced?
Bronson Harrington: It's always a pleasure to be a part of such a business. I have been doing SEO consulting since 1999 and have been part of in-house teams as well as a stand-alone consultant.
I have worked in many niches over the past 20 years but mostly the online casino and gambling niches where SEO is extremely important given the level of competition and advertising restrictions on most gaming companies. It's important to ensure that sites are highly optimized for rankings, usability and long-term growth.
The challenge I find most often is adjusting to the general level of education within companies adopting SEO and helping them to understand how SEO tactics contribute to company goals.
A: What is your global mission as an independent consultant after starting your own agency?
B: To help companies not only to understand the importance of SEO and its context within their business, but help them focus on keeping it simple when rolling out campaigns. Focus on relevance, authority and trust for long-term success.
Expectation management is also something which is important with new clients, so education is key.
A: Referring to your early years, do you remember your first steps? Did you start with a few tools for different purposes or with an all-in-one SEO platform?
B: It started with the annoyance of using multiple tools to build multiple reports and then pack them together. And the great frustration of learning Excel when all I needed was something simple.
I began researching many solutions, including SEO Powersuite & IBP which were great when I was working alone. However, having a cloud-based solution is way better for teamwork.
I strive for simplicity, and it was natural for me to move toward the adoption of a platform, rather than a suite of disconnected tools.
I had tried several platforms and several specialist tools for SEO research and project management. Although some are good, none offer the swiss-army knife like utility of the WebCEO platform.
WEBCEO AS A RELIABLE HELPER DURING WEBSITE OPTIMIZATION
A: When was the first time you started using WebCEO and how does it help with your work?
B: I first began using WebCEO when it was a desktop-only application while I was working with a gaming company in South Africa in around 2000/2001.
WebCEO helps me to greatly streamline my workflow and saves me countless time. No longer do I need to reference several tools to collect information and then stitch it all together in spreadsheet reports. Working with the live data in the platform and being able to have all my data under one roof is invaluable.
A: What do you appreciate the most in WebCEO and what tool or feature has become the main reason for your agency's growth?
B: I appreciate the synergy of all the tools the most. It makes the platform work for me.
I make use of the Keyword Research feature a lot, mainly for initial site planning and then on an ongoing basis for our content creators – to ensure that they are always using a basket of relevant terms in their work.
On bigger projects, the site auditing feature and the simple, scheduled, easy-understand reports are great to share with dev teams or management. This saves huge amounts of time doing technical audits.
WebCEO really helped my company undergo serious growth, specifically the lead-generation tool and free reports which are awesome for lead generation and closing deals.
A: All-in-one SEO platforms aim at facilitating the workflow and helping users save their resources. How exactly did WebCEO help your SEO team save time and costs? If it's possible, can you share some figures?
B: The platform helps to streamline workflows because all users reference the same tools, data and reports which accelerate shared learning. It was a valuable tool in a recent company where I had to educate the SEO team on the latest best practices and establish a process of learning.
As mentioned, the audits are where we save the most time. The ability to set and forget is awesome.
As far as costs go, the platform allows me to minimize the use of and reliance on a dozen or so specialist tools which were costing in excess of $1,000 a month.
My gaming clients are hesitant to have me share specifics, but one large sportsbook saw growth across all KPI's in 1 year, the most noteworthy being an acquisition rate increase of 200% (and not coming from a low base either) overall – and a cost per acquisition decrease (thanks to organic traffic) of 30%.
A: The first thing customers need is results. Presentation is also important. I bet you send a lot of SEO reports. Could you please tell us more about that?
B: You are absolutely right. Reports are another thing I appreciate WebCEO for. The platform allows me to produce 2 types of reports:
The summarized, detail free version of audits reports for management. This allows me to present only the information needed with minimal distraction.
The full detailed version of audits for developers. This not only provides a clear list of issues and fixes, but the additional context about why fixing issues is important is something that developers appreciate.
PROFESSIONAL SEO TIPS TO IMPROVE WORKFLOW AND INCREASE EFFICIENCY
A: You've been in the industry for more than 20 years. Are there some SEO hacks for gaining high rankings and driving traffic to a website that you can share?
B: Focus on relevance, building authority and trust and the user-experience and everything will be ok in the end.
A: How do you think proceeding from your experience, what SEO tools are a must for you/for any SEO specialist?
Keyword research
SEO Audits
Optimization progress tracking
Reporting
A: A professional tip: how often do you recommend conducting SEO & technical audits? How often do you usually schedule reports?
B: We normally do audits at the end of every sprint cycle, to make sure that we stay on top of things. Then the report results are built into the next sprint. This process gets rinsed and repeated.
A: Which SEO tasks eat up most of your team's time?
B: General project management right now. Most of the time is being spent on building SEO foundations for sites, so it's all about onboarding them, connecting them, and getting the first audits done so dev teams have a solid and clear laundry list to work on every cycle.
A: Having so much work to be done, did you ever miss deadlines? Do you have some advice or life hacks you can give to SEO Agencies to avoid the pain of missed deadlines?
B: Yes, work is often delivered on time, but deadlines do get missed, but not very often thanks to the automated tasks list in WebCEO's Task Manager – my audits and reports are always on time. 😊
The best advice is to communicate clearly and often – this is why SEO married up to a framework like SCRUM/AGILE is most important.
A: What was the most remarkable challenge that your SEO Agency faced?
B: The biggest challenges are usually working with sites that have received some kind of Google penalty and are struggling to recover. These projects have proven to be the most challenging.
A: Agencies are usually oriented on a great number of customers. With so many clients, how do you keep an eye on their profiles?
B: The dashboard and setting it up to show trends etc. and summaries for groups is amazingly useful.
A: Tell us a few words about your most recent success to inspire our readers and your fellow SEOers.
B: At present a client has a growing portfolio of around 15 sites that need to be brought in line with SEO guidelines. They have grown organically and SEO was never a focal point.
The WebCEO platform has helped me manage the workload solo and standardize the site onboarding process and workflow for our team so that SEO foundations can be completed for all sites.
The added benefit is that those who work with the data are learning more about SEO thanks to the well annotated reporting.
A: Summarizing our interview: what is your agency like now compared to how it was when you started?
B: It's gone from a mosh pit to a finely choreographed dance.
The quality of reports, data mining, collaborations are way better, it's a different game entirely.
A: Thank you for contributing your time!
B: My pleasure.
READ MORE: