7 Steps to Make an SEO Proposal Your Clients Can't Refuse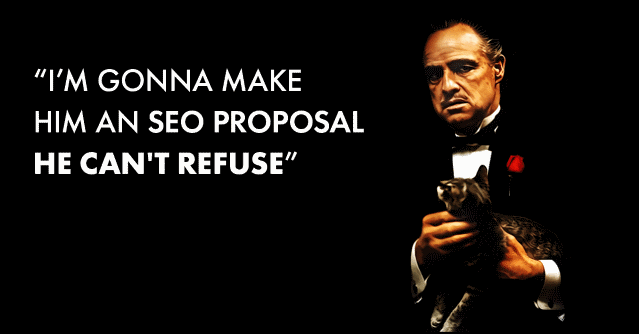 An agency that provides SEO services would be speaking to dozens of prospects every day. If you are selling SEO services in 2018, you might be churning out dozens of proposals per month. Even though every SEO requirement is different and has its atypical aspects, the overarching umbrella of your services can be captured in an SEO proposal template.
A template saves you time and gives you a head-start for your SEO proposals. It also gives your prospects a thoughtfully planned structure and design and doesn't let instantaneous whims get in the way of your submitting the template. Let us look at some of the sections that you should have in your proposal template, with ideas around how to construct them.
1. Introduction
This section should contain information about your company and about your organizational achievements that are relevant to SEO. The following aspects can be included in this section.
Corporate identity. Instead of keeping this fully formal, you can talk about why SEO is your team's passion and what you find interesting or satisfying about it.
Your achievements. This is a good place to flaunt the logos of the clients that you have delivered for in the past. Make sure that your references check out.
Case studies. Closely linked with achievements, case studies can show that you have experience in solving your clients' problems. This is a powerful sales pitch that gives customers confidence in your abilities.
Your differentiators. Provide short, concise and solid reasons why clients should work with your organization.
Your tools. If you use any proprietary tools to perform SEO tasks, you can mention them here as well.
2. Business benefits of SEO
There are benefits to reap by implementing SEO on the client's site, and this part is where you outline them. Your prospective client will probably already know that ranking better with the help of SEO is a good thing. However, rankings are merely a means to an end. Your proposal can speak in precise terms of how SEO translates to business benefits and can help the client in boosting the bottom line.
3. SEO audit section
There is nothing more compelling about an SEO proposal for a client than seeing how their website actually benefits from your work. If you can conduct an SEO audit for their website, you can attach a short report here. As a brief checklist, you can include the following:
Issues with backlinks or broken links, if any exist;
Landing page issues and user experience issues;
Loading times and performance issues;
Keyword search ranking issues (use WebCEO's Rank Tracking tool to find them easily);
Page structure issues and navigation issues.
It is important to list problems with SEO especially because of what follows in the next section: how you intend to tackle them. The audit report doesn't need to include every small detail, but it must touch upon a broad category of issues. You also have to take a lot of care to ensure that your SEO proposal doesn't denigrate the client's website or efforts in any way. Just state the facts in a matter-of-fact way and it will work.
4. Action plan
Once you have outlined what's wrong, the next step is to talk about 'what can be done to make it right'. This section should be split into two parts. The first part should include the activities that you will be doing as a part of the actual proposed assignment. You can talk about the following aspects in your proposed plan of action.
Keyword research. Briefly explain your process for keyword discovery and convergence.
Competitor research. You can describe the steps here that you will carry out to find the client's competition and their strategies.
Content building exercise. You can highlight the broad approach that you will suggest to revamp the client's web content to make it more SEO friendly.
Link building strategy. Include steps like backlink analysis and citation analysis, then add more of your process points here that you follow to build links. Example: you will look at the best backlinks your prospect's competitors enjoy.
Technical evaluation. Mention the tools that you will use to benchmark the performance stats of the site and briefly explain how technical aspects help in SEO ranking.
You can speed things up on your end with the right SEO platform. Organize and keep track of your SEO tasks in WebCEO's Tasks tool.
The second part of the section should touch upon some of the points that you identified as problems with the potential client's website. You can talk about what you would do to fix some of those issues. Again, these need not be fully outlined strategies, but rather mentions of what you intend to do to convince the client that you really understand the solutions to identify the problems you unearthed.
5. Reporting plans
Your SEO proposal has to mention what kind of parameters you are going to report on, as well as define the frequency of your reports. The proposal must also outline the broader plan that you want to execute. The opening part of your plan can be allotted to identifying and fixing the problems. Subsequently, you would need to describe the maintenance plan and activities that you would do on a routine basis.
6. Commercials
Fees and the timeline are too important to stuff in a footnote or, worse yet, leave for later discussions. Consider it mandatory to have a section where you talk about the following aspects:
Fee structure. This includes the break-up, advance payments etc.
Deliverables. Mention the exact deliverables here, including the reports and services that your client will receive.
Terms. If you have any payment terms that warrant attention, mention them here.
This step is much easier than it sounds. Just use a free timeline maker like Visme, and you'll be ready in no time.
7. Closing lines
Never finish the proposal with a "Thank you" or a picture of your swanky office. It does little to nudge the client to say "yes". Write a compelling last line: for example, a powerful super-short executive summary, or a hard stat, or a promise that you want to make in order to completely win the client over.
With these points in hand, your SEO proposal can have a definite structure to it. Each section can undergo its own changes based on your specific approach to SEO and your suite of services. With a ready template organized in this manner, you are all set to go after more leads and win more profits.