Keep Track of Google Updates and All Your SEO Actions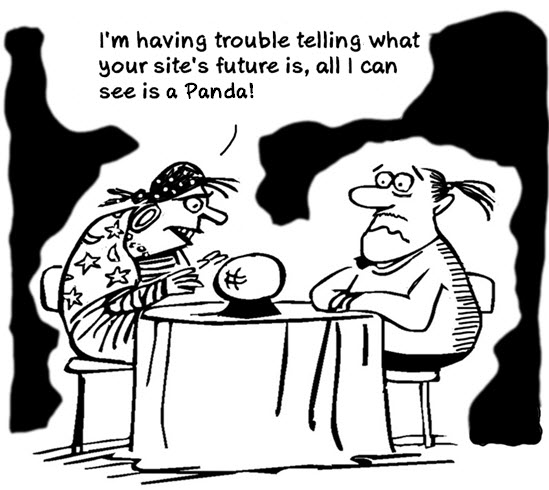 Do you remember when the latest Google update happened? Did it affect your site rankings and traffic? Should you take immediate action to survive?
We have answers for all these questions!
Now we track all Google Updates for you, so you can easily detect if your site is suffering from any Google algorithm change right now. Compare the Google Update dates we've added on the Rank Tracking and the Web Analytics graphs with changes in your rankings and traffic to be sure you were not hit.
Go to the Historical Data report in the Rank Tracking tool or to the Web Analytics reports. If you set a period that includes July, 17 2015 (the latest Google algorithm update happened on that day), you'll see benchmarks on a graph. These benchmarks mark the dates of Google updates; we call them "events".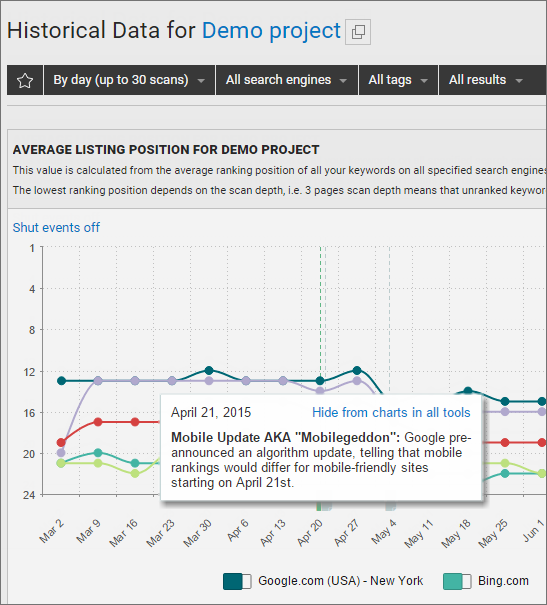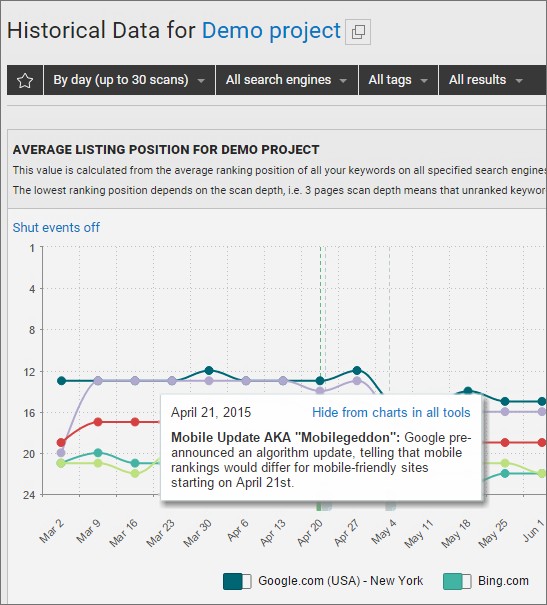 Mouse over an event icon on a graph and you will see details about that Google update. With the Google update dates shown on the graphs, you can easily understand (or explain to your clients), if your site rankings (and thus traffic) were affected by Google updates.
If you think the Google updates rolled to your site in a few days after the official update date, you can add your own events to the graph. Moreover you can write down anything important and keep track of your SEO activities in the Journal of Events! You can show, for instance, how changing the Title and Header of a page on one day, caused it to rise quickly in the rankings over the next week.
To add your own events describing your SEO actions, leave notes to yourself, communicate with your team or explain report data to your clients in addition to the Google updates that we add for you, click on an "Add Event" link in any Web CEO tool. You can add both private events visible to you only, or public ones available to your team and clients.


You will see your events on the graphs of the tools, in the Journal of Events (go to it through the tool selector, next to the Project Dashboard link) and in the tools where you added the event.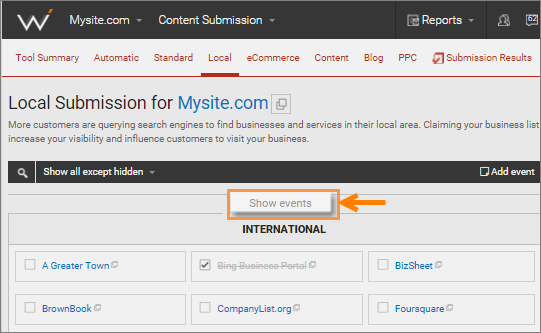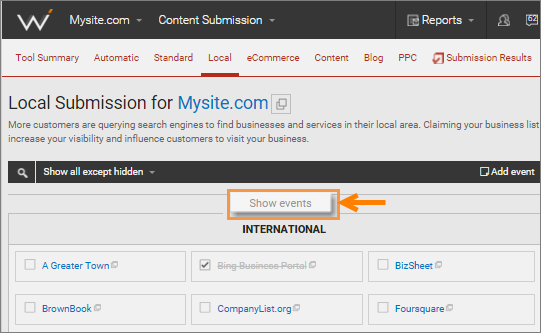 Use the Journal of Events to write down the various SEO actions you take and think of your Journal as an SEO diary.
Google updates and your own events are not included in automatically sent reports. Note that you can manually send a PDF report with the Google updates included (Export > Mail PDF Report), if you enable the "Include public events & Google updates in the PDF report" option when configuring the emailing.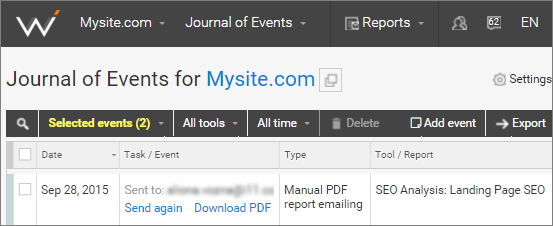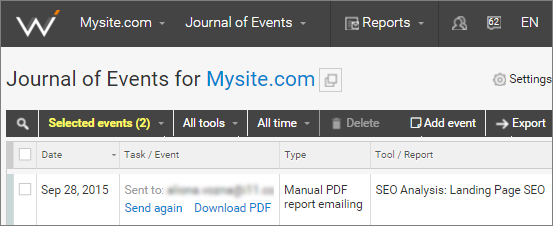 What you will see in the Journal of Events:
Google updates we gather for you to help you bring more data to your SEO analysis;
The events you've added to plan some SEO actions or to fix the ones you've performed, notes to your team, plus explanations of graphs sent to your clients.
Notes about automatic and manual PDF report emailing.
Use Google updates to make your SEO efforts more predictable and keep track of your SEO actions with the Journal of Events. Both new features are available with all Web CEO Plans with no limitations.
If you still haven't tried the Web CEO tools, it's a high time to fill in that skills gap and sign up for free!