New WebCEO Milestone: Over 1,500,000 Clients!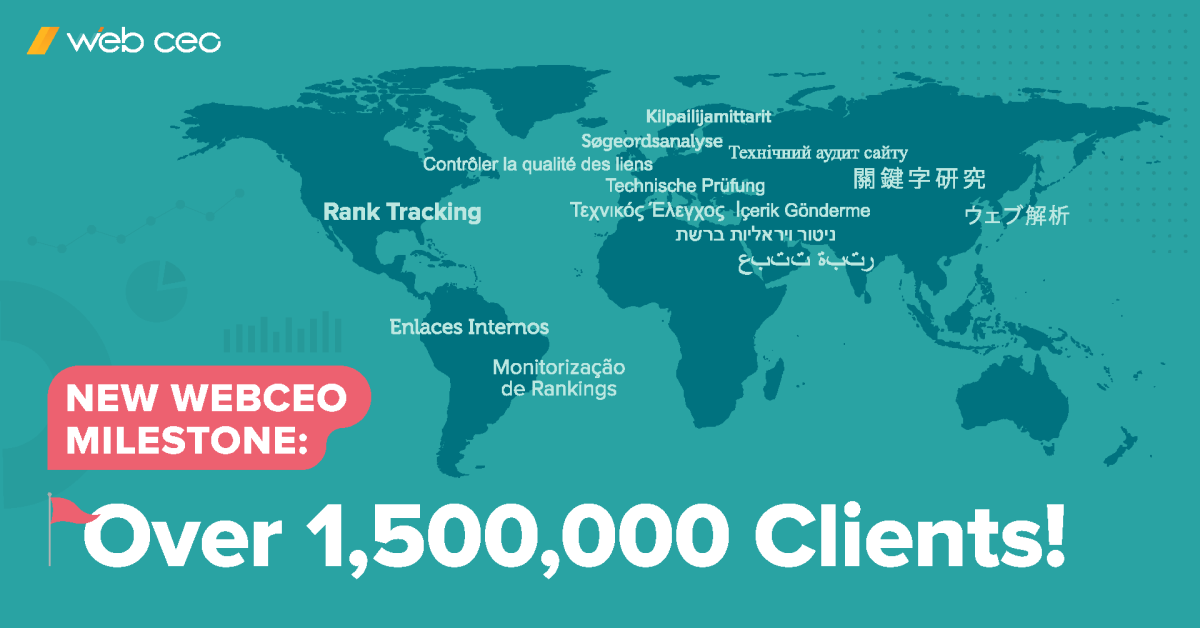 Can you believe WebCEO has been around for over 20 years?
Our company has seen a lot and been through a lot. Many changes, many challenges, and many breakthroughs. Aside from a few founding veterans, WebCEO is unrecognizable when you compare its early twenty first century origins with today.
Let's take a look at how it all started.
History of WebCEO (the key points)
Back in 2001, we released the WebCEO Desktop software. It was a set of SEO tools built to help businesses work honestly with SEO (white hat tools).
In December 2010, we built a new product — WebCEO Online. It was almost like today's platform, but not so stylish and full-fledged. There were nine must-have SEO tools based on customers' demands. Now the WebCEO online platform has 23 pro-level SEO tools.
In 2013 we released the White Label Domain feature. From that moment, businesses started using and selling our tools as if hosted on their own subdomains as if they had developed everything themselves. 
In June 2015 we launched the SEO Lead Generation Buttons. These allowed SEO agencies to get leads more effectively by offering free SEO audits from their own websites and newsletters. The smart widget button collected visitor URLs and emails in exchange for a free SEO audit report.
In 2018 we had our platform interfaces wiki-translated into 24 languages from the European, Hispanic, Asian, and Arabic regions.
Last year the WebCEO Team created a tool to help marketers make their content more competitive and SEO-friendly — the SEO Content Assistant. This tool was in heavy demand as it allowed WebCEO users to find competing webpages and learn exactly why those pages scored higher rankings on Google than their own.
Now we've reached a new milestone: 1,500,000 customers. That's right, a million and a half. That includes all sorts of users: individuals, teams, and businesses. And their number keeps growing even as you are reading this.
Why not use this occasion to see more of WebCEO's achievements in the SEO field?
Check out the infographic we've made. This is WebCEO in figures.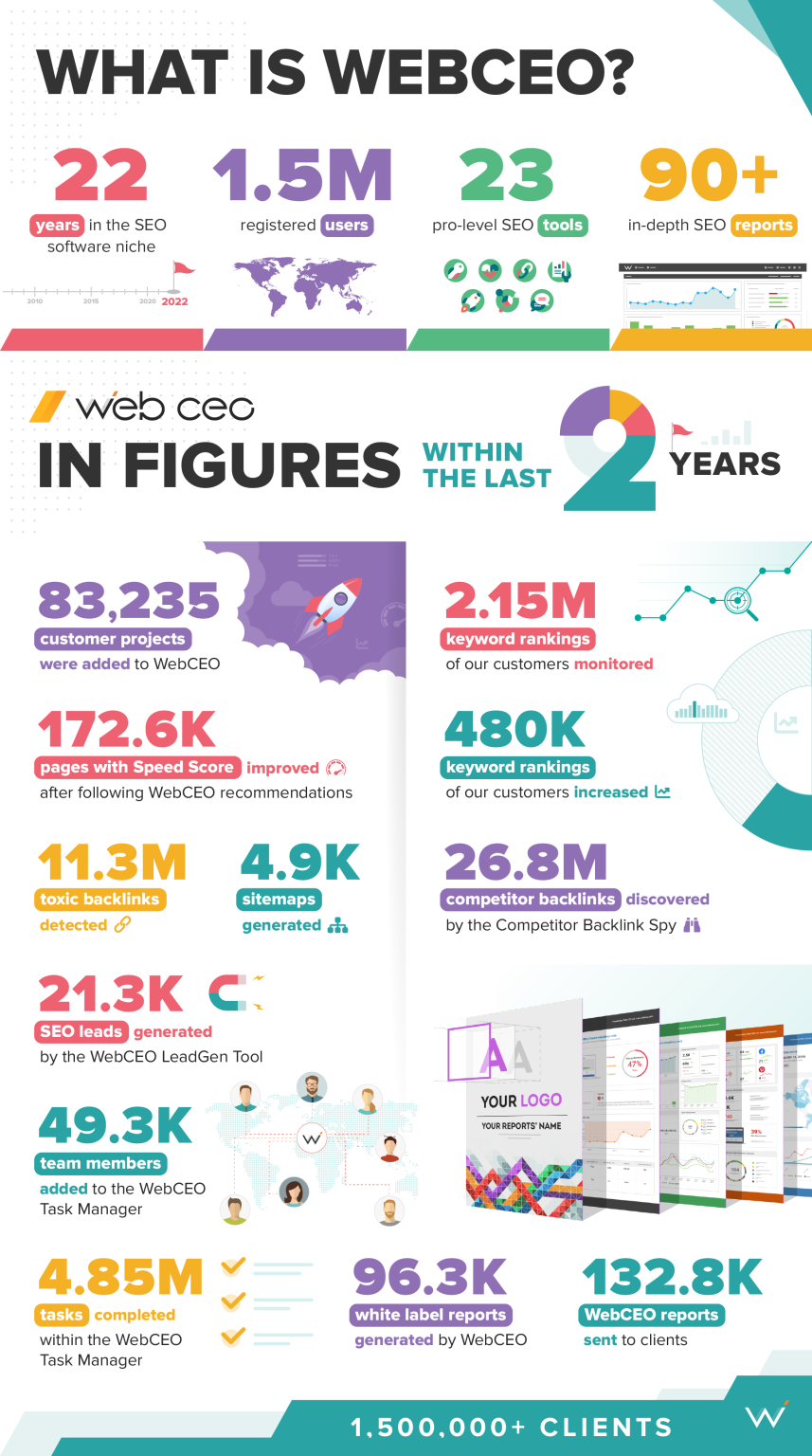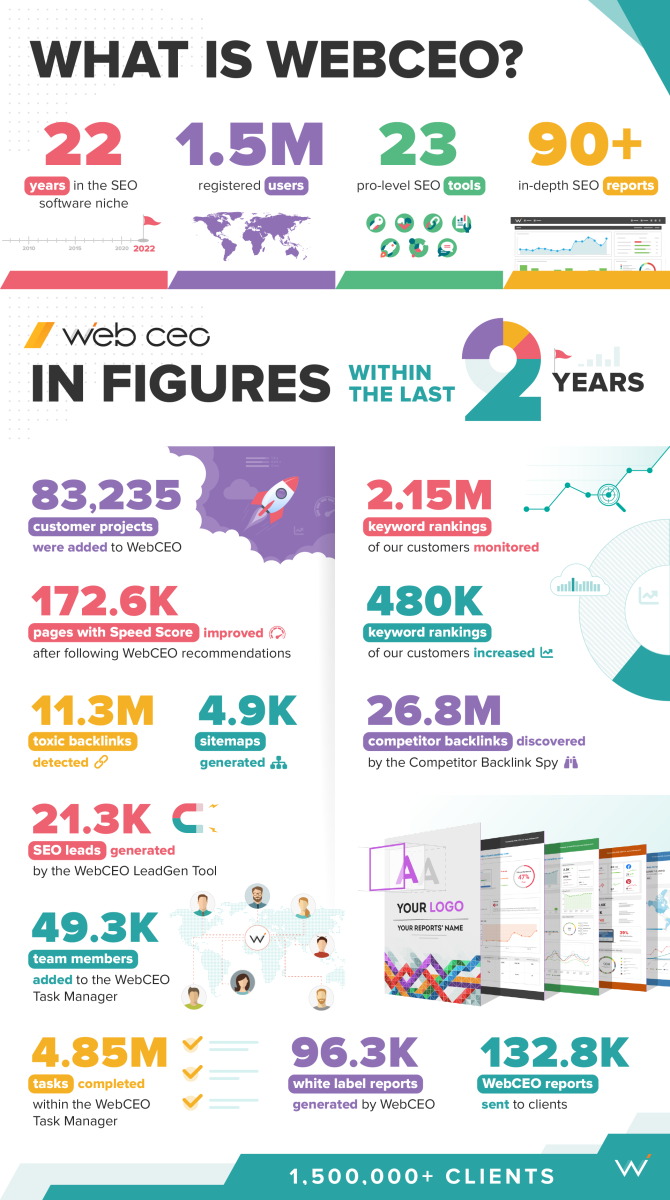 What is the WebCEO SEO platform (in brief)?
22 years in the SEO software niche;
1.5 million registered users;
23 pro-level SEO tools;
90+ types of in-depth SEO reports.
Now, 22 years is a long time – way too long to list everything. For this infographic, we've collected data from just the last two years. WebCEO's activity after the dreaded 2020 should make for a good demonstration.
Here are some of the most crucial SEO tasks that have been carried out by our customers since then.
Within the last two years:
83,235 customer projects were added to WebCEO;
11.3 million toxic backlinks detected;
2.150 million keyword rankings of our customers monitored;
480K keyword rankings of our customers increased, which is more than 22.5% of the monitored keywords;
172.6K pages with Speed Score improved after following WebCEO recommendations;
4.9K sitemaps generated;
26.8 million competitor backlinks discovered by the Competitor Backlink Spy;
21.3K SEO leads generated by the WebCEO LeadGen Tool;
49.3K team members added to the WebCEO Task Manager;
4.85 million tasks completed within the WebCEO Task Manager;
96.3K white label reports generated by WebCEO;
132.8K WebCEO reports sent to clients.
Pretty cool how much work our customers managed to do in such a brief timeframe, isn't it?
This is where we are now. It has been a great journey, we are proud of everything we've done, and we are even more proud of all our users. Many of them made it big with the help of our tools! And we have no intention of stopping – the WebCEO train has no brakes. The next milestone is two million. See you there!