Meet the new WebCEO interface: better, simpler, handier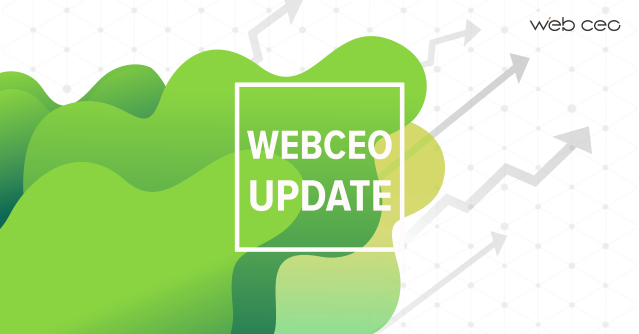 The best SEO tools have become even more alluring
Time flies and evolution happens. Changes are implemented every day, be it a simple system update or a large-scale improvement that is seen by everyone.
People want better features and they want them to surf the modern waves of technology. The WebCEO interface is the main thing we care about, and that's understandable as we are constantly working on it.
The WebCEO platform has evolved.
We are here to announce the retirement of the old version of the WebCEO platform and welcome its totally new appearance! Let's take a glimpse at changes you'll be able to enjoy soon:
LEFT SIDEBAR MENU
SMARTER NAVIGATION – EASIER OPTIMIZATION
What you'll see:
A new menu placement;
The list of tools has become easier to view and in tune with what has become the industry standard;
Left-side access to "Reports", "SEO Leads", "Tasks" and "Alerts".
Here's what has changed: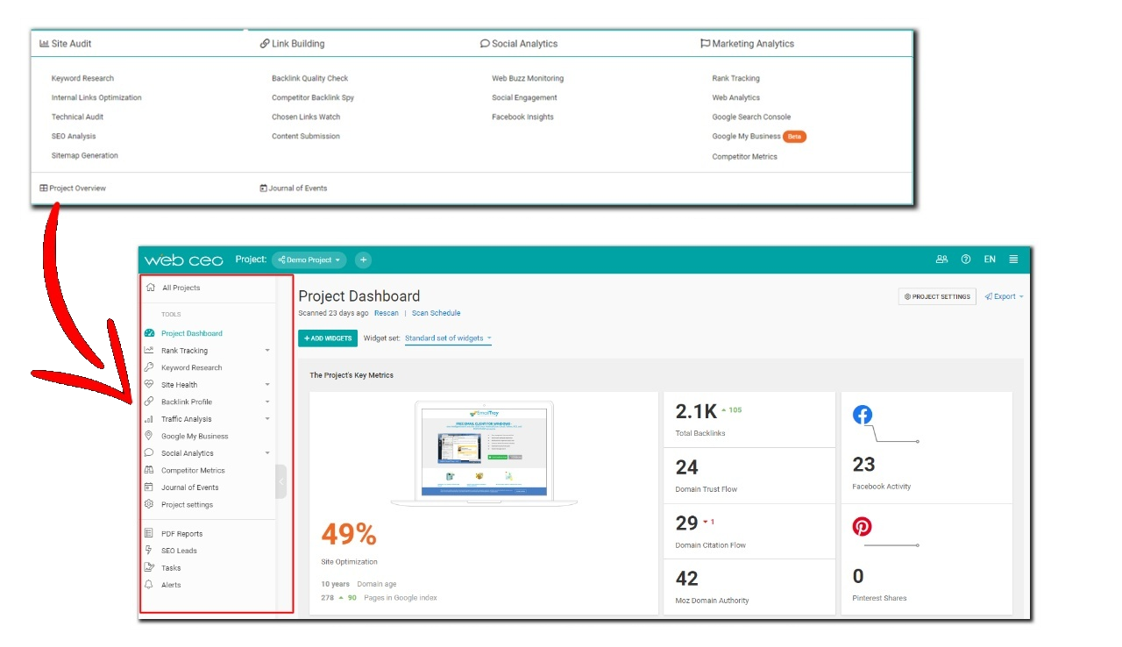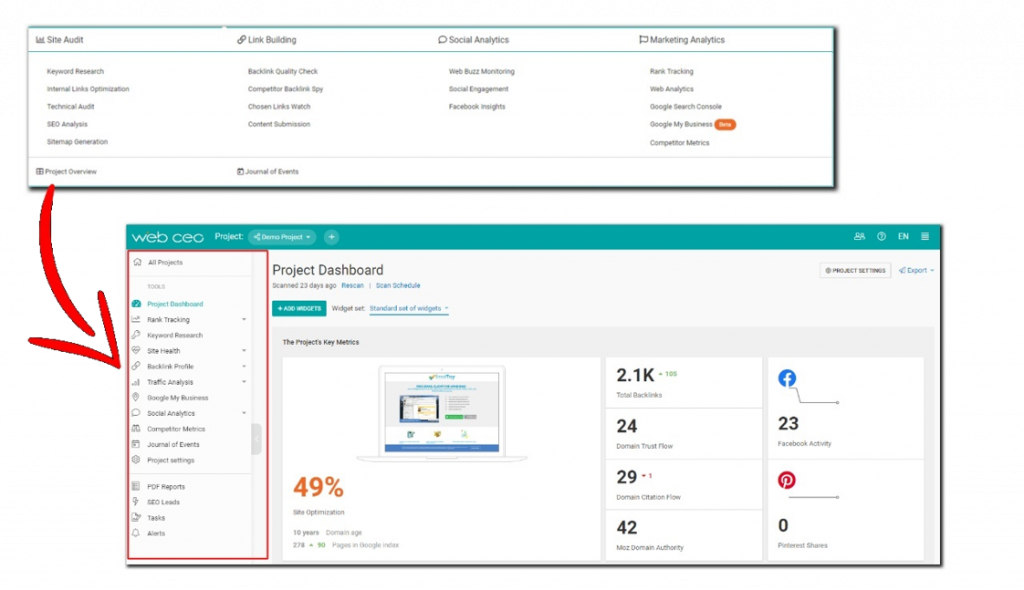 The WebCEO platform has gotten big for its shoes, and the old menu wasn't best for presenting all the new and future tools and reports. For easier navigation, we have decided to create a new look that will have enough potential to accommodate our plans.
Why have these changes been implemented?
1. User convenience.
The top horizontal menu has outlived itself. Before the online software industry standardized on left side navigation, the top menu of the WebCEO platform was cool. However, over time, most product categories, such as cars and bicycles, standardize on where and how things like steering mechanisms will be placed. For the online software industry, left side navigation has become standard and is the best solution for users to work snugly with all the current and future WebCEO tools and feature updates.
2. Visual perception.
The F-shaped pattern of reading is still alive.
According to Neuroscience Marketing, data placed on the left side of the screen is absorbed better by people who read left to right.
As reported by Nielsen Norman Group, the F-shaped pattern of reading helps people get any information faster and build an approximate info-map on where tools and reports might be located and how they can help.
Thus, a left sidebar menu is a way to massively improve your working experience in our service.
3. Trouble-free and time-saving search.
A user will no longer need to scan our interface for awhile to find a small detail or a feature he or she rarely uses and forgets about its existence from time to time. From now on, everything will be visible and available at the moment you decide to use an element you postponed an acquaintance with.
A BRAND NEW ORDER = IMPROVED EXPERIENCE
Let your intuition and SEO know-how guide you.
One more advantage is that the MENU LIST IS NOW OPTIMIZED: to place the tools you use the most above others that are used less often. This will help you organize the working process better.
From now on, users will be able to navigate intuitively:
1. No time-consuming search for tools;
2. You will understand what parts of SEO you should work on first.
SHORTER NAMES – SIMPLER RULES
Avoid confusion.
What you'll see:
1. Fewer sections.
You no longer need to know that Rank Tracker is in a "Marketing" category.
2. New names.
Some instruments have acquired new names that are more goal-oriented.
Why have these changes been implemented?
A left sidebar menu is not a place where you can insert long titles. Simplicity is required.
A more tightly grouped list of tools will help you do specific operations faster.
OVERALL DESIGN
MINIMALISM INSTEAD OF BEING OVERWHELMED
Dive into more clarity for your work.
The interface is comparable to your desk, as it is your work environment with equipment on it. The WebCEO platform is a place where you work, learn and investigate. We have created a place where you can feel comfortable and be prepared for any kind of situation or task.
We decided to give you some room for breathing and relocate important buttons and data.
Here is one example:


In the old version of the service, a user had to make several clicks to run a scan.


Now you'll be able to see "Scan", "Rescan", "Scan Schedule" and the date of the last scan as soon as you choose a tool to work with.
Also, you will notice a "menu inside the menu" scheme simplification: top bars with the names of reports are modified and relocated to erase extra pressure on your eyes and make the process of auditing and optimizing visually more relieving. You'll be able to configure everything right from the beginning following a "ladder-down" scheme, saving your time and nerves and avoiding extra settings.
YOU WILL NOT BE ALONE
Of course, we will help our users get accustomed to this as we do for all updates. To ease the acquaintance within the platform's new menu and navigate easily in all the changes, the WebCEO team has prepared several ways of "touching" our new interface:
Onboarding,
Step by step instructions,
Videos,
Constant support from the WebCEO Angels!
FUTURE PLANS
WebCEO has great plans to bring to life in the nearest future. You'll soon be able to:
Conduct in-depth content analysis to augment our current keyword placement maps;
Observe reports on Facebook Ads and Instagram Ads;
Work with reports from Google Ads;
Experience more new ways to analyze Backlinks;
Conduct a quick analysis of any domain;
Enjoy enhanced features for your White Label Domain integration, and more.
CONCLUSION
The WebCEO platform won't be falling behind. Every day we work hard to improve your working experience in our service and present something new to help you manage pro-level SEO tasks. Start your investigation of the new WebCEO interface capabilities!