Analyze a Hundred of Your Competitor Domains at Once with the New WebCEO Quick Domain Analysis Tool!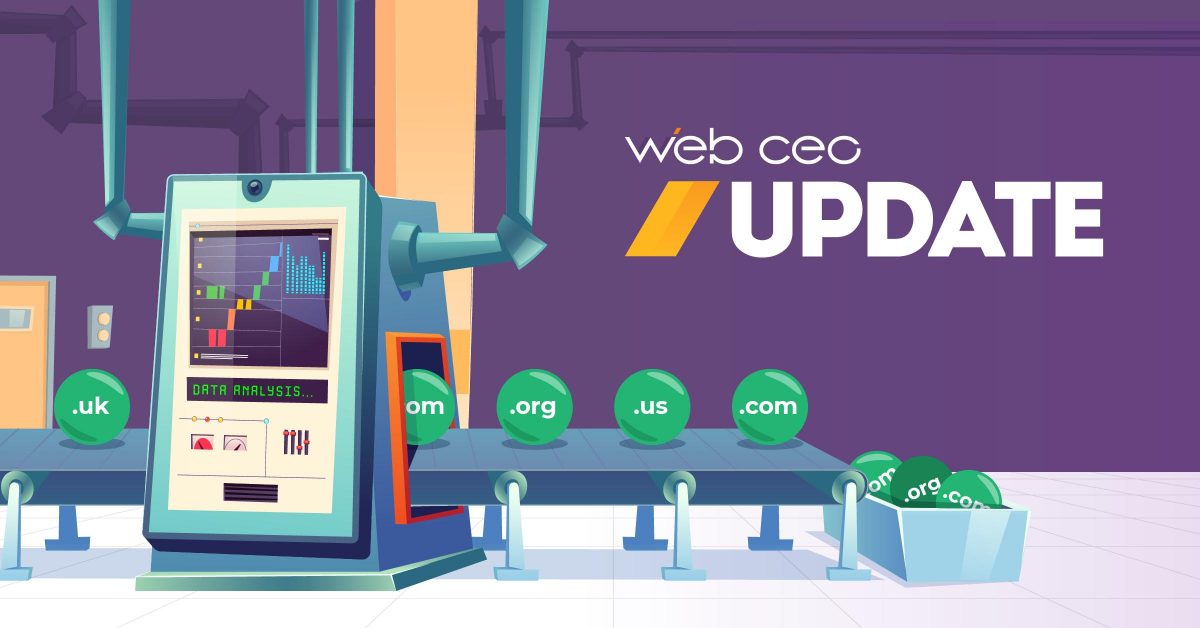 Time is more valuable than any other resource on our beautiful planet. Nowadays, people appreciate fast and instantly clear analysis of incoming data.
Competitor research just got easier, faster and more convenient!
The WebCEO Quick Domain Analysis Tool will analyze up to a hundred domains at a time with no tie to any of your projects. Just build a list of domains you want to know everything about and we will give you plenty of relevant data after one simple click!
The new tool will cover three main SEO tasks:
1. Competitor Analysis: check your rivals and get more extended data than before.
2. Link Building Research: if you enter 100 domains, we will tell you which would be the most beneficial to get a link from. The rest will be up to you: go to their websites and learn how to get a link from them.
3. Bulk Website Comparison: Check the sites of everyone in your industry to see everyone's strengths and weaknesses, including your own. This can include suppliers, influencers, customers and competitors.
GET INTO THE DETAILS
Conduct In-depth Domain Analysis
As soon as the research scan is over you will get a table with the following analytical data for each website: meta title tag, domain topic, the total amount of backlinks to this page, linking domains, domain trust flow, domain citation flow, Moz Domain Authority, Alexa traffic rank, amount of pages in the Google index and domain age.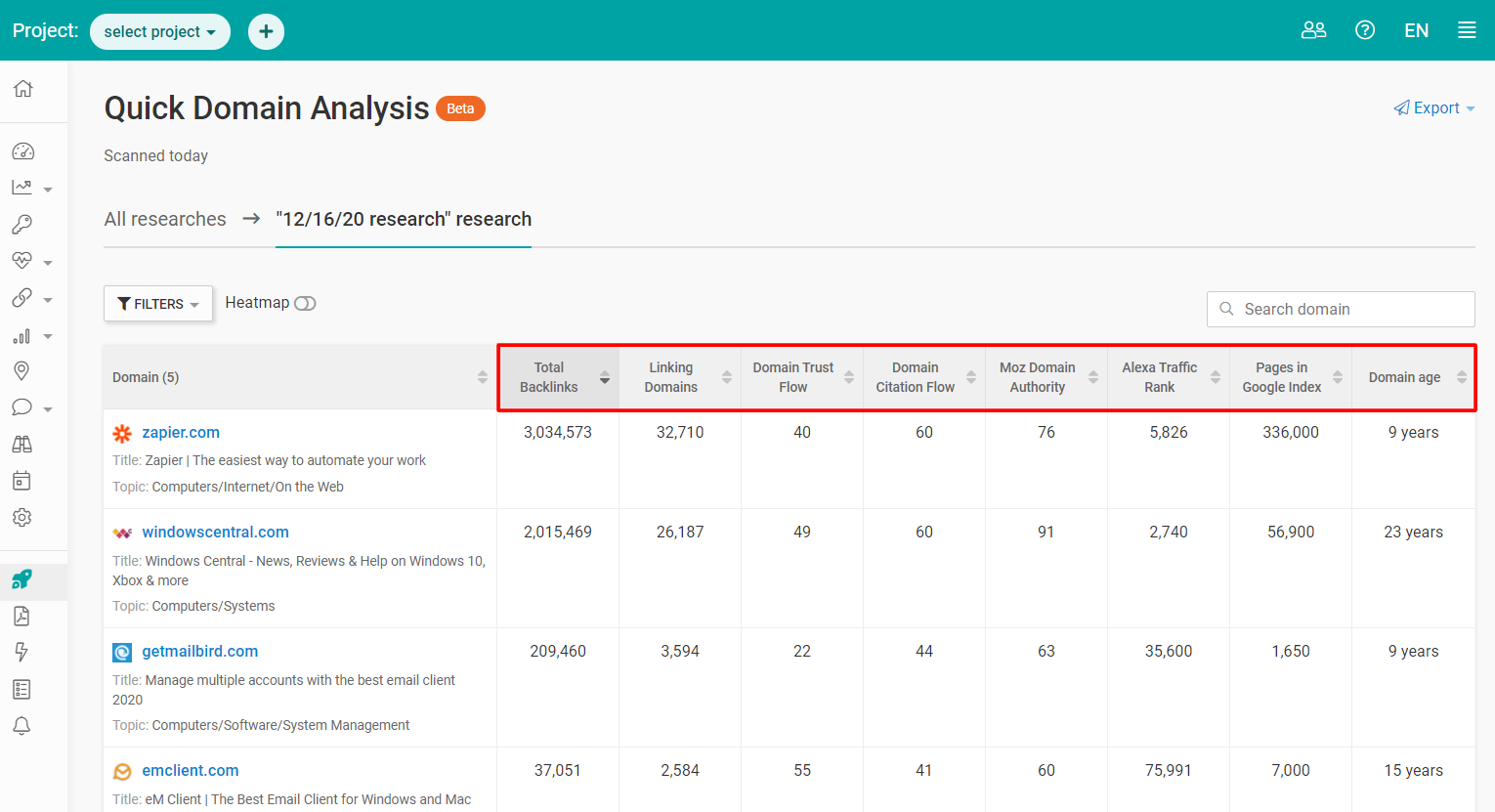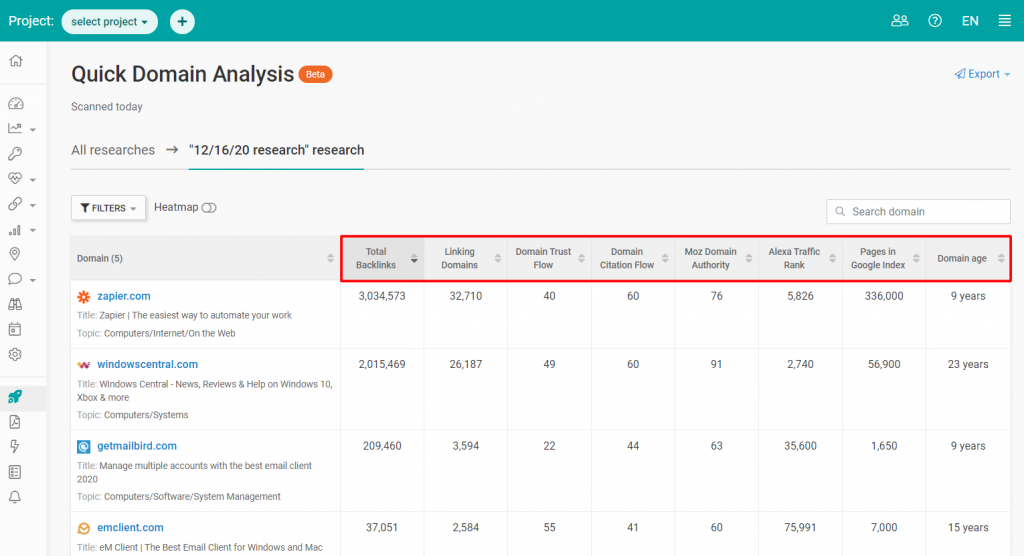 See Research History
All of your researches will be saved. If you want to get a specific list of domains from one of the researchers analyzed again, you will know where to find them. This will be of great help with doing a dynamic comparison of your and your competitor's performance.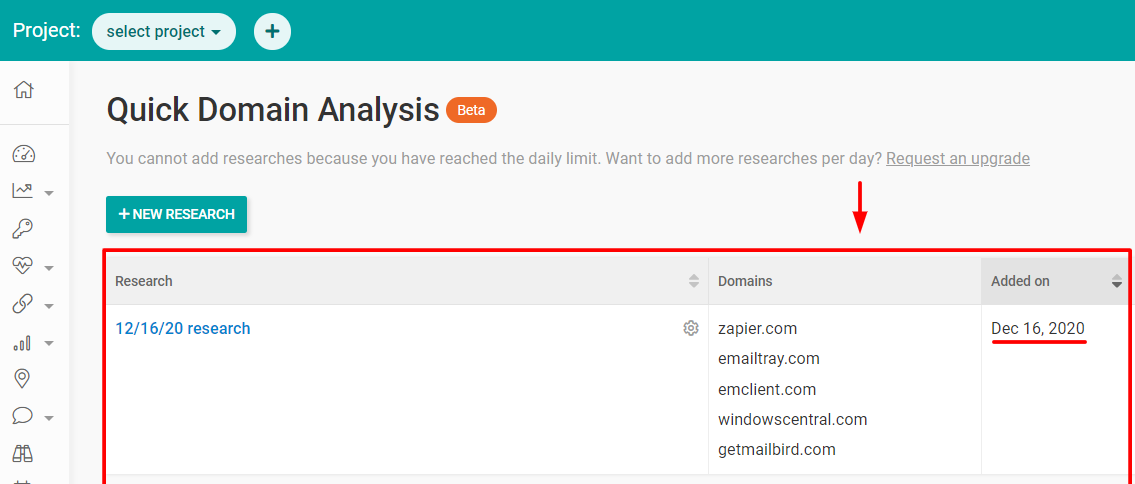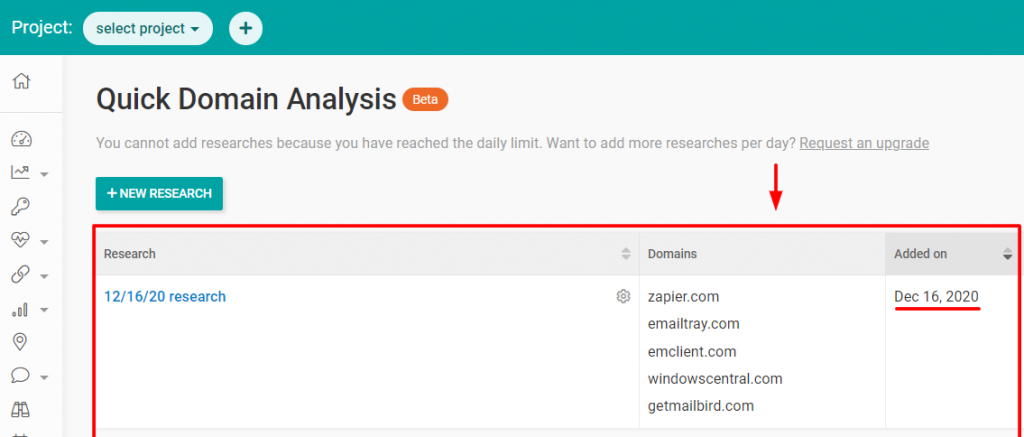 Leave Necessary Notes
As there will be several free researches available per day, you can easily forget the aim of some of them or forget critical reasons you specifically conducted a particular research. To prevent this, you will be able to leave notes with each research in your list. You can write a note before or after a scan – anytime.


Use Filters to Organize the List
Sort the table by:
keyword type, number of linking domains, level of domain trust flow and citation flow, Moz domain authority, Alexa traffic rank, domain topic, age and number of pages in the Google index.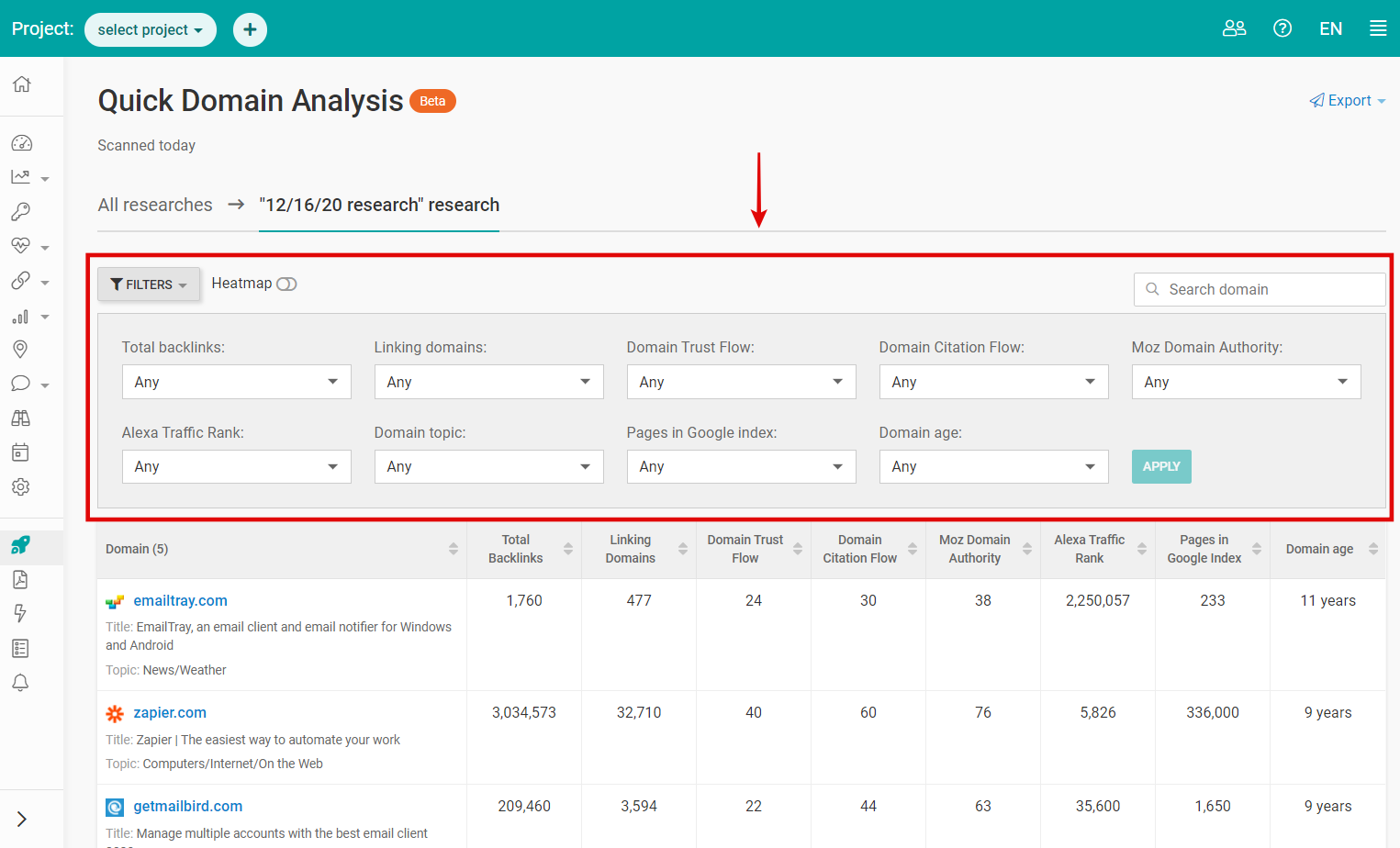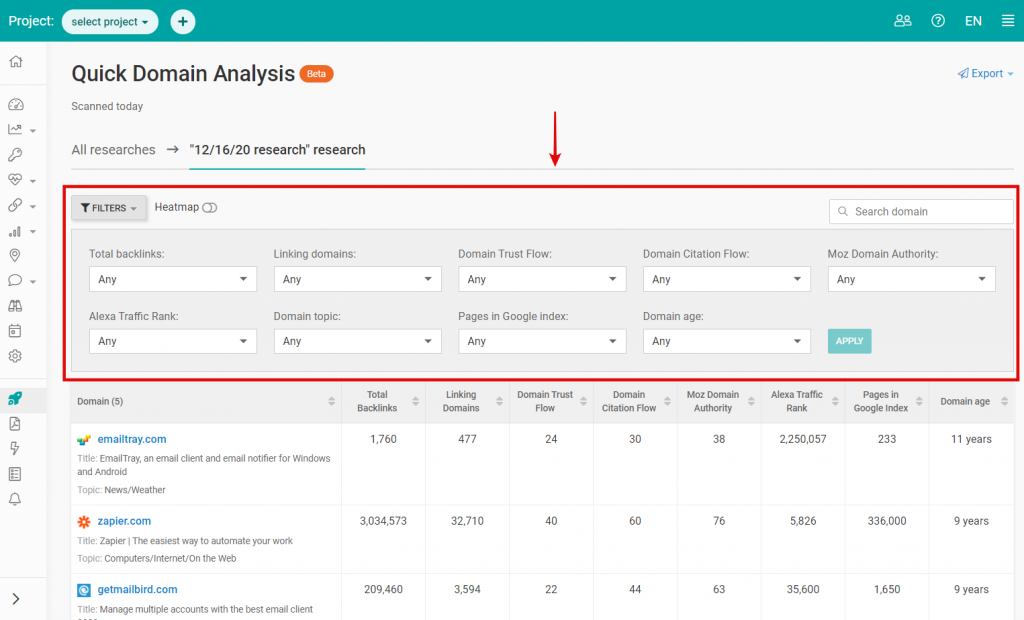 You can configure each of these filters to get a perfect list. Filter categories will offer you some set ranges, but you can set a custom one.


If you are a visual learner, switch on a heatmap to visualize numbers.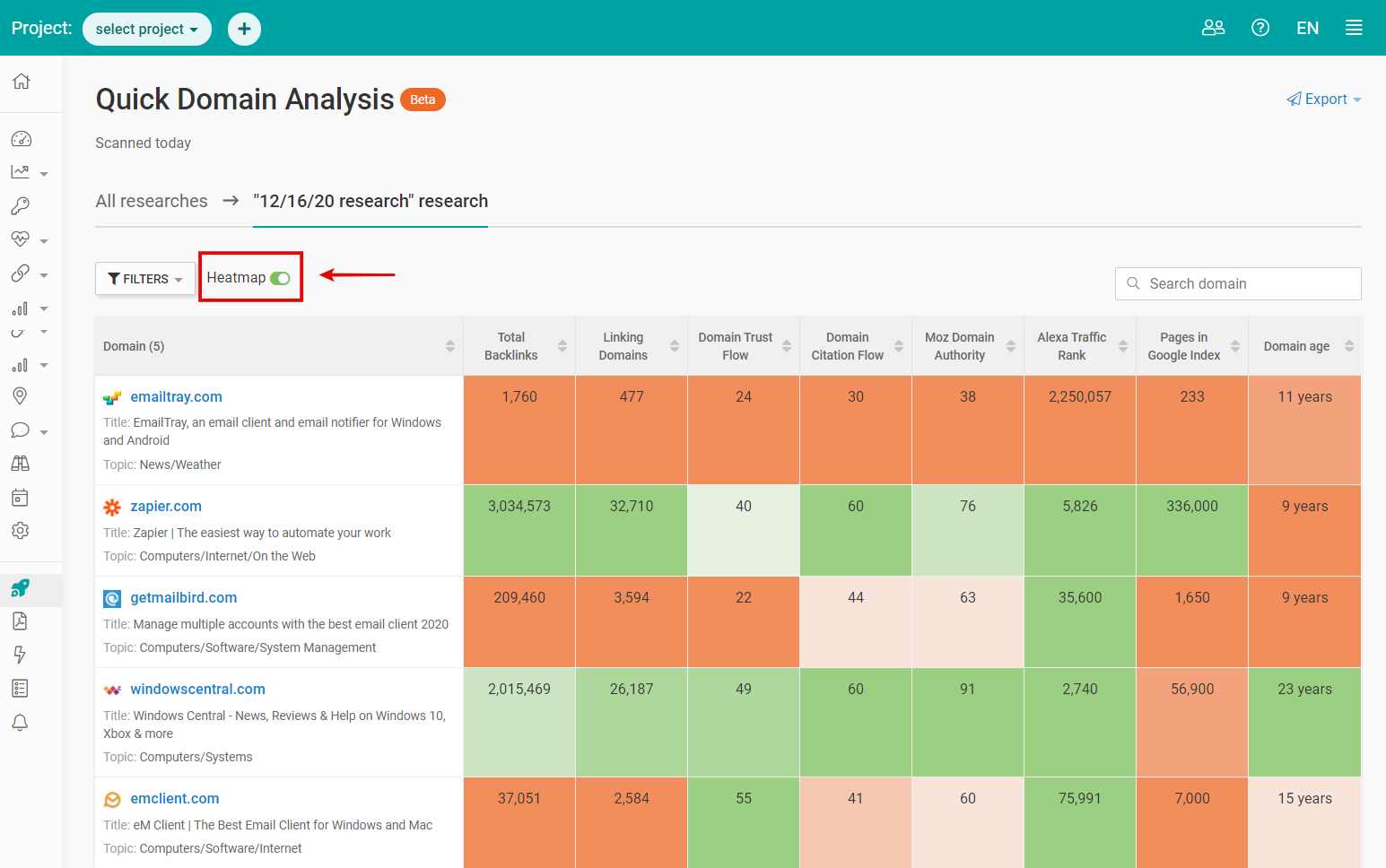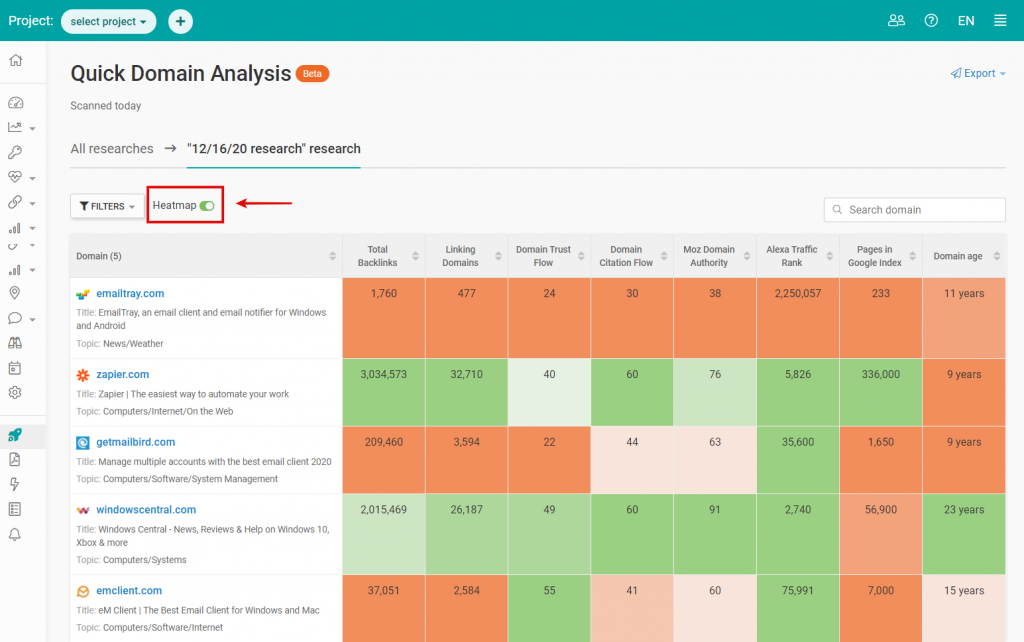 Costs and limits
Free trial – 3 free researches for the whole trial period. Here a user will have a limit of 5 domains per research.
The Solo plan: 1 free research per day.
The Startup plan: 3 free researches per day.
The Corporate plan: 10 free researches per day.
If you want to get a greater amount of scans per day you will have an opportunity to upgrade your plan to the one which allows an unlimited number of researches.
The Agency Unlimited plan: 3 free researches per day plus an unlimited number of paid ones for $0.25 per each.
EXCEPT FOR the free trial, you will be able to analyze up to 100 domains at a time.
You will manage everything via the Role Editor. You can allow or prohibit the access to this tool or narrow the circle of those who can use it.
If you are to choose "shared access", the special filtration will appear in the table of research history. You will see who created the research and even filter this data to see researches created by a specific teammate.
You will be free to set your own limits regarding the amount of free researches per day.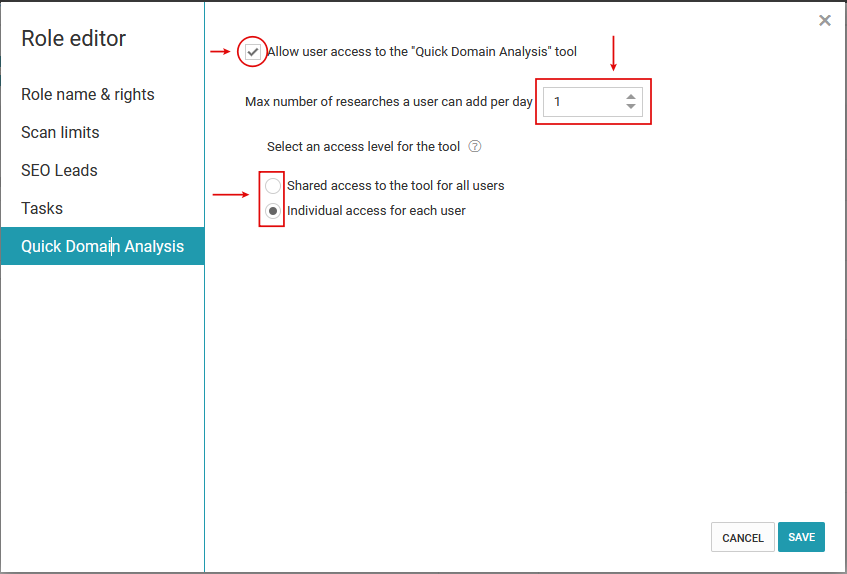 Teamwork Aspect
If you use the teamwork feature, the access to this tool will be available to any member of the team. Also, the "created by" filter will appear.
The WebCEO Quick Domain Analysis Tool is a salvation when you are short of time and want to get comprehensive data to work with. Competitor Analysis is one of the basic steps in the whole process of SEOing and even running a business itself. With more and more websites appearing day by day, this tool presents a great possibility to investigate as much as possible at one go.