WebCEO Update: Do Even More with the Best SEO Tools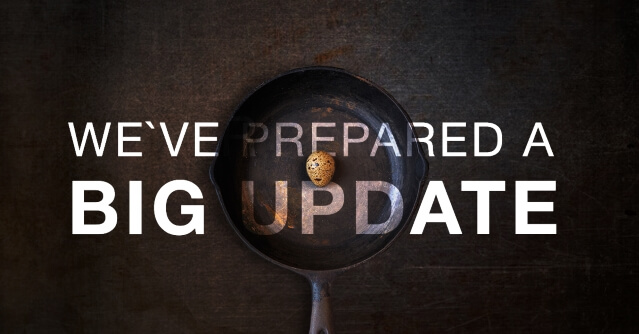 Our WebCEO team takes user experience very seriously. We like it when software is user-friendly, and we want our tools to be the same. Becoming boring and stale and falling behind the times is out of question. And that's why we are proud to announce that we have recently updated our service!
What's new with WebCEO?
This time around, we put more effort into two aspects: efficiency and organization. It's all thanks to users who gave us their feedback with ideas for improvement and wouldn't stop until they were heard. We get it, we love you too.
First, we've made changes in our Tasks tool. It became more flexible, and users have more control over it now.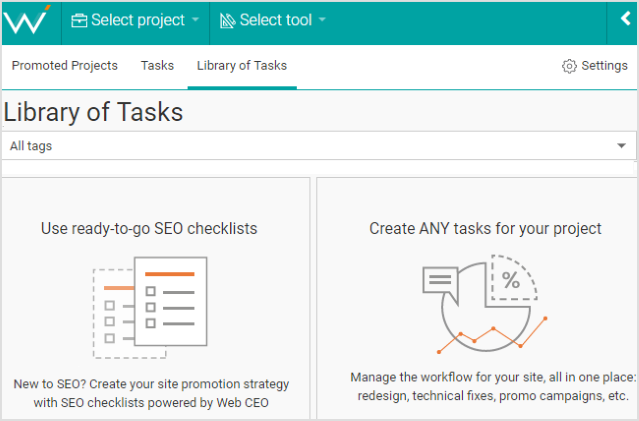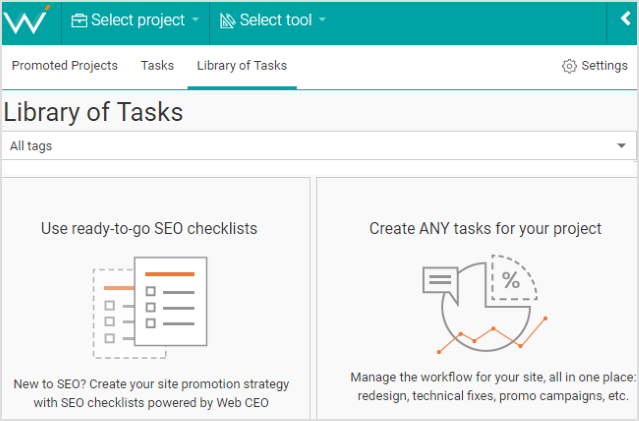 Let's get the minor details out of the way first. As you most likely can recall, the third tab in the screenshot above used to be called SEO Plans. Now it's called the Library of Tasks, which is more descriptive and fitting. The words "SEO Plans" were a source of confusion for some users, so that's one ambiguous piece of design taken care of.
Now bigger news: after many requests, we have added the option to shuffle around the tasks in the table. Users wanted to be able to do that, since it would make organizing their SEO tasks much easier. Quite reasonable, and hereby granted.
From now on, you can drag and drop your tasks and even groups of tasks. Change their chronological order and make every SEO template fit each individual project you promote with no effort! Simply press the "⁞⁞" icon with the mouse (or with your finger if you are on a mobile device) to move the tasks up and down. Try it out, it's fun!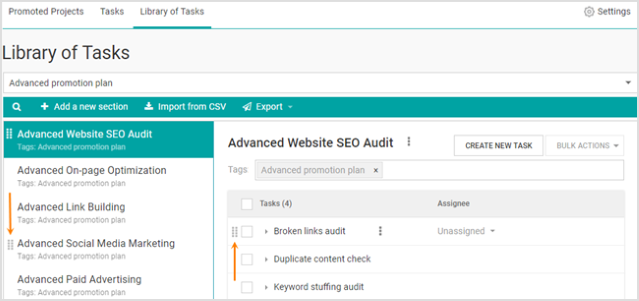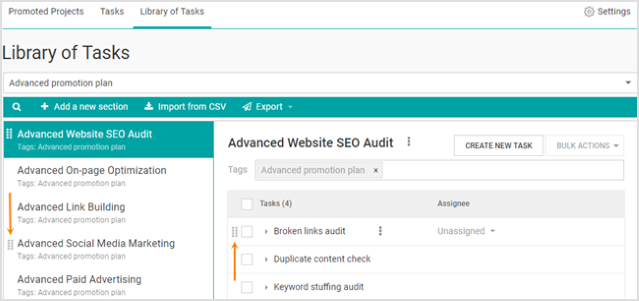 Onto the next big thing: widgets in the Project Overview.
Don't get surprised when you see them, and don't think you opened a different SEO service by mistake. It's still very much WebCEO, just with more style. I mean, look at these slick little beauties.


It isn't the first time we've changed how the widgets look, but each new update strived to make them as neat as possible. This is our most recent shot at perfection. Appearance and placement of tools can make or break the working environment; it's no wonder our designers gave them so much consideration.
A total of 15 widgets were redesigned, including the Project's Key Metrics, Average Ranking Position, Mobile Optimization, Competitor Social Citation and Web Buzz. Be sure to check them all!
Functionally, they are the same as before. You can still drag widgets around, resize and remove them as you please. Also, if any of the tools detect a problem with your site, they will signal with big red letters or numbers. Whatever SEO issues may come your way, we got your back.


Lastly, we have the project creation wizard.


It's the biggest winner of our update because it received more than a simple cosmetic change. This time, we are talking about a real upgrade. As in, the tool is more powerful now.
What did the update do?
For one, the wizard is now much faster at generating first reports for newly-created projects. WebCEO scans your site as you input information about it. By the time you've gone through all the steps, 90% of all the data will already be prepared for you.
Next, the wizard has become a new asset in local SEO. In order to explain how it works, we'll need to go through some of the steps of making a new project.
During step 2, you input your target country and specify a location (e.g. a city).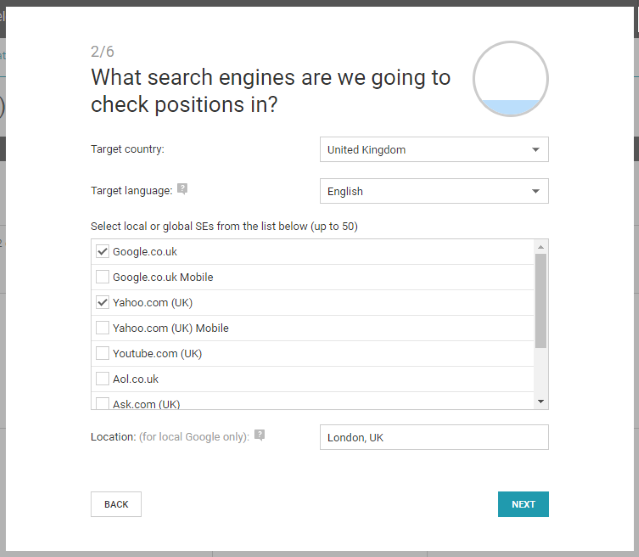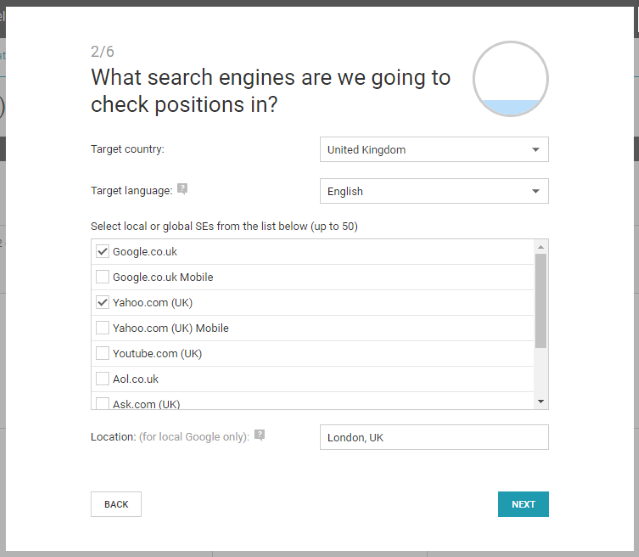 Later, when you reach step 5, you get the option to add competitor websites. And this is where things have improved. Before, the wizard would automatically suggest a few it found suitable. But that wizard is gone now.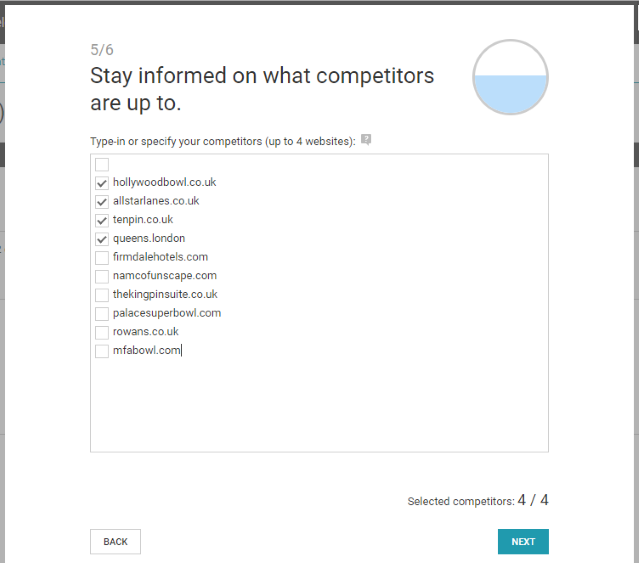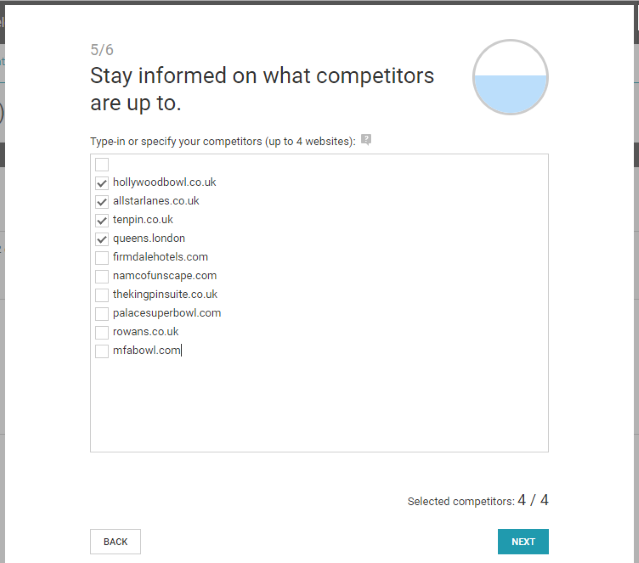 The upgraded wizard knows a new trick: it remembers the location you input during a previous step and picks the most relevant competitors from there. That's a helping hand in both local SEO and competitor research: two for the price of one. How's that for a timesaver?
So, you want to take our newer and faster SEO tools for a whirl? Then join us now.