DIY SEO Guide for Beginners: How to Start the Process of Website Performance Optimization? Part I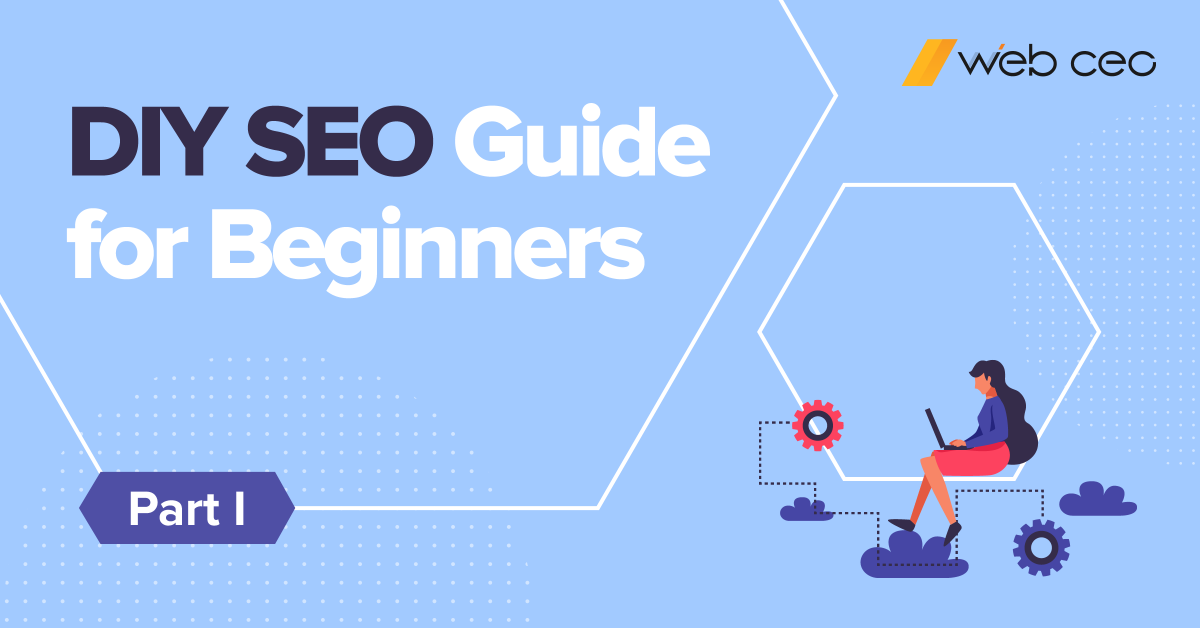 If you are not a fan of getting outside help, but still want to fine-tune a website, this DIY SEO guide will come in handy.
Doing SEO yourself isn't difficult but carries great responsibility. We will start from the very beginning and touch on all the important aspects of working on your or your clients' projects including monitoring results.
Let's take a deeper look at the steps you will need to consider to do SEO properly!
CHAPTER 1. Explore Your Niche: SEO Research and Analysis
First and foremost, it's important to remember there isn't such a thing as "I've gone through this step and don't need to come back to it anymore".
Each stage in the process of research, analysis and further optimization will complement the next one and sometimes you'll have to go back and do previous steps over and over again.
SEO is a never-ending process. Don't forget that search engines are constantly developing, new rules are set and more and more players, such as your competitors, will be joining the game.
You should always keep abreast of the latest trends and work on your own performance.
The SEO Glossary of must-know-terms

White hat SEO refers to website optimization that is performed without violating Google webmaster guidelines.

Black hat SEO in contrast refers to website optimization that is performed with violating Google webmaster guidelines, e.g. keyword stuffing, spammy links, irrelevancy, invisible text, etc.

Search engine ranking factors are a set of factors a search engine "takes into consideration" while ranking websites on the results pages (SERPs).
Spotlight: TARGET AUDIENCE IDENTIFYING
A target audience represents people of a specific age, gender, nationality, locality, line of work, or lifestyle who may be interested in your content and who you create and distribute your product for.
You will not take big steps in website optimization without knowing who is and could be interested in your content and whom you will create your content or products for.
When you want to sell a house, you won't like it if it will appear in front of someone who can't afford it.
Your website will gladly welcome people who meet your requirements. Your purpose is to identify those requirements and adjust to them. It concerns everything we are going to discuss.
Identifying your target audience and providing people with the content they were looking for will give your website more of a chance to be found and remembered.
There are several ways to work with an audience:
1. Identify who already visits your website (for currently operating websites).
The best way to find out who you work for is to analyze people who are already your clients.
There are non-tool methods like: surveys on the website and – you can ask some questions about their education, occupation, hobbies, age, gender and a lot of other things during the signup process.
Why is every detail so important?
With this type of data, you can attract similar groups of people using special methods that will resonate with the audience better than general ones.
For instance, you can bring their attention via specific phrases, colors, website design, advertisements and other things. If these features will be adjusted to your target audience's needs, they will come to your website with greater desire.
The best and fastest way is to use tools. The most popular one is Google Analytics. It is a free tool from Google which will show you a detailed report on your current audience. This will provide data like age, gender, and interests. The field of data available in this service is enormous. You will get to know where your users live, when they come and how much time they spend on your website.
You'll create a full-scale portrait of your audience.
WebCEO integrates with Google Analytics. If you need an all-in-one SEO platform to keep track of your audience and analyze it without switching between different tools, use WebCEO's Google Analytics Module: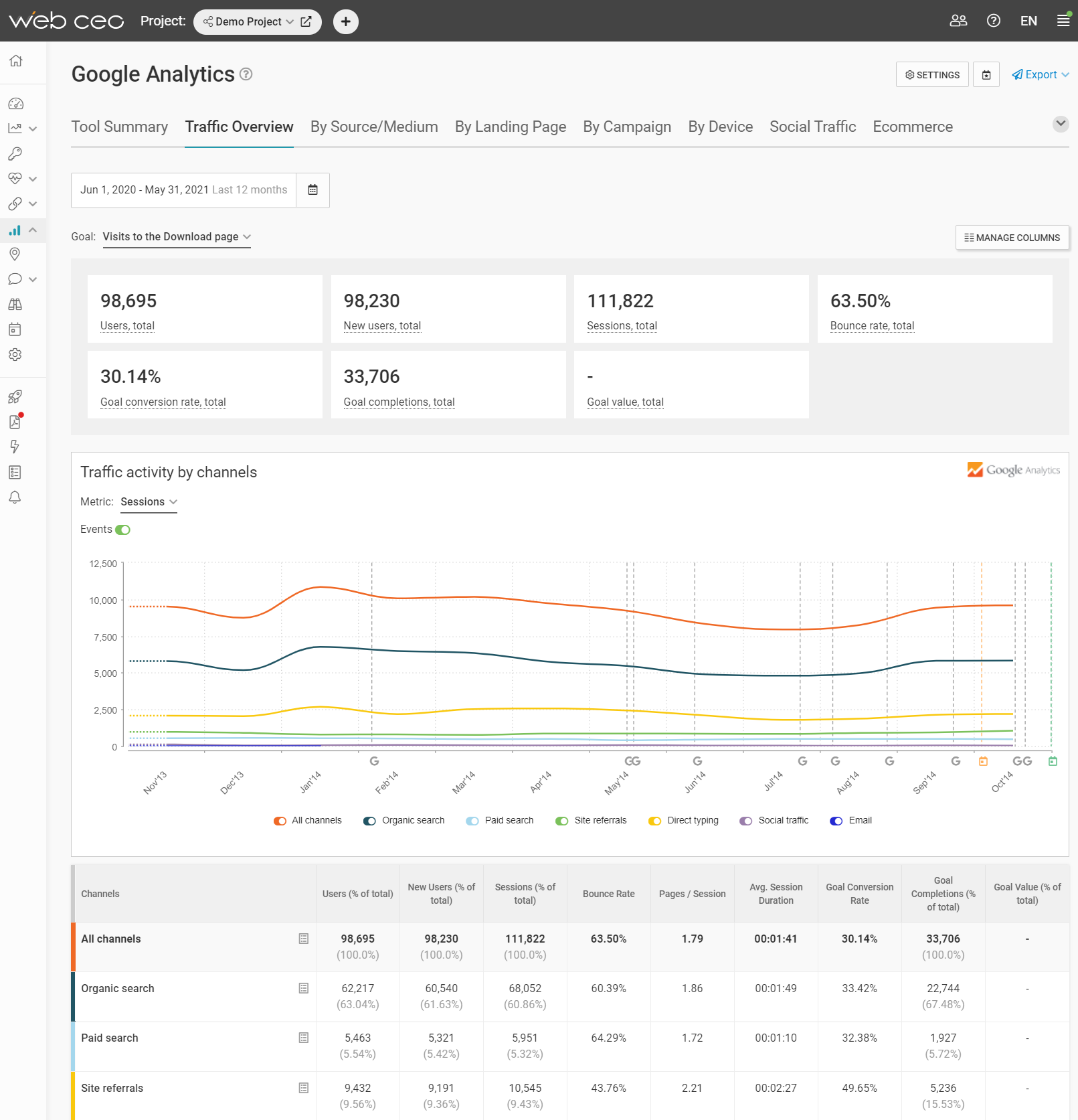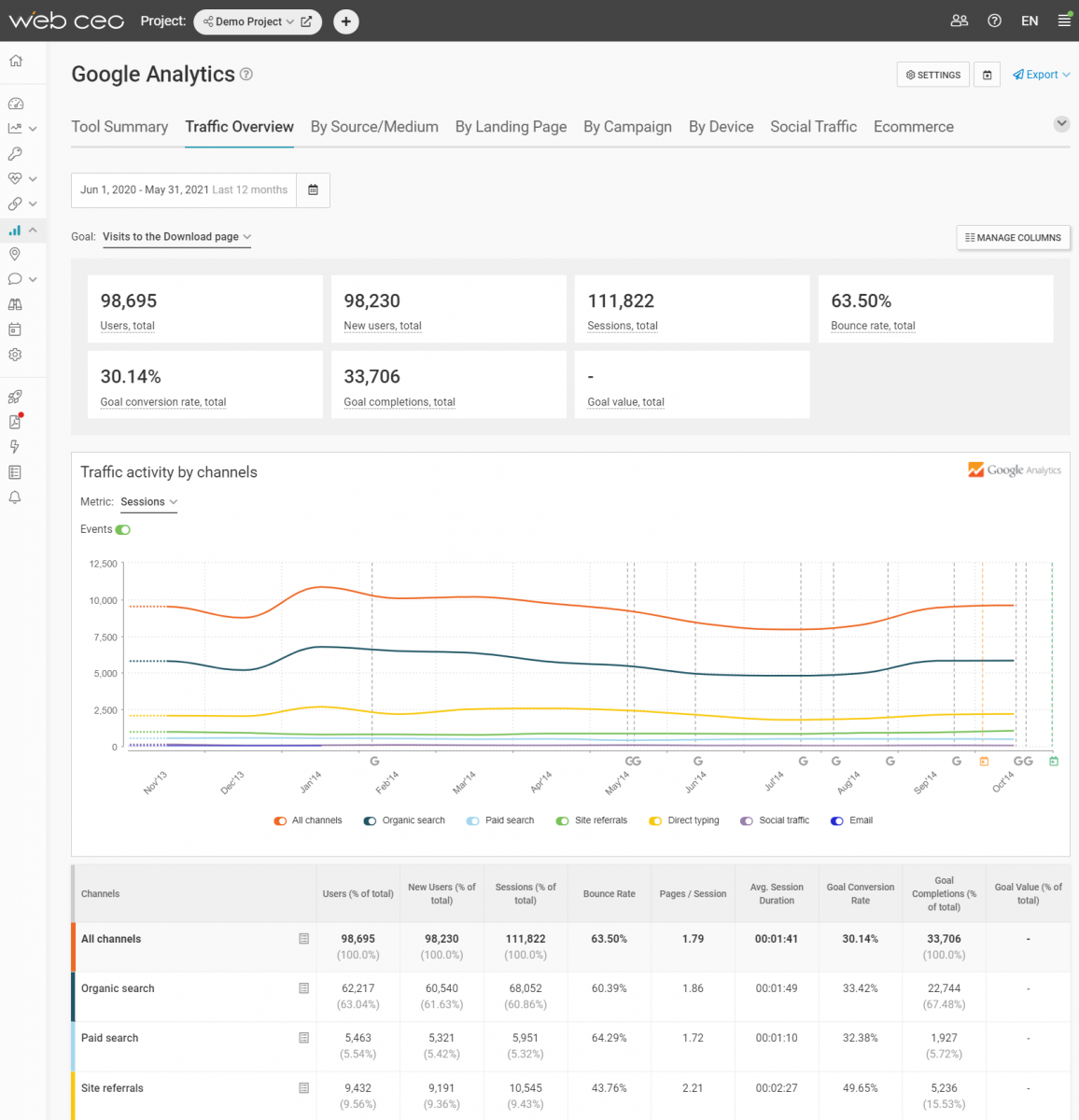 2. Identify your potential customers (for startups).
If you want to identify your future audience:
create a persona to see whom you will most likely deal with;
A persona is a model of your future audience. It is presented as one person or a group of people with a set of common characteristics intrinsic to your potential clients. A persona is helpful if you will conduct a marketing campaign, design a product or a website.

The whole impression of personas changes day by day. Before starting to create one, make sure you know how to build an accurate portrait of your intended audience.
analyze the audience of your competitors (how to identify them you will find out later): take into account their social media and interaction with customers, the feedback on their website and the general style of presenting and promoting their goods;
conduct surveys on other platforms, like YouTube, where you can get answers from a lot of people.
Spotlight: COMPETITORS
[this step is not required to be performed right away; however, it will ease your life further]
Admire your competitors. Even if you hate them, start liking them because they are the biggest and richest sources of information. Your competitors' success is the best example of how to work. Analyze them carefully and show some respect.
WHAT ARE WAYS TO IDENTIFY COMPETITORS?
The following methods are prescribed to be performed manually:
Identify your niche down to the narrowest field.
Here's an example: information technology is an enormous niche with hundreds of branches. You can't take everyone who performs here as your competitor. Take a narrow field you perform in: if you are a small software company, take into consideration only similar companies that work with or create the same type of product as you do. These are your competitors.
Analyze their keywords and then work on your website. We can't deny that eventually you will start growing, your company will become more authoritative, but from the very first days of your company's existence you can't compete with big corporations.
Make yourself a customer.
Not literally. Behave as a customer who wants to learn about products you are going to sell. Type a query that is related to your business and analyze the SERP: who gets the first positions, how long those companies have been performing in your niche, why they are better, etc. You should look through the competitors' statistics.
Go to Q&A websites and look for questions regarding your niche.
On such websites as Quora or Reddit, people often describe their experience with specific products, sometimes even with evidence. Be careful: there are a lot of PR-specialists there. However, it's not a reason to give up. Read as many answers as you can and analyze the situation. Even if you have only marketing specialists' answers, this will be a great opportunity to learn how to handle marketing and what your competitors' strong sides are.
Once you've done a manual check of competitors, SEO tools will help you accomplish even more:
The WebCEO Rank Tracking and Competitors Metrics Tools. In seconds WebCEO will show you a list of your most dangerous competitors with detailed data on their rankings. Then the Competitor Backlink Spy can show, a few seconds later, which webpages are backlinking to more than one of your competitors!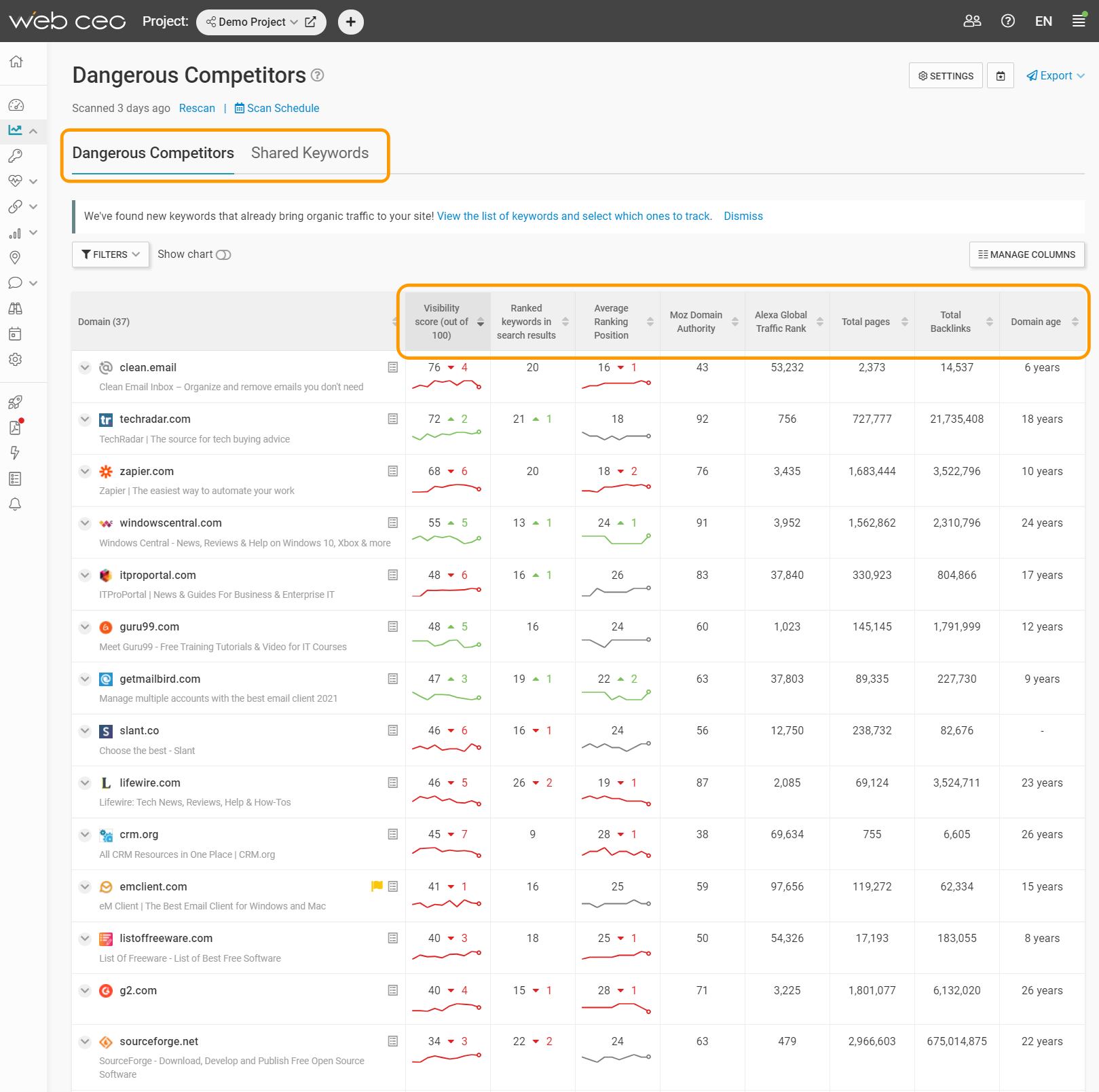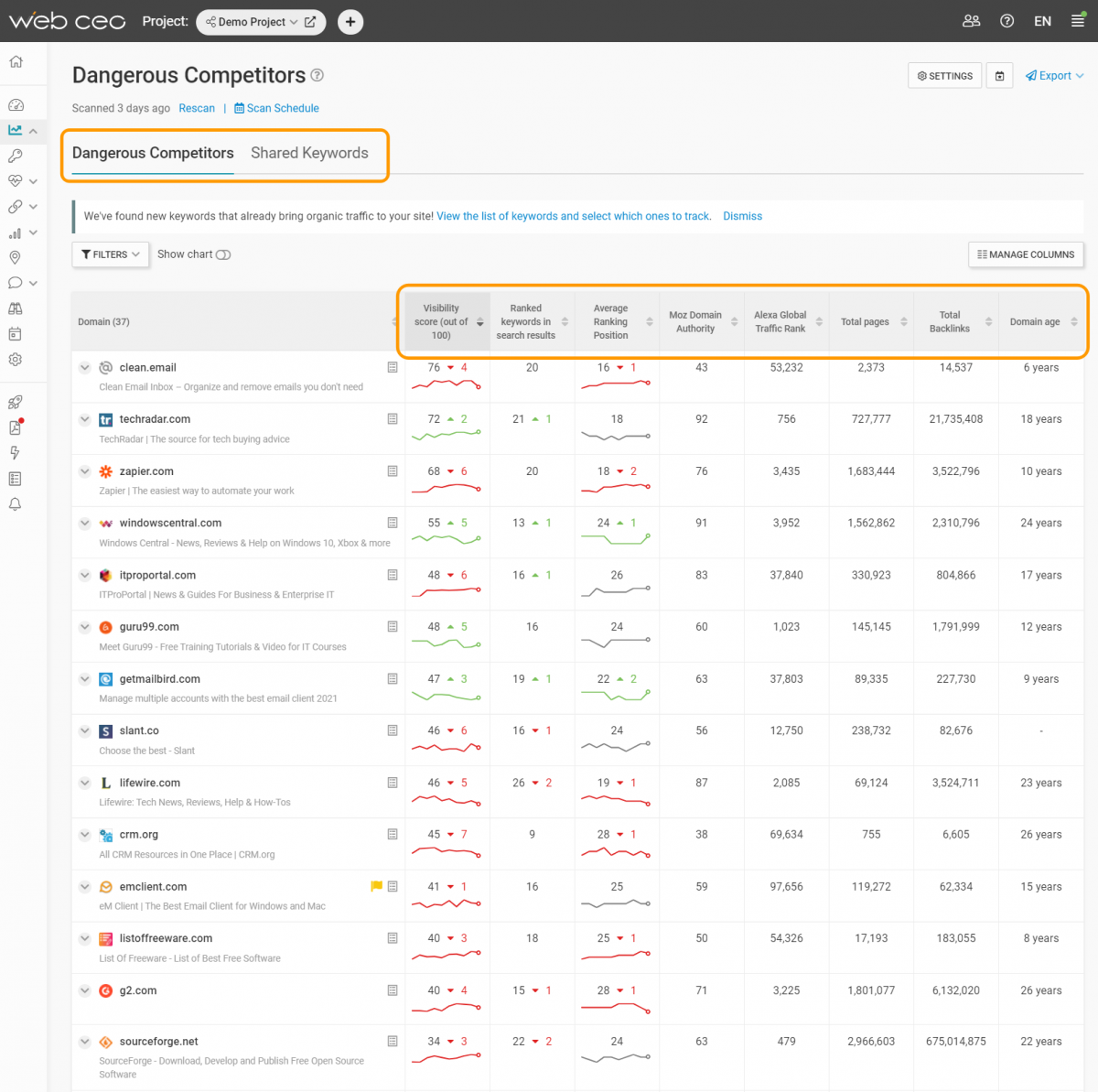 Spotlight: KEYWORD RESEARCH
In-house SEO comprises multiple tasks. Unfortunately, you can't avoid any.
One of the hardest tasks is keyword research and optimization: with proper keyword selection you are halfway to be seen on SERPs.
Keywords are words or phrases a webmaster uses while creating content on a specific topic. These are relevant to searchers' queries so that people could find your content easily.

There are short tail keywords (1-2 words) and long tail keywords (>2 words). Long tail keywords are better: these are more topic oriented.
Without keyword optimization, you are very unlikely to appear on SERPs for a specific query, even if your content satisfies readers' needs.
SEO TIP:
Choose a niche you are going to perform in;
Create a list of keywords that are most relevant to your niche and are possible queries of your potential customers;
Create high quality content with keywords that are relevant to your niche and topic specifically and place them on a website;
Place keywords where they are required: titles, headings, sub-headings, visual media, alt text, URLs and other.
Edit and publish your material.
Google, Bing, Yahoo, etc. will take the rest under their control: once a user has typed a query, a search engine will start its work and present thousands of results for a searcher. It will look for relevant information by analyzing keywords placed on websites.
It's important to remember that Google doesn't pay attention to keywords only. It also analyzes each aspect of a website's performance, including technical factors, and chooses the best options based on the general picture.
If your content and "reputation" are top-notch for a specific query, then you are most likely to be amidst the chosen ones: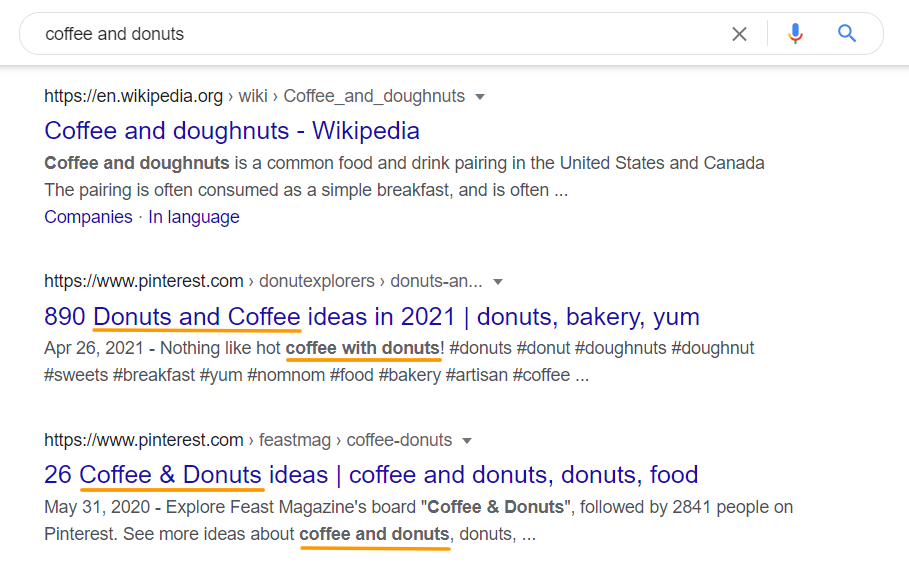 Google does a great job constantly updating its search algorithm, so be careful and prepare your team for days of hard work! By the way, coffee and donuts will be of the greatest assistance for you!
HOW DO I FIND HIGH VALUE KEYWORDS?
Online SEO tools such as the WebCEO Keyword Research Tool will help find the most successful and up-to-date keywords and phrases for you to use in your tags and content. Be sure to use localized words such as place names to attract as many readers as possible at a local level as well.
You will get extended data on important metrics for evaluating keywords' chances to succeed, such as global KEI, number of global searches, average CPC, bid competition, and search trends.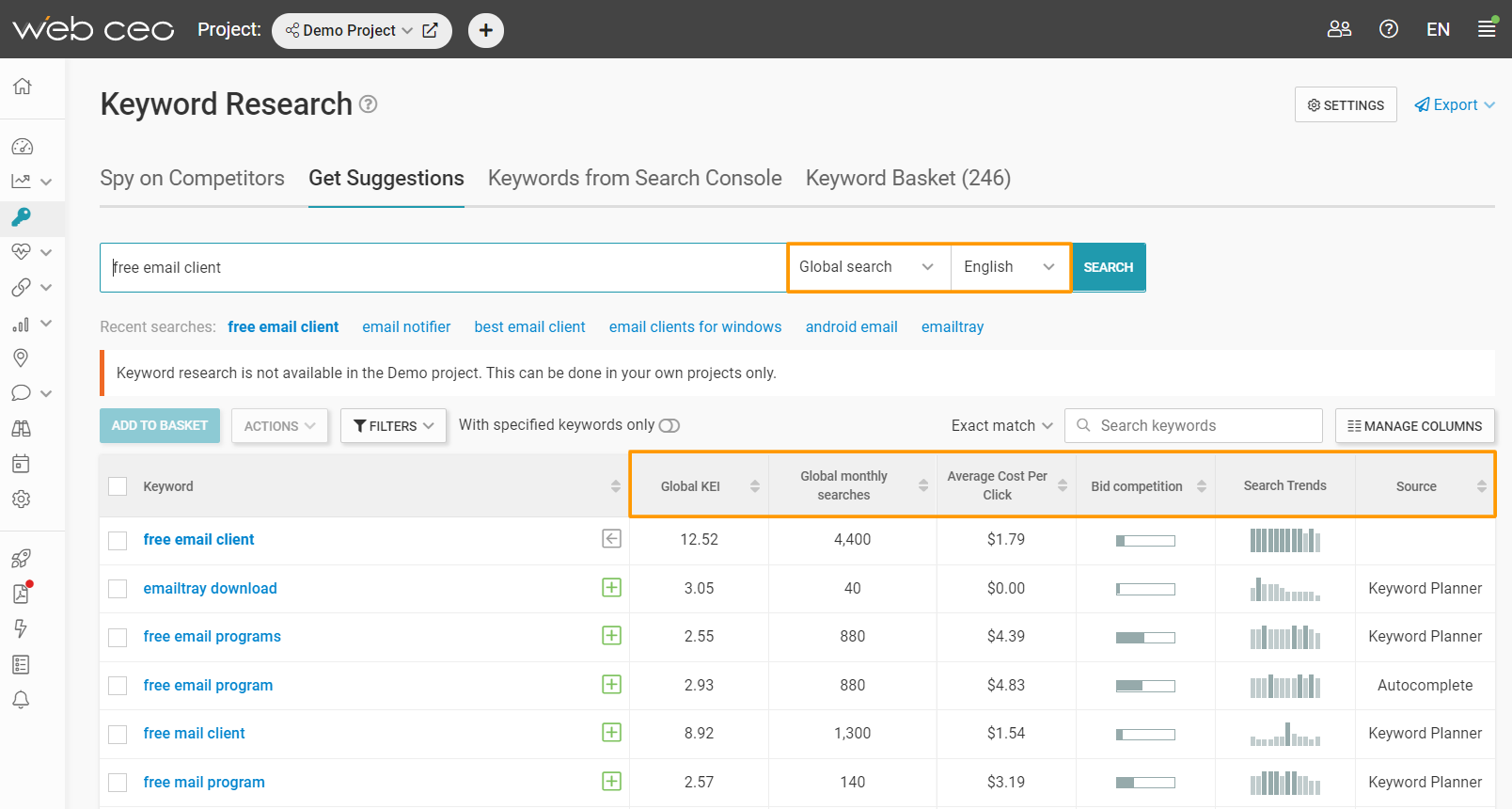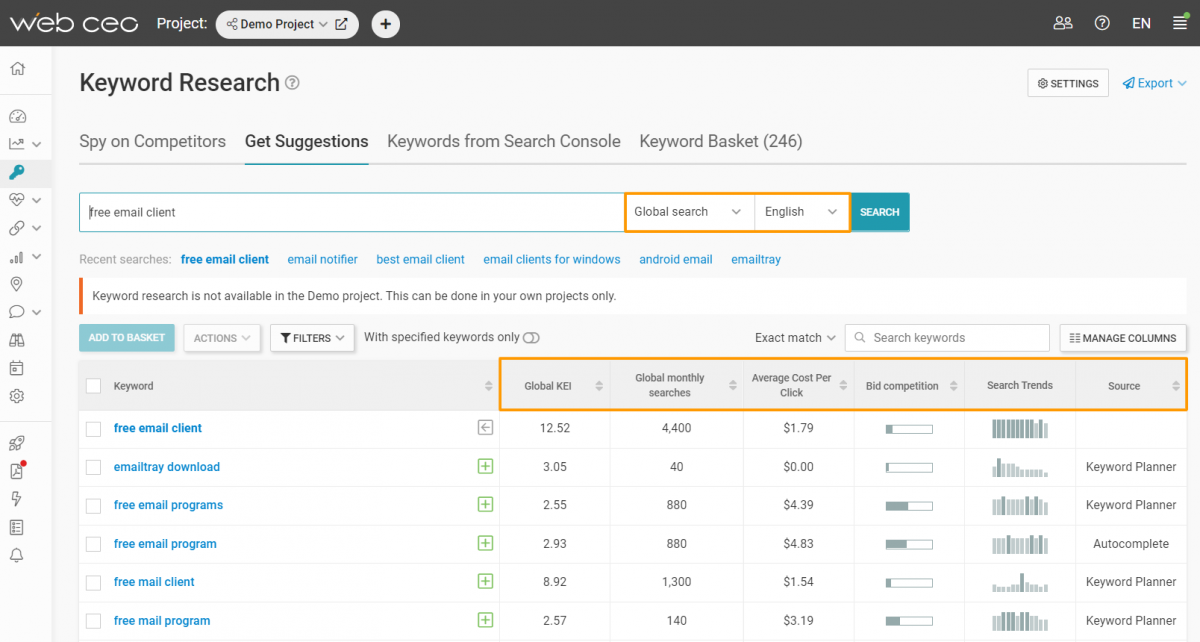 There are a lot of other useful SEO tools that are simple to handle, free, or low-cost. We'll bring such tools as Google Keyword Planner (Google Ads), Keywords Everywhere, Ubersuggest, and AnswerThePublic to your attention. These services are well done and will help you a lot during the process of keyword research, analysis and selection.
WHAT SHOULD YOU REMEMBER ABOUT WORKING WITH KEYWORDS?
Keyword stuffing is an excessive number of keywords on a website's page. An average quantity of keywords is ~1-3%.
Use keywords that are relevant to your topic!
No "pasta and pizza" if your niche is "cleaning services on Mars".
Use mostly long tail keywords: these work better because they specify a searcher's intent:
Use "coffee and donuts nearby" instead of single "coffee" or "donuts".
---
Tools to use for SEO Research and Analysis:
Google Analytics will help you analyze your audience and traffic.
Google Keyword Planner will help you find keywords for free along with the advertisement details on them.
WebCEO Set:
The Keyword Research Tool will help you find the most valuable keywords for your content with a full metric profile.
The Rank Tracking Tool – the "Dangerous Competitors" tab specifically – will help you identify your most hazardous competitors and use information on them, such as the backlinks they share with other competitors, to conquer your niche.
WebCEO's Google Analytics Module will help analyze traffic for those who don't want to go through thousands of tabs and prefer to work with an all-in-one SEO platform.
---
CONCLUSION OF THE FIRST CHAPTER
Today we have tried to briefly consider what awaits you in research and analysis. These important factors and tasks will help you complete other SEO procedures. These are only the first steps in a lot of work. Stay tuned for further action!
The second chapter will be uploaded soon!