A Step by Step Guide to Influencer Marketing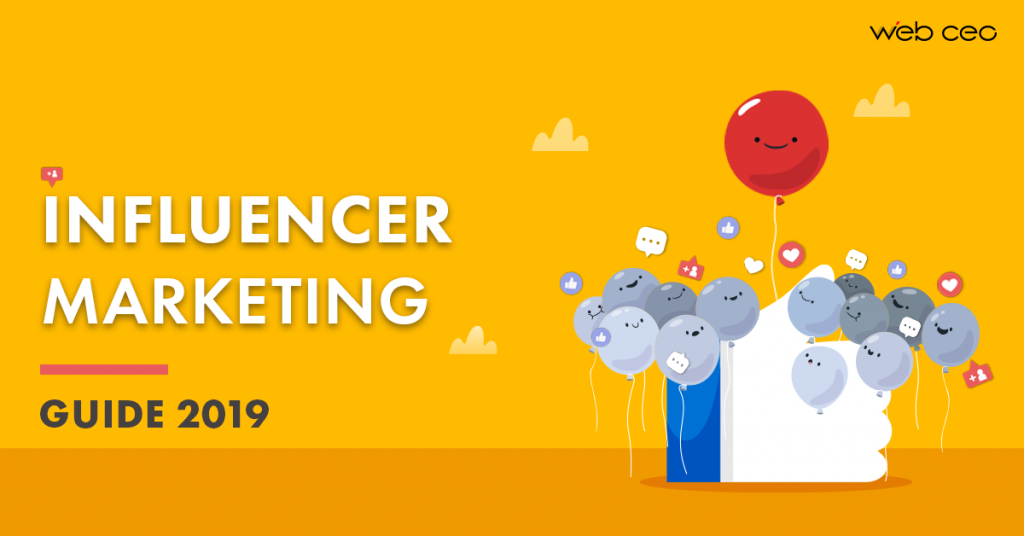 Influencer Marketing has gone viral, although at the end of the 1990s we would not have known it existed. Because of the Internet and the ability for people to open up their own communication channels with the world, everything has changed. One of the most crucial changes happened to marketing. The Internet has become a rich field for conducting advertising campaigns, and day by day it helps marketing experts to make their points and reach new, current and old customers. Using Facebook, YouTube, Instagram, Snapchat, Twitter, Pinterest and LinkedIn, brands have gotten extra opportunities to promote their products. How did this happen?

Social media platforms took the world by storm. Facebook and Twitter, at the moment of their launching, became a breath of fresh air. Within seconds they became a place of interest for thousands of people. Year by year these platforms, including YouTube, Instagram, and Snapchat, are extended, updated, and provide great new possibilities for advertising. Nowadays, mobile devices have overtaken desktop devices and laptops as a platform for marketing. Mobile Internet usage presents a lot of benefits for advertisers. They are able to:
reach specific audiences, extending their client base in local areas;
make their brands recognizable;
heighten the brand's conversion rate and its loyalty;
learn insights from their target base.
How can they do these with the help of Influencer Marketing?
Influencer Marketing in general is a process of selling products and promoting brands with the help of people who have a definitive level of authority on social media. A lot of readers think that Influencer Marketing is all about celebrities who started their accounts there. However, a lot of modern influencer marketing is done via ordinary people who gained their popularity on their social media platform from the very bottom, using only the Internet, their skills, knowledge, and desire. These are Instagram and YouTube bloggers, popular users of Facebook and Twitter, and so on.
Let's be honest and admit: people whom we follow on social media have much more influence than film stars or popular singers. The reason is simple: we trust people whom we have spent years in "close relation" with, watching their success and monitoring their life through photos, videos, or comments.
What are the reasons for using Influencer Marketing when there are already a bunch of ads on the Internet?
Browser Ads are presented via pop-ups, paid results on SERPs, and irritating ads on websites, which are usually cheap and off-putting. Those are always in front of our eyes and, you may suppose, are more powerful, but this is not so. Users are tired of advertisements nowadays and use powerful Ad Blockers, erasing all that is inappropriate for them. On social media developers try to present advertisements in a non-disturbing way, so people even stop scrolling for a few seconds to analyze products provided. Many people like sponsored posts thinking they're from a friend.
One more reason to advertise on social media is the fall in popularity of TV. TV was once the main way advertisers conducted new campaigns, but time flies and televisions are now being removed from households every day. The race is on to see who will see the last television ad.
With access to the Internet, people just stopped watching ordinary TV channels and started buying subscriptions for services like Netflix, where they can watch popular shows without ads and long waiting periods. Moreover, Generation Z is a significant and important cohort of potential consumers, and they almost don't watch TV these days, going for social media and messaging apps.
EVEN THOUGH social media has become an important part of our lives and it gives marketing experts a lot of ways to promote products, it's still not an easy task. People still don't like advertisements and have a rich choice of what to buy and what to pass by. Advertisers should think a lot about ad campaigns in order to raise demand among capricious customers.
There are some disadvantages you may not have taken into account. Influencer Marketing is an expensive "service" which, unfortunately, can't grant a large amount of success in most cases. Everything depends on the Influencer's work and your effort as well.  It's hard to avoid mistakes. Everything is possible, starting from a wrong presentation of a product because of a poorly prepared strategy and including posting the wrong text by accident. Influencer Marketing is really popular these days and your competitors may have already formed relationships with them.
How to Bear Fruit with Influencer Marketing Step by Step
STEP #1: Research
The future always asks the past for some advice. Your company and its marketing history are one of the most powerful instruments in your hands. Take some projects which are even a bit similar to the one you are currently building a campaign for and explore them comprehensively: sales level, income, customers, models, and – the most important – mistakes. Take a look at your competitors' performances with similar products and learn their behavior on social media. Pay attention to posts and comments. This will help you to build a strategy and identify your target audience.
You should collect accurate data concerning the potential target audience of the product you want to promote with the help of social media. You can learn a lot of useful material concerning people's activity on social media, including their demands and behavior regarding branded products. It may be necessary to identify the age, nationality, occupation and interests of people whom your goods may appeal to. This helps to build a decent advertisement campaign and attract a lot of people. Take into account the location of your target audience!
If you are going to promote your products beyond one country's borders, you should learn the foreign customers' perceptions of the goods you provide in order not to make any mistakes and hurt your reputation.
After defining your target audience, you should learn where those people "live": on Facebook, Instagram, or YouTube. Why is this important? By advertising on the platform where your potential clients chill out most of their time, you will increase the chances for your product to be shown to a greater slice of your target audience.
This is when your Influencers come to the game. Seeing products via people we like and trust, we accordingly start trusting what they trust. This is because Influencers appreciate their audience and reputation a lot and will not advise something bad or untested.
STEP #2: Budget Approval
Budget problems are always the most troublesome. You should take into account everything and a bit more. Plan your budget with the thought of unexpected circumstances. Popular influencers, especially Instagram and YouTube Influencers, are expensive, because they have a large audience and a lot of them know how much their words cost. Depending on the future strategy for your project, keep in mind that you may want to involve multiple influencers.
Compensation (indemnification) is an important point in your budget plan. There are two points you should pay attention to. The first is you will have to pay an Influencer if your product causes any harm to his or her reputation. The second is a compensation to you if the Influencer doesn't fulfill his or her obligations fully or does any harm to a product's or company's reputation. This is important for both sides and serves as an extra motivation for a successful promotion.
STEP #3: Goal Identification and Strategy Development
In order to build a successful strategy, you should identify your goals – results which you want to get at the end.
If you are at the starting point of your journey, your marketing strategy may be directed to promoting your brand name and establishing a minimum sales level – to see if people are interested in the product you provide.
You may be seeking an extension of your current customer base. You may be advertising a standard product to a new age or lifestyle group. In this case you should take into account Influencers who are interesting for this new group of potential clients. However, remember consumers who are already satisfied with your company. They are the easiest to get more sales from and the costliest of losses if they move to your competition.
The other type of goal is an extension of geographical horizons – entering the international market. You should be the most careful here, because new countries mean new cultures, ideas, and outlooks; even religion must be taken into account. You have to build your strategy so every person will be satisfied or at least not offended.
Sometimes one of the goals may be a cooperation with "new faces". This means a long term partnership between your company and (an) Influencer(s) you want to work with.
Proper goal identification will help to build a successful marketing campaign, beneficial for each party.
Here we've come to the marketing strategy development.
Strategy is basically as important as the process of creating the product.
Work on your concept. At this stage you should think about the uniqueness of your product: why it is better than others and how you can disclose this. Set your product apart from others, impress your potential Influencer with the product, so that he or she and even you yourself would like to try it too.
It is always better to set up several strategies instead of focusing on one. While developing different directions of your marketing campaign you should "touch" and work with at least ten or fifteen successful ideas. However, they may cover different sides of the product and not represent its benefits entirely. So, work on each of them, make them viable, and then put them together. In the end your strategy will be a mix of everything that came to your mind and you saw value in.
Your strategy should cover everything. Decide on platform(s) where your campaign will be promoted. Don't take into consideration only one platform. People who are interested in your product can breathe everywhere and follow your Influencer everywhere, and the more often they see your advertisement, the greater the desire will rise in them to try it.

There are a lot of examples of advertisers cooperating with social media Influencers, asking them to make a post/say some words in a video about the product, and… nothing more. This is a strike out. Those posts are replaced by others, especially if an Influencer updates really often, and they eventually get lost. This is an under-developed marketing strategy. Yes, this gives some results at the beginning, but you can't expect this to be tremendous. People should encounter your content as often as possible.
However, you should remember one thing. The social media audience, and people in general, don't like direct advertisements, they prefer to see why your product is better than others of the same category and is worth their time.
Marketing experts not always know how to use influencers, although there are a lot of ways.
Try to do a series of posts/videos/experiments. This can be a step by step acquaintance with a new product, which an Influencer will try on him-/herself. This will raise trust among the audience; to see a quality sample of your goods and your company itself. Organize not only your Internet promotion, but take him or her to a public venue, where he or she can physically meet with followers and present your product face to face.
Apart from this, people like presents, so give them your product for free, conducting giveaways. What are the benefits of this? In most cases an Influencer gets more followers and your product is discussed not only on an Influencer's page, but also in the private messages of those who won something.
Take as many stars as you are able to. Start working with several people who are popular enough and make your marketing campaign a competitive collaboration. Influencers will do their best to attract more people to your product than other bloggers you made an offer to. Followers are also happy to see they are working mutually with people they like. Moreover, you can extend the size of the audience who will see your advertisement. This point refers not to every situation, but more people = more diversity. The audience of each Influencer, even if they are from the same niche, is different, because Influencers themselves are not alike: their personality, lifestyle, and outlook attract a great variety of people who may not be found everywhere.


[Popular YouTube book bloggers interviewing an author during the promoting campaign of a new book]
Seed an idea. We can't apply this only to Influencer Marketing, but to each sphere where strategy development is needed. Sharing your ideas with other people will help you to analyze them deeper. A new, fresh look will help you to identify the weak and strong sides of your ideas, and this can push you to try other variants.
STEP #4: Search for Influencers
An important part of Influencer Marketing strategy is to find those people who will best present your product to a wide audience. There are several ways to identify people who fit your niche and specific project best:
Use special services which present to you things like demographic data and an Influencers' sphere of work. Learn about services that you may want to use in the future. All of them cover Facebook, Instagram, Pinterest, Twitter, and YouTube;
Use #hashtags:
1. Monitor publications covering specific topics on social media, using existing hashtags. You can separate them and look at the most popular ones. Hashtags are keywords on social media, so don't hesitate to use this method, if services are not for you;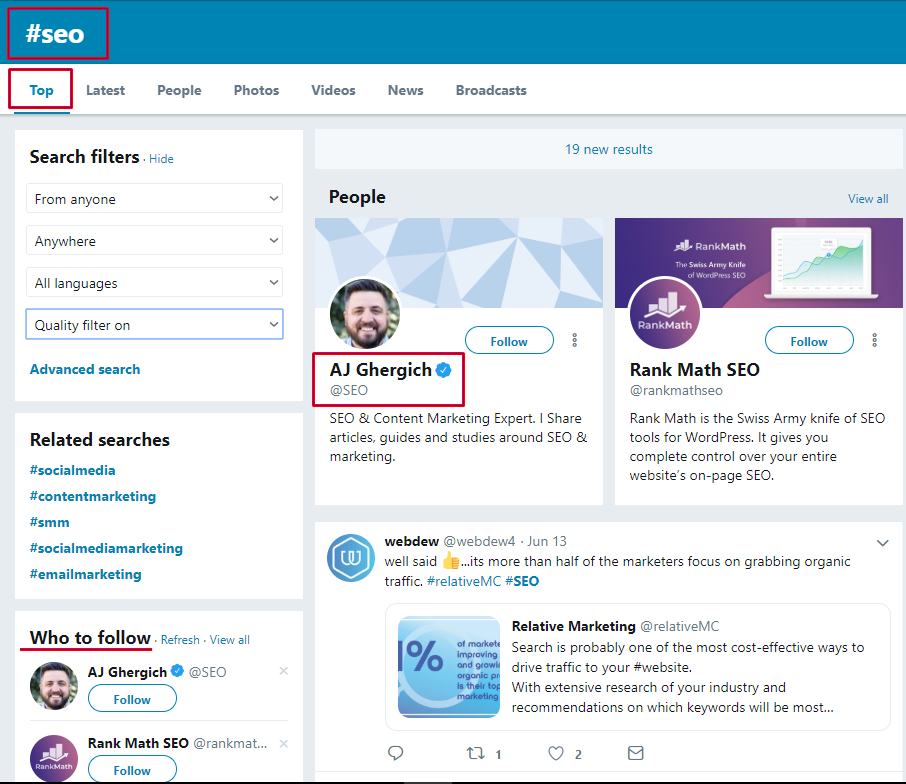 2. Use WebCEO's Keyword Research Tool which can help you to create new successful keywords in your niche that will bring you more people who are interested in your product;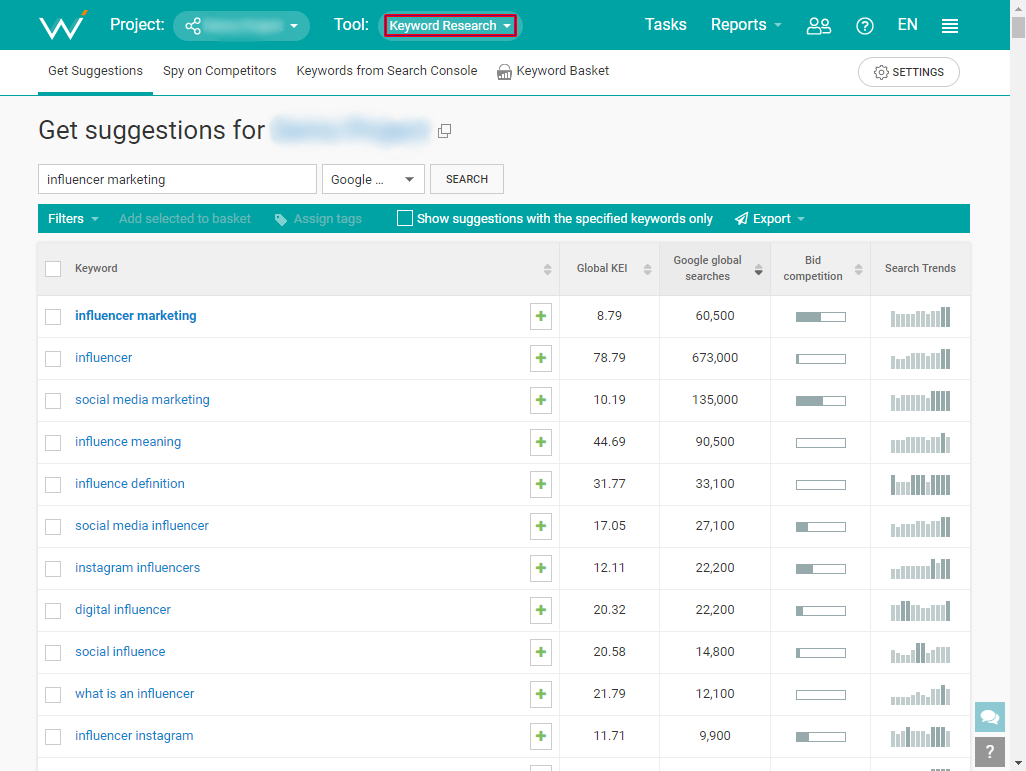 Conduct Google research. A lot of the websites which are dedicated to your niche may write articles about young and popular faces in their sphere, providing a detailed history of their success. This is a good opportunity to know more about people who are gaining authority day by day.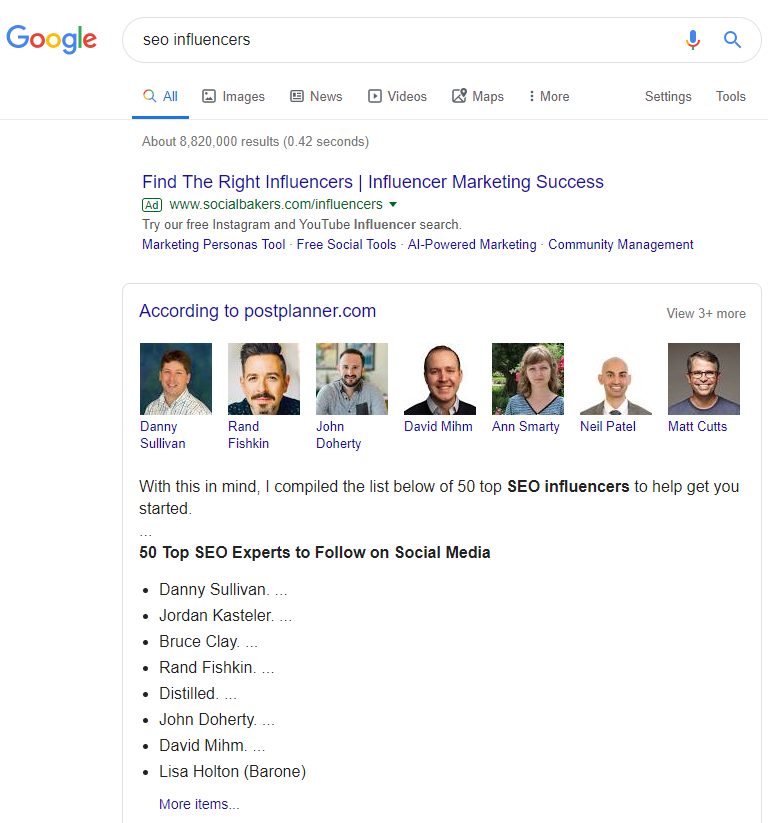 Learn some tips for choosing the right people:
don't instantly go to an Influencer with millions of followers;
There are a few reasons for this step. First, such Influencers are too expensive, because of the big audience they have. Second, a wide audience doesn't mean great engagement. Star Influencers may have a lot of followers, but in fact may have a zero-level connection with them. Here comes trouble, because people will pay no attention to your goods.
And, on the other hand, micro-Influencers who have significantly less followers, but a higher level of engagement on their page, have more of a chance to reach people's attention and promote your products. So, learn everything carefully before choosing people for your campaign, don't prey on stars or statistics.
Sometimes, in a matter of weeks, an Influencer can get a huge amount of followers for whatever reason: scandal, success, or paid self-advertisement. Don't try to cooperate with them, because an unexpected wave of followers doesn't mean the audience will trust the Influencer regarding your product.
learn about an Influencers' brand collaboration and sponsoring history;
This is necessary to know whom an Influencer has worked with. Knowing this information will give you a lot of opportunities:
you can find out if this person worked with competitors,
how successful this was,
people's opinion about the product an Influencer promoted,
how many people were attracted, and
knowing how much they took for a single post/video-mention can help you with the current price calculations.
learn the way Influencers operate their accounts;
This means their attitude to followers and the way they represent their niche. You have to learn the style in which an Influencer works: whether they upload long-read posts focused on important problems/funny things, or do they do entertaining or scientific videos. With this you can already be prepared and aware of the format your product will be presented in. As a result, you can draft a script or work on a concept.
learn why people have come to that Influencer.
This is about the reputation of an Influencer and what attracts people to him or her. If he or she has a reputation for being a drunk partygoer, it will probably not help you to sell medicine for the liver, for instance.
How to Reach Influencers?
Common methods are:
Direct Messaging on the main account on social media or the one on which some Influencers create specifically for promotion collaboration offers;
Through email which is also created specifically for advertisers and which is mentioned on the main page of their site and/or profiles;
Via the email or phone number of the Influencer's agent;
Via the comments section if none of the above mentioned methods are available.
HOWEVER, don't spam nor subscribe these contacts to an automated email campaign, because this risks abusing GDPR rules!
STEP #5: Strategy Approving and Scheduling
You can't approve a strategy without presenting it to the person who will work for you. Do not rely fully on the plan which you prepared and which may seem the best for you only.
Let Influencers teach you. This is important because Influencers know their audience the best. No-one will ever be better consultants than they are. After presenting your strategy to the Influencers, who have agreed to cooperate with you, listen to the Influencer's suggested strategy. People who dedicate their lives to social media and work there know much more about how things work there and can share some valuable tips and tricks. Your strategy will not be complete until Influencers give their final approval.
Vary your concept for each Influencer. If you have decided to bring several Influencers to your project, then give them freedom of expression along with the right to participate in your marketing campaign, especially the Influencers needed for international marketing campaigns. They will make your advertisement brighter, catchy, and successful, using their rich experience. Moreover, they are cultural background experts who will help you to avoid any mistakes.
Schedule the whole working process. Proper scheduling can bring you more success than you think. Sponsored posts are not published by accident. They happen after serious analytical data gathering including know: people's moods during different parts of the day, the hours of their presence on social media, and even the most visited day of the week. Don't be afraid to notify your Influencers about posts they should publish. Each detail needs control.
STEP #6: Payment
There are several types of payment for Influencers:
1. Set price. More often this type of payment is taken by Influencers who have a lot of followers and work with advertisements really well, fulfilling your goal. They set their price or this is set as a result of negotiation with this person or his/her agent. You can pay an Influencer for the quantity of likes and shares, or for people who came to your site above a control amount after ad material was uploaded.
2. Commission + Discount. One more way is to appoint your Influencer(s) a commission from sales on a monthly or weekly basis. You can also supply him or her with a discount for this product which may be used by the Influencers' followers. This is a nice variant for a long term cooperation and may be comfortable both for you and the Influencer.
Free products. Beginners usually don't take money. If you cooperate with young Influencers, who are just building his or her reputation, they may ask for your products for free in order to use them by themselves or present to followers.
STEP #7: Results Tracking
We've come to the final step which will show you whether you had success with your campaign.
Results Tracking concerns two parties: you take the statistics from your Influencer(s) and then comply it with your company's reports. Information from your Influencer concerns engagement. You can't receive all the information just looking at likes, shares, or comments. Some pieces of this are open to the social media account's master only. So, don't forget to ask for those reports.
Analyze your ROI (Return on Investment). Simply put: you will learn the level of your success in percentage (or ratio). This shows you how successful your marketing campaign was and how much (an) Influence(s) brought to your house.
Check your website's performance on social media. You will definitely publish some material regarding the product on your company's social media timelines and site landing pages. With WebCEO's Social Engagement Tool you can easily observe your rankings, social citations and the traffic brought to your website via Facebook and Pinterest.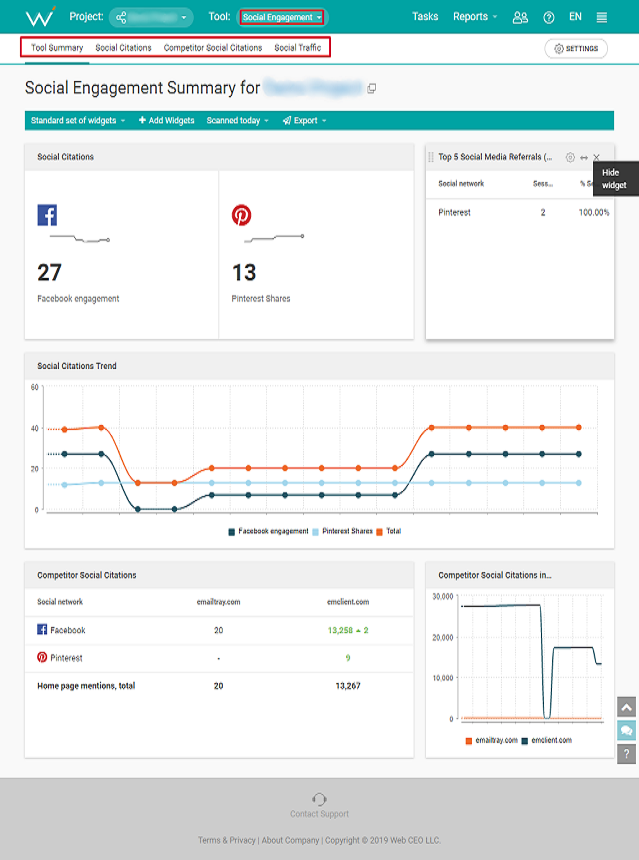 Also WebCEO's Facebook Insights Tool gives a detailed report regarding Facebook engagement, niche popular posts, page's likes, reactions, shares, comments, and clicks on posts. This can also help you to learn demographic data.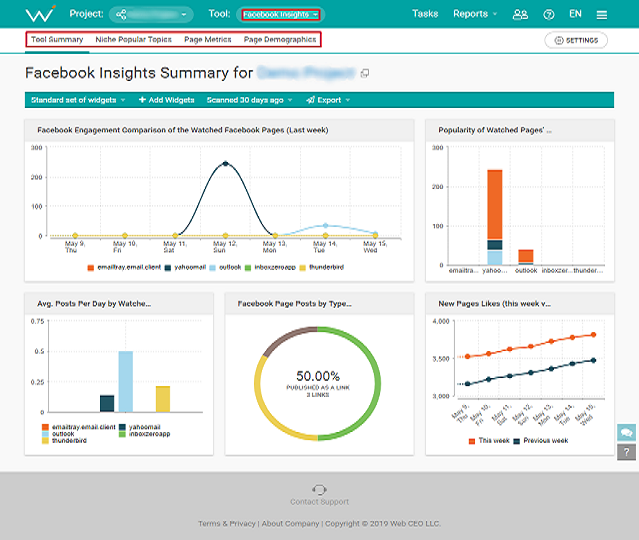 WebCEO's Web Buzz Monitoring Tool helps you to track mentions of your product in news, blogs, and tweets.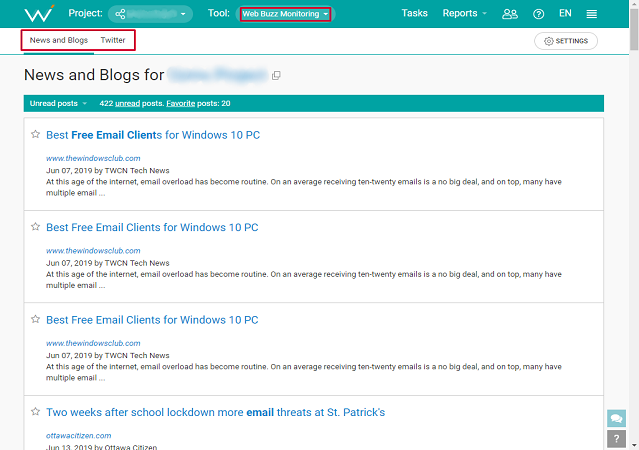 SEO Benefits of Influencer Marketing
Any activity on your social media accounts can bring SEO benefits to your website. With Google Web Search Analytics, you can easily analyze how exactly you succeeded after your marketing campaign launched. A powerful advertisement on social media can mean a lot of traffic and the improvement of your positions on SERPs. Google and other search engines like when people come to websites and stay there for a lot of time. This means that the quality of your content will be rewarded by search engines with good rankings.
Moreover, Influencer Marketing can drive a high number of backlinks to your website. Although Google doesn't count backlinks from social media, it does count backlinks from websites which took your link from an Influencers' social media timeline. A large amount of backlinks means higher domain authority.
However, be careful about so-called toxic links, because they can have a negative impact on your rankings. Use WebCEO's Backlink Quality Check Tool to clean your backlink profile. This can help you to identify the total amount of backlinks, linking domains and their authority, link texts, and which of the backlinks are toxic enough to put in Google's Disavow List.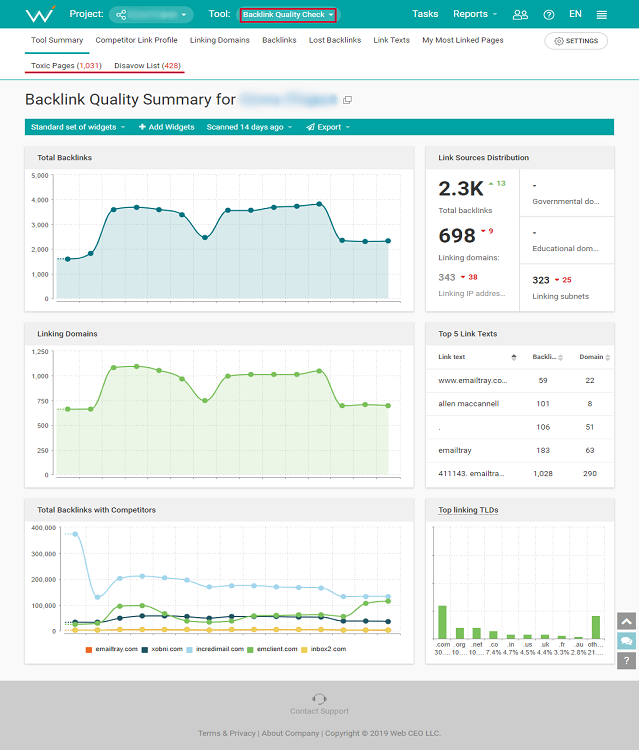 IN CONCLUSION, Influencer Marketing would likely be a win-win strategy for you: each party will get a piece of the pie at the end of the journey. The best way to find your winning Influencers is to learn about your competitors and their social media campaigns which brought them success and rich backlinks.
Use WebCEO's Competitor Backlink Spy to find blogs and hubs that promote your competitors and use such channels of opportunity for your website!