How to Leverage the Exclusivity of Your SEO Services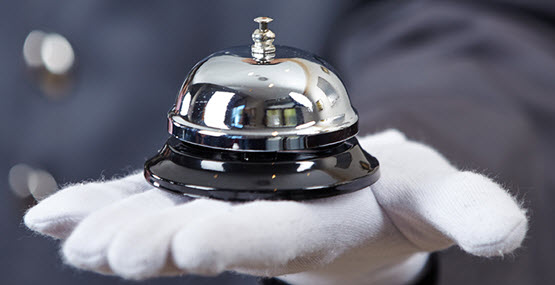 Web CEO Software as a Service has, as one of its missions, the delivery of an extra special SEO experience to every of our customers in the most convenient and comfortable way. With the customer-as-a-host concept in mind, your will be provided with branded SEO Reports, White Label SEO tools and other B2B features like Lead Generation Automation that will help you to impress your clients. With all these solutions on board digital agencies and other B2B stakeholders can scale their growth with us.
According to stats and facts from "Provide Support": [Tweet "5 Powerful Facts About Customer Service You Should Consider"]
70% of buying experiences are based on how the customers feel they are being treated
55% of consumers would pay more for a better customer experience
The probability of selling a product to an existing customer is 60-70%, while the probability of selling a product to a new prospect is only 5-20%
A 5% increase in customer retention can increase a company's profitability by 75%
80% of your company's future revenue will come from 20% of your existing customers.
The Web CEO team now wants to share some secrets on how to provide white glove SEO service.
Provide your prospect with a test drive option
Allow your potential clients to test-drive your service. A quick test drive will help you to create an unforgettable first impression for your client and will ease the first prospect's interaction with your service, as well as inform, educate and nurture them. This will communicate the value of your product. You should become a mentor and a butler for your client in the process of her first interaction with your SEO service.
A DEMO that is supported by a real person is the best way to demonstrate your product's possibilities and show a personal approach to the prospect.
An Express SEO Audit widget provided by Web CEO can be embedded on your website as another powerful option for you to provide your potential customers with a quick inside view of your SEO reporting world and make them want to order your services.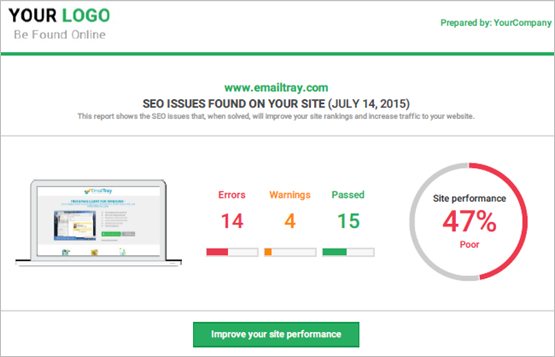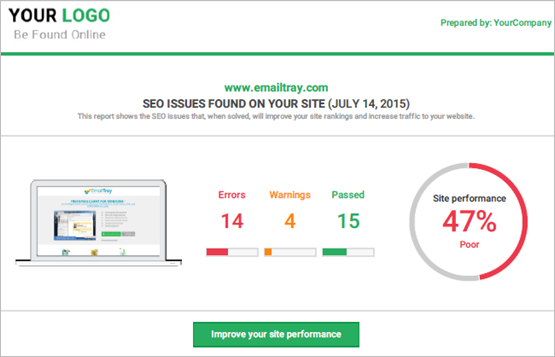 Pro Tip: The demonstration of your service potential + a personal approach to the customer's pain points and needs is the best driving force for an off-hand purchase decision.
Dumb down and automate the management of multiple SEO projects
 Your SEO company reputation and customer experience heavily depend on your ability to implement effective management, scaling and control of hundreds SEO projects at a time. To fine-tune the workflow of all stakeholders involved in managing multiple projects is difficult and challenging.
Effective project management tools should perform the complex of SEO processes:
Allow limited and full access to projects for multiple users
Optimize the progress of dozens of projects with the help of quick batch project actions
Manage your employees' workflow and assign them roles
Set project scan limits
Customize and automate report scheduling and mailing
 Pro tip: Effective and timely SEO project management is the yellow brick road to customer brand loyalty and the accumulation of positive experiences.
Establish a well-grounded liaison with your customer by means of white labeled SEO report delivery right to the doorstep.
The SEO report is the means for showing the results of your work and the way to make a good impression to your end user. A professional SEO report is the combination of an easy-to-read, well-designed and clean layout plus accurate, sensitive data about top-level KPIs and metrics including backlink quality, keyword rankings, traffic changes, landing page optimization etc. With so many good SEO report providers nearby, why would they want to stick with you? Because you are the one who will not just remove symptoms, but you will heal a client's pain points.
Pro tip: You should show a client's website progress in detail.
Anticipate your customer's pain points.
Ok, you have pills that are supposed to kill your customer's website SEO sores. But sometimes this is not enough. If you really care about your customers you will probably want to anticipate problems and exceed their expectations. By nipping issues in the bud you will provide excellent customer care and take a load off your future SEO workflow. You can use our early warning system that will notify you about SEO issues that may be developing on one of your clients' sites.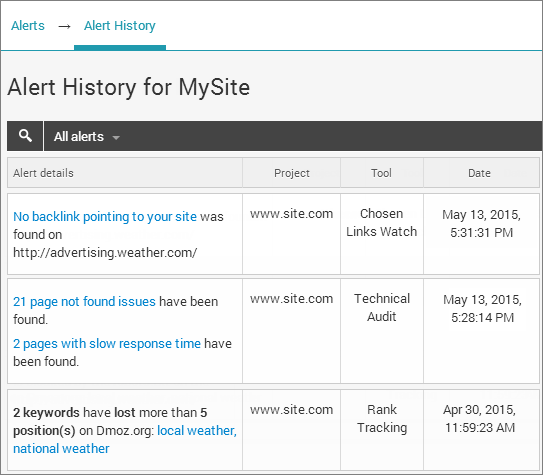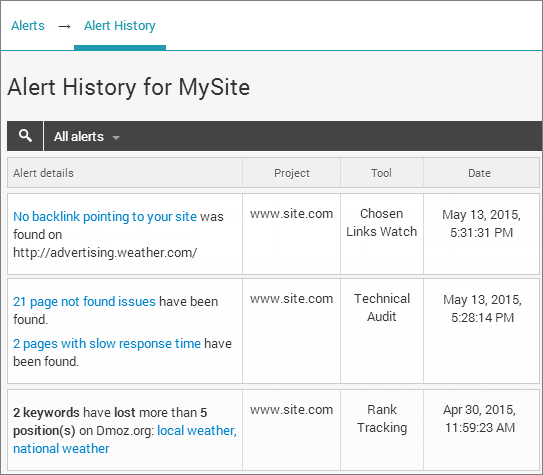 Pro tip: Don't put SEO issues off indefinitely if you don't want your customer's website to get penalized by Google and your reputation tarnished by a badass user's review.
Now you know that a positive customer experience and brand loyalty is far from flipping coins and hoping for heads. It heavily depends on your hard work and on human factors that you should take into account when doing SEO for others.