Pareto Rule in SEO: What 20% of Your Inputs Bring 80% of Outputs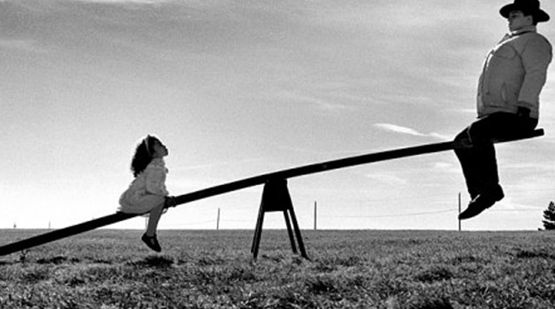 Have you heard about the Pareto Rule? This principle was named after Italian economist Vilfredo Pareto, who analyzed the Italian land market and found that 80% of Italy's land was owned by 20% of the population. Eventually people started to apply the Pareto principle to other spheres of life, including business, technology, culture, education, management etc. The rule helps in balancing your business inputs-outputs in the most effective way: set business priorities, find the 20% of the most profitable segments of your business, what your business is good at and minify your spends on the aspects which take a lot of your time and resources and bring less profits.
Here are some common 80/20 rules which construct a paradigm of success in the Business and Digital Marketing world:
80% of your website traffic come from 20% of channel sources
80% of searchers visit 20% of website pages
80% of traffic is generated by 20% of your content
80% of profits come from 20% of your clients
80% ofsales come from 20% of your products
80% of social traffic come from 20% of social media sites
What about the Pareto rule when applying it to SEO and Internet Marketing? Considering the correlation 80/20, the key objective that most of the webmasters face is the optimization of SEO activities in order to reach the perfect correlation – 20% of inputs should bring 80% of outputs.
Let's focus on what 20% of your inputsthat result in 80% of outputs. The aspects uncovered below are not absolute numbers of the formula of success, but a rough concept that can help you set priorities for a successful SEO Strategy.
20% of Your Niche Keywords Drive 80% of Traffic
Mighty content dandelions grow from little keyword seeds. You should focus on the best…a few dozen keywords in order to build a strong and authoritative blog pieces or landing pages. If you have not yet performed detailed Hummingbird-friendly keyword research or did it too long ago, give it a second wind.
 Keyword Research 
Start with keyword research of your niche in order to pick a list of keywords and phrases that is highly descriptive and relevant to your website theme.
Help tools: the Web CEO Keyword Research Tool → Get Suggestions
 Competitive Research
Dig into your competitor keyword analysis in order to narrow your list of targeted keywords and enrich your keyword basket with the most popular terms you want to compete for
Help tools: The Web CEO Keyword Research Tool → Spy on Competitors
 Search Queries Analyitcs 
Strengthen your keyword pattern with the search queries your website is mostly searchable for.
Help tools: Google Analytics → Search Engine Optimization → Queries + Google Search Console → Search Traffic → Search Analytics.
Update your content and research new keywords once you see a decrease in traffic or once you see your competition performing better than you. Don't bother to post 7 days a week. Focus on producing the 20% of helpful, creative and timely content that will bring 80% of targeted traffic, quality leads and loyal customers.
20% of Landing Pages Drive the Attention of 80% of Users
When optimizing your website, you should bear in mind that only 20% of your website pages will drive 80% of overall traffic. These 20% of pages are your landing pages, – targeted pages which are critical to the buying process. Landing pages are a kind of accelerant for users to take actions and the efficiency of this depends on the transparency of the areas that users interact with in order to complete actions. That's why you should focus on optimization of key aspects of your landing pages such as user experience and on-page SEO (keywords and internal links).
Landing Page SEO
If your website already receives some traffic, sit and analyze what pages of your website perform better than others. As soon as you find the pages visitors are mostly engaged with, dive deep into their on-page SEO
Help tools: Google Analytics → Search Engine Optimization → Landing Pages + Google Search Console → Search Traffic → Search Analytics.
Bonus tool: Web CEO Google Search Analytics provides you not only with analytics on your top pages found in search, but also allows you to mark the best performing pages as landing pages in order to further work with them in the Landing Page SEO tool of Web CEO.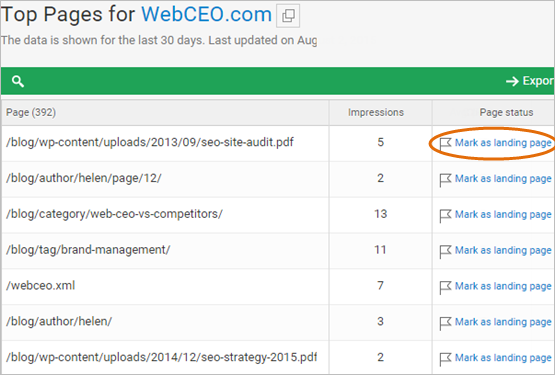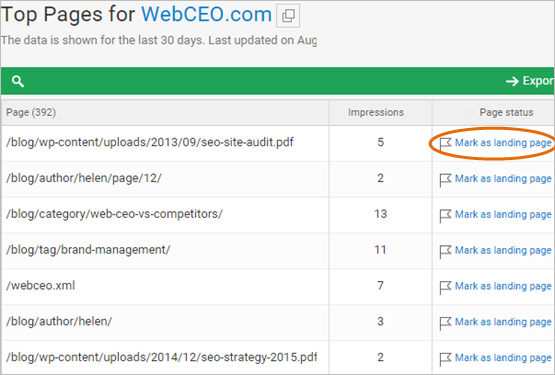 User Experience Optimization
The interface and design of a landing page plays a critical role in the customer acquisition process. In order to find what 20% of page areas cause 80% of user actions, conduct the visualization and optimization of a page heatmap with the help of website heatmap tools.
Help tools: Crazy Egg.
Internal Links Analysis and Optimization
The Internal Links Structure of a website is critical both in the context of user experience, search visibility and SEO. An in-depth and user-friendly internal links map can significantly improve your landing page click-through rate, help search enginesindex and understand deeper pages of your site quickly, and thus increase your visibility and rankings.
Try to improve your website navigation in order to tie visitors to each of your landing pages and help them take actions on your site with the help of a robust internal links optimization.
Help tools: the Web CEO Internal Links Optimization tool
20% of Your Inbound Links Pass 80% of Link Juice
The quality of content is responsible for the quality of your backlinks. The better the content, the better the backlinks. But you should be aware of the fact that only 20% of your backlink profile passes the 80% of link juice that really affects your SEO. Of great importance is the type of backlink, its placement, anchor text and the source it's put on.
In order to gain more benefits from the backlinks you build, you should first examine which of your external links bring the most value to your website. Then you can try to earn more of this type of backlinks. Analyze your competitors' backlink profile for further link prospecting
Help tools: the Web CEO Backlink Quality Check tool + the Web CEO Competitor Backlink Spy tool + Ahrefs
Sign Up for the Web CEO all-in-one SEO platform in order to minify your SEO inputs.
If you have applied the 20/80 system to your SEO and marketing strategy and are ready to share your experience, feel free to share it using the comments section.