How to Keep Your Backlink Profile Ever Clean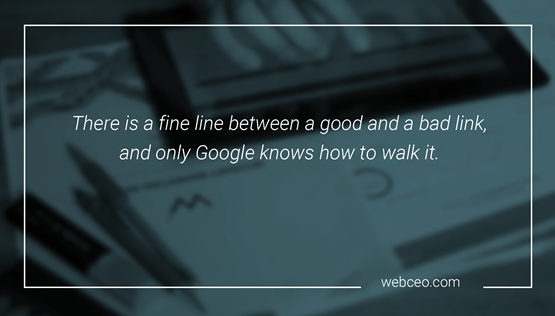 With the weather getting hotter, Google has been aggressively rolling out update after update. It all started with the Google Mobile-Friendly Update aka Mobilegeddon. Then it was followed by speculations about an additional Google Mobile Search Update dubbed Platypus and confirmations of a 'Phantom 2 Update'. The latter update was first noticed on 4/29 and has been confirmed to be non Panda, Penguin or Mobile Algo related. It targets the overall quality of search results. Google Phantom 2 seems pretty similar to the Google Phantom Algo tweak rolled out in early May, 2013. Not long after that, Google Penguin 2.0 hit websites. This means we should be on the lookout for the next big Penguin update. Some experts have already confirmed information about an upcoming link spam penalizing algo update.
With another big Google Penguin Update always round the corner, you will need to keep your backlink profile audit constantly updated and free of suspicious link referrals.
What kind of backlinks are in Google's favor
Most webmasters and SEOs understand link building too literally and treat it as the main way to increase popularity on the web and gain higher rankings. No, no, and again, no! Google sees your backlinks as one measure of your content credibility; something that is built upon relationships with people. Earning quality backlinks has become more holistic and complex, where you should build your link profile manually, with a long-term, solid perspective. In the Post-Penguin era Google validates and ranks only those links built in a natural, non-manipulative way:
Editorial links are a common definition for the kind of backlinks that are generated in an organic, non-promotional way via trustworthy industry-level sources.   Make use of some of the 7 ways to earn editorial links provided by Amanda DiSilvestro in order to pass editorial link juice to your backling profile.
Implied Links are one of the safest type of backlinks. These are not actual hyperlinks, but just mentions of your website name or domain name that can dramatically benefit your backlink profile bringing a strong connection between your brand mentions and your site.
Social citations. Though providing nofollow value, social links are in play and are used to measure the power of your content. Let's see how it works. You write a post on your blog, or elsewhere. What's next? You send a newsletter email to your clients about your new article. With this kind of scenario you would hardly get new traffic to your site and earn more than a few inbound links. You will need to be out there diligently promoting your content asset (unique and informative or interactive) on every single social network where your potential clients might be. You may still get only 9 or 10 likes or shares per post, but then Google will compare your performance to that of others in your industry. The most effective social networks and platforms for building social citations are:
Twitter, which is one of the top social networks for generating social citations and where individual posts are now a full-fledged part of Google search results pages. Read about the prospects of the latest Google-Twitter deal for your business and learn what factors can help you get posts into Google organic search listings and generate a great portion of new traffic.
LinkedIn is a perfect place for sharing links to your content (LinkedIn Profile/Group) and blog posts (Pulse) in order to build your personal brand authority and earn new professional connections.
Facebook is the right place to keep your audience informed about your company updates, special offers, industry news etc. The more your audience likes and shares your Facebook posts, the more you will expand your target audience (their friends) and your social link profile (Google records how many likes and shares posts receive that have your domain linked in them).
Reddit/StumpleUpon/Growthhackers are powerful social media platforms for direct links distribution and branded content promotion. Remember that you should be proactive and unbiased. Share not only your content but provide useful assets with links to other sources.
Quora is one of the most authoritative Q/A expert communities where you can generate links (nofollow) back to your site right in your in-depth answers and grow your personal brand authority and awareness. Quora is also a great source for attracting well-targeted traffic with a high conversion rate.


In a link building perspective, quora links may be officially nofollow, but they are highly indexable and rankable by Google.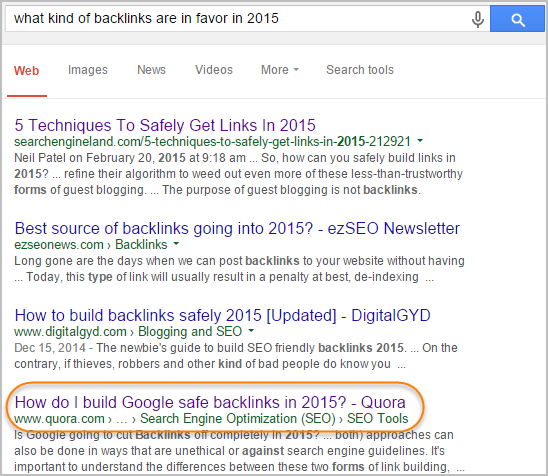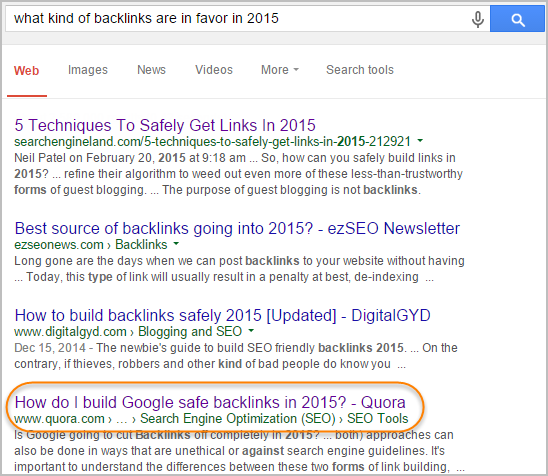 Guest Posting is still in play if done in an unbiased non-promotional way. Guest posting can do more harm than good if you write for your own SEO benefits. Your approach to guest blogging should be like your approach to charity, which is altruistic as well as good for building trust and authority to your persona and creating a strong expert connections network where you'll see pay-offs down the road. If you link to yourself from a guest post platform, consider linking indirectly to your Twitter platform. Read more about ways to find guest blogging opportunities at Social Media Examiner.
Co-citation is another effective way to build relative links back to your site. Co-citations are the link references cited on a single source page to two or more external related sources. This means that you will want to be listed with your competitors as much as possible. The most powerful method of building co-citations is competitive backlink analysis. The Web CEO Competitor Backlink Spy tool will help you to prospect high quality, niche-related links from third-party websites in order to get listed alongside your competitors.
Google will be totally happy with your website if you balance your link building strategy with all the above mentioned backlink types. Google doesn't like it when SEOs go overboard with one single link building technique in their strategy. Ann Smarty learned a lesson after big G disgraced her "baby," MyBlogGuest, last year for abusing of link schemes.  (Read about link spam/toxic links over two sections below)
The backlink data you should take under control in order to claim higher rankings.
Here are some of the essential backlink factors that determine link quality.
# of Linking Pages – Links coming from multiple unique and relevant pages = a strong ranking factor
# of Linking Domains – The number of linking domains is critical for determining the quality of your link profile. However, the quality of linking domains is more important than their quantity. Having 1000 links on 100 high quality domains is better than having 100000 low quality backlinks on 100 domains with low authority.
Linking Domain Age – Google likes backlinks hosted on older domains more than those hosted on new ones.
Linking Domain Authority – Google pays more attention to the links from domains with a high Home PR (they are now replacing PageRank with rankings measured by others in the industry).
Linking Domains Diversity – Google may consider an excessive number of links coming from the same exact domain a negative manipulative link building technique.
Page Rank of Linking Page/Page Rank of Home Page – The age of the linking page and linking domain determines its authority. The higher the better.
Backlink Anchor Text – Google sees the anchor text as a descriptor of a linked page. A backlink with a relevant anchor text is a powerful ranking factor.
Linking Domain Relevancy/Page-Level Relevancy – Since the Hummingbird Update, Google seeks to understand the theme of each site and gives more value to the linking domains and pages that are relevant to your site's theme.
Location of Backlink – Contextual links are more valuable than those placed in navigation sections of linking sites. Sitewide links are considered low quality and manipulative.
% of Nofollow Links – Having lots of links with rel="nofollow" status should be part of a natural link profile. Google doesn't count them but pay attention to their presence in your link profile.
# of Social Shares of Linking Page – Linking page is considered valuable if it has a number of social shares and likes, i.e. brings natural traffic.
Ahrefs Domain Rank/Ahrefs URL Rank – These measure how valuable a referring domain/page is by verifying the number and quality of the backlinks they get themselves.
Backlinks Velocity – It provides the trend of your backlink profile for natural/unnatural growth.
What is a toxic link and how do you identify one?
When some of the above mentioned factors are devalued or abused, Google may consider one of your backlinks as manipulative spam link. If your link profile includes more than 20% toxic links you are in the Google Penguin Penalty risk group. For your backlink profile safety, Web CEO has created a specific toxicity formula that helps to identify toxic links.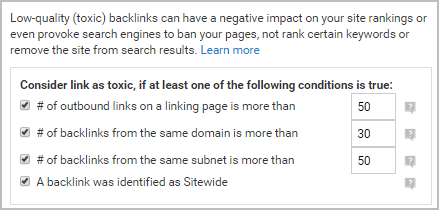 According to this formula and Google Penguin-proof link building guidelines, backlinks are considered toxic in the these common cases:
linking page has an excessive number of outgoing links
backlinks are part of a network of links coming from the same linking domain/subnet/IP
high % of sitewide links (placed in footers, headers, sidebars)
high % of links with the same exact (generic) anchor text
high % of directory backlinks, backlinks from comment sections and guest post backlinks (if they are not nofollow).
If you have thousands of backlinks and don't know if there are toxic links among them, be sure to use our Backlink Quality Checker to find and detox harmful links.
The Algorithm of the Backlink SEO Audit:
For an effective Google Penguin-friendly linkbuilding strategy, Web CEO shares its best recommendations based on Google guidelines, our tried-and-tested techniques and customer experiences.
Once you have the needed SEO backlink data and a comprehensive backlink quality check tool at hand it's time to get your all-in-one backlinks report which should provide solutions to problems related to:
1. Linking Domains Analysis.
A weighted analysis of the linking domains to your site is the first thing you should start with, in your Backlink Profile SEO Audit. A comprehensive report should provide information on how many links are coming from one single domain, how many juicy links it passes, what % of toxic links and nofollow links it provides. Such data as Home PR, Ahrefs Domain Rank will show the authority of a domain.
2. Linking Pages Analysis.
The analysis of a linking page should include insights about what anchor text it uses, what page of your site it targets, its quality (Google PR, Home PR, Ahrefs URL Rank) and status (dofollow, nofollow or suspected toxic) data.
3. Broken Link Check
Using WebCEO's "Chosen Links Watch," be sure to check the availability of your most important backlinks to search engines (you may have just redesigned your site and accidentally eliminated a page that had a great backlink to it). If your backlink profile has a lot of broken inbound links this may negatively affect your overall rankings.
4. Backlink Anchor Text Analysis.
Pay special attention to your backlink anchor texts, because they are the cover of your backlink profile. Check the diversity of your anchors, the number of exact-match anchors, how much link juice your link texts pass, how many source domains use this or that anchor text etc.
5. Linked Pages Analysis. The quality of backlinks is partially identified by those of your website pages that they are linking to. Be sure to check your most linked pages and determine if the backlinks to the pages are related and descriptive and diverse.
6. Toxic Links Analysis.
Once you check your backlink profile for shortcomings and have found the most harmful ones, you should add them to your get-rid-of list. Read about toxic link detox here.
7. Competitor link profile analysis.
Competitve backlinks analysis is crucial for identifying weaknesses and strengths in your current link building strategy. You may consider sites linking to your competitors as your link prospects.  Evaluate your competitors' backlinks in order to pick the most relevant and valuable with a high page ranking as determined by independent sources like Ahrefs and preferably from EDU. and ORG. domains.
If you don't have a backlink checker tool on hand to conduct an audit of all of this complex backlink data, sigh up free for Web CEO to try our Backlink Quality Check reporting tools and the Technical Audit tool.
Reminder: Be sure to audit your backlink profile on a regular basis, such as once per quarter, in order to keep your site safe and forget about having Penguin mania.