The Google Search Algorithm Matrix: The Timeline of Crucial SEO Updates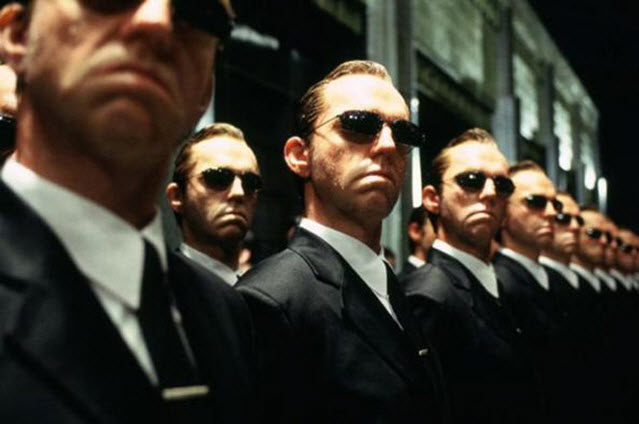 With all the Google search algorithm changes, you will never know when and where your site will appear in Google search results. According to Google's John Mueller, the search engine giant rolls out hundreds of  SEO updates to its core algorithm throughout the year. Nothing scares more than the unknown. There were times, when we knew menace by sight, we were given a heads up on upcoming updates and knew how to recover from them.  Now Google search is frequently invaded by a legion of search algorithm updates, which are like Agents Smith who keep order within the google search ecosystem by eliminating SEO threats assumed to be coming from humans' never-ending desire to implement black and grey-hat SEO techniques. Welcome to the Google Search Matrix.
What is a Google Search Algorithm Update?
Google Search Algorithm Updates were originally designed as filters to track down and penalize websites that flooded search results with low-quality content, link spam or which provided a poor user experience. In the course of time, Google changed its manner of rolling out updates. As a result, some of the algorithm changes run on a real-time basis, others are integrated into the core ranking algorithm with no new refreshes or public announcements on new updates from Google.
There have been so many SEO updates released by Google over the last 15 years, that you might get confused.
Google Updates Related to Content Quality
November 2003 – FLORIDA UPDATE. This was one of the most noticeable updates that blew out the high rankings of some e-commerce sites and product affiliates like a hurricane. A lot of websites lost their top rankings and even disappeared from the search index itself. Among the key aspects of the Florida Update were:
The SEO filter that was activated when the over-usage of search terms was detected;
Stemming which helped to rank websites based on the matches to the search terms.
February 2004 – BRANDY UPDATE. This update resulted in the expansion of Google's index, a better understanding of context and the consideration by Google of synonyms of search query terms. There was also an increased focus on anchor text relevance and close attention was paid to your backlink neighborhood quality.
May 2010 – MAYDAY UPDATE. As a precursor to the Panda Update, it penalized a lot of websites for using thin content.
February 2011 – The beginning of the PANDA era. The first Panda Update targeted websites which provided low-quality, thin and duplicate content.  Panda 1.0 affected 12% of search queries. Since then, this most important content-quality update has survived 26 tweaks and refreshes. The last update made Panda part of the core algorithm.
August 2013 – HUMMINGBIRD UPDATE. This content-quality SEO update was aimed at understanding a searcher's intent and the context behind a search query. Made up of more than 200 SEO factors which affect both ranking and search, Hummingbird was designed to deal with conversational and voice search queries which are mostly popular on mobile devices. The update gave a boost to semantic SEO.
Google Updates related to Links Quality
April 2003 – CASSANDRA UPDATE. Cassandra was the first Google Update designed specifically to filter link spam. These were hard times for websites that built links from co-owned domains and hid links and text in order to manipulate their rankings.
May 2003 – DOMINIC UPDATE. The SEO community assumes that this update changed the way Google counted backlinks.
January 2005 – NOFOLLOW UPDATE. These were rainy days for black-hat SEOs and webmasters as Google, in cooperation with Microsoft and Yahoo, introduced the nofollow attribute in order to fight with spam.
September-October 2005 – JAGGER UPDATES. Google rolled out this series of SEO updates to filter low-quality link schemes, like paid links, reciprocal links and links built with the help of link farms. The updates took 3 months to fully roll out.
April 2012 – The beginning of the PENGUIN era. Google initiated a war against link spam. Penguin 1.0 affected 3,1% of English search results. Over-optimization, spam links, keyword stuffing were the reason of website penalization.  The next major and heavyweight Penguin Update (2.0) was rolled out in May 2013 and affected 2,3% of search queries.  On September 2016, Google released a real-time Penguin 4.0 Update and backed it into Google's core algorithm. The key difference of Penguin 4.0 was that it re-indexed and re-evaluated sites in real time, demoting only specific pages with spam signals on them.
Google Updates related to Mobile Search Quality
April 2015 – MOBILE-FRIENDLY UPDATE. Dubbed as Mobilegeddon, the Mobile-Friendly update was not actually a penalty update, it just favored those websites with better rankings which were SEO friendly on mobile screens. Have a look at the infographic that reveals the most important mobile ranking factors in 2017.
Google Updates related to Local Search Quality
October 2005 – LOCAL MAPS UPDATE. Google merged two products, Local Business Center and Google Maps into one complex in order to simplify local search.
July 2014 – PIGEON UPDATE. Local SEO changed dramatically after the launch of the Google Pigeon Update. By improving its location and distance ranking parameters, this had a huge impact on both Google Maps and traditional Google search results. Among the most significant changes was the boost in rankings for local directories, such as Yelp, TripAdvisor etc.
September 2016 – GOOGLE POSSUM UPDATE. The new local search update was designed to filter out local search spam, specifically in Google Maps results.
Google Updates related to User Search Experience Quality
July 2003 – FRITZ UPDATE. With this update Google switched from monthly index refreshes to indexing on a daily basis. This was a great improvement for the average search experience because Google started to return fresher and more accurate results.
June 2005 – PERSONALIZED SEARCH UPDATE. Another enhancement in the user search experience was the usage of search history in order to deliver more personalized and relevant search results.
August 2008 – GOOGLE SUGGEST UPDATE.  Search experiences were improved to a greater extent thanks to Google Suggest which eventually evolved into Google Instant.
August 2010 – CAFFEINE UPDATE. This update was designed for users and with the help of users. Everyone was invited to test the new infrastructure of the Google search indexing system and leave feedback. The key features of the Caffeine update were an expanded index, faster crawling and real-time indexation. As a result, Caffeine provided 50% fresher results than with earlier updates.
December 2010 – NEGATIVE REVIEWS UPDATE. The update changed the way websites are ranked based on experience provided by users.
June 2011 – GOOGLE SCHEMA UPDATE. This SEO update aimed at enriching search results by allowing users to optimize their structured data with the help of Schema.org.
November 2011 – FRESHNESS UPDATE. The update affected 35% of search queries, mainly time-specific ones. As a results, Google started to pay closer attention to fresh, regularly updated content which portends a good user experience. Searchers were now regularly filtering searches for content from the past hour, day, week, month or year.
May 2012 – KNOWLEDGE GRAPH UPDATE. This update provided direct answers to common questions about specific people and places and other subjects. In the long run, the Knowledge Graph feature evolved into Knowledge Graph panels.
In the next post we will give some advice on how to recover from Google Penalties, provided to us by a former Google Employee.