Semantic SEO Strategy: How to Do SEO in 2017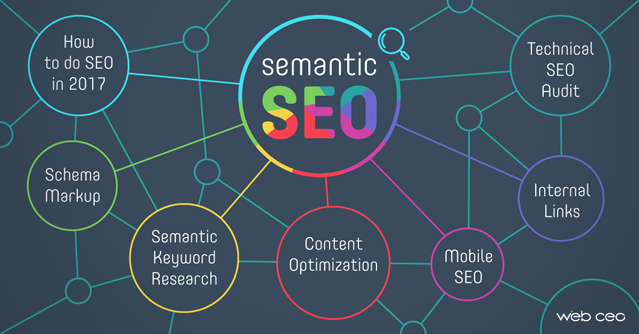 The following SEO Guide is not a Bible, but rather a list of recommendations and SEO trends listed in our actionable Semantic SEO Strategy guide. You can download this for FREE and use it alongside the 14+ free SEO tools which you will need for your website optimization and promotion in 2017.
What you'll learn from this step-by-step handbook:
In the free 19 page handbook we've collected some up-to-date practical advice and how-to's backed by 14+ free SEO tools hand-picked by our editors which will help you understand and implement the latest Google search optimization trends:
Chapter I. How contextual (semantic) search will change the way you manage your Content SEO Audits, and what tools will help you create user- and SEO-friendly website copy.
RankBrain forever changed the way we optimize website content for search engines. If, in 2015, RankBrain was used to interpret 15-20% of search queries, Google now uses RankBrain as a part of its core algorithm. Moreover, it applies its AI system for re-ranking search results. RankBrain doesn't punish websites, but rather elevates or demotes them by relevance. How can you optimize for RankBrain? Ideally, you will need to learn how to read your targeted audience's minds. But in real life, you will need to optimize your website for LSI keywords and contextual clues instead of standalone keywords.
In this chapter you'll learn how to:
Improve your website user experience by fixing on-page technical and content SEO issues.
Contextualize Your Keyword Research and Optimization
Improve visitors' engagement and your content search visibility with a proper Internal Links structure
Improve your website SERP clickability by optimizing your structured data with relevant and descriptive copy.
Chapter II. Step Up Your Mobile-First Search Index Game
Given the fact that Google, in 2017, is planning to launch a separate mobile search index which will eventually become the primary one, you should give mobile SEO your best shot…
Chapter III. Help Tools to Improve & Measure Your SEO Performance
When you plan something for tomorrow, you should play upon your previous experience, taking into account what worked best of all and what didn't bring any benefits. You want to measure; we have the tools…
Sign up for a 14-days Free Trial and get exclusive access to a full guide and 14 professional SEO tools to help you apply our recommendations to your SEO strategy.


---
Words of Cheer
---
You never know what you can do til you try. You have a website and, if you work hard on it, you will be rewarded by Google. Our SEO strategy is a little leg-up for you to get this reward in 2017.