WebCEO Update: Knowledge Panel Rank Tracking & SEO Automation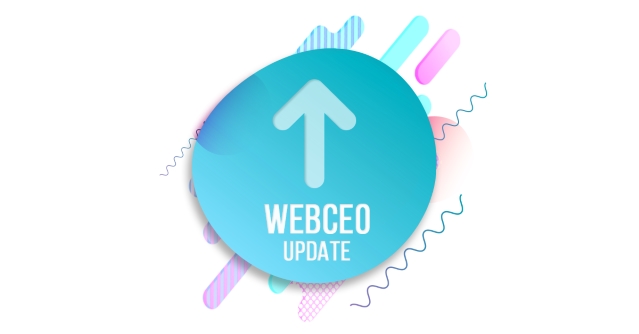 It's that time again: an update announcement! Our ever awesome development team worked even harder than usual for this. WebCEO is now even better at SEO than before, and by extension, so are you!
Four features in total have been improved, and I'll start with the minor change. The other three are bigger and even cooler.
1. Project Overview
The Project Overview is the first thing you see after selecting a project in the dashboard. It's where you can view the current state of your website's optimization, displayed with up to 70+ widgets. As of this update, there are two new widgets that you can add:
1) Broken links. If any links on your website stop working, now you can find out quickly without opening the Technical Audit tool. I can already see this widget is going to prove useful: our own blog is full of posts made several years ago, and the external resources they link to fade out of existence every now and then. Obviously, this happens to other blogs, as well.
To add this widget, click on the Add widgets button in the Project Overview and find it in the Site Audit section.
2) Linking domains compared with competitors. We already had a widget for showing how many domains link to you, and now you can compare this number with that of your competitors. Be more aware of your and your rivals' off-page SEO situation with this widget's help.
You can find it in the Backlinks Quality section after pressing the Add widgets button.


2. Rank Tracking
Next on the menu is WebCEO's pride and joy: the Rank Tracking tool. This is where you can see how well your site is ranking for your keywords. This tool can detect not only organic results in SERPs, but also paid and vertical search results such as ads and videos. So what's new here? We've added two more types of results, picking the data from:
Local search ads (marked in the reports with a reverse teardrop icon with the word "Ad" on it);
Knowledge panel (marked with a square academic cap icon).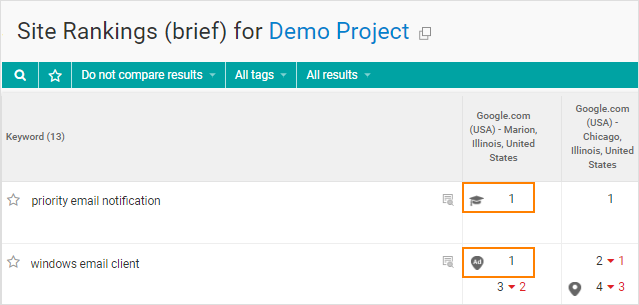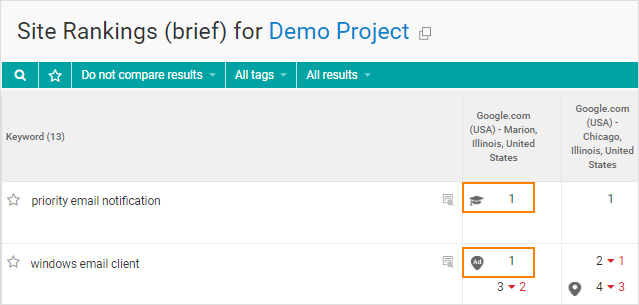 With these, you'll have more information about your site's local rankings. Keep an eye on those two icons in your report.
There's more! If you have used our Rank Tracking tool before, you most likely know about the rankings graph displayed in the Detailed report under the Position column. We've added an option to remove that graph, leaving only the number of your site's ranking position. In order to decide if you need this graph, click on the Settings button, open the Columns section, then check or uncheck the Show rankings history mini graph box.
3. Library of Tasks
In our previous update, we upgraded our Library of Tasks and made it easier to use. This time, we taught it new tricks that will help you save time with your SEO work.
The Library has a new set of tasks called auto tasks. There are three ways to find them: check the Auto tasks box in the promotion plan menu, add the Auto tasks tag, or open the Add task menu and choose Add auto-task. Then you just select the tasks you need to do.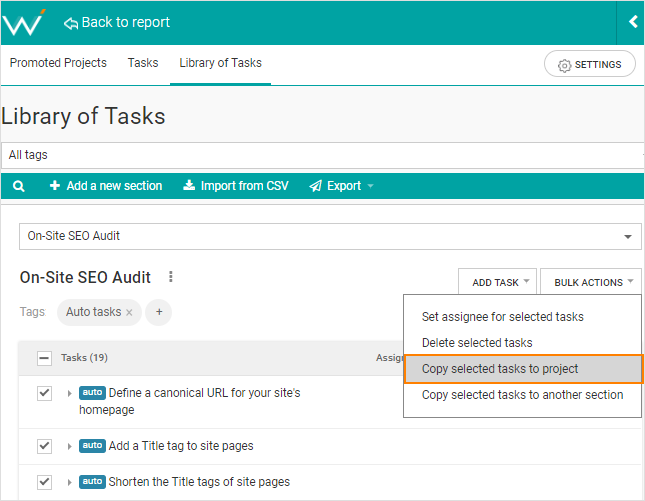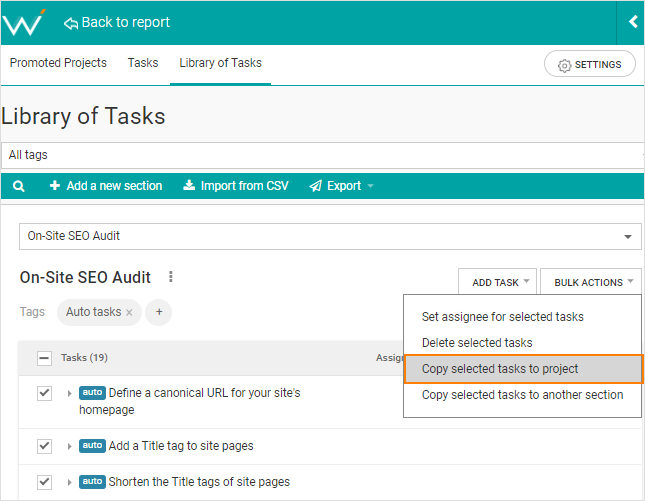 The Library can automatically create new tasks for issues found while running an audit. Thanks to this, you absolutely won't forget to keep your website fully functional at all times.
You can generate a CSV report with technical and SEO issues right in the Tasks tab, without having to switch to the Technical Audit or SEO Analysis tools.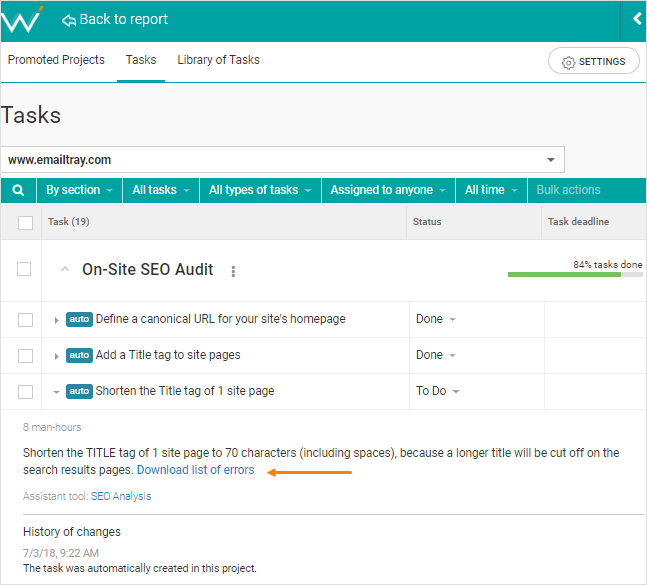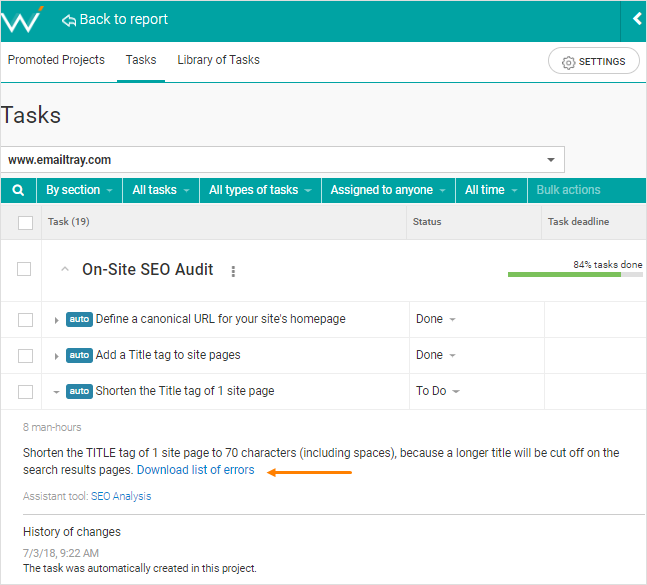 4. Chosen Links Watch
Lastly, we have the Chosen Links Watch tool. It can detect various problems with the backlinks you select – or OK them if there are no problems. It's best used for watching the backlinks that cause trouble, such as toxic backlinks you want gone or links from sites experiencing technical issues. And now, Chosen Links Watch has become even smarter. Our team trained it to recognize when the page with the tracked link cannot be scanned.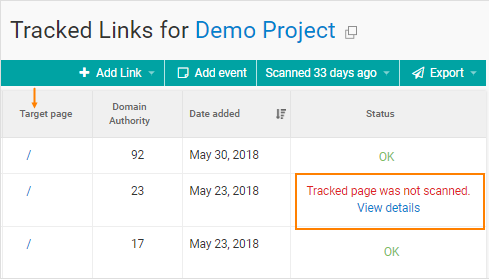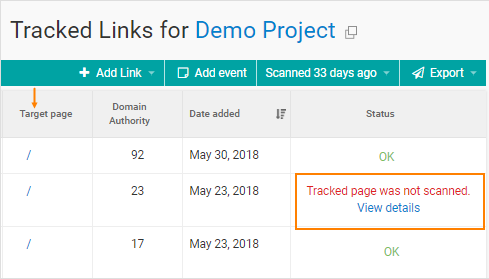 As a bonus, there's now a new column for the target pages' URLs. You can choose to display it in the tool's settings.
And that ends this update. All that's left is for you to enjoy the fruits of our development team's labor. Do better SEO than yesterday with WebCEO's tools!