OK Google, How Do I Do Voice Search SEO on My Site?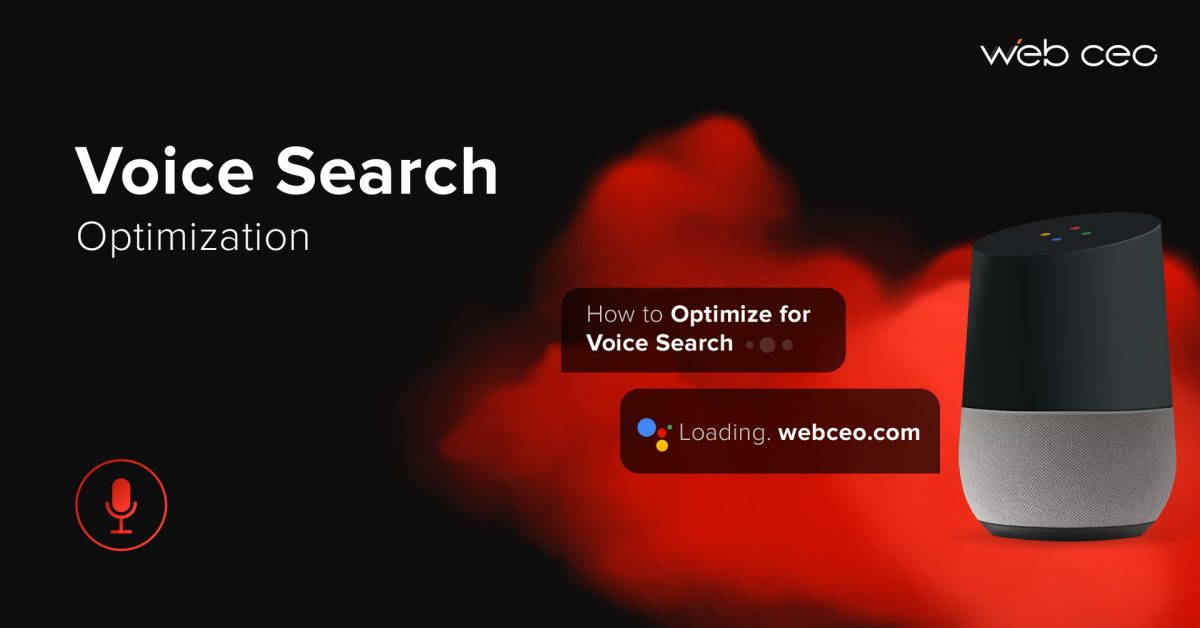 You've probably heard how voice search is taking over the Internet and is the new driving force behind SEO. What happened? It's all thanks to the mobile Internet. Speaking into your device is easier than typing words, plus it's futuristic and cool. So this method for online searching is only going to see more use in the future.
But what about site optimization? The good news is, voice search SEO is fully compatible with traditional SEO. It poses zero risk in terms of losing your rankings and traffic – in fact, there's a decent chance to gain more of each if you do it right. So, do you want to optimize your website for voice search? We have just what you need.
1. Find keywords for voice search
SEO starts with keywords, and so does voice search optimization. However, you'll need a different breed of keywords here: full, naturally-sounding, conversational phrases. Other than the length, they have additional traits that make them stand out from normal keywords:
They change. Language evolves, new expressions appear, and how people say something today may be different tomorrow. Voice search keywords become obsolete in the blink of an eye! Always be on the lookout for the new words people use to find content like yours.
They often fail. Have you ever used voice search and got a totally wrong and irrelevant answer? The algorithm isn't perfect yet, so it can happen. Of course, it might also mean you've stumbled upon a search phrase nobody is using yet; do you dare test it on your own site?
They often start with "who", "what", "where", "when", "why" and "how". Have you heard about the 5W1H voice search formula? That's what it stands for.
They often end with "near me". These are used when somebody needs to find a place not too far from them. Variations include "near (place)", "in (city)", "in (town)" and more. Unsurprisingly, they are used in optimization for local search.
Where can you find queries for your voice search SEO?
WebCEO's Keyword Suggestions tool. Online SEO tools are the go-to place for keyword research. Type in the topic you're optimizing for, press Search and then just look for keywords starting with the 5W1H.
AnswerThePublic. This online tool displays its results in the form of a neat graph. It also puts you in the mood for some neck exercise.
Google's "People also ask" section. Query suggestions straight from the people who use them in voice search.
Quora questions. Quora is a rich and tested source of voice search keyword ideas, as its question pages often appear in the results.
Queries you already know. Maybe you've used them yourself or have heard others use them. If you know they work, they belong on your website.
When you have your list of voice search keywords, try looking for other queries that are closely associated with yours. Here's an example. Let's say you are optimizing for the question "who was the first man on the Moon?" So another closely related question could be "when did Neil Armstrong go to the Moon?" Since both are directly on the topic of the first Moon landing, there's traffic to get for each.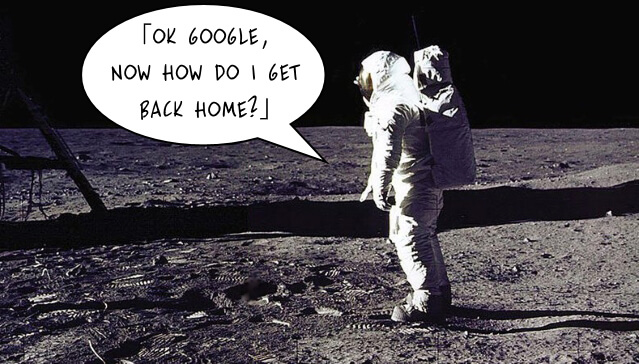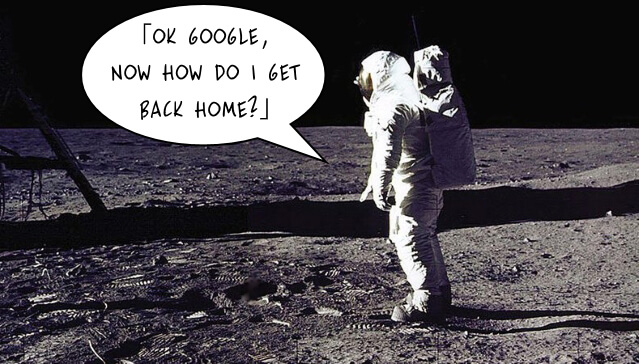 Be sure to check any voice search queries you find in Keyword Suggestion. If they have a high search volume, it's a good sign: your site may be found by lots of users.
Is your list fully prepared? Then it's time for the next step.
2. Optimize your site for voice search
With your keywords ready and in place, the next step of the plan is to do the same things as the websites featured in voice search. If they could do it, so can you!
Move to HTTPS.
HTTPS websites are known for being more secure than HTTP ones. This could be why they are favored by voice search.
Move your site to HTTPS if you haven't already.
Optimize for Position Zero.
Featured snippets and quick answers appear above organic and even paid search results. That certainly helps them to be found: they make up over 40% of all voice search results. Are you motivated to optimize your site for Position Zero now? I sure hope so.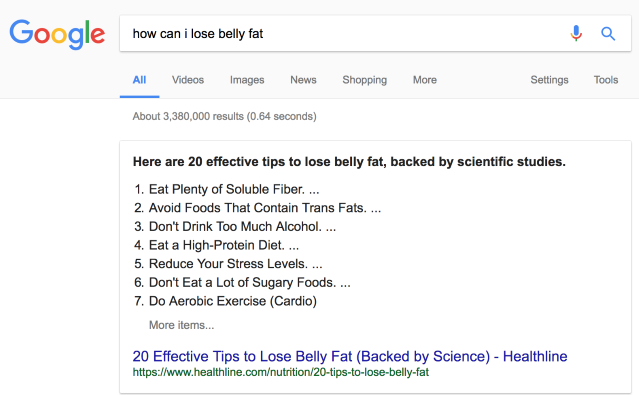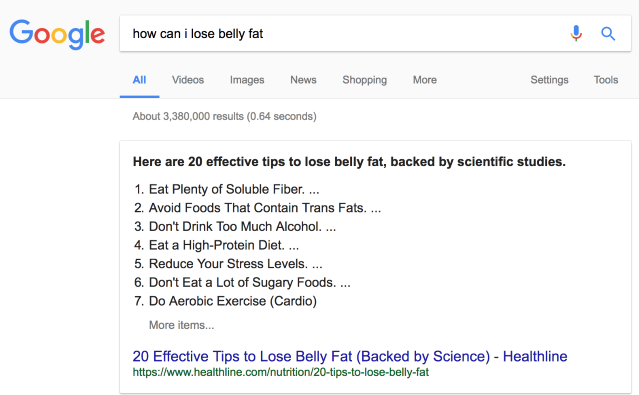 Most pages that make it to the Position Zero have these things in common:
The question for which the page is optimized.
A short, but concise answer – up to 30 words.
An ordered or bulleted list.
FAQ pages tend to fit this description, so excerpts from them often appear in voice search. Consider creating one on your site.
Optimize for local search.
Let's not forget about local SEO. Many of the voice queries are local in nature (like "where is the nearest barber shop?"); if you run a business, its website needs to be optimized both for local and voice search.
Here are the best ways to overlap the two:
Build links from local websites;
Build links from business directories;
Gather positive customer reviews;
Mark up your site with structured data;
Leave citations with your brand's name, address and phone number on other sites;
Fill out your Google Business Profile listing.
Monitor the fruits of your voice search optimization activities with WebCEO's Site Rankings tool. How close are you to being number one for the most popular search queries? If you don't know yet, check your site rankings now!
3. Increase your site's domain authority
Voice search algorithms favor domain authority over page authority. Even if the result is a page with a low page authority, it doesn't seem to matter as long as the domain itself is authoritative. The takeaway is clear as day: raise your domain authority!
How? Read on.
Increase your site's loading speed.
A study by Backlinko has revealed that the average voice search result page loads in 4.6 seconds, which is 52% faster than the average page. What does this mean? Simply that voice search likes fast-loading pages.
Test your website's speed in WebCEO's Speed Optimization tool to see how much you could improve it. The easiest ways to reduce your page load time are:
Optimize your images. Do everything you can to minify their file sizes – while preserving their quality, of course. Tweak their height and width, save them in the most optimal format and compress them.
Simplify HTML, CSS, JavaScript and other code on your site. Less code means less time to process a page.
Merge files that can be merged. When a single page uses multiple CSS stylesheets, combining them into one can be a valid option. The same is true for JS scripts, and background images can be merged into sprites.
Enable compression. Gzip or Deflate can reduce your pages' size by up to 70%, leading to a tremendous increase in loading speed.
Reduce the number of redirects. Hopping from one page to another is an obvious delay in loading. Redirects can be necessary sometimes, but you should keep them to a minimum.
Optimize your site for mobile.
Most of voice searching is done on mobile devices. And, earlier in 2018, Google released their mobile-first index. Add to these the fact that every SEO guide tells you to make your site mobile-friendly, and you'll know what to do next in voice search optimization.
What is your mobile SEO situation at this moment? Check if your site is mobile-friendly with WebCEO's Mobile Optimization tool and find out.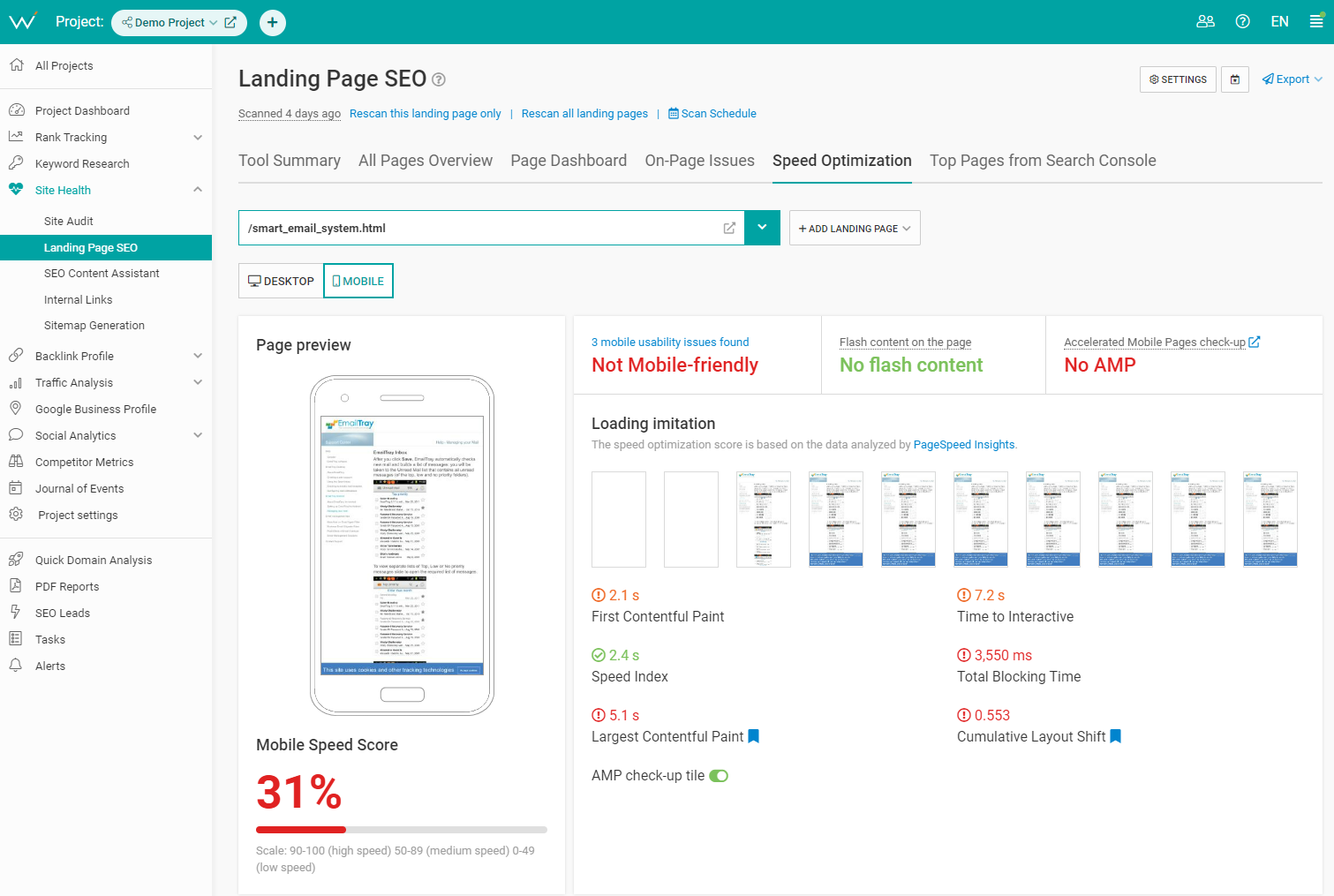 The tool will grade your site's affinity with mobile devices. If you've fallen behind anywhere, it will prod you in the right direction by offering helpful tips, too. Where can you fall behind and how can you fix it?
Responsive design. Websites can be made to fit any screen like a glove with just a few lines of HTML code. Add them, and users won't have to zoom in every time they visit your site.
Fast-loading pages. Mobile users like their Internet even faster than PC users. Every millisecond of delay costs you visitors.
Lack of intrusive popups. The less users have to deal with popups that obstruct your site's content, the better.
Negative space. Content is easier to digest when it isn't cluttered on the screen. Leave some space between the elements. This especially applies to interactive elements such as buttons, where there's risk of pressing the wrong one.
Build quality links to your site.
Link building is the ultimate way to grow domain authority. It's also one of the hardest challenges in SEO, but the payoff is enormous: websites on the first page of Google all have backlinks from other high-authority sites. The same is true for the websites found in voice search.
A good way to start is to check your competitors' link profiles. Use WebCEO's Competitor Backlink Spy tool to see their backlinks, then connect with the sites that have linked to them. You might be able to earn backlinks from them, too.
And it's far from the only way to build links to your site. Just be sure to watch your own link profile closely in WebCEO's My Backlinks report. You don't want any low-quality backlinks to bring your domain authority down.
Rank your videos in search results.
Not all voice search results are plain text. Videos work even better.
If you have a video channel full of informative stuff, power to you! How do you make it appear in voice search?
Conversational long-tail phrases in the titles. They don't need to be identical to users' actual queries, so you can be flexible. Tutorials whose titles start with "How to…" are a great example.
Keywords in the video's description and transcript.
Timestamps. Google can helpfully isolate parts of the video that are relevant to the users' requests.
Clickable thumbnail.
Track your videos' Google rankings with WebCEO tools. My Rankings report picks up video search results, too.
4. Use structured data
Structured data is rightfully regarded as a powerful SEO asset. What about its impact on voice search?
Opinions vary here: some sources show that Schema doesn't seem to affect voice search SEO much, while others recommend using Schema anyway. After all, structured data helps search engines understand the purpose of each element on a page – and select what is relevant to the user's question.
So who should you trust? When in doubt, ask Google! No, not the search engine; their blog.
Turns out, the folks at Google are busy developing a speakable Schema property. It's used for marking up the text on your site which you want to be read by the smart assistant. Evidently, Google wants Schema to play a larger role in voice search.
The speakable property is still in beta, so if you are going to use it, keep an eye on the updates.
5. Use social media to engage with users
Is social media voice search-friendly? Naturally. People go to chat there (duh). They make social media a goldmine of voice search-friendly conversational language.
What's more, voice search results often have tons of likes and shares from Facebook, Twitter and other social networks. The more you engage with users on your pages, the more will find you with a virtual assistant's help later.
Afterword
We were promised an era of voice search, and it's here. People have been preparing for it since before the 2020s. You can bet your competitors have already mastered voice search. What are you waiting for?
Remember: in voice search results, there can be only one. And it has to be you.