Halloween with WebCEO: Special Offer for the Online SEO Tools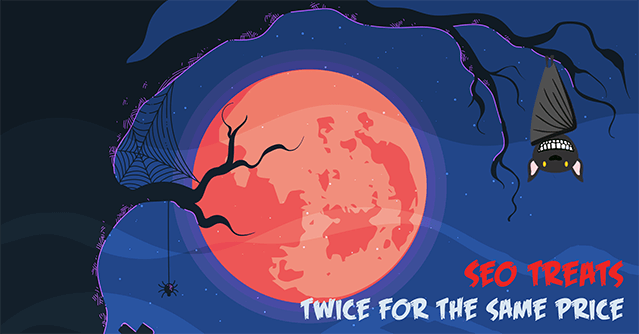 It's Halloween! The time to trick-or-treat for promo codes, discounts and limited offers for the best SEO tools.
This October, when the dark descends and horrors roam free in celebration, WebCEO stands at your doorstep with a bag full of treats. Do you want to see what's inside? Only the most tempting sweets every SEOer would die for:
A clever strategy made to trap customers;
A thick, warm flow of delicious website traffic;
A set of sharp SEO tools to make your goals come true.
Everybody who dabbles in the mystic arts of white-hat SEO dreams of those things, but all too often they lack the means to grasp them. What is it that you are missing? Search no further: you have found the nexus of positive power called WebCEO.
And what secrets do lie inside?
In-depth keyword research
SEO audits and ranking checks, manually or on a schedule
Effective and safe link building
Backlink audits and detox
Competitor research
Unlimited users can logon
BONUS SEO agency features: white-label reports and a white-label platform with a task manager for your team's collaboration, SEO lead generation tools and so much more!
What is the price for this unmatched force of good? You certainly need not part with your soul nor sacrifice your firstborn at midnight, for this is a special offer. This is Halloween – the celebration of treats instead of tricks! And our present to you is a big, mean and hungry discount for our SEO tools.
Here's how it works:
Order any priced plan (Agency Unlimited, Agency Fixed, Corporate or Startup) and use the WebCEO platform 2 times longer than usual. And that's it! One month of subscription becomes two, three months become six, and twelve months turn into two full years.
Let's put it into perspective:
The standard price for the WebCEO platform is $99/month.
With the annual subscription, it costs only $75/month.
And with our special Halloween offer, you can enjoy WebCEO tools for a mere $37/month for 2 years!
Fifteen SEO tools all in one Halloween package, for half the price, double the time. Get started on your website promotion campaign with the WebCEO online SEO tools before October 31st!