10 SEO Tips You Can't Ignore in 2020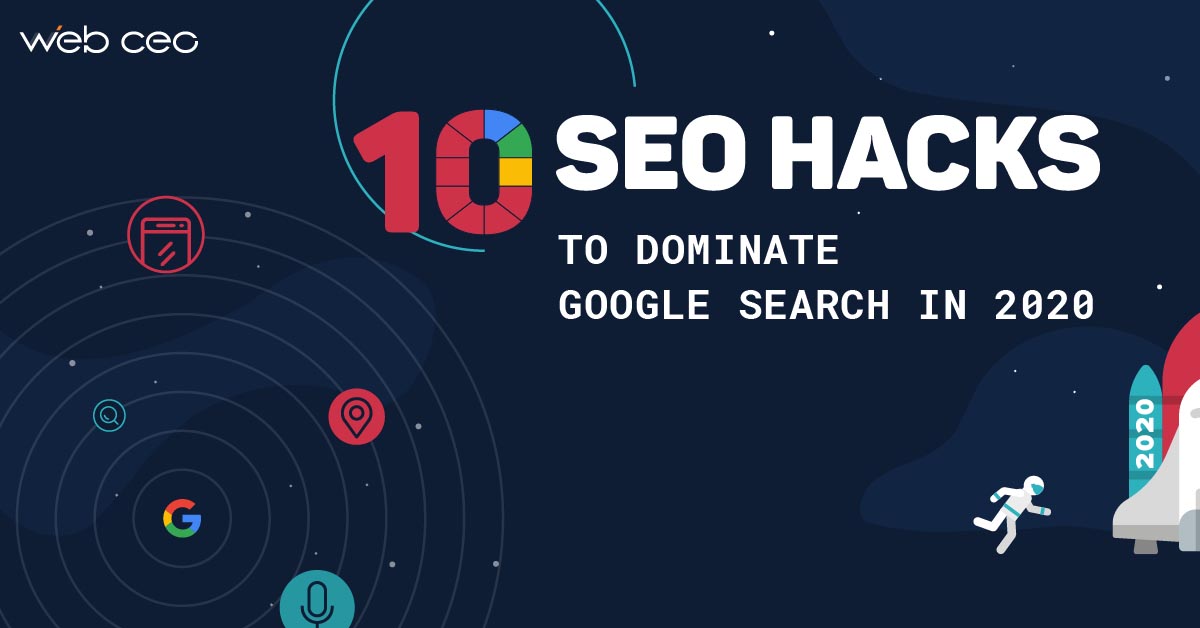 Look at the calendar! It's summer already. You haven't brought your SEO plans to life yet! That's really bad news. If you want free Google traffic, you'll have to spend the rest of the year working on this.
The recent crisis presented a great time to get started but now is still as good a time as ever.
Are you sure you have taken basic and proven SEO measures that can ensure a solid existence of your website on the SERP before your major strategy starts to work? Have you learnt any tips that might seem unnecessary now but eventually turn out to be your ace card in the merciless SEO games that need to be played?
Let's look at the things you might have missed as a checklist:
1. THINK SEMANTICS, NOT KEYWORDS
Before creating stellar content, use keyword suggestions from all keyword sources possible, including Google Ads Keyword Planner, "People also ask" and "Related searches" by Google, queries from Google Search Console and keywords/topics used by competitors.
This will help you build a reliable info-base for creating fascinating copy.
How?
By scanning all the possible sources you'll get all the possible variations of keywords that relate to your niche and topic specifically. For example, those ones you haven't thought or heard anything about before. You will be able to disclose additional aspects of your topic, thus enriching your material with important information and attracting a bigger audience to your content.
It's simple mathematics. Let's imagine you have a keyword "SEO practices" (search volume – 720 searches/mo – not a bad result). Let's assume you will take the next keywords as subtopics to disclose in your copy: "basic SEO practices" (70 searches/mo), "SEO writing best practices" (210 searches/mo), "best SEO practices" (3600 searches/mo). This is a pretty decent set of keywords for an article.
Now check Google for keywords searched for around the same time as "SEO practices." Here's an example: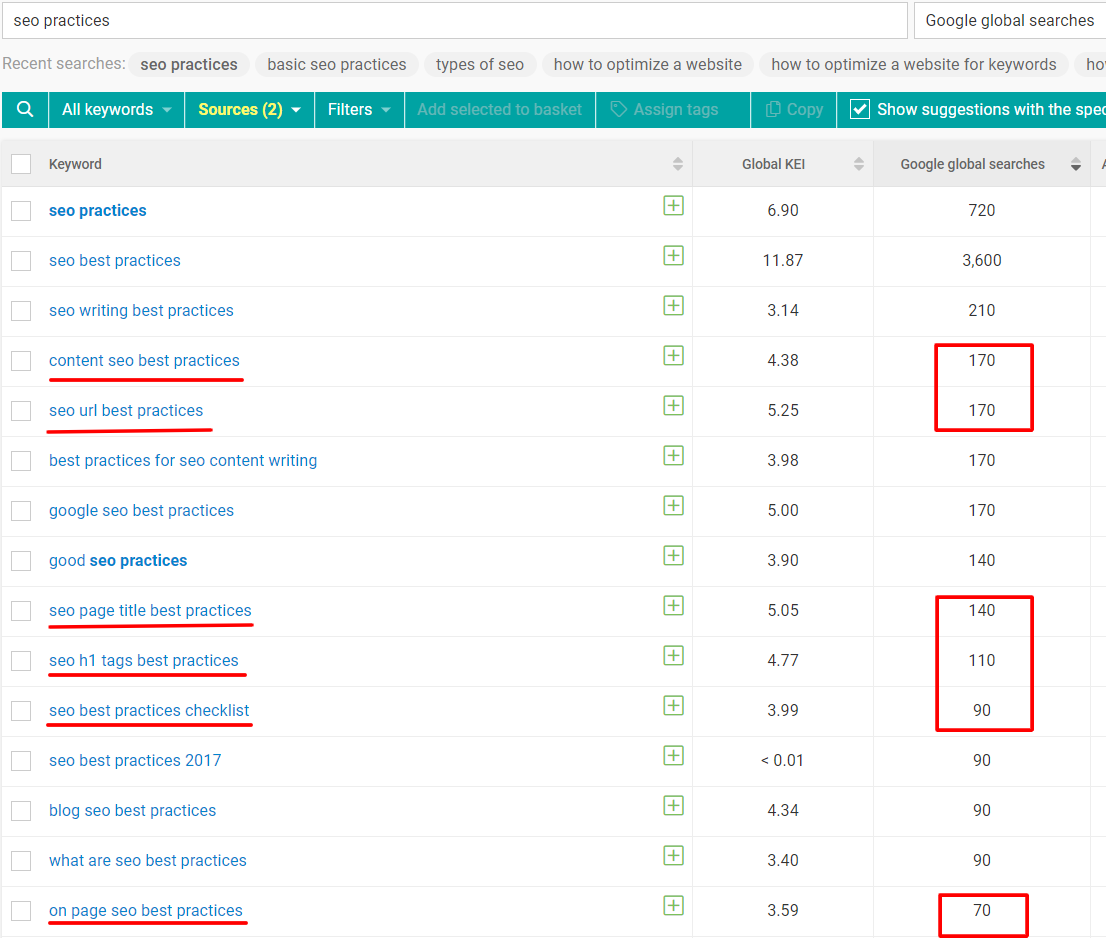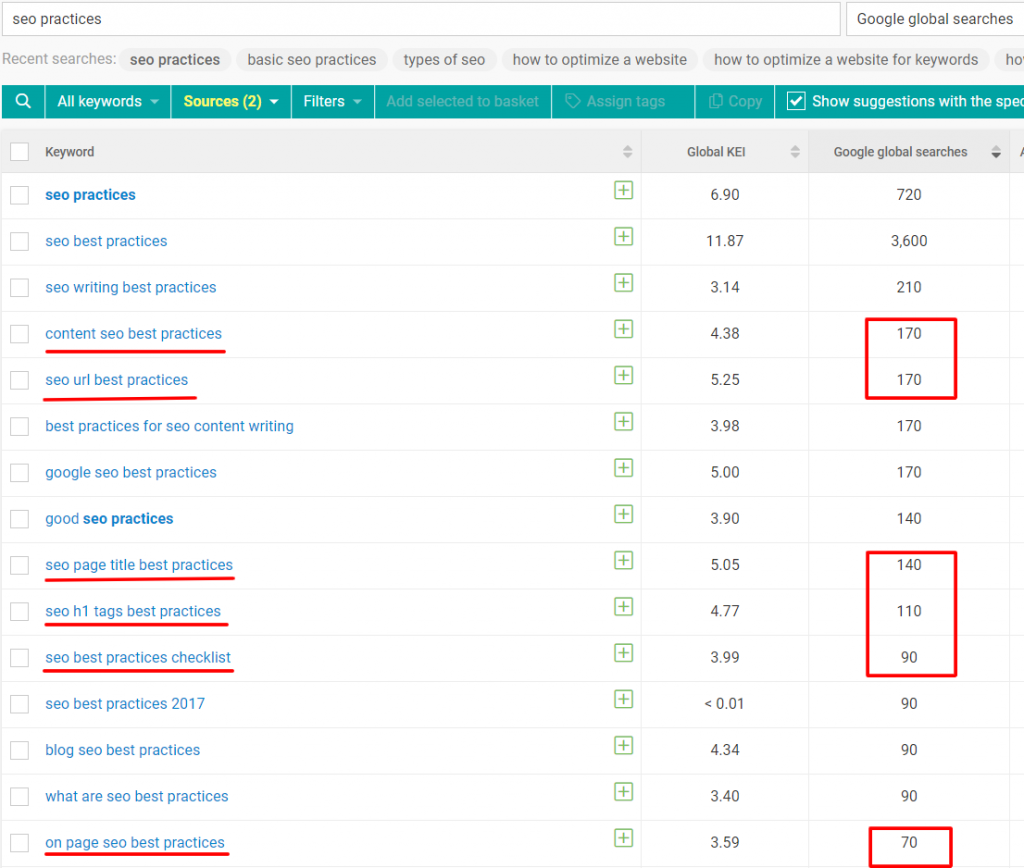 Besides the keywords we've already mentioned, there are some that can serve as a great opportunity to extend your copy and create long-form content of the high quality Google admires. Taking into account additional volumes of new keywords, you will get a higher number of potential users thus greater traffic and conversions.
Result types such as "People also ask" and "Related searches" may be not perfect, but these are relevant. Checking results for search volumes and general popularity will not take too much of your time. At the same time, considering keywords from these sources, you will have a greater chance to fulfill searchers' topical demands.
HINT: Use WebCEO's Keyword Research tool which has aggregated all these types of keyword suggestions for you. For each keyword suggestion, you'll see Monthly Searches, Competition Value and the KEI (Keyword Effectiveness Index) – to help you pick the most effective keywords and topics.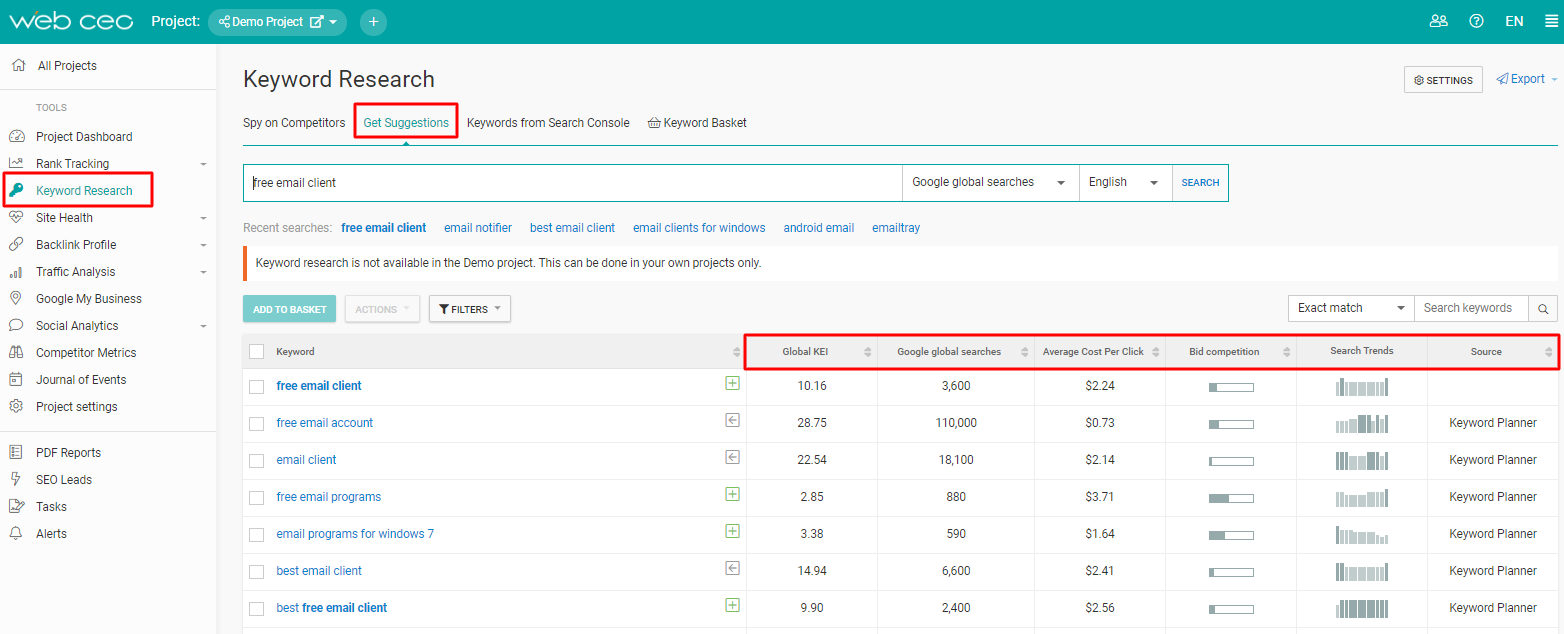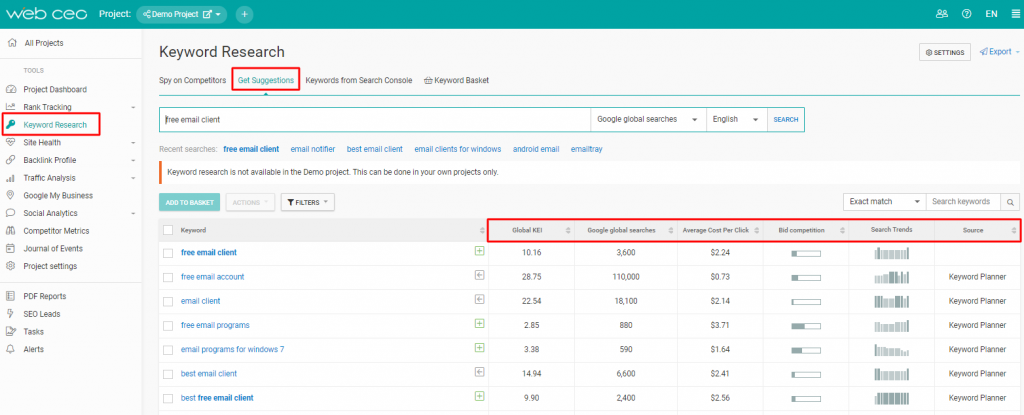 2. MAKE USE OF STRUCTURED DATA
If you want to pop up at the top of the SERPs (and yes, featured snippets are on the VERY top) – be sure to FORMAT every piece of important data (lists, FAQs, postal addresses, phone numbers, product info, reviews, author data, etc.) as structured data.
Why do you need to do this? The structured data increases your visibility and trustworthiness, andstrengthens your leadership in a race with other websites.
Visibility is a serious concern when there are thousands of websites that might run in a race with you and eventually take your positions. With structured data implementation, you will get your chance to hit the following bull's-eyes:
Google Will Get Your Point: visibility is great when it's relevant. For instance, when you sell bicycles but people see you in the "cars and bikes" category – that's not relevant and you'll get nothing from this. With schema markup Google will analyze and understand your content better; thus it will show your website when people need exactly your product.
SERPs: be visible in a smart form and people will trust you. Rich Results, Host Carousel and Top Stories Carousel are things people bring most of their attention to.With simple additions to your page code, you'll get a totally new appearance on the SERPs, more alluring and clickable. Google will analyze reviews about your products left by users and this will be seen with the help of a star rating, the quantity of reviews and prices (if available) right on the SERPs. By seeing other people's opinions right away, other users will be more determined to visit your website and purchase your products.
Important! The star rating can now be applied only to the following categories: Books, Courses, Events, How-to, Local businesses, Movies, Products, Recipes, Software Apps.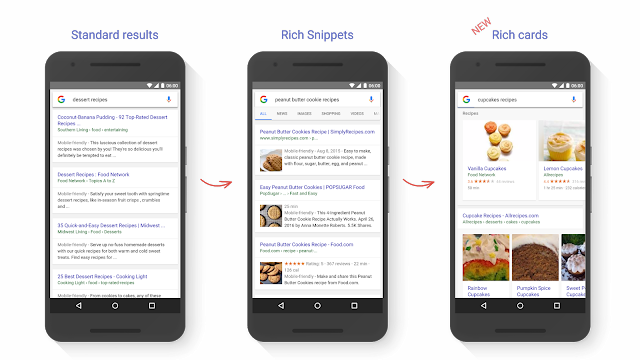 Image source: Google Webmaster Central Blog
Google Knowledge Panel: make your brand dominate the SERPs. Structured data is your chance to be described right on a SERP and attract the attention of any user right away: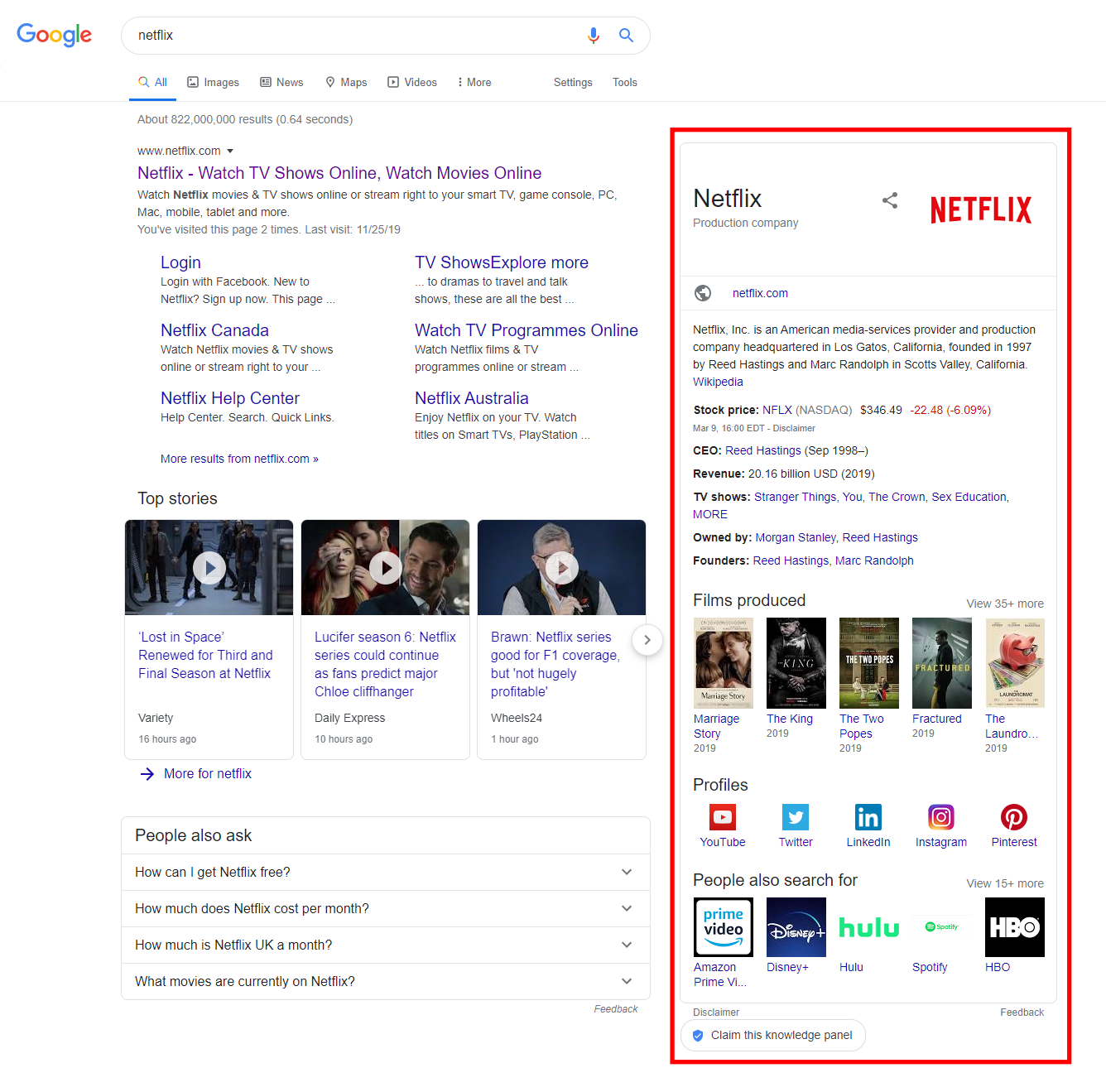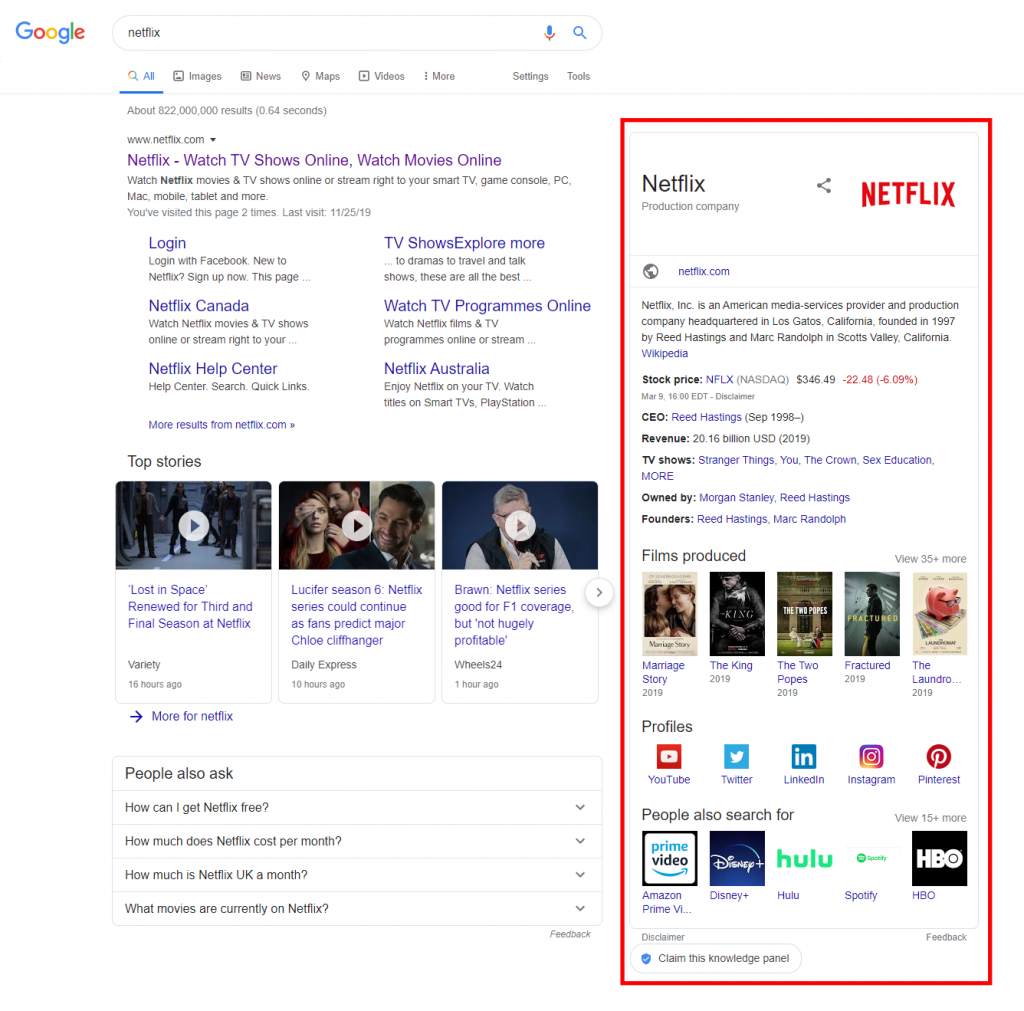 The knowledge panels are stunning both in appearance and usefulness. Users are able to learn the essentials about a company/product/person in a matter of a few moments: the website link, a short description, key personnel and other details. The more captivating/charming you will present your product, the greater the desire searchers will have to learn more.
There are local panels which are easy to optimize: you have to have an account in Google My Business and fill all the forms required, so your local knowledge panel will look like this:


If you want to create a brand knowledge panel, you should create your Google Brand Account. As well as with Google My Business, you should fill in all the forms presented in the settings and then you will have your brand visible on the SERPs.
There are cases when Google creates brand knowledge panels by itself. This happens when your brand seems to be authoritative enough for this.
Voice Search: voice search is becoming vitally important. According to Search Engine Land, 48% of searches in 2019 were performed via voice search. It is a little bit different from the original search in the result presentation. It places emphasis on direct, comprehensive and short answers to a user's query. The Google Assistant will be able to present this short answer on smaller screens. This concerns mobile googling as well.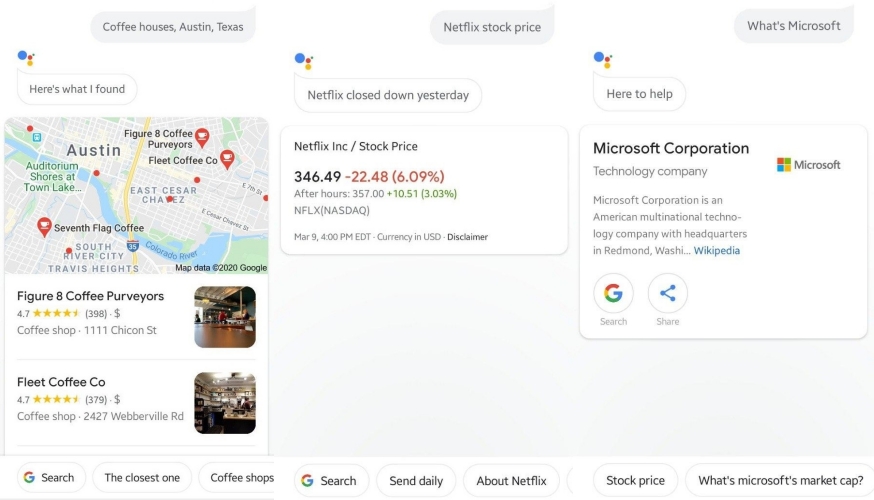 HINT: Go to WebCEO's Site Health > SEO Analysis tool to check your pages for structured data, as well as the other SEO factors that can help you or else… block your site from higher rankings.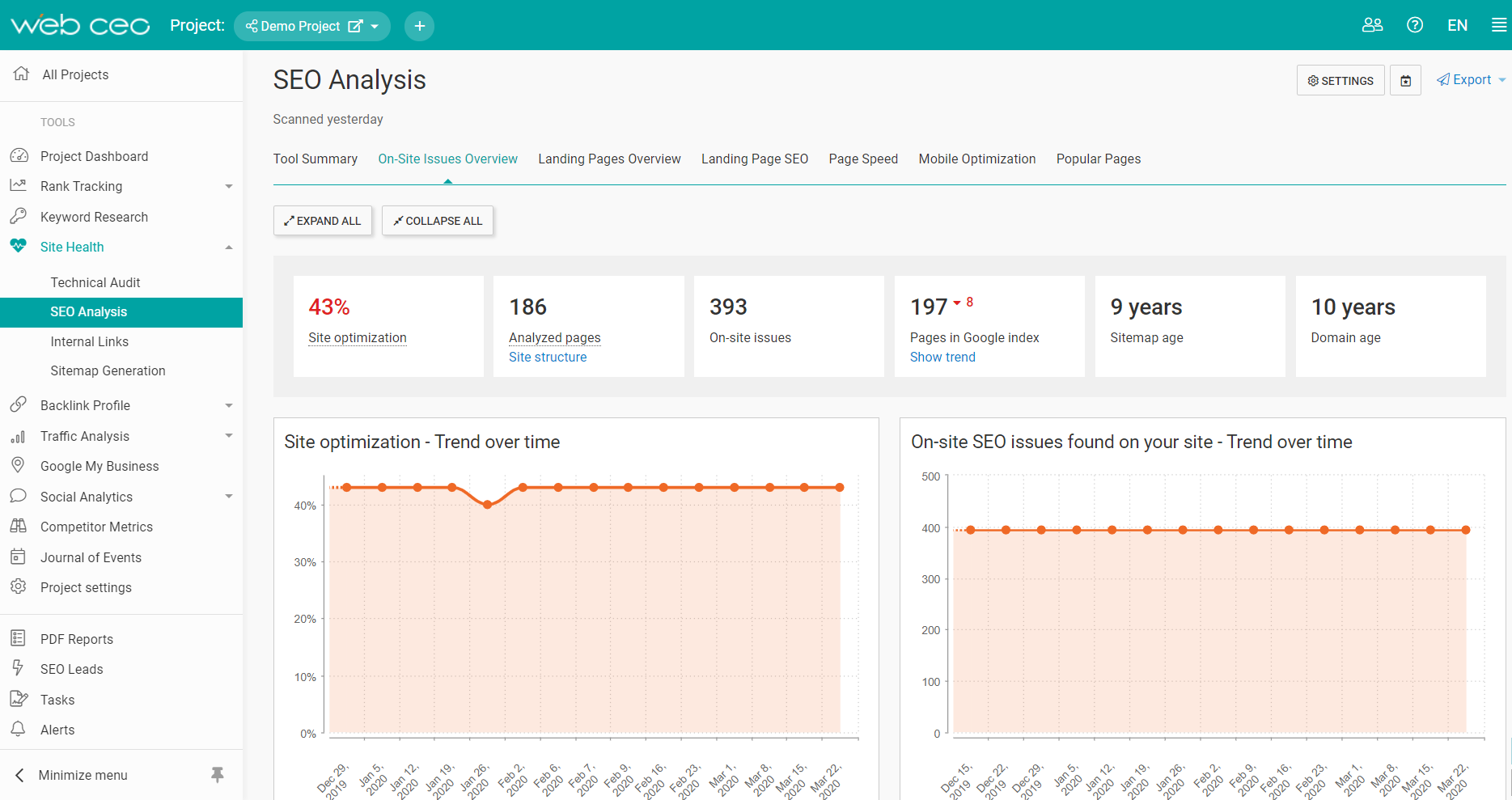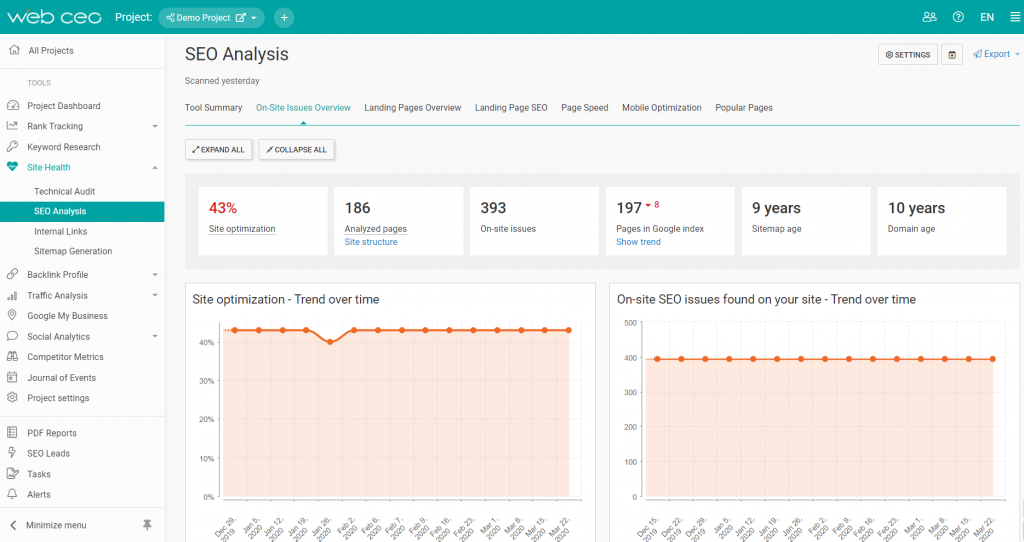 3. SET CHECKPOINTS AND TRACK RESULTS
Checkpoints matter. They help you see if your strategy is effective enough to keep on using it.
Use WebCEO's Rank Tracking tool to check your site positions in ALL types of search results (knowledge panel and featured snippets, paid and organic results, image and video results, shopping, news, hotels and places) across ALL locations where your potential customers might search from – usually cities and zip codes!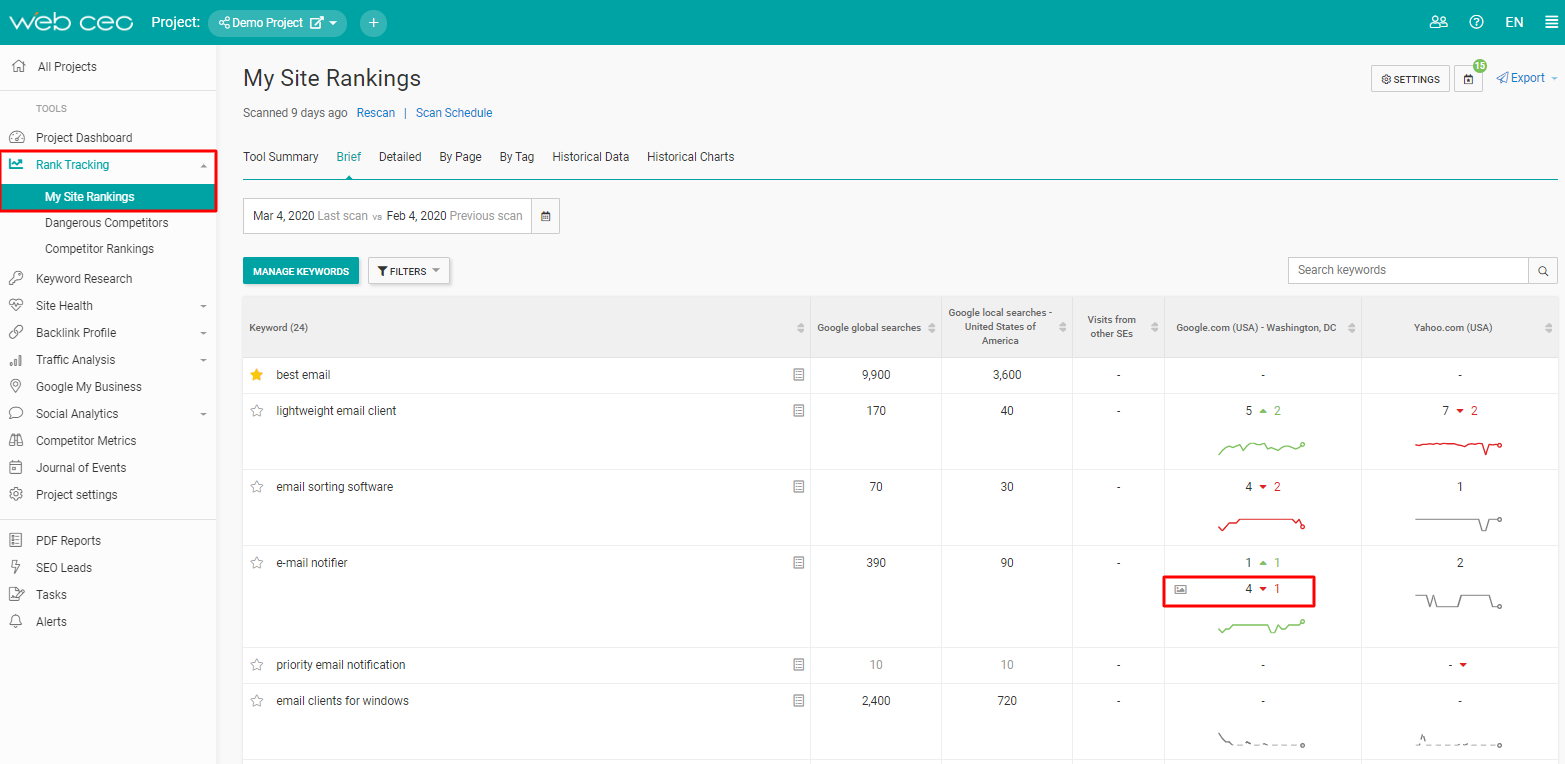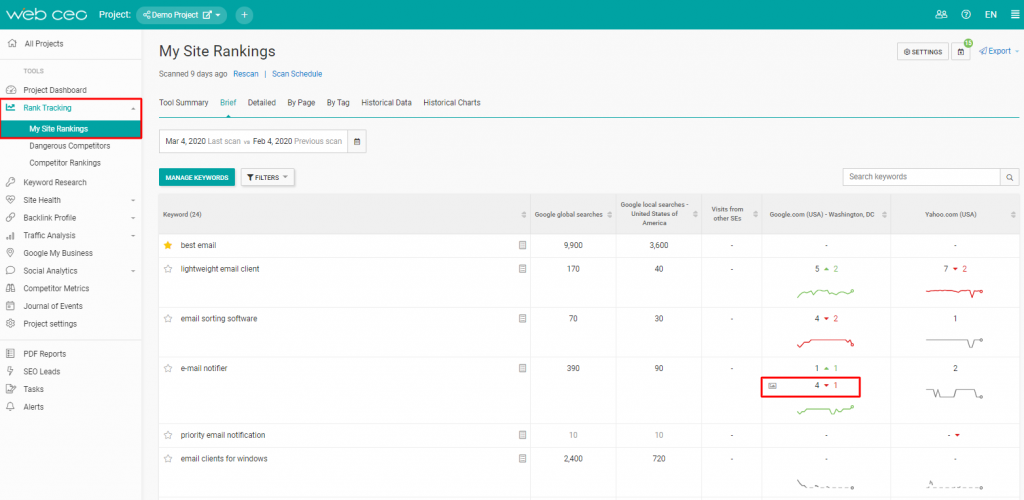 4. PUT UNDERESTIMATED KEYWORDS INTO THE GAME
See how people are already finding your site or the sites of your clients. Google Search Console will be your best friend here.
There is no such thing as "bad keywords" if they bring relevant traffic. If there are keywords that are not that popular in comparison with others, it's still not a great decision to give up on them. If they bring you even a little traffic, please, make some time for them.
Valuable content, no matter how popular it already is, will find new readers from new keywords and you will get your audience extended. Take this chance! You will not lose any resources except for some time for research and writing, but think about the benefits you can get by touching new layers of your overall potential audience.
HINT: Connect Google Search Console to your WebCEO account and add valuable insights to your marketing mix. After you've analyzed all the UNDERESTIMATED keywords that are bringing you some traffic – strengthen your search positions for these keywords by adding more valuable content and doing smart link building. Go to Keyword Research > Keywords from Search Console.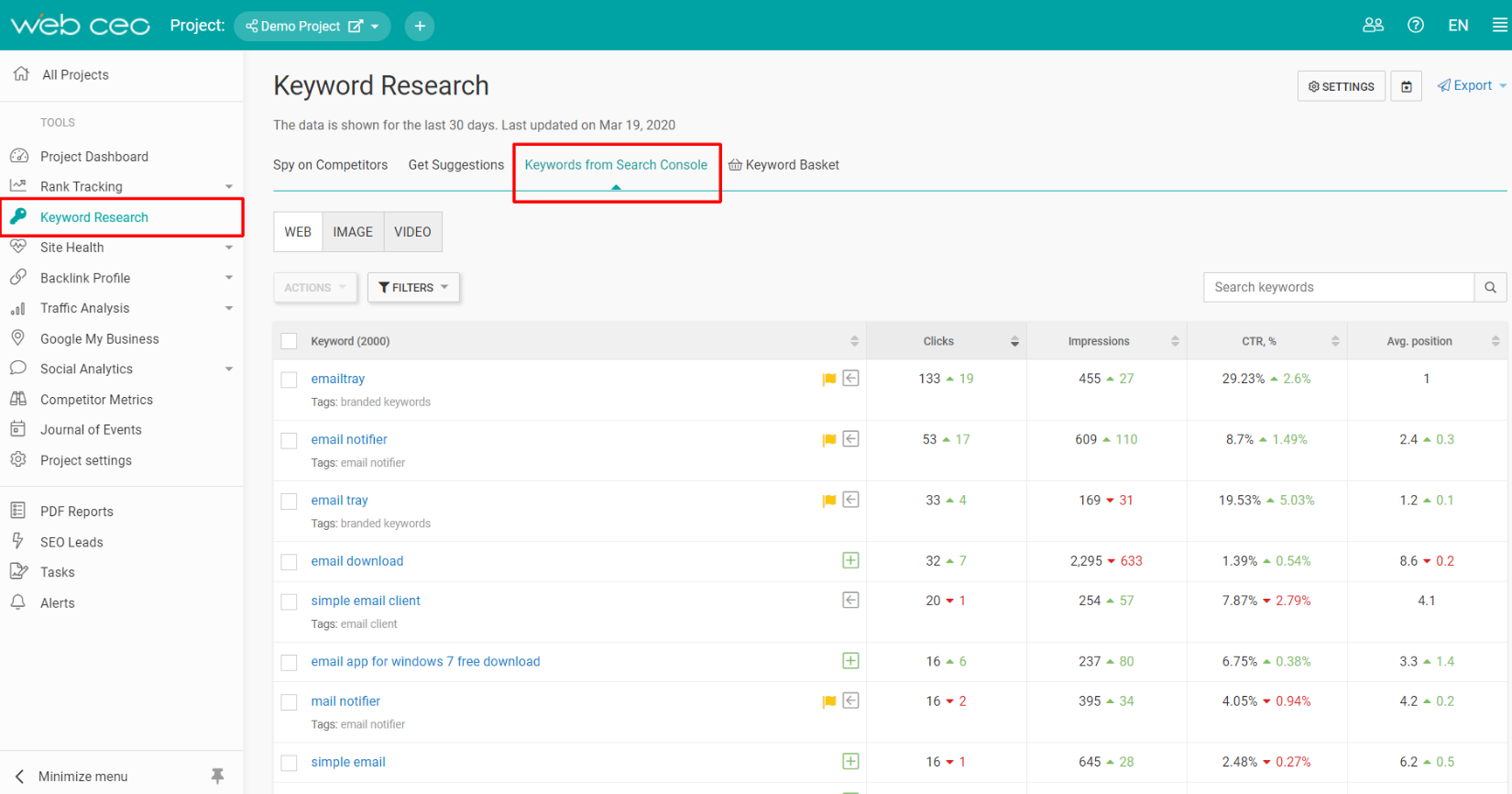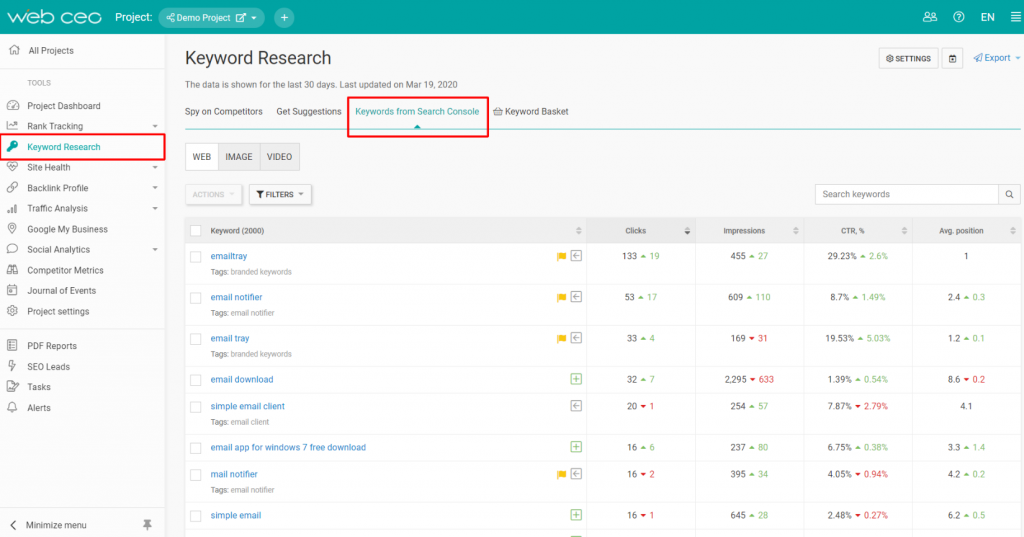 5. FIX TECHNICAL ISSUES ON YOUR SITE
Broken links and anchors? Slow pages? Page access issues? Come on, guys, it's not even funny.
Technical issues in 2020… You can't afford to even think about allowing them to exist! Any technical issues are your ticket to the lowest positions on the SERPs and in people's hearts. Broken pages, not found pages and other unstable aspects of your website will affect people's opinion about it and their desire to return. You don't want this to happen and people don't want to experience such disappointment.
The conclusion of this passage is understandable: eliminate all the technical issues, bring users maximum stability.
Remember that page speed is also a ranking factor. You don't want Google to put your website down for being too slow.
HINT: Go to Site Health > Technical Audit tool to check your pages for technical errors such as broken links and anchors, unfriendly redirects, server errors and more.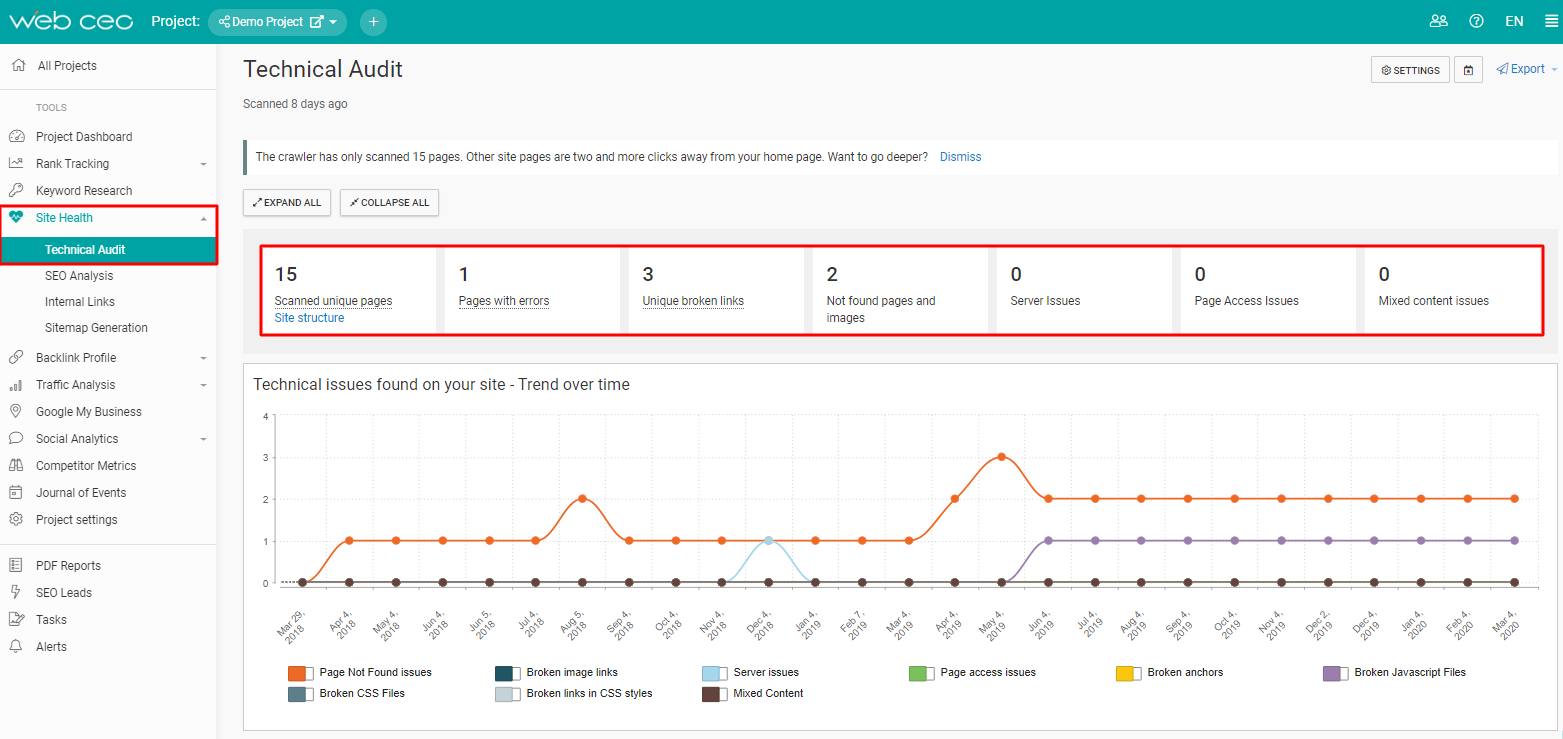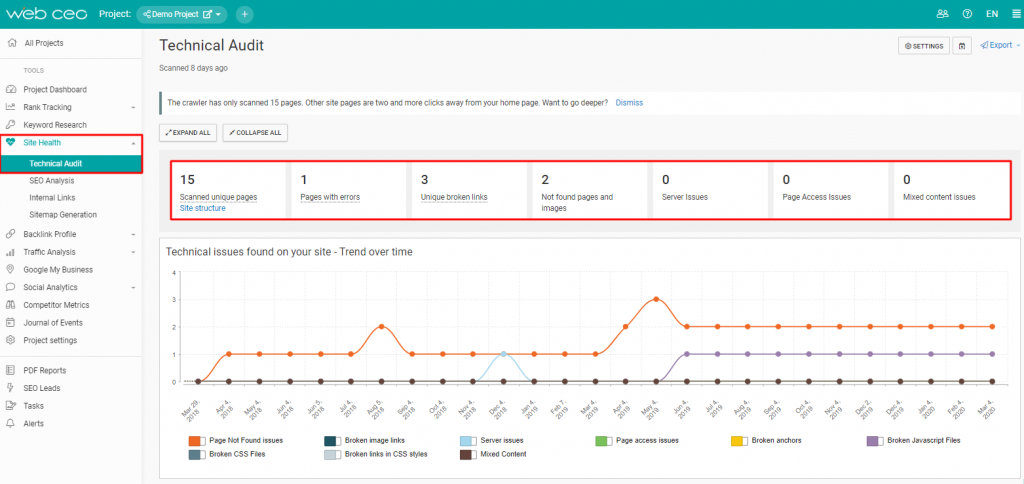 6. MAKE YOUR SITE MOBILE-FRIENDLY, FINALLY!
Now that Google has moved to the Mobile-First Index, having a mobile-friendly site is a MUST.
The reasons are obvious. People prefer mobile to desktop. We are already tired of repeating this again and again and you may be tired of hearing this. Let this be our last time for repetition. Help people work with your content in a mobile regime and they will return to you for sure.
We are not just talking about implementing Google's AMP protocol. Our advice is to create a fully functioning mobile version of your website that will be comfortable for users and will satisfy Google's requirements.
HINT: Use WebCEO to see if you are ready to welcome mobile users on your website. Go to Site Health > SEO Analysis tool to check if the pages of your site adhere to Google's Mobile Friendliness guidelines. Follow actionable advice on how to fix mobile usability issues and win the search share you deserve.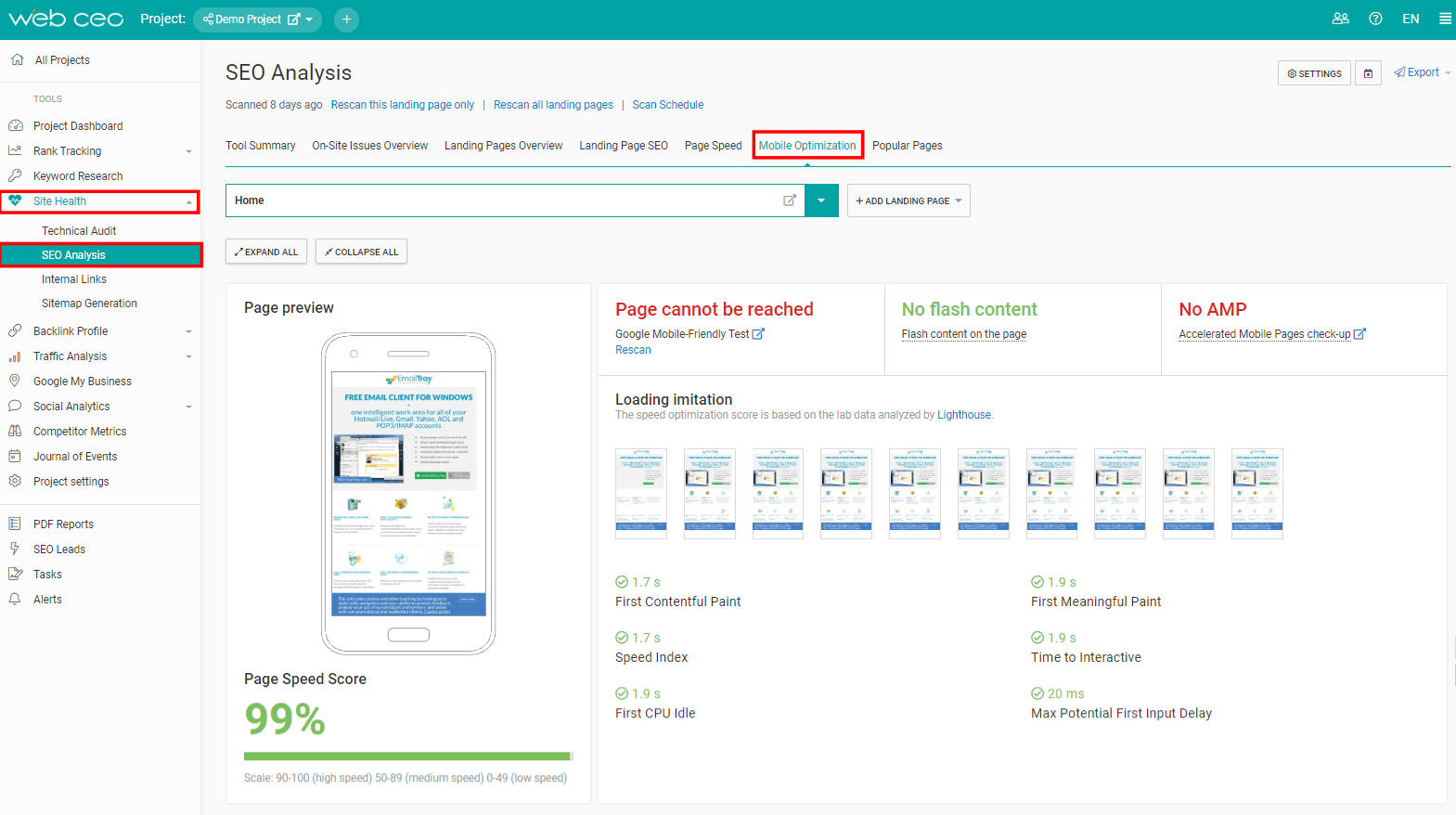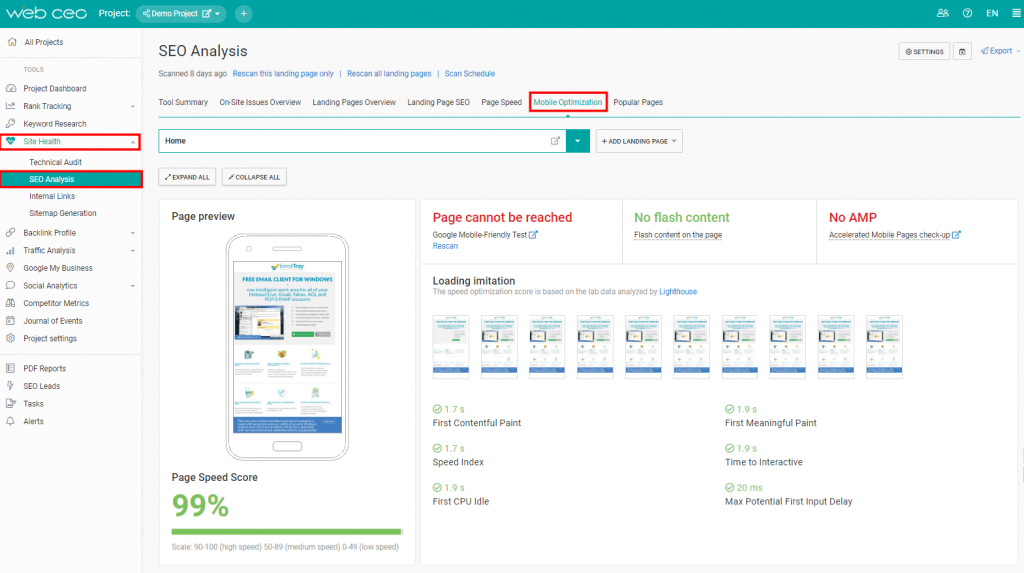 7. WORK ON UX AND IMPROVE YOUR SITE'S DWELL TIME
Bad user experiences can be a disaster not only because you lose unsatisfied visitors. It's one of the big ranking factors now: Google dampens websites that have a high bounce rate and short dwell time. These metrics correlate directly.
If your website still doesn't match modern criteria and deprives your users of the most comfortable conditions to surf through its categories and subcategories, these users will leave! A constantly increasing bounce rate and decreasing dwell time will take your website down. You'll spend a lot of time recovering.
The first thing that scares away your visitors, therefore affecting such metrics as bounce rate and dwell time, is your website's appearance. The second is navigation. The better these components are designed, the better your website will be perceived by users and perform on SERPs. First and foremost, bring your attention to these details and then slowly continue with further improvements.
HINTS:
1. Use WebCEO's Google Analytics Tool to thoroughly analyze your website's bounce rate. Go to Traffic Analysis > Google Analytics and see how many visitors leave a page of your website without further interactions.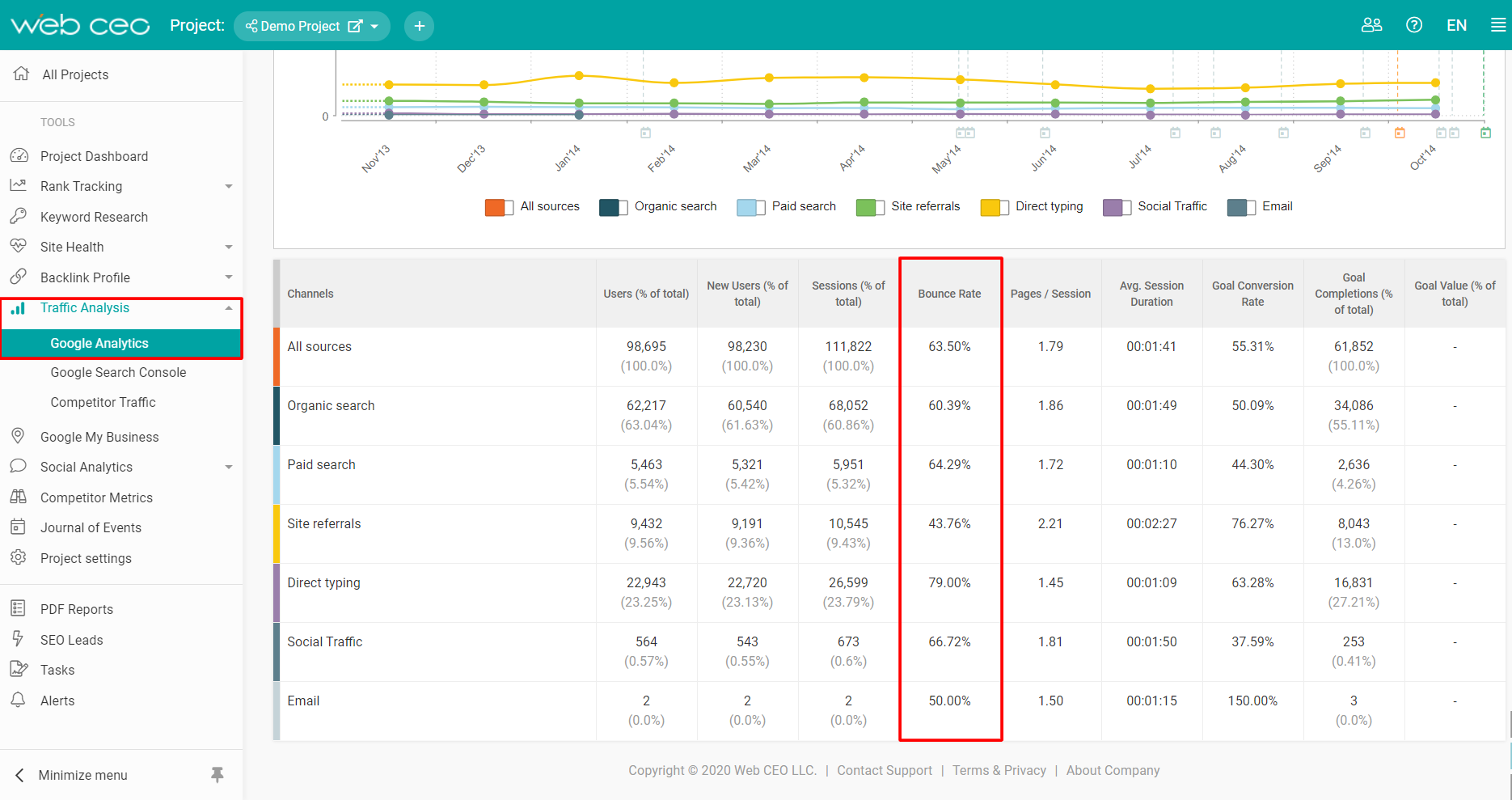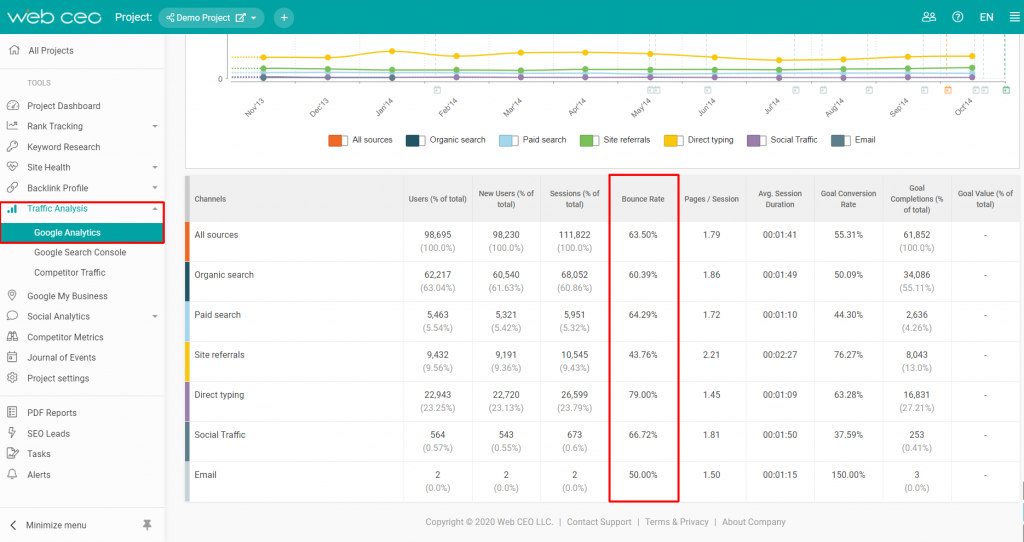 2. Hire a good UX designer to get a big picture and pinpoint UX problems on your site. Build all possible user paths, remove obstacles and make your visitors happy.
8. DON'T UNDERESTIMATE THE IMPORTANCE OF LOCAL SEO
Google now tailors search results to the searcher's location – even if they don't mention their city or district in a search box. Do think about adding NAP to your pages and adding your business to Google My Business.
Remember that starting your way in local business is impossible without catching the nuances of local SEO. It wasn't so important earlier, before the Internet absorbed us. Currently, if you aren't visible on any local directories, you are likely to go through serious problems in building your business.
As soon as your business is "available" on the Internet and you have performed all the needed procedures for local optimization, you will join the ranks of those who appear on the SERPs for queries relevant to your business.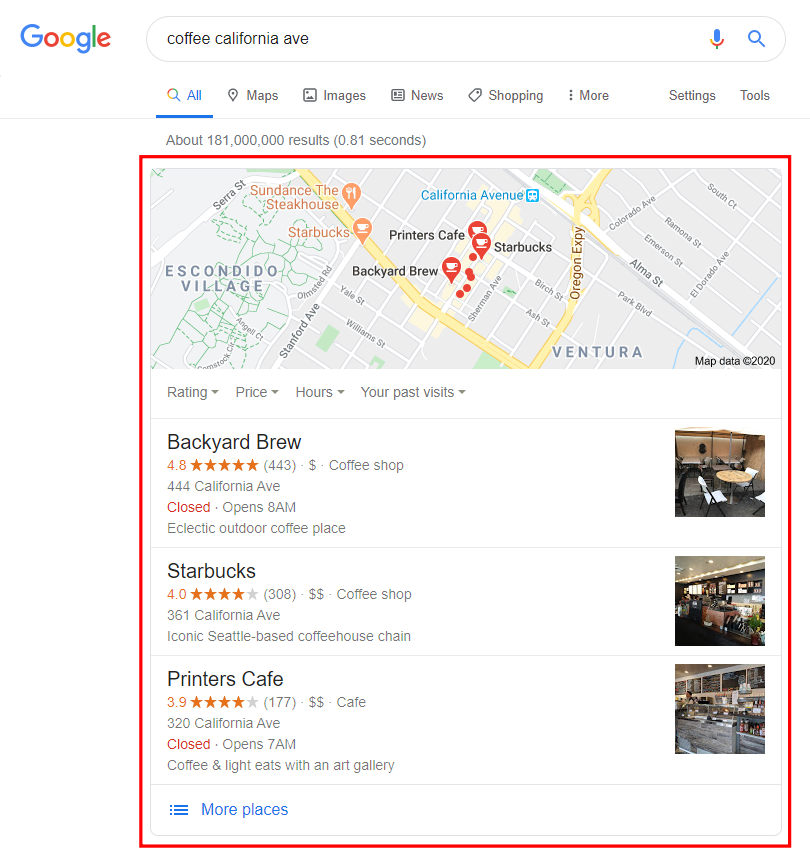 HINT: After you've created a Google My Business account, connect it to WebCEO to get the most out of it: see all your GMB locations and all user reviews in one dashboard, access GMB historical data and research the list of your local competitors (a unique WebCEO report which is NOT available in your Google My Business account).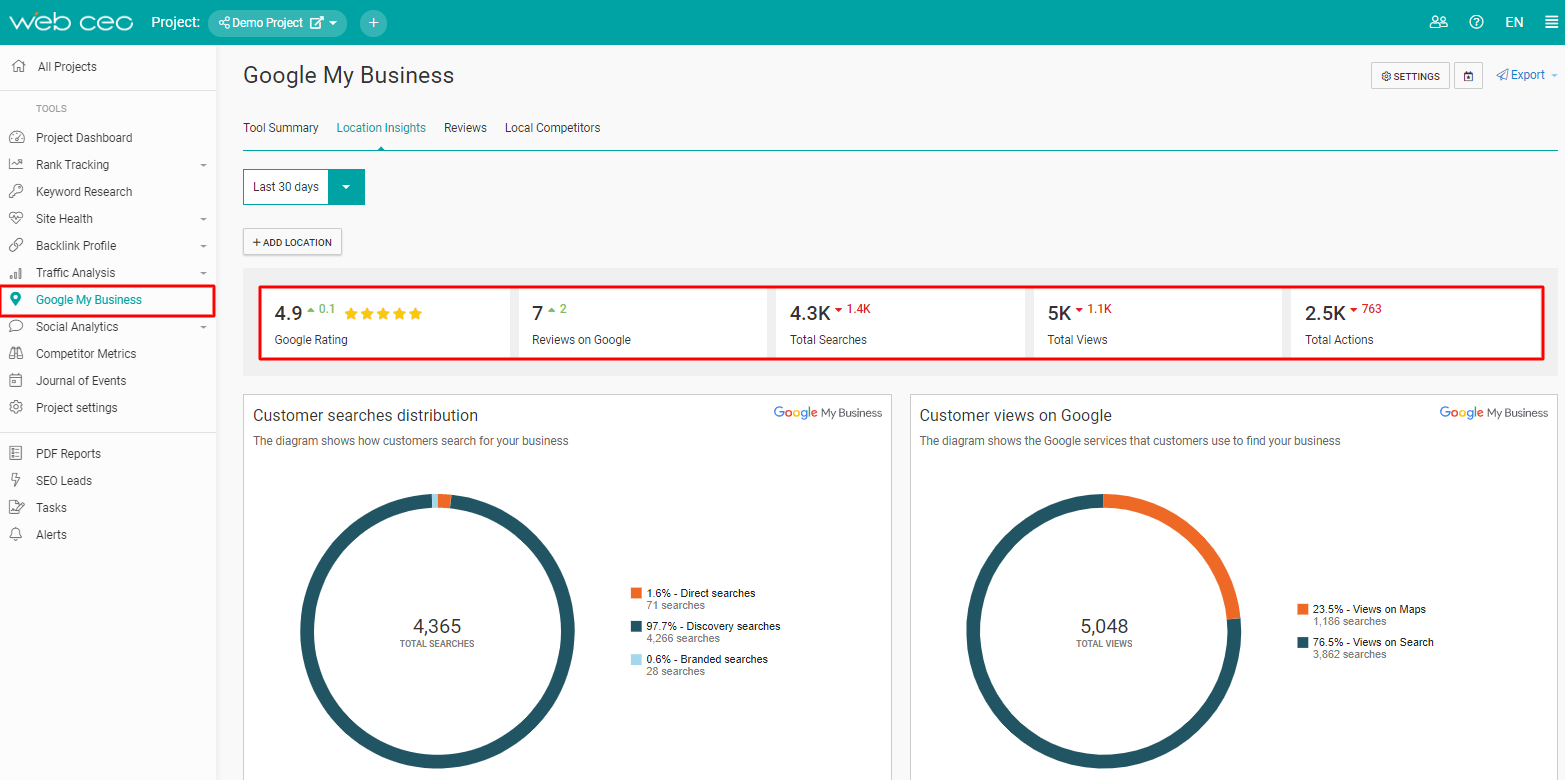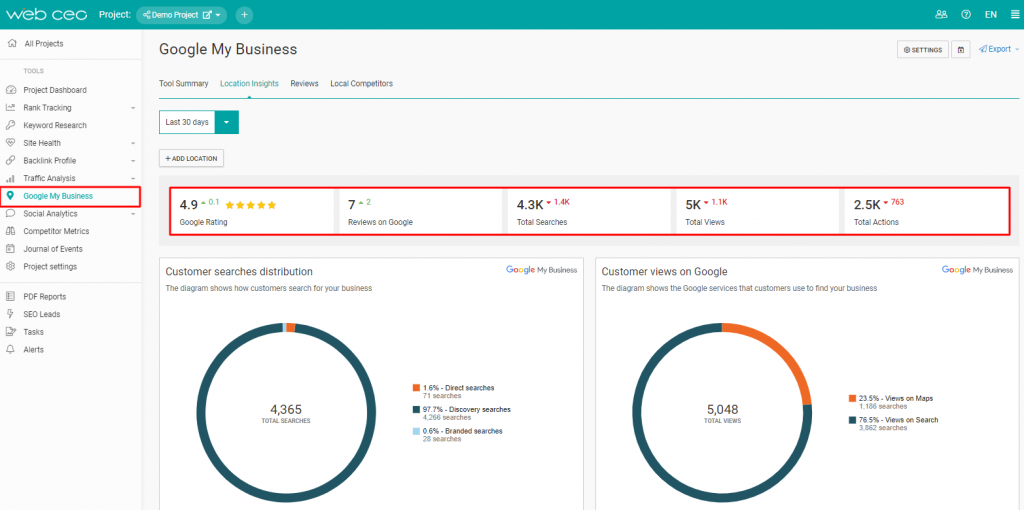 9. SPY ON YOUR COMPETITORS AND OUTPLAY THEM
There is a wise saying: "Fake it till you make it!" This doesn't mean that you should copy-cat your competitors in everything they do. This does mean that you should learn a lot from their strategies (if you can) and apply only those that really work.
Your competitors are one of your chances to build a successful strategy by analyzing their SEO routes. It's a well-known way to create a successful strategy. Analyzing and applying someone else's experience, be it good or bad, you can build an approximate roadmap. By taking backlinks as an example, you can learn who links to your competitors, investigate what kind of content is in favor and create better copy, and take someone's place under the Google sun.
This concerns everything: marketing campaigns that you can improve and use, updates that you can extend and present in a more favoring way, your ideal client base and so on.
Your competitors are one of your tickets to the top, don't miss this chance and start to get on their heels.
HINT: The good news is that you can do reverse-engineering of your competitors' backlink strategies with WebCEO. Go to Backlink Profile > Competitor Backlink Spy to see their working backlink strategies and apply them to your business.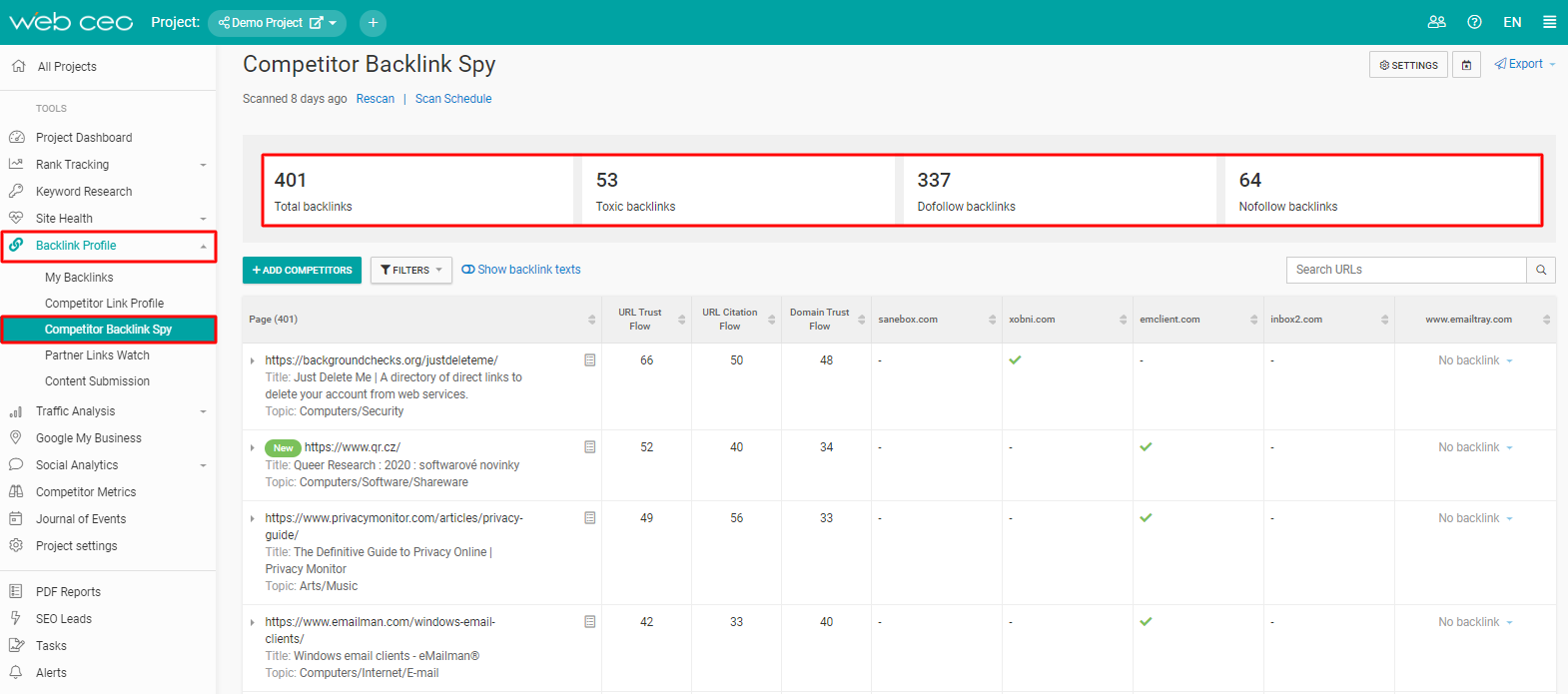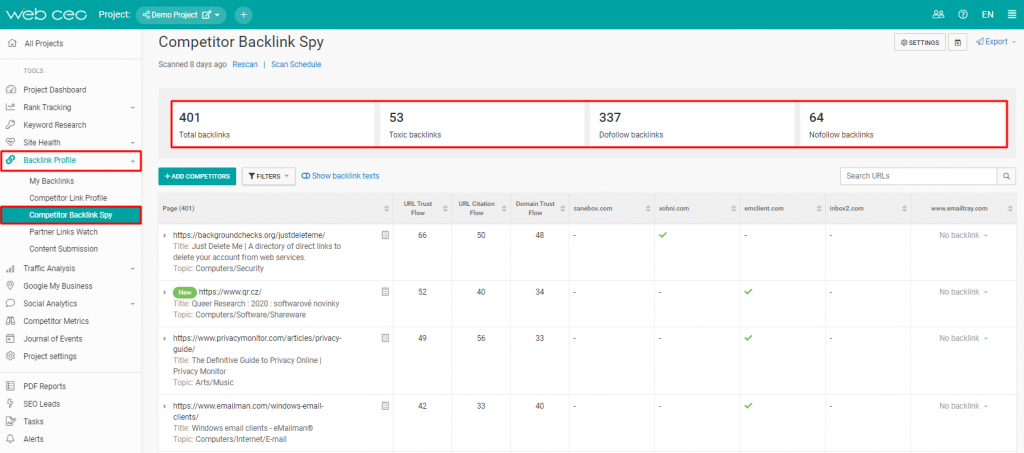 10. TRACK RESULTS, RINSE AND REPEAT
Repetition is the mother of learning. Don't forget to analyze your performance on a regular basis and change your strategy if it isn't working for you. The process of SEO is never-ending. This competition lasts as long as you are a part of it. Always try to make your website the first one on any SERP, apply new strategies, learn innovative ways of improving your site's positions and don't forget about the people you are doing all of this for.
HINT: Set WebCEO's Rank Tracking tool to automatically check your keyword rankings on a monthly, weekly or daily basis (available in paid plans). Go to Rank Tracking > My Site Rankings > Scan Schedule and set up the most comfortable time for receiving fresh results. You can also schedule SEO audits, backlink checks and other SEO tasks.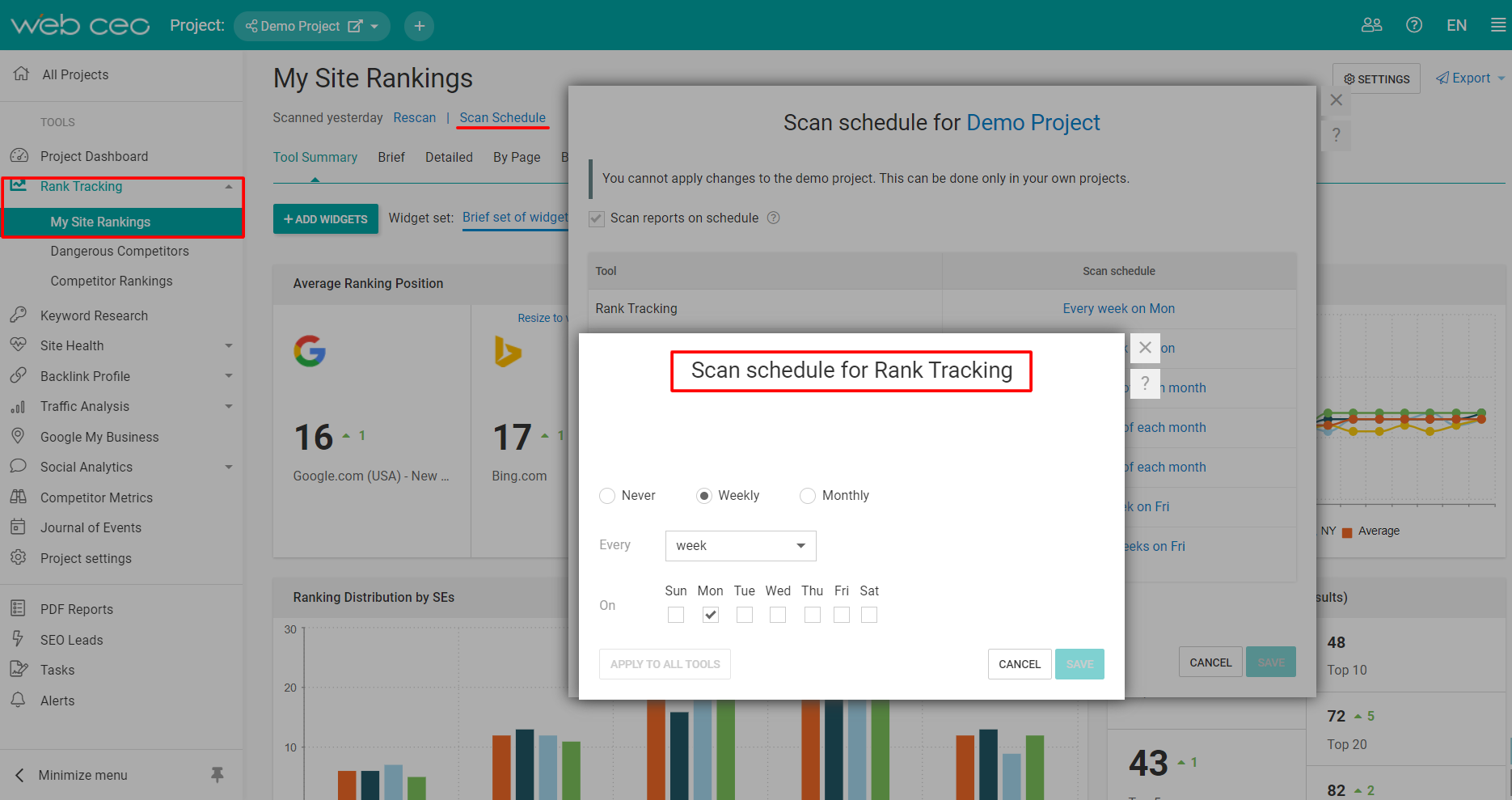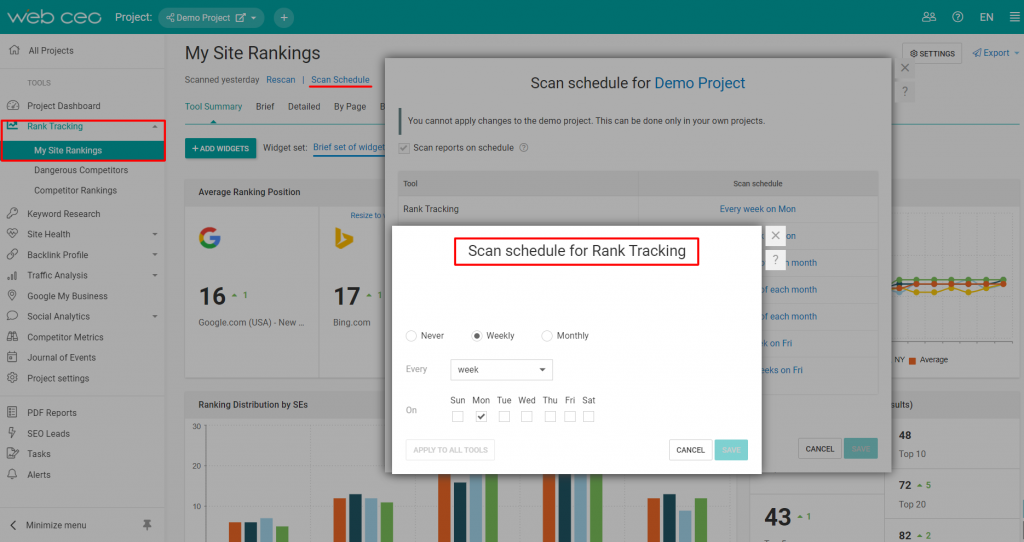 CONCLUSION
You may have already known about all the above points. However, do you know this tendency: "I will not believe and do anything until somebody says it's necessary" and "I'll postpone this for another time"? It may be considered that another time has come and it is now necessary to take care of these details. The small details are not unimportant. Actually, success is based on little things that give rise to big changes.
Work on small things today and become a leader tomorrow with WebCEO.