30 Digital Marketing Tools the Real Mad Men Would Have Wanted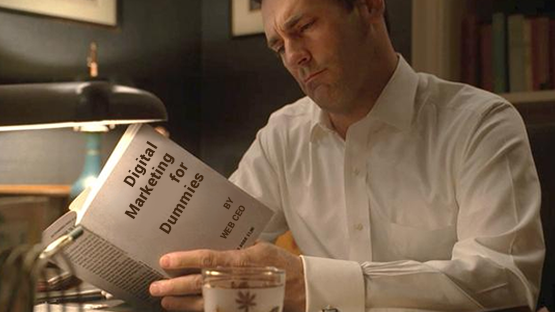 Have you ever had the pleasure of watching Mad Men? I am a huge fan of this TV drama series that describes the structure and code of the marketing world of the 1960s and uncovers the concepts of TV, radio and newspaper advertising campaigns and commercials in a fascinating, sticky way. This drama is full of inimitable genius characters. Here we have Don Draper with his hidden split personality, full of secrets, feminism-driven Peggy Olson with her keen desire to rule in a man's world and many other characters we, marketers, can drive inspiration from. But what I like the most is their feel for marketing, I love the way they put teeth into effective advertising campaigns. Those guys and gals, in real life, wrote a major chapter in the history of modern marketing. I think, every marketer should watch the episode with Don's Kodak slide projector ad pitch called "Carousel". Isn't it brilliant? He pulls on human sentiments but bases it all on his own experience. This helped to add a personal touch to the ad which is essential for today's marketing approach.
What secret tools and special skills did the old marketing mad men have at hand in the Golden Age of the advertising world of the 1960s?
In a nutshell: guts, experience, creativeness and an office kit. These unalloyed salesmen brought a top flight creative mindset and genius to copywriting. Unlike today's Internet marketers, they worked in most cases with the real products. They tested them in special test groups, where ordinary people tried, tasted, wore and slept with the products in order to spot the real pros and cons of the product in question. No special technologies were invented or used for an ad creative. The old marketing school required less analytical work and a lot of guesswork. All you needed to provide was one great idea approved by a positive nod of a client. It was the era of superiority of creativeness over accountability.
Fortunately (or unfortunately for particular reasons) we, millennials live in a totally different cyber world where the TV/Radio/Print mass media channels have been largely replaced by digital media. Blogs, Email, Paid Search, YouTube and Social Media are all new ways of driving audience attention and getting them to buy any type of product or service. With an infinite stream of information and big data, digital media has turned out to be a huge challenge for today's marketers. With access to more robust data, the Mad Marketing Men have evolved into Math Marketing Men. Data integration, automation, evaluation and optimization play decisive roles on the way to successful digital marketing. The only thing that has not really changed much in marketing is the vision of a customer persona profile. Сatering to what your audience needs has been crucial ever since products turned into brands and buyers turned into nearby consumers. But the methods, tools and skills used to understand, analyze, satisfy and convert people into loyal consumers has become more holistic and tangled. If Donald Draper were to work in a modern digital marketing world, he would have to sign up for multiple digital marketing tool accounts in order to find shortcuts for syncing SEO, Social Media and Paid Advertising campaigns in order to optimize digital marketing ROI.
The helping hand of Web CEO is here to direct you to the most useful and actionable digital marketing tools, most of which are recommended by experts and well tried by some of our in-house marketers.
Project Management Tools
Properly organized workflow and wisely assigned duties will benefit your final digital marketing ROI to a great extent. Try some of these cloud-based project management tools which are basically free.
Redmine is an open source (basic version) bug/task/feature tracking tool for effective digital task teamwork. Read more about the nuances of Redmine usage for project management here.
Asana is free for up to 15 team members. This project management tool is full of useful features for collaborative work under one roof. Multiple projects, task management and tracking, third-party tools integration, individual workplaces, calendars and project dashboards are all available within this one single platform.
Podio is available for free for up to 5 team members. It is an all-in-one collaboration tool that makes project progress transparent and flexible with all content and conversations integrated smoothly.
Pro tip: Don Draper would have greatly elevated his productivity level if he used a simple Kanban productivity system. The Kanban method (board) allows you to simplify project progress by splitting and visualizing it all into upcoming, current and complete tasks.
Market Research Tools
No one can tell you more about your target audience than your potential and current users. Nothing works better here than online questionnaires and surveys. Here are some industry-trusted DIY online tools that can provide you with interactive customizable consumer panel surveys, a huge database of easy-to-target respondents and interpretive reports.
SurveyGizmo is one of the most powerful and affordable survey tools available. With the help of the Survey Build tool you can create 40+ survey question types, which can be customized with your brand, and then sent to respondents via email, social media or embedded in your own site. The pricing is lower than other providers'. The basic membership charge is as low as $25/month.
SurveyMonkey is another leading survey platform that provides you with in-depth real-time market research results. A freemium version is available with 10 questions and 100 responses as the limit.
Samplify is a free market research tool that has a clean and user-friendly interface with easy-to-customize targeting and insightful reports about survey results.
Search Engine Optimization Tools
Every digital marketer should have fundamental SEO tools, which are important for keyword research and analysis, backlink checking, link acquisition, rank tracking, social engagement analysis and competitive benchmarks. All of these integral SEO tasks form the bottom line of a cohesive digital marketing strategy. If you miss any of these tasks, you won't be able to see the forest for the trees.
Alexa is a great source of digital marketing data with comprehensive visitor traffic analysis, mobile insights, competitor metrics and basic social engagement insights. Membership pricing varies from $9.99 to $799 per month.
Compete is one of the digital industry's old timers. They provide digital marketing experts with in depth information about your target market and your business rivals. Note that the data provided by Compete is tailored around the U.S market. The most popular solution from Compete is the Compete Pro that allows you to dive deep into your competition research, discover new proven keywords, analyze your website and check your competitors' referral traffic. The account pricing starts at $249/month (higher than other SEO tool platforms).
Ahrefs is the most powerful and trusted link research platform with the largest index of live backlinks refreshed every 30 minutes (powered by its own search bot!). Ahrefs provides a detailed analysis of the link profile of your site compared to your competitors' sites, plus data on new link acquisition and lost link tracking.
Google PageSpeed Insights is an open source web page testing tool powered by Google. The tool runs a number of tests regarding your site page performance in order to eliminate issues related to resource caching, assets upload/download size, JavaScript and CSS codes etc. The pagespeed insights of your pages are supplied with DIY SEO recommendations and advice, the successful implementation of which can significantly shorten your page load time and reduce your bounce rate (the page load time should not exceed 3 sec).
The Google Mobile-Friendly Testing tool is coupled with the PageSpeed Insights web page testing tool. It checks your site to see if it is eligible to be included in Google's mobile search results in accordance with the new Google Mobile-Friendly algorithm factors. This tool is also open source and absolutely free.
KeywordTool.io is a free keyword research tool that provides up to 750+ relevant long-tail keyword suggestions based on the autocompletes of Google, YouTube, Bing and App Store search. Additional data parameters like search volume, CPC and bid competition are available in Keyword Tool Pro accounts (starting at $48/month).
Web CEO is the all-in-one SEO solution. For Don Draper it would be like a universal office toolkit that can be useful for anyone in the office. With this SEO oriented digital marketing platform you can cross out all of the above mentioned tools. If you really know the value of your time and want to run the bridge of your battleship, then Web CEO is what you need. You can conduct industry-level keyword research, technical and content SEO audits with in depth reporting and recommendations on mobile optimization. From there you can do a backlink analysis showing low quality links that you can then detox, after which you can track new link acquisition and spy on the best links your competitors have earned so you can maybe get the same ones from the same places. Add to that deep SERP tracking on 350+ global, local and social search engines (such as YouTube). Then there is the Content Submission Tool, the Site Audit tools, the Internal Links Optimization Tool and other SEO related features. 12 of 14 SEO tools are available for free (no time limits and no credit card required). One of the unique free features that every digital marketing geek would love about Web CEO would be the ability to brand your SEO reports with your company or clients' logo and color scheme. You can even host your own white label SEO tools or read-only SEO reports on your own website (via API or CNAME to a sub-domain)! With automatic report mailing, scheduled scanning of multiple projects and batch operation management, Web CEO can keep a modern web agency humming with progress reports that bring in hard cash. Customizable task lists can also be used as a project management tool and reporting system. There is even a great Social Media Metrics tool which will do most of the functions mentioned in the next section. Take this shortcut and start monetizing your SEO with Web CEO.
Social Media Marketing Tools
Google Social Analytics (Acquisition reports) is the first account you should sign up for in order to be socially plugged in! By tracking your social traffic you will be able to measure the progress of your organic social media campaigns. Here you'll find some critical data on social network referrals, landing page engagement, social conversions etc. This data will help you keep the pulse on the social media performance of your site and identify your most viral content.
Buffer is a content curation and distribution tool that will save you a lot of time. It is a must-have tool for those digital marketers who have multiple accounts and a huge base of followers whom they want to keep updated with the latest information about company updates and industry news.
Hootsuite is a powerful social media management and marketing tool that Don Draper would fall in love with. Use it for the efficient management of your multiple social assets and workflow, collaboration with your marketing fellows and to bring your social media marketing campaigns in line with the time you have to spend on them. At the time of this writing, Hootsuite's retweets did not include a presentation of the Twitter image of original Twitter posts, but that is a minor issue they should clear up quickly. The tool can be a real social media time-saver.
ManageFlitter is one of a number of nifty tools to use when you are following more people on Twitter than are following you back. Twitter only lets you follow 2000 people before it sets a limit of not allowing you to follow more than 20% more people than follow you back. No matter how popular you become, you may have to use a tool like this to unfollow enough people to keep following those new people who are really interested in your business. For Google+, there is a similar service called Cycloscope that lets you know whom you're circling but who are not circling you back.
Facebook Page Insights is for the social analytics of your Facebook page. Analyze the engagement, likes and shares and other metrics of your page posts alongside your competitors' page performance in order to improve your organic facebook reach and outperform the competiton.
Facebook Ads Manager is the essential tool for multiple Facebook ad campaigns management. With the help of Ads Manager you can optimize your ads for better conversion and customize your targeted audience. You can also use pixel tracking to reach the people who are most likely to take action on your ads (retargeting).
Content Marketing Tools
Content is the way to drive peoples' attention to the product you offer. Statistics show that 90% of all online companies market with content. Don't become one of the 10% who pull up the rear.
Google Alerts is the best free alert email notifier about the latest news around the web. All you need to do is specify targeted keywords and the frequency of the individual alerts you want to receive in your email. With Google Alerts you can be the first to elaborate around an issue regarding a hot topic, thus increasing the odds of a blog or social media post going viral which can then help you win first page rankings for your keywords.
BuzzSumo is one of the best content generation tools that can help you get new ideas for your future posts, examine what kind of content works best and find new influencers in your niche. Be sure to follow these influencers from your active and now-popular social media accounts.
Quora is certainly the most authoritative Q&A platform showing crowed-sourced expert answers for any topic. You can use Quora as both a content alert forum, a content distribution channel (write answers to questions that relate to your business) as well as a lead generation tool (if someone is asking about where they can find a product that can do what yours does, you may want to pounce). Create a profile, follow all the topics and questions you are interested in + get alerts to your email box about the latest answers. You can use Quora as a content distribution tool by sharing links to your website and blog posts within your relevant and helpful answers.
MailChimp is an email marketing tool that automatically sends regular newsletters and reminders to your customers about industry news, company updates as well as your latest blog posts, special offers etc. With this leading email marketing provider you can easily personalize email templates and send them to the right people at the right time. MailChimp is also great for mobile email marketing. Remember that keeping in touch with current and prospective users is the easiest and most savvy way to retain active users and stir up inactive ones.
PPC/Advertising Tools
Google AdWords is a paid advertising platform powered by Google. It is a traditional online advertising scheme that makes your ads visible to searchers when they enter relevant queries on Google search. The process of an ad campaign setup is simple. You launch an ad that is attached to your branded or other targeted keywords, set a budget for your campaign and pay Google for every click on your ad.
AdRoll is a cross-platform and cross-device retargeting provider that will help you run multiple retargeting campaigns on the Web, Social Media, Desktop and Mobile. It is a more effective type of advertising than Google AdWords since it reaches the people who have already visited your site and follows them with your retargeting ads onto other websites and platforms.
Taboola is the new word in the search engine marketing world. This tool is the perfect combination of Native Advertising and Content Marketing tools. Instead of spending your budget on less effective paid banners, you're better off spending your time and money on the monetization of your branded content. Taboola will help you bring targeted highly engaged traffic to your dedicated landing pages, blog posts, infographics or other viral content via third party publisher sites where your content will be featured as sponsored, relevant material. Simillar approaches are offered by Zemanta and Outbrain.
Conversion Rate Optimization Tools
Conversion is at the top of the digital marketing funnel. If you master the subtleties of conversion rate optimization, you will benefit from well converted traffic and high rankings. Your landing pages are the first content assets on which to run A/B optimization tests in order to make changes that can boost your website conversion rate. Here are some tools that will help you.
Clicktale is designed specifically for the analysis of user behavior on your website. Features provided by the platform include Conversion Analytics, Experience Center and Session Replays. The pricing is based on the solution you buy.
Crazy Egg is a great and easy-to-use heat map tracking tool. You will love it because it gives you a view of what areas of your landing pages are more and less clickable. This can help to maximize your optimization of valuable spots with call-to-actions in order to generate more conversions.
Tip: Try to keep your list of essential digital marketing tools to a minimum in order to avoid a tool overload. If you spend more time trying to master a tool than on getting results from it, then dump it like Don Draper would have done.