Best SEO Plugins for Your Blog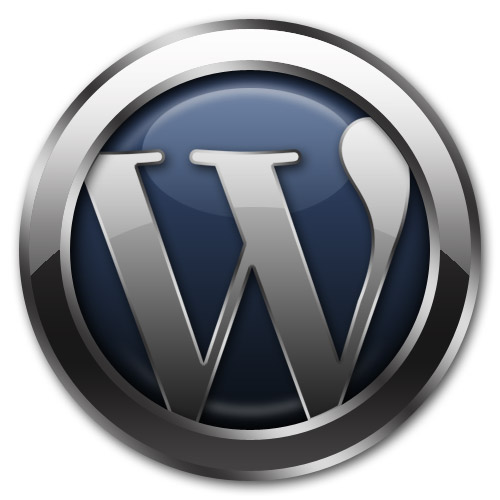 WordPress is a great platform and takes care of about 80% of the mechanics of SEO, according to Matt Cutts. While this is true, it does not mean that you can't improve things further and this is where SEO plugins come into play. Here are some plugins that may be useful for your WordPress SEO and blog promotion.
All in One SEO Pack (AIO) is one of the oldest and most popular SEO plugins for WordPress blogs. We recommend it for all new installations of WordPress. It lets you customize your title, image tags description, keywords and Meta tags. Download it here.
You can either use the automatic plugin installer or your FTP program to upload it to your wp-content/plugins directory the top-level folder. Don't just upload all the php files and put them in /wp-content/plugins/. Then activate the plugin through the 'Plugins' menu in WordPress, visit your SEO options (Options – All in One SEO) for WordPress 2.3.x, (Settings – All in One SEO) for WordPress 2.5.x-2.8.x. Configure any options as desired, and then enable the plugin, see the screenshot below.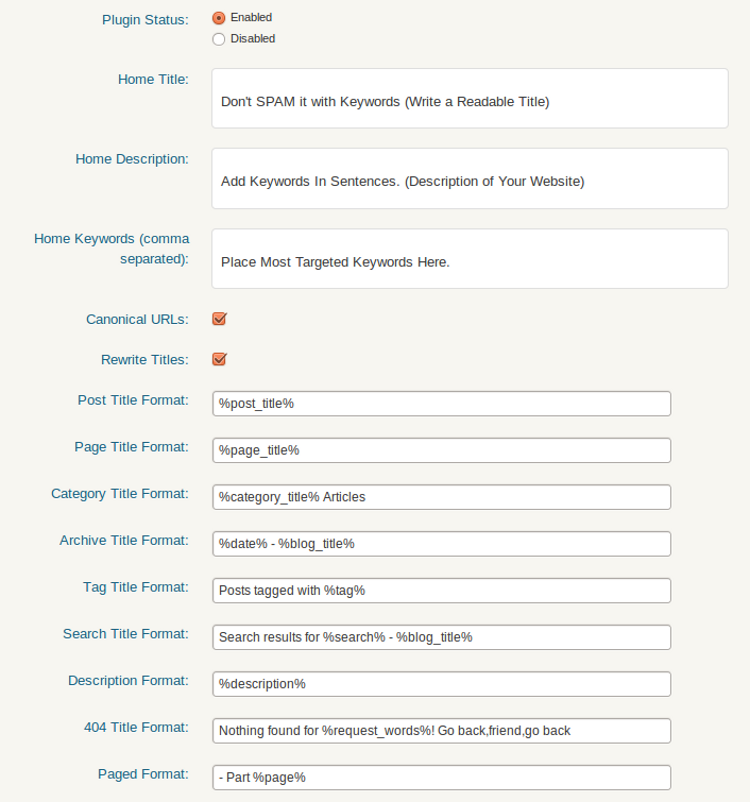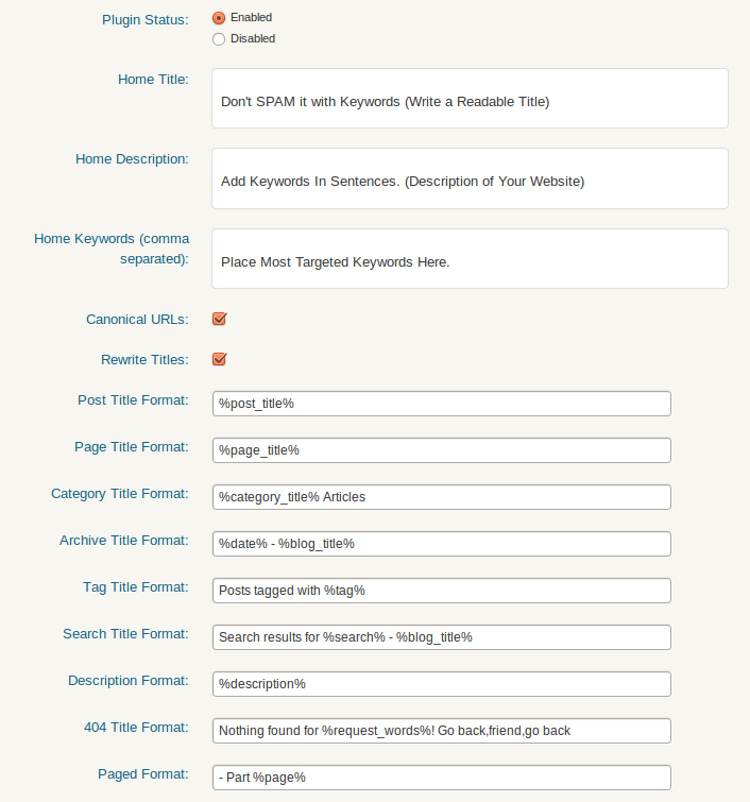 To see this plug-in in action, open up Add New post, scroll all the way to the bottom and you'll see a new box titled All-In-One SEO Pack. This part of the plug-in is the main attraction for most users: within this box, you can specify the title, description, and keywords of any post or page.
SEO Friendly Images is a WordPress SEO plugin which automatically updates all images with proper ALT and TITLE attributes for SEO purposes. If your images do not have ALT and TITLE already set, SEO Friendly Images will add them according the options you set.
The ALT and TITLE tags are extremely important for images to appear in search engines' image search. With this plug-in, not only can you add the ALT and TITLE tags, but you can also change the names of them both across the board.
Download the SEO Friendly Images plugin here. Then upload the whole plugin folder to your /wp-content/plugins/ folder. Go to the Plugins page and activate the plugin. Use the Options page to modify ALT and TITLE options.
WP SEO by Yoast is a must have SEO plugin for advanced blog optimization. Its features include xml sitemap, webmaster tools verification, RSS Optimization, Social integration, breadcrumbs, page analysis, rich snippets.
Download WP SEO by Yoast here. Upload the wordress-seo folder to the /wp-content/plugins/ directory. Activate the WordPress SEO plugin through the 'Plugins' menu in WordPress. Configure the plugin by going to the SEO menu that appears in your admin menu.
The wealth of options available to you when you first install WP SEO by Yoast can be rather overwhelming, but the plugin is in fact very simple to use. It shouldn't take longer than 15 minutes or so to get everything set up to your liking.
When setting up the plugin, everything you need to access can be found under the "SEO" item in your WordPress sidebar.
The Titles and Metas section of the plugin consists of six tabs: General, Home, Post Types, Taxonomies, Other, Help. First, go to the General tab and noindex subpages of archives, because you do not want to bother search engines with duplicate content.
Moving onto the "Home" tab, you have the opportunity to set the META title and description for your home page. You will have the opportunity to use your website's name as defined in your WordPress settings by using the %%sitename%% tag. You can find a list of all available tags under the "Help" tab. If you are on Google+, you will want to add your profile URL here, so that your author image shows up in search engine results.
The Post Types, Taxonomies and Other tabs all allow you to set META titles and descriptions across pages, posts and various taxonomies on your site (see the screenshot below).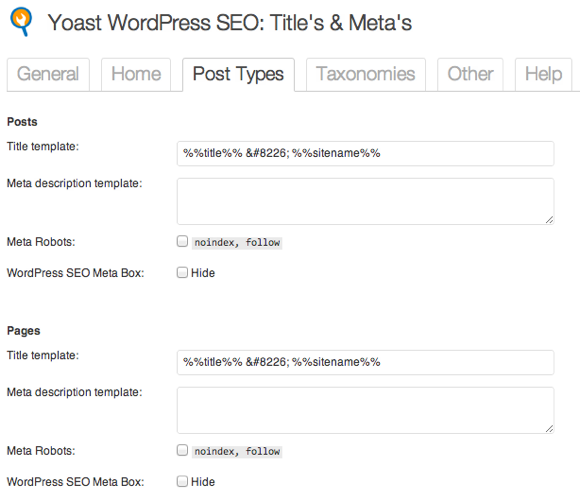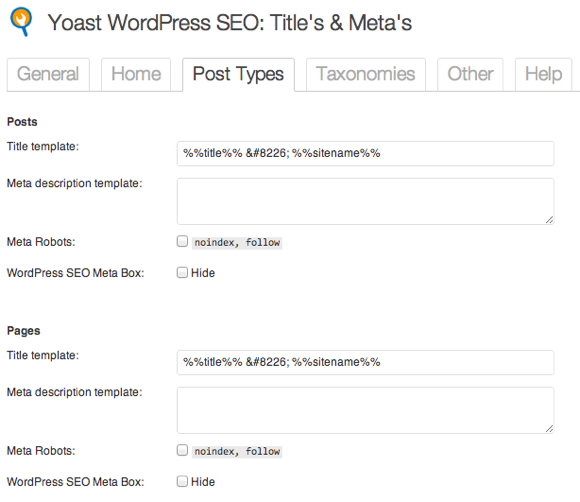 Social sections lets you add OpenGraph meta data to your site. This data will allow Facebook to pull the relevant pieces of information (title, image, description) from any given page on your site that is linked to from within the social network.
With WP SEO by Yoast, creating a sitemap that automatically updates is possible with just the click of a button, you will just need to go to the XML Sitemaps section. In the Internal Links section you can set up "breadcrumbs" for your site, which are essentially a navigational element. Finally, SEO by Yoast offers you the handy ability to edit two files that are often important for SEO — your robots.txt and .htaccess files. Here you can set permanent SEO-friendly redirects, disallow some folders, etc.