7 Post-Lockdown Marketing Trends with Tips & Tools to Succeed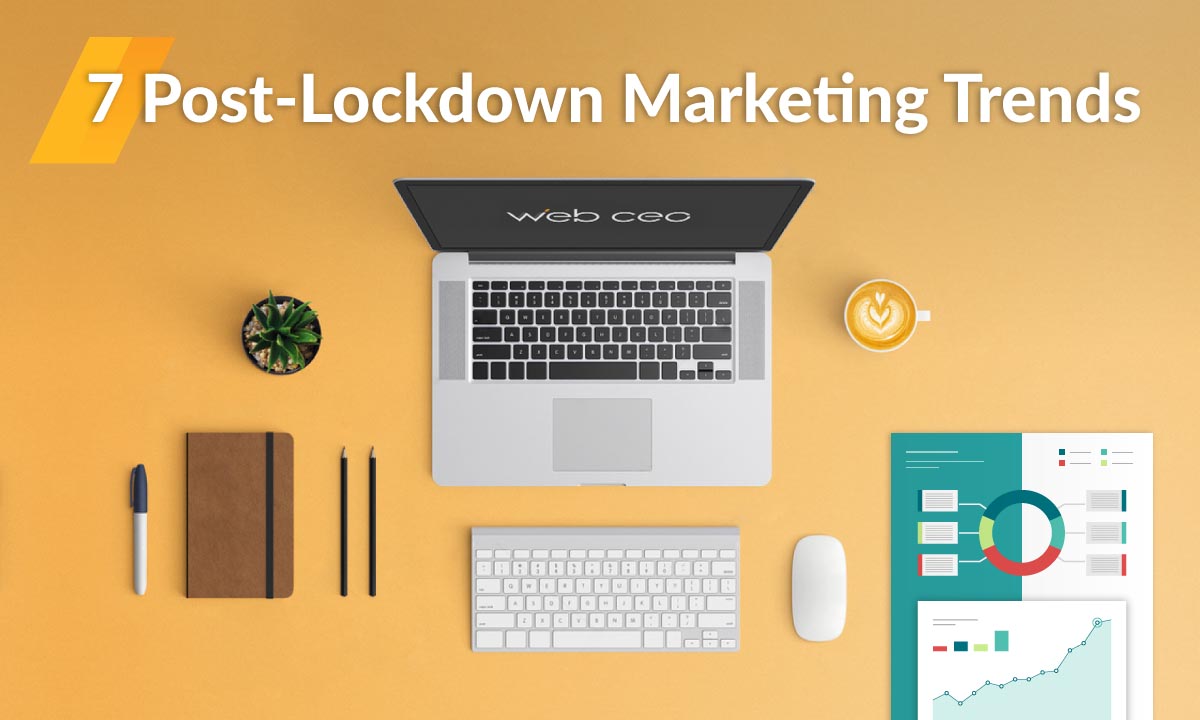 Global lockdown affected most businesses worldwide. Business owners are still calculating losses and taking recovery measures. On the other side, the crisis has taught us to act fast and fine-tune our business and marketing strategies according to the rapidly changing environment.
The WebCEO Team has compiled a list of the most prominent marketing TRENDS caused by the pandemic, with tips on how to turn these trends to your advantage, as well as tools to fulfill your tasks fast and professionally.

Impatient to get access to the pro-level digital marketing tools and breathe in the new life to your business? Leave the reading for later and grab 21 awesome marketing tools to manage your SEO, SMM, PPC and competitor research efficiently.
Trend #1: Voice search habits to evolve
People started conducting more voice searches and using virtual assistants – because it's safer not to touch any device and use voice commands instead. They've acquired this habit during the pandemic, and the habit will most probably remain in place for years.
Ways to benefit:
You now want to rank #1 for any long-tail conversational keywords related to your niche (especially question-based queries). Product reviews and comparisons, how-to's, instructions and guides, etc. – it's good to cover them all on your site.
Tips and tools:
Expand your keyword list with more colloquial phrases. Fine-tune your pages for those phrases and add more value content.
Use WebCEO's Keyword Tool to get suggestions from the Google Keyword Planner, Google's autocomplete and People Also Ask, as well as queries from Search Console – keywords which already bring you traffic.
Trend #2: Local bars and beauty salons to compete more fiercely
As lockdown alleviates and people are getting back to normal life, local cafes and bars, barbershops and beauty salons now reopen. Offer is growing fast, however demand is growing much slower (because of the social distancing habit as well as family budgets being cut down).
Ways to benefit:
Benefit from local SEO and marketing to win more local clients. Add all local branches to your Google My Business account. Add NAP data to your site pages. Get raked for local phrases on Google and enjoy local visitor traffic, instead of relying on word-of-mouth only.
Tips & Tools:
Use WebCEO's Rank Checker to track search engine rankings across all locations where your potential visitors hang out, Monitor your rankings for plenty of keywords across all targeted locations, up to the city and zip code. Fine-tune your SEO strategy to fill in the gaps.
Trend #3: Retail brands to offer more online experiences
During the lockdown, most retailers moved completely online or at least added extra online experiences. Takeout and delivery options, virtual room tours, video product reviews, online appointments, online consulting – these and many other experiences helped them to stay afloat.These experiences have been adopted by consumers pretty fast and are still in great demand.
Ways to benefit:
If you haven't yet offered such experiences – be sure to do so to compete with the other businesses in your niche and offer a similar range of options to your customers.
Tips and tools:
Apart from the previously used attributes (Wi-Fi, outdoor seating, dine-in, takeout, delivery services, etc.), Google has recently introduced 4 more experiences in Google My Business: online care, online appointment, online estimates and online classes. Be sure to feature yours if they apply!
Just go to your GMB profile and add these experiences and all necessary details. This will help you grab searchers' attention in Google search by highlighting these services right in your GMB search snippet.
Trend #4: Consumers to take simpler short-term decisions
During the lockdown, people have learned that unexpected things might happen in their lives and this might ruin long-term plans. People now seek value for money, simpler solutions and short-term subscriptions.
Ways to benefit:
In terms of SEO, some competitors might jeopardise your traffic for most phrases that you target. Detect all these competitors and learn what they have to offer. Do a better offer – something that will help you stand out from the crowd and win new clients.
Tips and tools:
To detect your most dangerous SEO competitors, use WebCEO's marketing platform. It will analyze Google search results for plenty of targeted keywords, and provide you with a list of sites that occupy top positions for multiple phrases that you target.
Trend #5: Business vendors to seek local suppliers
Because of the lockdown, many supply chains have been disrupted. Businesses are now searching for local suppliers with a possibly lower price and better offers.
Ways to benefit:
Step in with your offer and earn long-term partnerships – before your competitors have done so. Launch a PPC campaign to attract new leads fast.
Tips and tools:
Add your Google Ads performance metrics to your marketing mix – to see all results in an all-in-one marketing dashboard. With WebCEO, you can enjoy seamless integration of the proprietary Rank Checker with Google services such as Google Analytics, Keyword Planner, Google Search Console, Google Ads and the other SEO and marketing tools which are a part of a big marketing picture.
Trend #6: Travel demands to change dramatically
Travel industry to go local
Consumer interest in traveling is slowly increasing: people get back to travel websites and apps like TripAdvisor and Lonely Planet. However the type of demand is changing: people opt for local travels rather than overseas tours.
Ways to benefit:
If you run a travel agency or do marketing for travel businesses – take advantage of this trend. Add local tourism options to your "tour menu" and complement the promoted website and its social profiles with this information.
Tips and tools:
Watch keywords trends, spy on your competitors and do better SEO – to gain top positions for the search terms related to local tourism. You can use WebCEO's Keyword Suggestion tool to pick keywords with great potential. Except for keyword suggestions from Google Keyword Planner, Google's autocomplete, People Also Ask and Search Console – WebCEO will also help you spy on your competitors and get fresh keyword ideas easily.
Trend #7: Workforce and relationship ecosystems to change
To prevent the continued spread of viruses and reduce its impact on employees, businesses introduced social distancing rules and office safety measures such as sanitation, hands-free technologies, temperature screening and more. Many companies also started finding ways to enforce virtual working and making it a norm rather than a temporary workaround.
Ways to benefit:
If you run a digital marketing agency or work in an in-house SEO team, arm yourself with a digital marketing platform that integrates pro-level marketing tools with strong task management and collaboration tools, allows to set roles and restrictions, schedule tool scanning and report emailing, etc.
Tips and tools:
Consider using the WebCEO digital marketing platform which features 21 tools for keyword research, rank tracking, backlink analysis, SEO audits, social media analytics, web traffic analysis and competitor research. It also integrates with all must-have tools for site owners like Google Search Console and Google Disavow tool, Google Ads, Google Analytics and Google My Business.