12 SEO Tips for Online Marketers to Prepare for Valentine's Day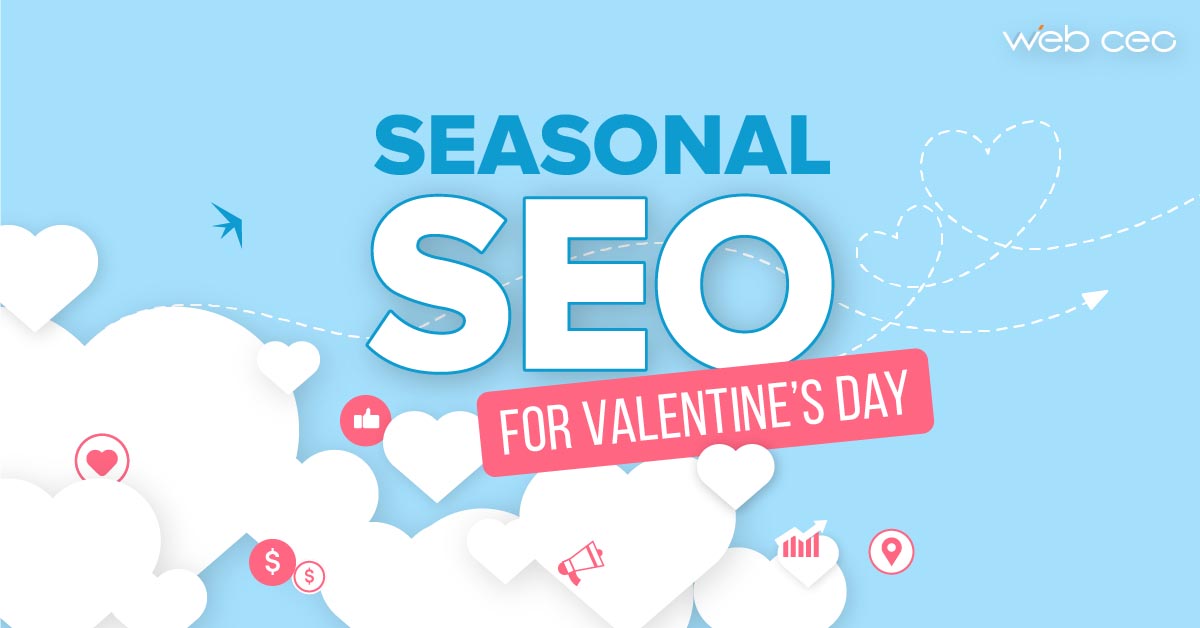 It's that time of the year again. Saint Valentine's Day is coming! With all sorts of drama breaking out, it has its own special meaning for everyone. And digital marketers, with their not-so-romantic but still noble motives, are no exception.
In this modern age, most shopping is done online, and Valentine's Day tends to drive people to buy something nice for someone else. It wouldn't be half as fun otherwise. But online shopping overtaking offline means that digital marketers can't afford to relax. When a wave of customers is coming after products like yours, it's time to bring out the tools, turn your brain on and give your website's SEO some tuning before it's too late!
So, if you run an online store, what steps can you take to catch this wave and earn more traffic?
Choose Keywords for the Occasion
If you are an experienced SEO (and a WebCEO user as well), you already know how to run keyword research, what tools you need and what kind of keywords will give you an edge. If you forgot, let me refresh your memory: long-tail keywords. Long, specific phrases describing the things that the users want to find online. The closer your keywords match those phrases, the better. Be sure to add copious local description if you're local only Don't feel shy to use WebCEO's Keyword Research tool if you need help.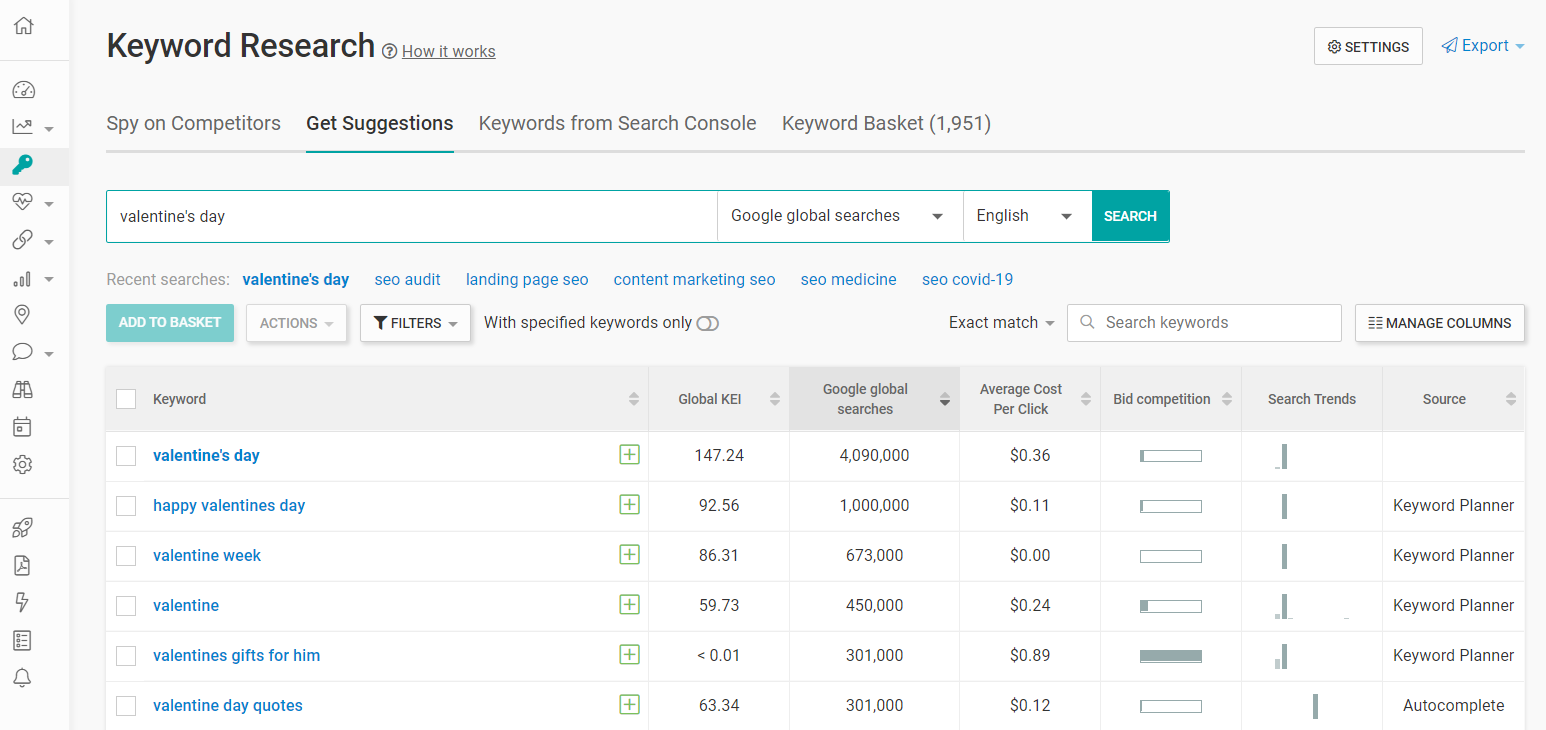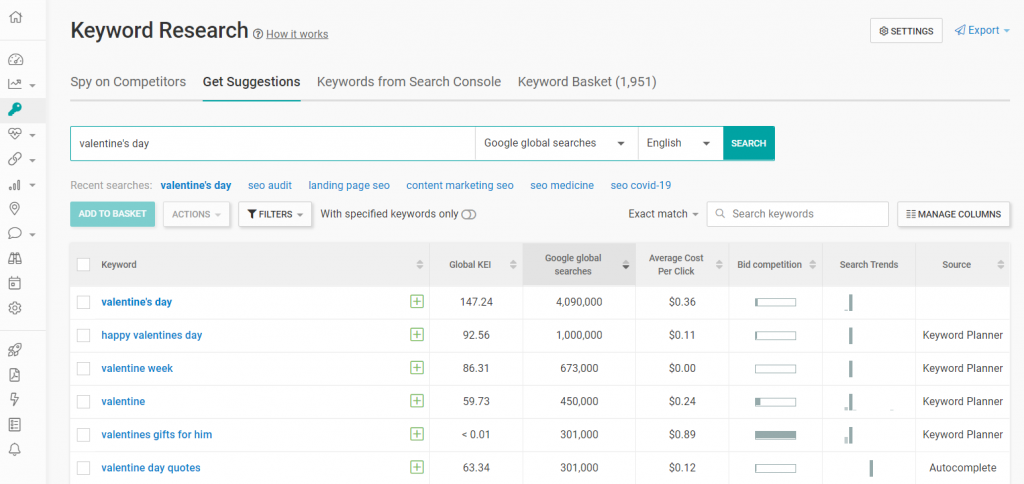 A marketing lifehack: not only couples shop on the Valentine's Day. Single people do it too, so you might consider expanding your range of keywords to include them, as well. In other words, research your target audience before researching your keywords.
Correct Timing Is Key
Question: when do the majority of people stop looking for Valentine's Day presents? Is "the day after" your answer? Good, you are someone who knows their stuff. The same is true for every other holiday: as soon as it becomes yesterday's news, the stampede of buyers reduces dramatically, and you'll be lucky if there are any who visit your site. You've let the opportunity slip by!
That's why smart marketers launch their campaign early, when the interest in the trend only starts to build up. Take a look at this graph made in Google Trends. You can see how the number of searches made last year drops like a rock on February 15th, and the tide you want to ride is clearly visible.


Mobile Optimization Is More Important Than Ever
It is an established fact that the majority of Internet users nowadays prefer mobile devices over alternatives like PCs. From that, we can infer that online purchases are primarily made from mobile devices, too. If we add to our line of logic Google's policy to index websites' mobile versions before their desktop counterparts, it will bring us to a simple conclusion: if you want to attract a large audience to your site, optimization for mobile devices is an absolute must. Elementary!
Responsive design is a must, and it doesn't matter what niche you perform in. People prefer mobile, so don't disappoint them on such a beautiful day. Check out the WebCEO Landing Page SEO Tool to see if you are ready to welcome mobile customers.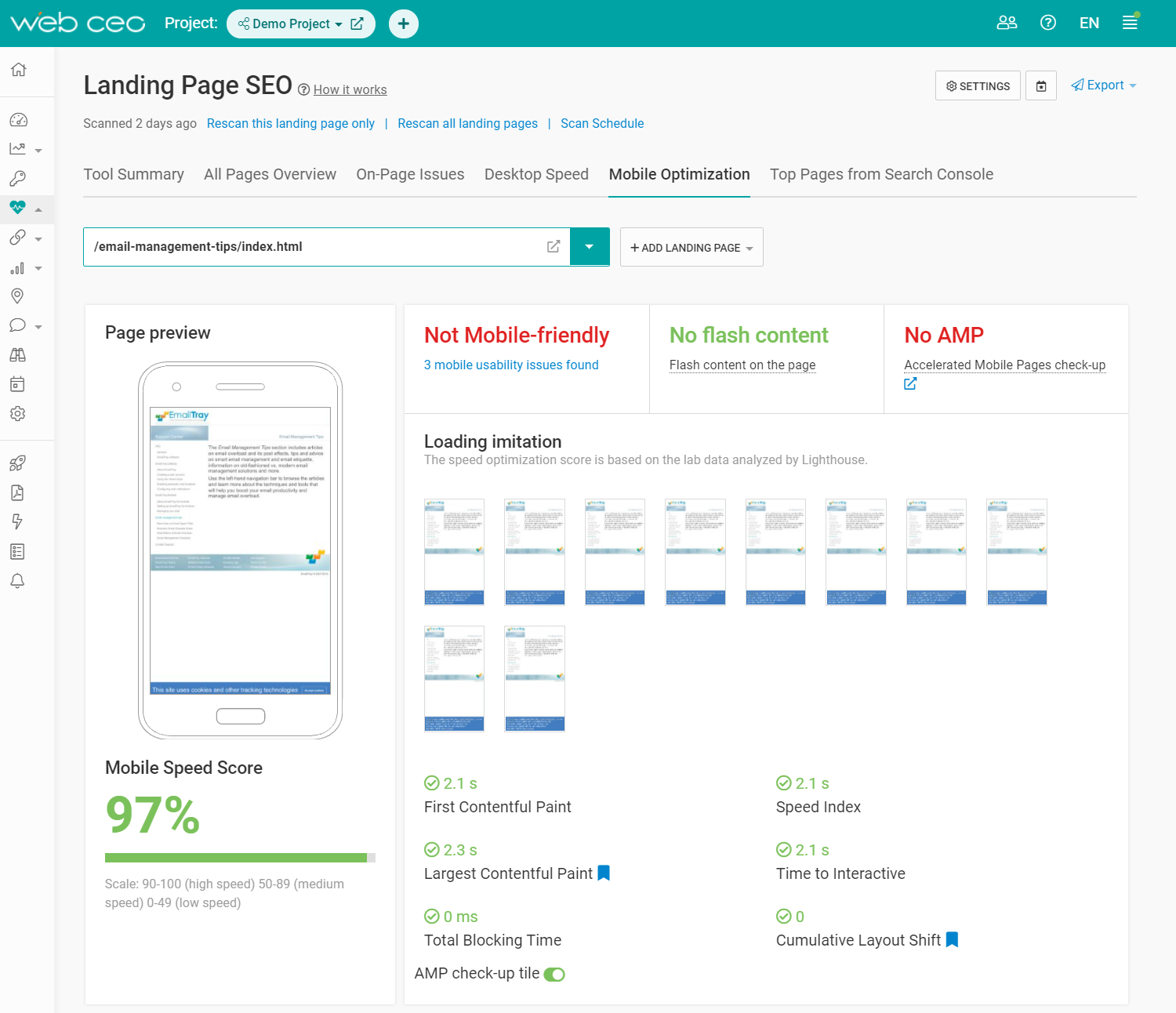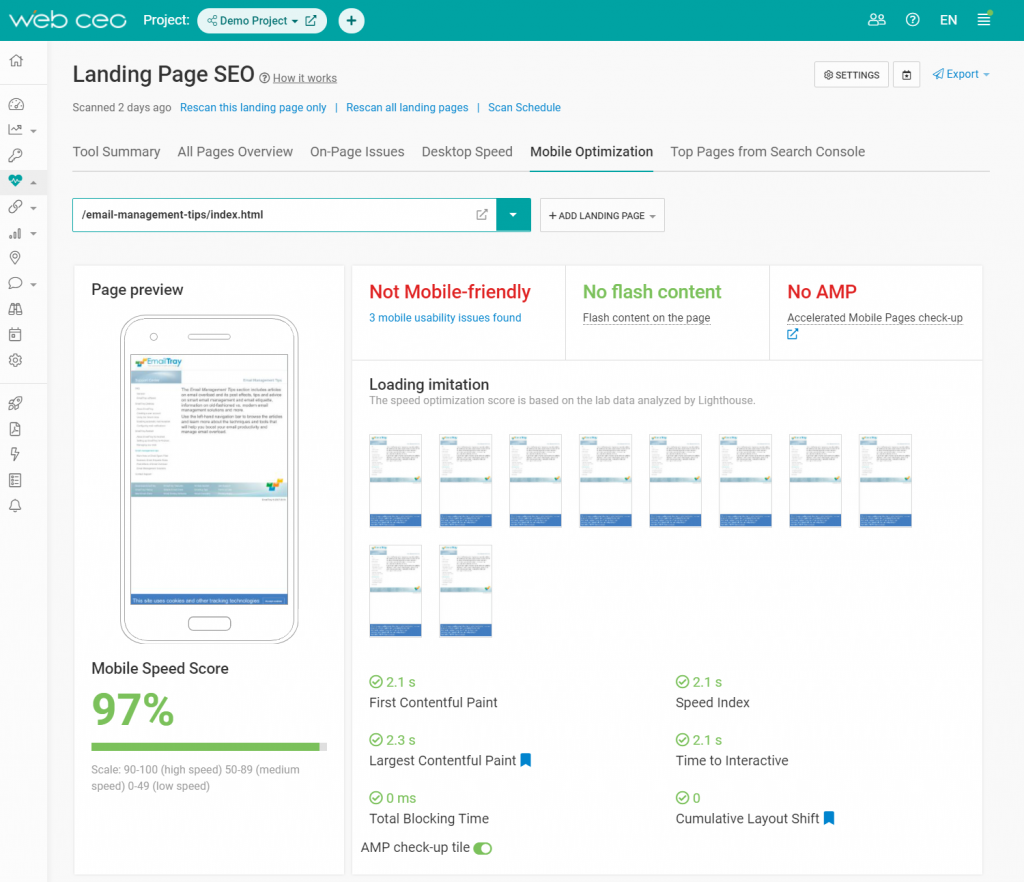 Use Images and Videos To Show Your Products
This one's a no-brainer. How will anyone buy from you if they don't even know what your products look like? But more importantly, here's an interesting fact about your potential customers: most of them aren't even sure at first what they want to buy. That's why gift guides with lots of options in them are so popular, especially when they are in a video format (YouTube is the number one go-to site for online shoppers). So blow the dust off your camera and start shooting.
Don't forget about optimization:
put keywords into filenames and alt tags
compress images and videos to make them load faster
pick the right dimensions for images
All to provide users with a better experience on your website.
Create Appropriately-Themed Landing Pages
Self-explanatory: visitors will enjoy a good-looking page with hearts, cupids or whatever is best suited for the event. This step works best when such pages have already been on your site for years. A URL's age and its inbound links are advantages not to be discarded, after all. Directing traffic to a freshly made page before time runs out is a tough challenge, so it's better to re-use your old assets whenever possible. Note that renaming a URL counts as creating a new one! If you absolutely have to update it (for example, change /valentines-2019/ to /valentines-2020/), that's what the 301 redirects are for.
Once the big day is over and the page has fulfilled its purpose, it would be a good idea to strip it off its content, replace it with something related to the holiday (in this case, St. Valentine-themed) so that it wouldn't be blank, and let the little hard worker rest until the next year. Unless you don't mind orders for Valentine's gifts in the middle of summer.
Social Media Is Your Friend
As always, blogs and social networks are allies to anyone who has a business to promote. Especially on holidays and other important days. This is where you stir your grey matter up with chocolate and other unhealthy glucose-containing food and start producing content that will leave the audience in awe! On the precipice of Saint Valentine's Day, the world's most ancient and powerful muse known as Love is twice as generous to those who ask her for inspiration.
Prepare your social media marketing campaign and check out how many people it has brought to your website with the help of the WebCEO Social Engagement Tool.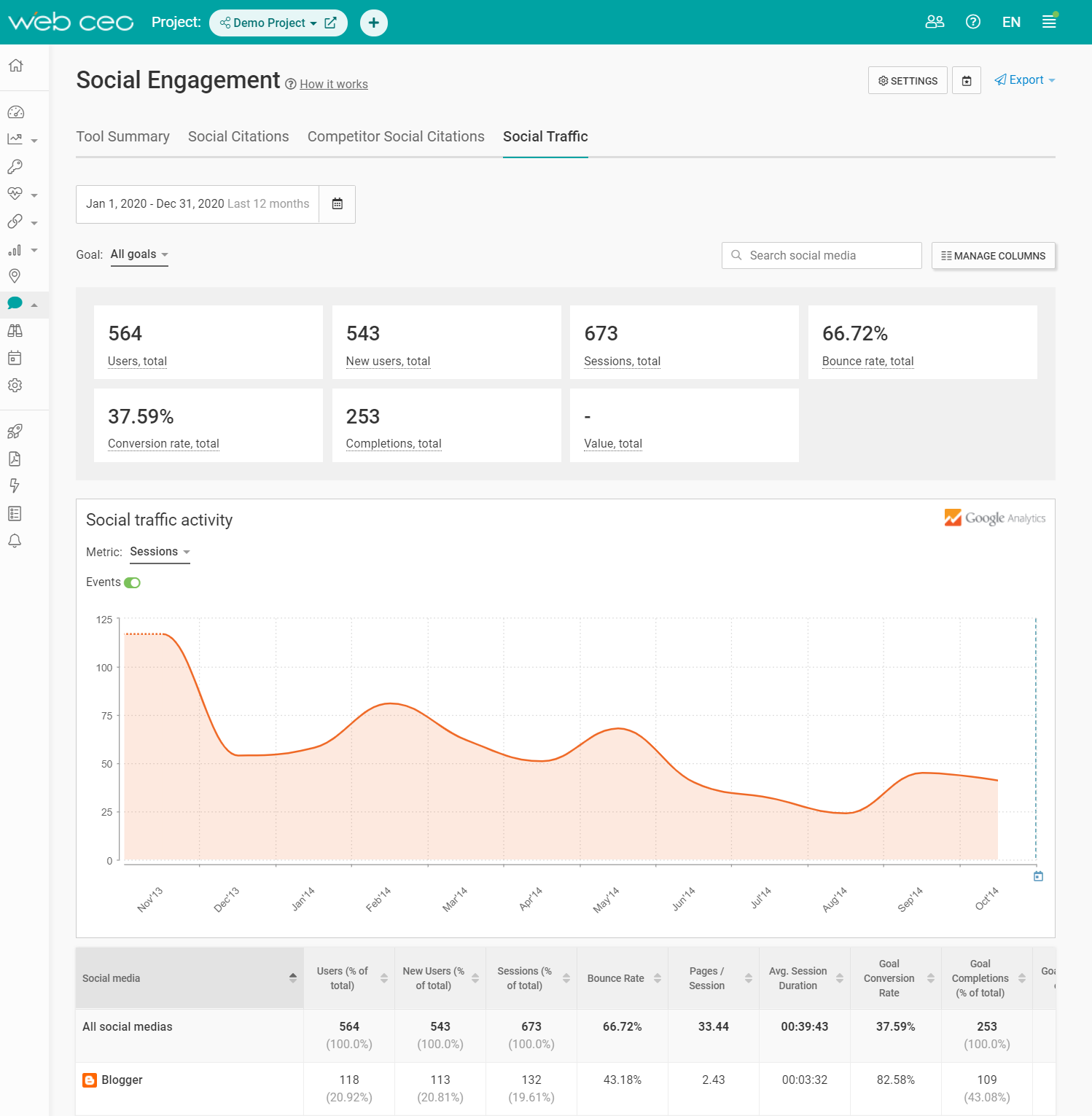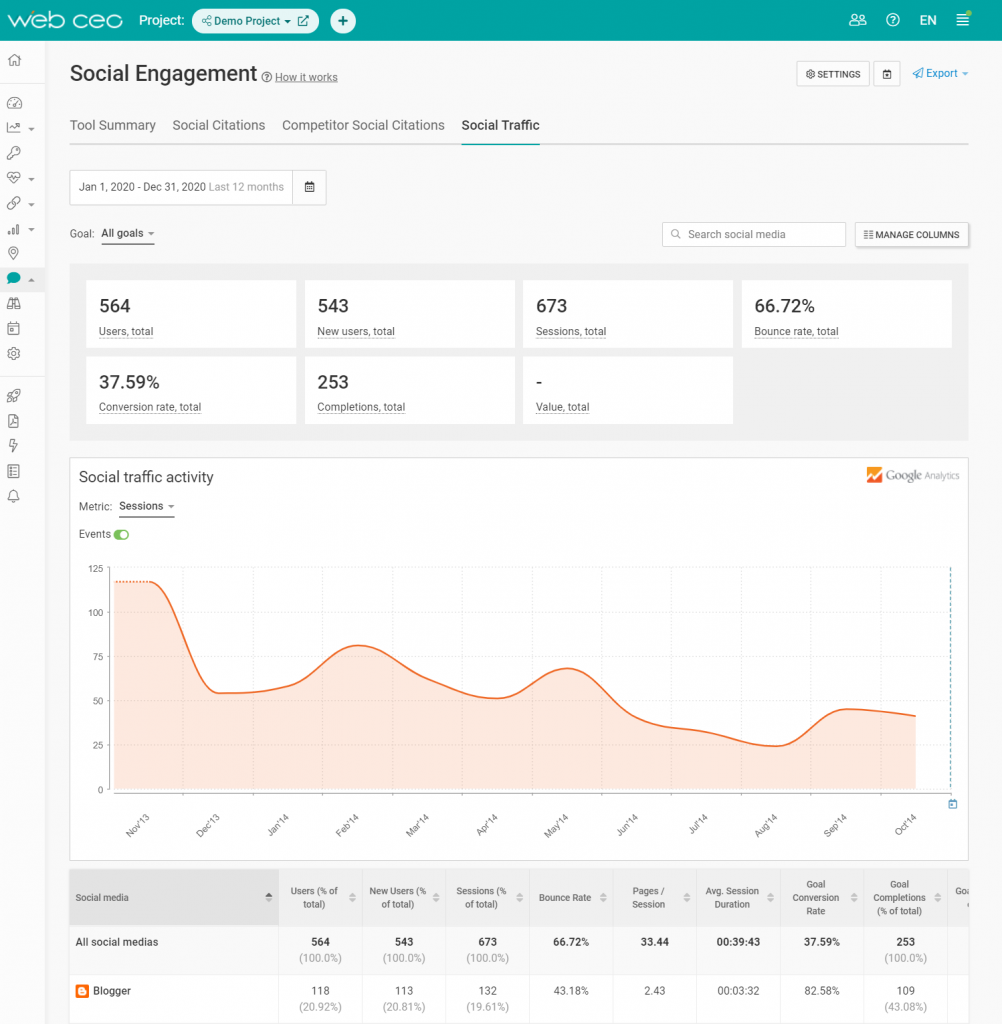 Say "Yes" to Collaborations
I'm sorry to say this but you might not sell that particular product a person would like to buy for a present. You may sell flowers but a customer would also like to buy some chocolate which you don't have. And – wow! – chocolate is available in a store you're partnered with! Five points from you and ten points to your competitor for a perfect Valentine's combo.
Collaborations with other businesses can always bring you extra free advertising and income. You can advertise a business or businesses you want to create a combo with on your website, and your partners will do the same. Add special discounts and you score! People like to buy things advantageously.
You will not only be seen by a wider audience but also get found for more queries. This will also bring more brand mentions and backlinks.
Your prime mission is to find a first match for your product that people tend to want alongside your product. Begin working with someone who sells that product. This works for seasonal offers as well, of course.
As soon as you have started a collaboration, don't forget to track your results!
Use the WebCEO Web Buzz Monitoring Tool to see who mentioned your business on social media, news and blogs and analyze what people think of your business.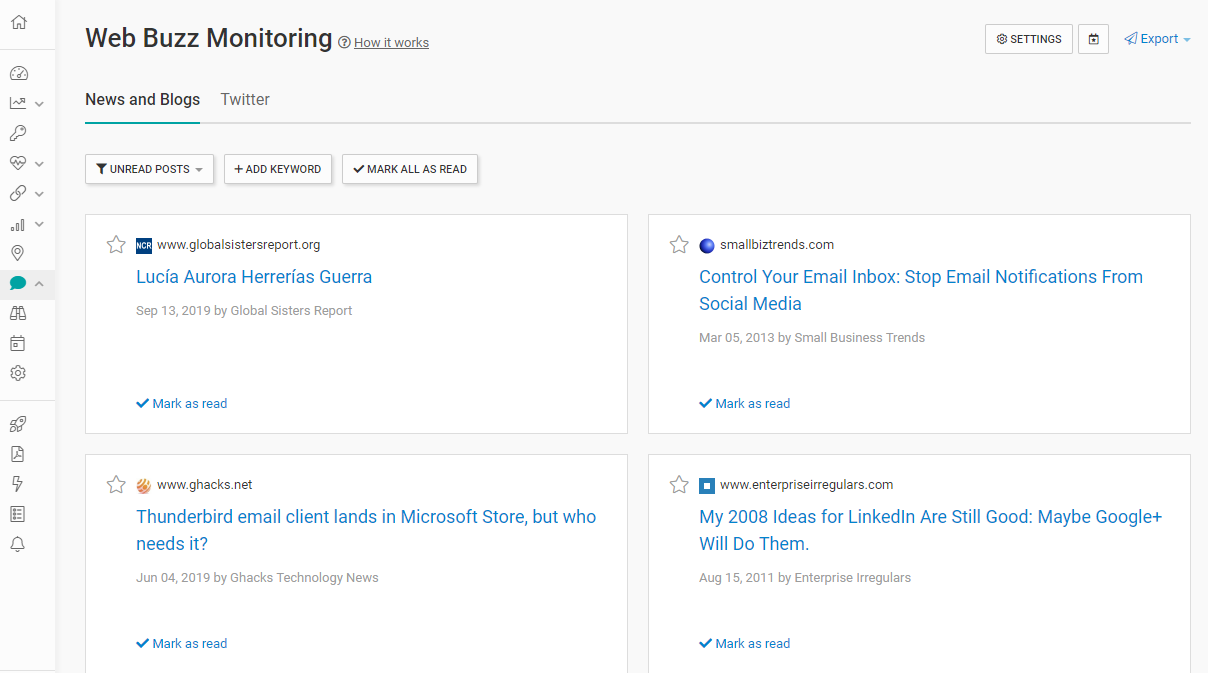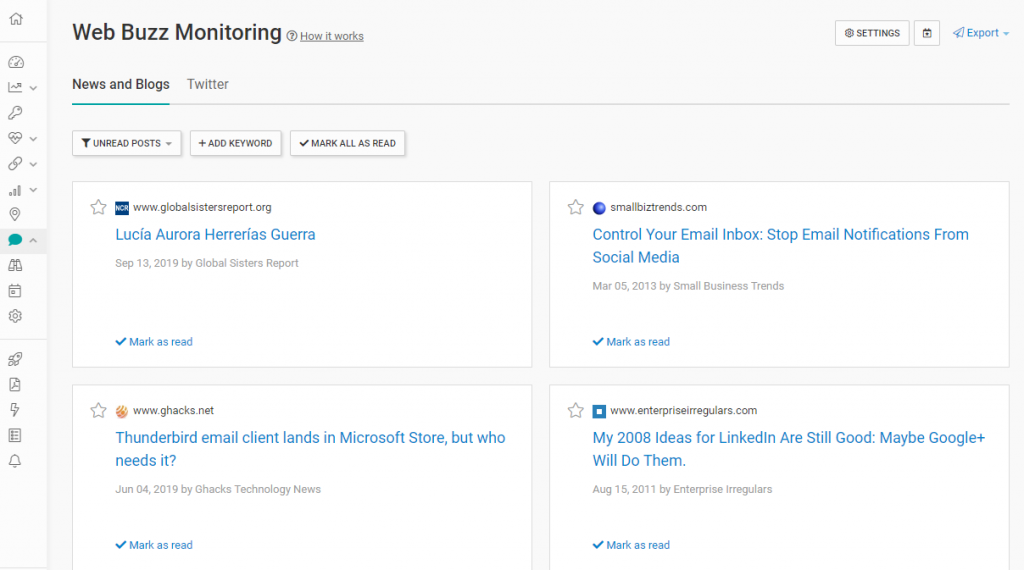 The WebCEO Backlink Profile Tools will show all of your gained backlinks and will analyze them for toxicity!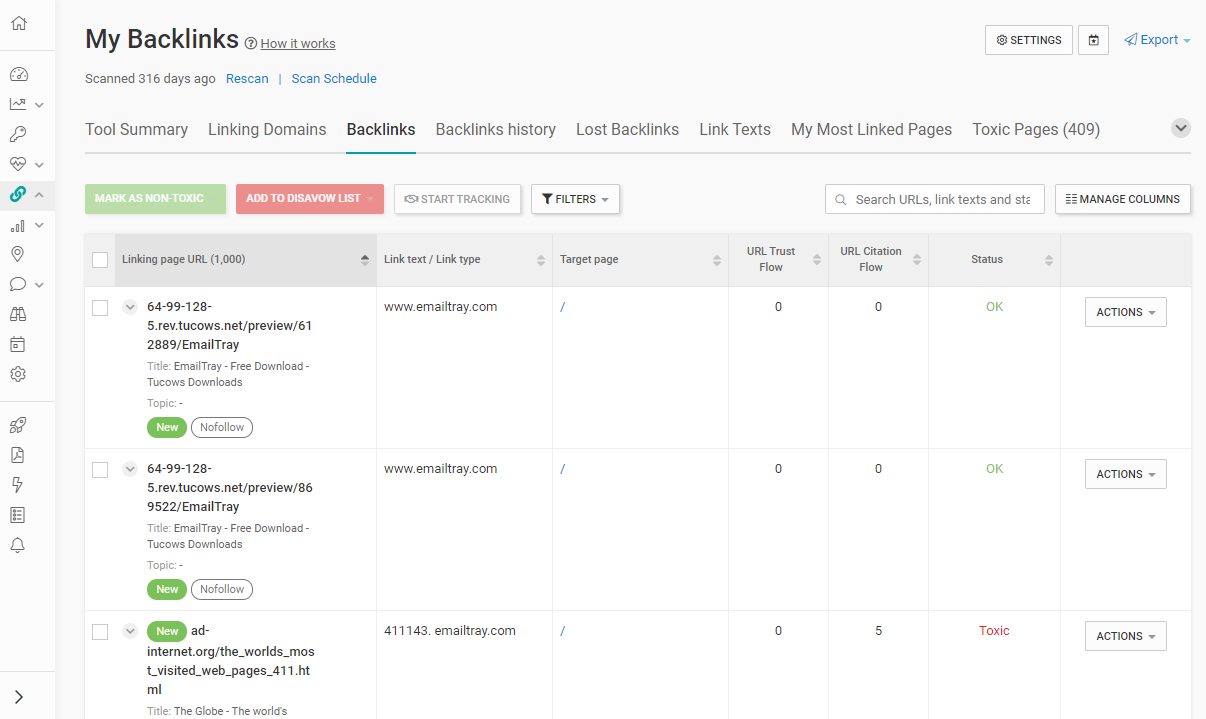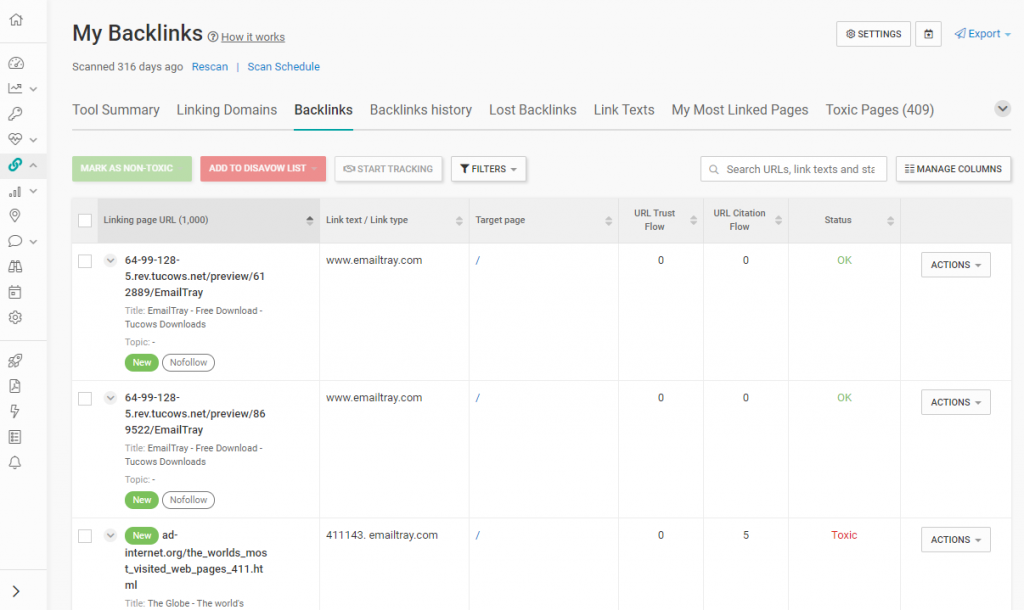 Can Your Server Handle Incoming Traffic?
As this magical day has plenty in store for everyone who's willing to participate in its celebration, there's one surprise you might receive from Saint Valentine… a server crash.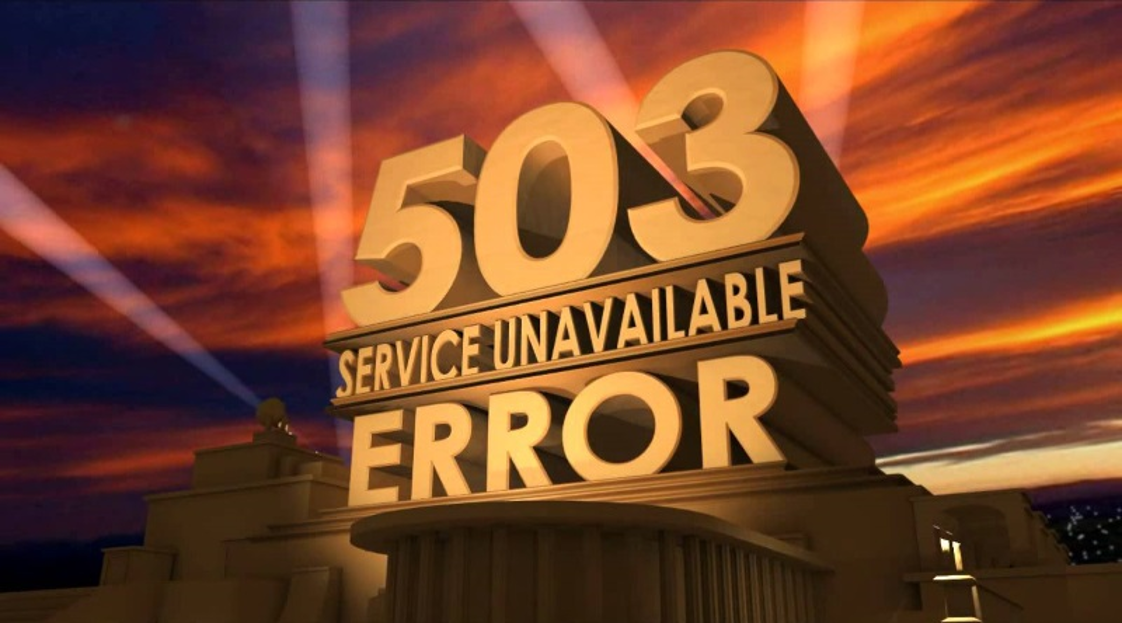 Yeah. This can happen when the crowd you've attracted is just too big. Unfortunately, "too much traffic" is also a thing. Imagine yourself as the winner, outmatching the competitors, swimming in orders and living your dream, only to lose it all to a server error. The embarrassment!
That's why it won't hurt to ensure your server is disaster-ready. Naturally, the sooner you look into everything that could cause problems and take measures, the better your site's chances to pull through the holiday.
Upgrade Your Customer Experience
"Dude, where did you buy such a cool present for Bethany?"
"Oh yeah, I know one stunning place…"
All companies dream of having great word of mouth. You in turn should stop dreaming and start creating that stunning reality.
During the holidays all of us are nervous because there are a lot of things to complete. St. Valentine's Day is the toughest one as we literally have to put our hearts, souls and feelings into presents for our dearest one (or more). If you place even more problems on your customers' shoulders, they may shrug you off in a hurry.
Create an easy and fast method of searching your site so users can find and buy a desired gift, and your karma will be clean. Don't create way too many forms to fill for ordering some chocolate. You will damage the user experience. A person may escape your grasp just before they would have otherwise purchased and buy from another website. The faster a client figures out how to order, and the easier he or she gets a confirmation of purchasing, the happier a customer is, the more adorable you are for him or her.

Who knows, they may even fall in love with you and your website!
A great bonus about happy customers is that they aren't shy to express their appreciation out loud. People's words are the best advertisement and you can't lose this chance. Satisfy your customers with the best experience of purchasing a present on your website and you'll get effective and free advertising.
Start Loving Internal Links
Internal links are more helpful than we think and will bring you more than you may expect.
Let's set up a picture: you have a nice landing page with cool things to order for the occasion, people like it and order your goods. It's the perfect time to give them a clue about what they can have in addition to the main dish! If you promote chocolate – give a link to the gourmet peanut butter that tastes perfect with that very dessert and is available on your website. By helping customers pick a perfect Valentine's Day combination, you will increase traffic to more than just one product page of your website.
Moreover, using this method, you may let people know that you can help them on any occasion, not only on Valentine's Day. Place links – where it is appropriate of course – to other special offers that touch different holidays like Christmas, New Year's, etc. Satisfied customers will definitely bookmark them. However, that's only possible if you have permanent pages for such events.
Use the WebCEO Internal Links Tool to analyze and optimize your internal links.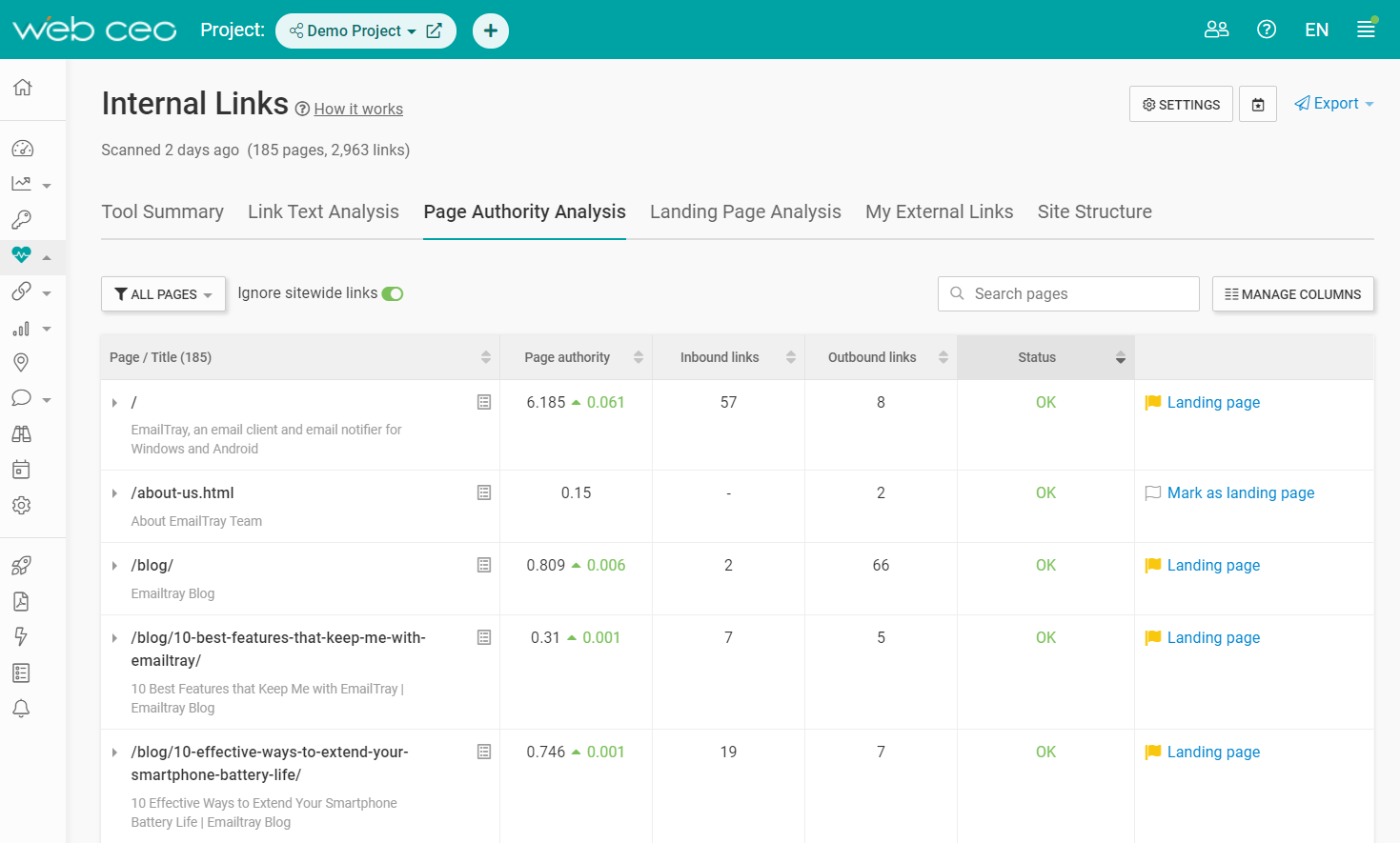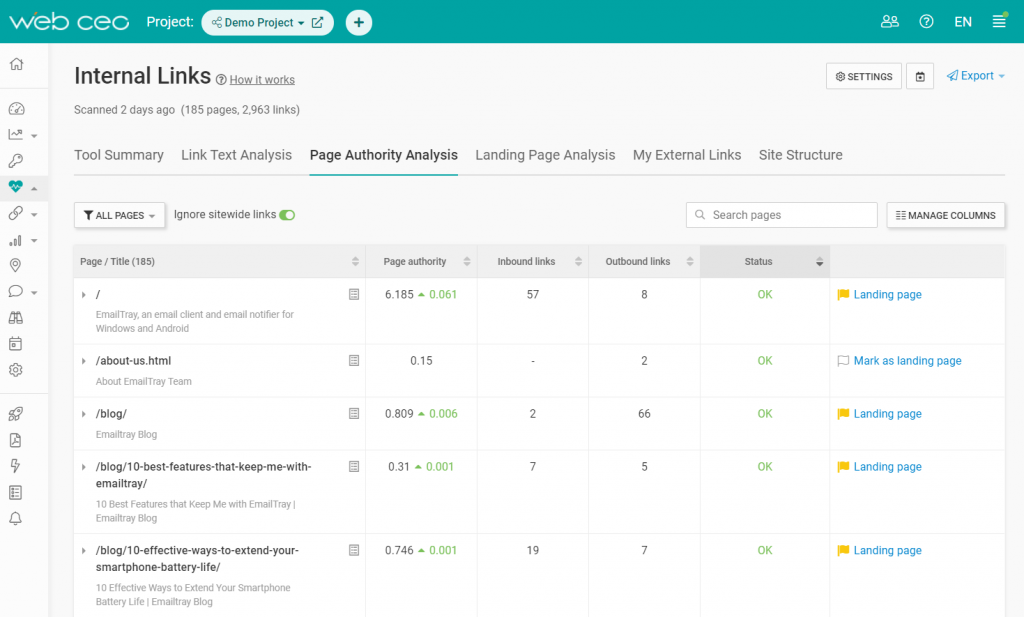 There's No Such Thing as "Shopping is Done"
Make people buy more even if they don't need it.
Predict their desires and plans for this day and provide them with the stuff that is not only about presents. Help your customers organize a real and unforgettable celebration by giving them an opportunity to buy something like a "Special Evening Pack" that will contain everything needed for a private celebration: wine, candles, flowers, and so on.
How this can help your SEO? Good question. I'm sure your marketing department will be able to create something special without our help. However, our tip is about your keyword field extension.
You can use questions like "What to do on Valentine's Day?" – 9900 monthly searches – as a title for a special offer and sell anything. Just present this "anything" decently so that people would be ready to use their credit cards.
Local Businesses Should Take This Chance
Delivery of holiday meals, candles, decorations or presents will help you get more clients during a period of celebration. Cafes can upgrade or change their menu and launch a special delivery service dedicated to St Valentine's Day. Enrich your keyword sets with "delivery" focused keywords.
Our special advice: make your delivery work ahead of the events. People tend to plan their "banquets" beforehand. Thus, it will be great if you present a new menu and start taking orders for delivery two or three weeks before the very day. You will escape mess and turmoil. Workers will know what to do and how to act in advance.
During the pre-celebration period you can spread information about your special delivery on social media, your website and via newsletters where your announcement will be easily noticed. Make this offer not only special but comfortable. Add the possibility to make orders via social media and messaging apps besides phone calls.

We repeat: Do not overlook taking orders via messaging apps!
To see the results of your special offer's social media campaign, use the WebCEO Facebook Insights Tool and Social Engagement Tool.
The WebCEO Google Analytics Module will show you how many people have come to your website and from where. The new audience can be analyzed by location, language and device.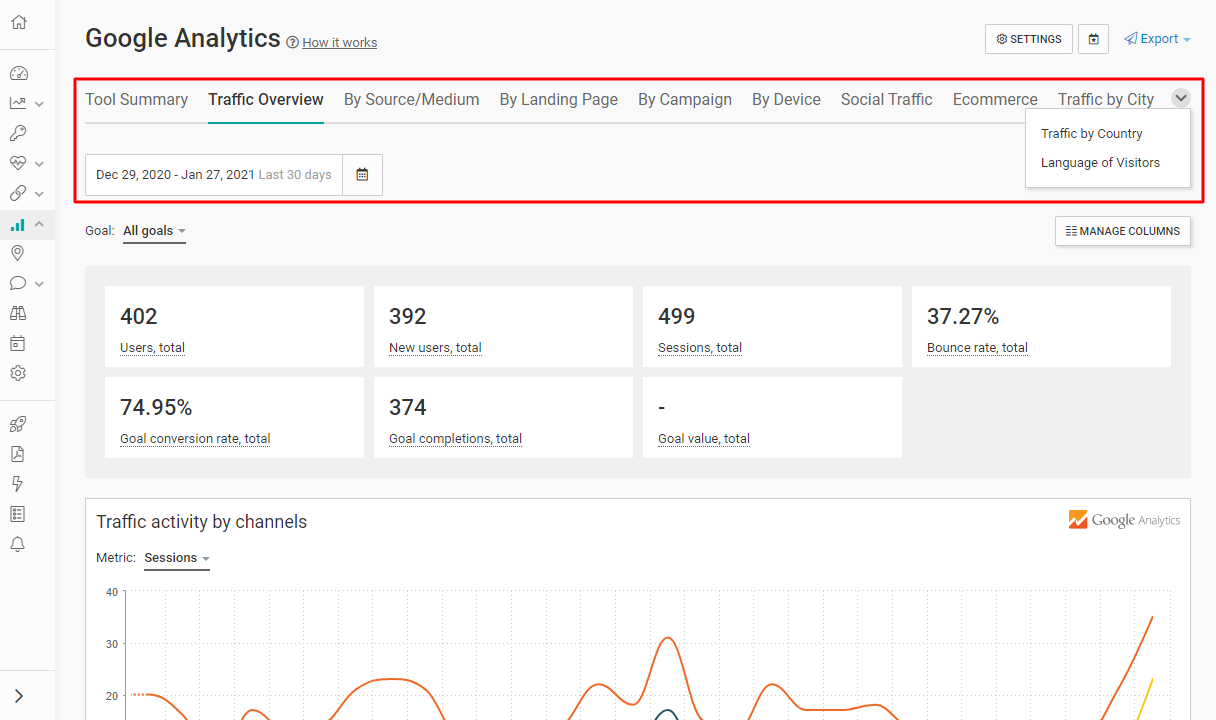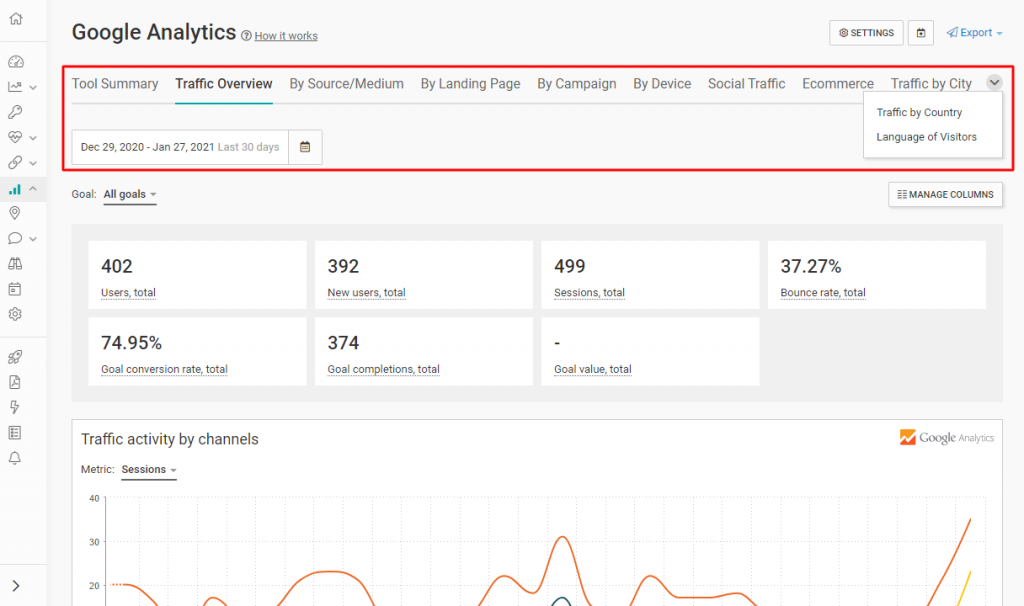 And that's it for today. Work hard and work well with your SEO, but spare some time for those important to you, as well. Happy Valentine's Day to you! Start with the keywords!