SEO Trends for 2020: What to Follow in the Coming Year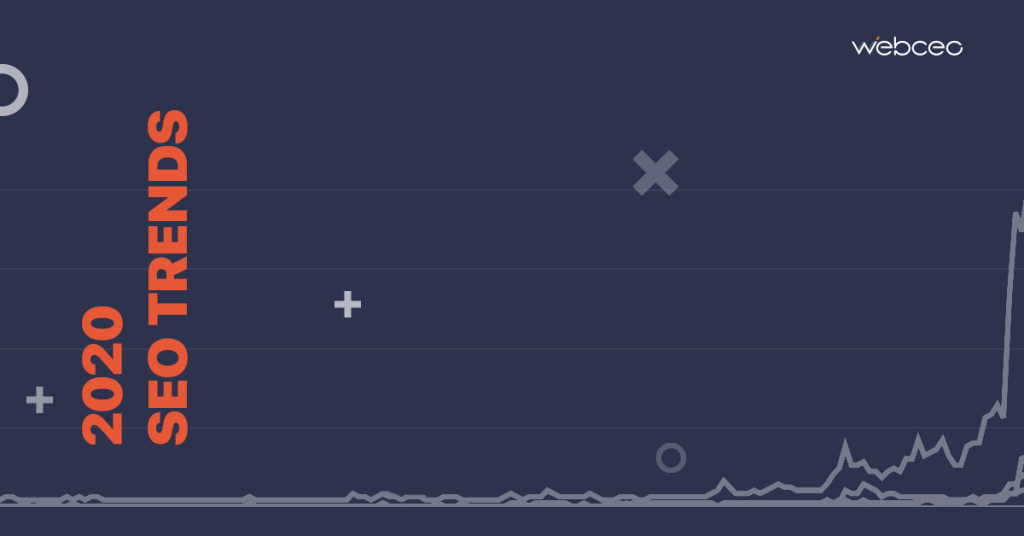 2020 is almost here, which means that the time for setting SEO benchmarks and writing to-do lists has come. The beginning of a new year always requires not only a never-ending list of wishes to be fulfilled but also a lot of research, as there is a necessity to learn what will actually be trending over the next 365 days.
We've decided to enumerate what will be trendy in the 2020 SEO world:
Table of Contents:
HIGH QUALITY CONTENT
High quality content became a decisive factor for your website's rank popularity a long time ago and it's still in first place. The better content you create, the more people notice you and come again to enjoy your writing. Your work becomes appreciated. Google doesn't like poorly written text and will put you down very quickly if you can't meet users' needs or fail to create a pleasing user experience on your website. Remember the following line and keep it in mind while working on your next copy: high quality is a must have, betraying it means you will be betraying your rankings.
If you've had a thought for a second that you can write short articles and optimize them with tons of keywords and overplay all the rules this way, then I have to say: this technique is too old and outdated to even mention. Now the quality of your article is more important than the quantity of keywords used. A natural way of writing with a moderate quantity of keywords will now be your formula for success. Start your keyword selection without delay. Use the WebCEO Keyword Research Tool and get top-notch word prospects. Then analyze them via important metrics: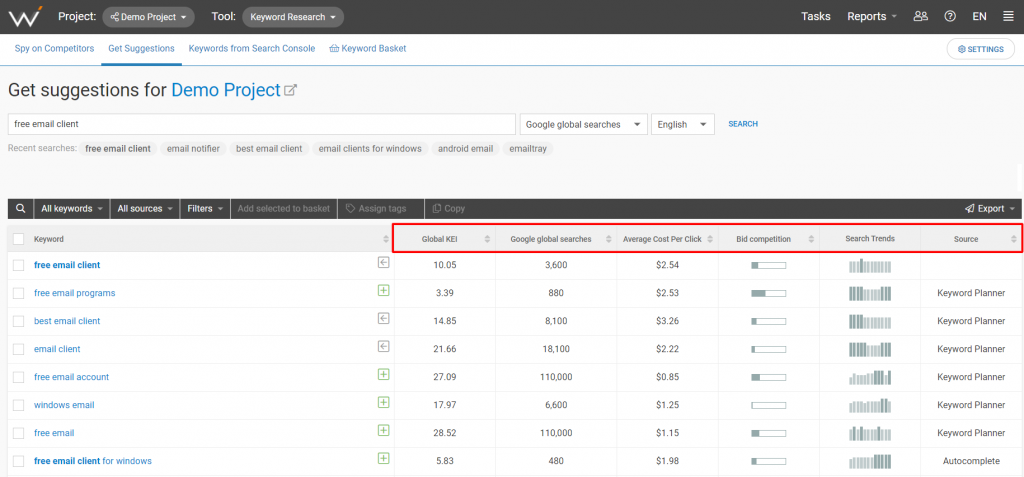 Time to use only winning keywords
Find the best combinations with WebCEO
E.A.T. CONCEPT
What is the E.A.T. concept?
The E.A.T. concept stands for Expertise, Authority and Trust and embodies itself in the idea of a webmaster (or a copywriter) being a real and proven professional in a niche he or she works in, and who produces publicly open content that likely won't affect people's well-being negatively. Google may seek evidence of qualifications, a diploma and/or certificates.
Why will it be important?
Google says it wants users to receive only relevant, fresh and PROVEN data. If your words might hurt users in the opinion of the algorithm, Google will catch this and drop your website to the deepest layers of the SERP ocean. Protect yourself and try to prove better that you know what you are writing about. Unproven data can be a catastrophe for a website's rankings. Bad reviews may not take long to come if you write something others quickly learn is untrue. Eventually, users may no longer visit your website because they can't be sure that you are for real. Google will notice this and your rankings will go down faster than you can write new articles. There are specific algorithm updates focused on detecting and punishing websites that might cause harm to users. Whether Google also considers "harm" to come from politically arguable content is outside the scope of this discussion.
How to get benefits with the E.A.T. concept?
Introduce yourself properly: The "About" page is always the best place to enumerate all of your achievements and write about whom you are and reasons why people can use your knowledge without any fear.
Gather positive reviews on other Internet platforms: your website is not the only place where people can learn about you and your work. There are many websites where people can share their opinion about different services. These can be either praising or blaming. Provide people with the best knowledge you will not feel ashamed or guilty about.
Backlink to and from authoritative sources: people don't trust links nowadays. To be more accurate, people don't trust unknown or suspicious sources, and consequently, they will not trust you. If you get a backlink from an extremely low authority or irrelevant domain – eliminate it with the Google Disavow; if you are going to link to a suspicious domain – check it and, if anything, don't link to it at all. Find another one with high authority on the Internet.
You can check the quality of your backlinks with the WebCEO Backlink Quality Check Tool and then clean your backlink profile if there are any signs of suspiciousness: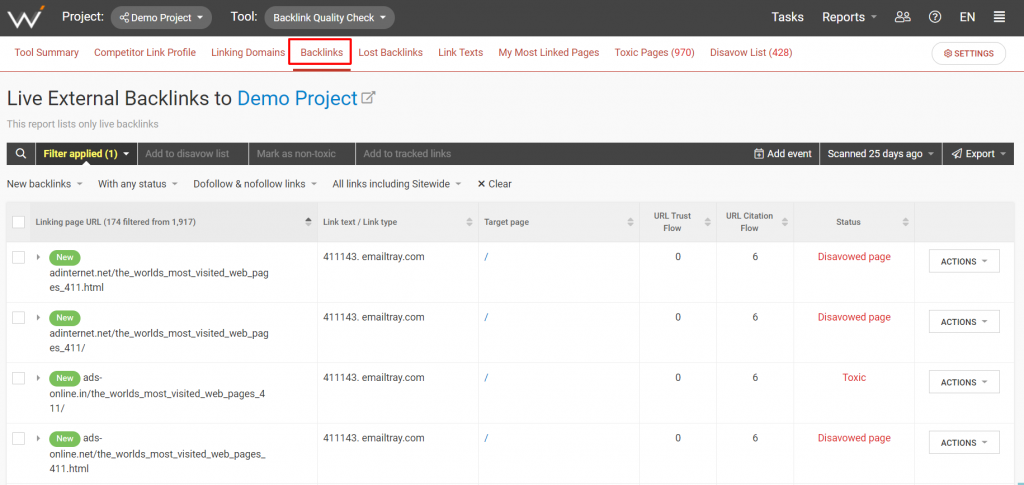 Protect your reputation
Eliminate toxic backlinks with WebCEO
LOCAL SEO
Local SEO will be trending in 2020 for sure. Local businesses are no longer excluded from Internet visibility mode like it was a long time ago when "local SEO" as a term didn't exist. Currently, Google constantly updates its algorithm regarding local search and how the results are shown on the SERPs, implementing new methods of filtering data and setting up specific restrictions. If you are in the local league, you can't postpone your local optimization anymore if you want users to know about your existence. Start the process right away with the WebCEO Google My Business Module: analyze your performance, learn and track your local competitors and work with reviews that people leave on Google Maps.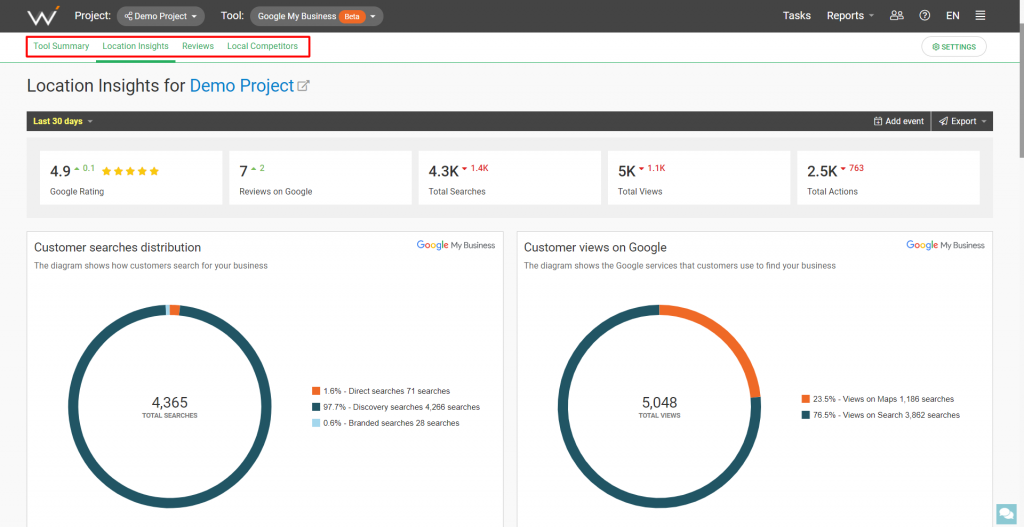 USER EXPERIENCE (UX)
Apart from high quality content, which has been in the middle of the spotlight since Google started filtering search results – a long-long time ago, there is one more point you have to bring your attention to. A Great UX (user experience) will be one of the most discussed topics throughout 2020 and beyond. The way people navigate, investigate and feel on your website has become one of the greatest problems in SEO, especially since people started using mobile devices more than desktops. The necessity to optimize websites for mobile devices has broken into every webmaster's life. This is a big deal for Google as well. If the user experience on your website is still so-so, then you know what to do early in 2020.
MOBILE SEARCH
We are living in the era of new technologies and their constant improvement. People of all ages try to follow new trends and master them as soon as possible. You should be on the same path. Mobile search is gaining more popularity day by day. According to Wordstream, 52% of worldwide traffic comes from mobile devices.
Users will appreciate your hard work if you organize your content so it will be easy to find and access via mobile search. Leaving your website optimized strictly for desktops is the worst idea ever. A great desktop appearance is definitely cool, however, but Google itself has warned you that mobile optimization is a must with its mobile first indexing update.
The WebCEO SEO Analysis Tool will help you check whether you are ready for 2020 from the mobile point of view. It will show you how well your website is optimized for mobile devices: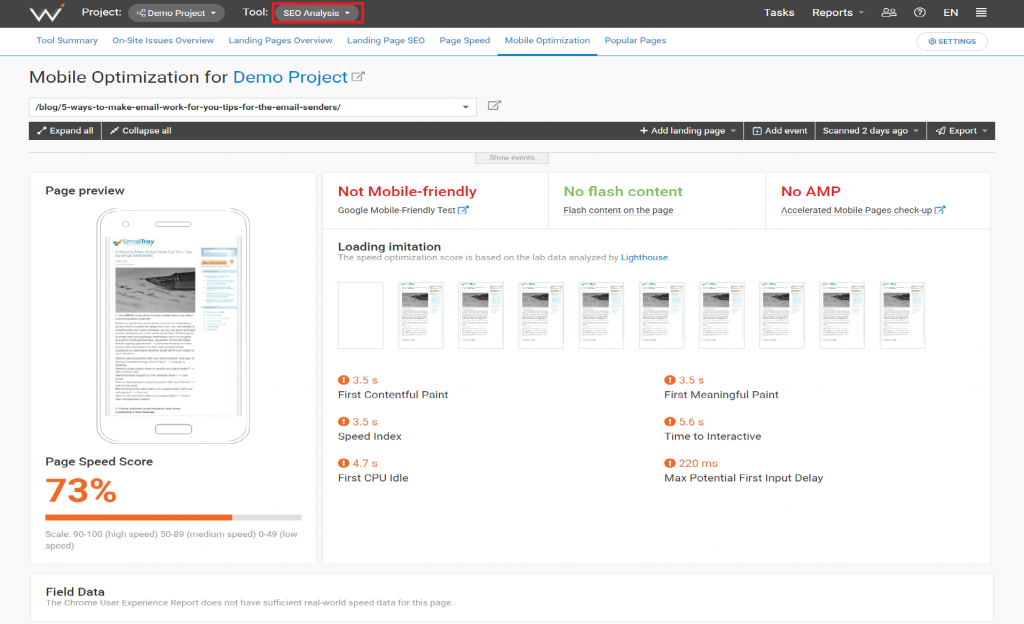 Are you ready for mobile search?
Check this now with WebCEO
VOICE SEARCH
According to Google, approximately 20% of all queries are processed via voice search. And the figure is growing rapidly. It provides us with information at any moment: while we are on our way, or we can't type, or we haven't much free time, or we're just lazy. It's a matter of convenience So humor us by working on your content to optimize it for a possible voice search for one of your articles, which can be given as an answer to a spoken request.
The best way to optimize your content for voice search is to organize it considering people's most likely spoken queries and their language. What do we mean by that? Here is some of advice we want to share:
Start some paragraphs of your articles with questions, such as "what", "how", "when" and so on;
While producing your content, think about niches where voice search is used the most. For instance, people are more likely to use Google Assistant when they are interested in purchasing, such as cinema tickets, schedules and premieres. People will use voice search to seek lifehacks, cooking recipes, cooking video tutorials, how-to's, etc. Voice search is also often used to find restaurants with their menus and their work hours and so on. Here the type of your business, structured data and local optimization come to the fore;
Since voice search is predominantly carried out on mobile devices, a mobile optimization of your website is more compulsive than ever this time around;
Your website speed is essential for voice search, as well as for other types of searches. If you aren't able to provide fast results for a searcher's query, you aren't worthy of Google Assistant's attention yet.
SECURITY
People have become more aware of their security and safety on the Internet. Private data should stay private by all means and on every website. Security is even more necessary if your website is about selling or reselling goods, because users leave data regarding their bank accounts and cards there. If you want to be trusted by them, spend some time and money on a hosting system that provides your website with all the security certificates users appreciate. A "Not secure" status for your website is a quick way to see your rankings drop. Google considers your website's security status while building the search result lists. This is a ranking factor that features in the top 10 of the most important factors. Protect your users' personal data and, for this, Google will guard your rankings more faithfully.
STRUCTURED DATA
Structured data helps Google understand what the content on a page is about. This can also help your site to become a featured snippet that will attract more and more attention. This can be the top result at Position Zero, an entry in the Answers section, which is a little "Q&A menu" or how-to form on the SERP, or the Knowledge Panel on the upper right of a results page.
A Featured Snippet at Position Zero has become a huge topic to discuss and argue about, as well as a huge problem of content structuring for webmasters. "How to get a featured snippet?" – is a problem you can actually try to solve on your own. All you need to do is to write high quality content with valuable keywords and structure your data so it will be a top-notch answer for a specific query. Wikipedia is a perfect example of such answers. Of course, it will be difficult to win in most cases, but it's worth a try.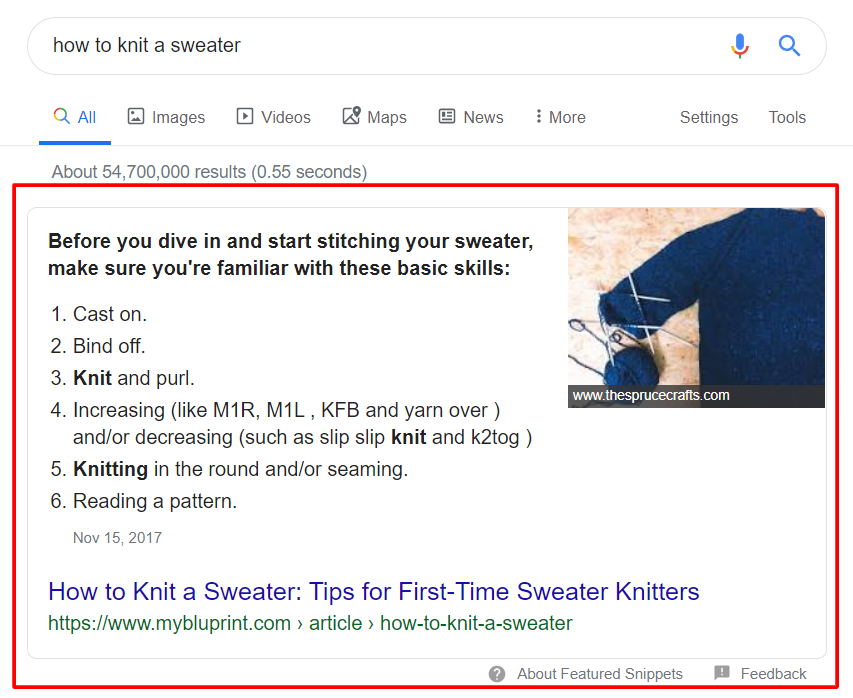 What are the means of doing this?
Work on the layout of your content: this doesn't mean that you need to change something in your writing style, just add some small details that will help you work with users and Google easier. For instance, start your articles with the definitions of the terms you are going to use in the article or in your title. Google might consider these pieces of content the most relevant short answers to users' queries.
Apply Schema Markup: Schema markup is a great helper for you to be noticeable in the SERPs. For instance, marked up FAQ pages have a greater chance to appear in the SERPs in the form of rich results. There are many types of Schema code you can use to make your page's layout work for you.
IN CONCLUSION, trends are changing day by day and there is always an opportunity that tomorrow you will see something new; and you will have to cope with it, learn it and master it. That's how SEO works. Always be ahead of everyone by partnering with WebCEO. Check now if your website is ready for the next year with the WebCEO SEO Analysis Tool!

[Total: 3 Average: 4.7/5]