What Is Off Page SEO and How Can It Increase Your Rankings?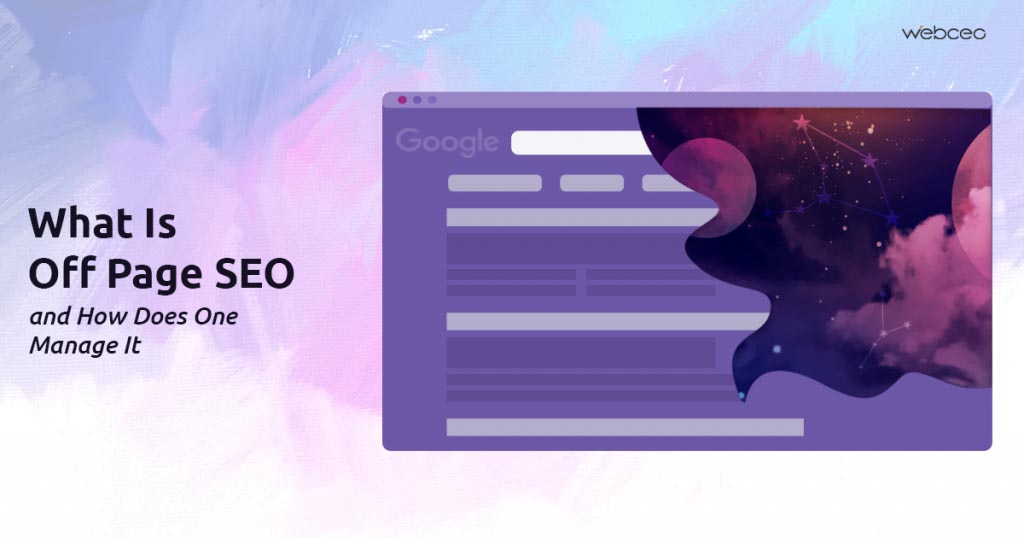 What do you care about the most when it comes to optimizing your website? No doubt you will say that the site's appearance matters a lot. Fair enough. On page SEO is essential. They say 8 in 10 of consumers would stop engaging with content that doesn't display well on their device. The appearance of your site, its architecture, and the way the content is displayed to the public, play a significant role in present day SEO. Everybody likes nice pictures, this is understandable, so be sure to manage your on page SEO properly.
But what about off page SEO?
Off page SEO is everything related to your "outside" activities performed for the sake of your website's promotion: link building, social media optimization, local SEO, and other factors. When we talk about off page SEO, we are discussing the various ways of increasing a website's popularity.
Does off page SEO really mean a lot these days?
On page SEO is definitely a thing you have to consider. A website's architecture and appearance, the content itself and its formatting, snippet optimization and an enormous amount of the other elements build a picture of your website, "selling" you to a customer.
However, that is just part of the SEO equation.
Off page SEO exists to bring your website more popularity and make it recognizable as a real brand.
What is the purpose of off page SEO besides popularity?
Besides building your reputation, you will also get some extra points for your website rankings. Decent promotion will enrich your backlink profile, increase your traffic and domain authority. Remember that links pointing to your website should be relevant, trustworthy, clean, and non-spammy.
Let's begin with off page SEO techniques, dividing them into specific groups.
GROUP #1: BACKLINKS
Improve Your Backlink Profile By Using Link Building Strategies Like A Pro
When it comes to links, results do not just emerge out of thin air. Attention and effort is called for.
Your goal is deserved links. Those are links that website owners place on their sites because they appreciate your content and do not ask for anything in return.
Sometimes website owners go for agreement links, which are when you ask webmasters to insert your link and they agree and do so, or independent links, which is when, for instance, you can comment in their blog and your profile or comment leaves a link.
THERE IS AN IMPORTANT DETAIL a webmaster should remember about while building up a backlink profile. Each website that links to your site should be SEMANTICALLY RELEVANT. Each page that links to one of your pages should reveal a topic that is relevant to the content displayed on your page.
If a website in your niche links to you it means you have some authority and level of trust and Google will eventually notice this. A link itself will obtain value because people will "work" with it: click on it, learn your material, buy your goods, and return to your site from time to time. In return you will receive better traffic, higher domain authority, and a more valuable backlink profile.
A link placed on an irrelevant website will not bring you as much value as you may expect because it will not fulfil its goal for the readers. No visits and a zero conversion rate will make this link useless and "bare".
How to get links to your website
Getting backlinks to a website has always been one of the greatest problems for website owners.
First, there are already many successful websites on the Internet, performing in your niche, that present valuable content. Second, webmasters always have a desire to get links from sources with a higher domain authority and general popularity. In both cases it is hard to show that you are worthy of being mentioned on such websites.
There is a range of ways to get backlinks to your website, and among them are:
This method is used only when you have a hundred percent certainty that there is a broken link leading to a piece of content, which earlier was in the same league as yours. You job is to contact a website owner and politely ask him or her to place a link to your article on the same topic where the broken link once pointed.
The idea of this technique is to:
Track down competitor backlink profiles;
Learn which specific or type of backlink brings them the most value;
Ask the owners of the linking websites to link to you as well.
This assumes you have excellent content on your own site that will interest people. It's compared to a skyscraper because taller equals better. Your chance of getting a backlink will be even better if your content is more up-to-date than whatever they are linking to at the moment.
For this technique, you will definitely need WebCEO's Competitor Backlink Spy Tool, which shows a full backlink profile of each of your competitors. Analyze which links brighten their background and start your work!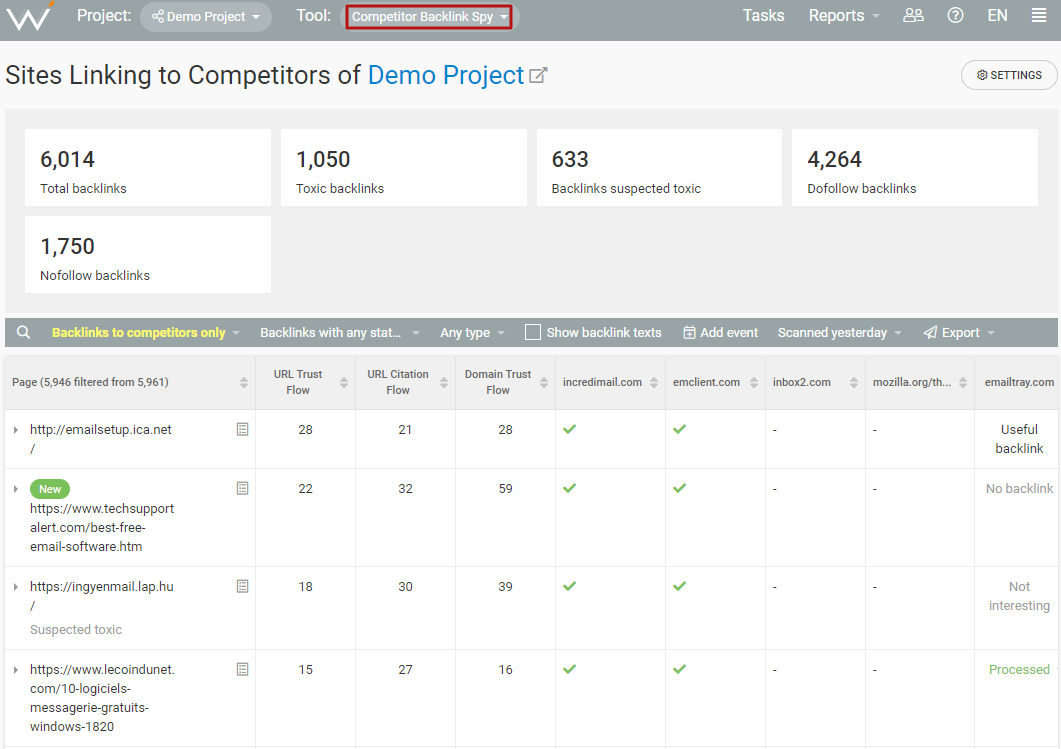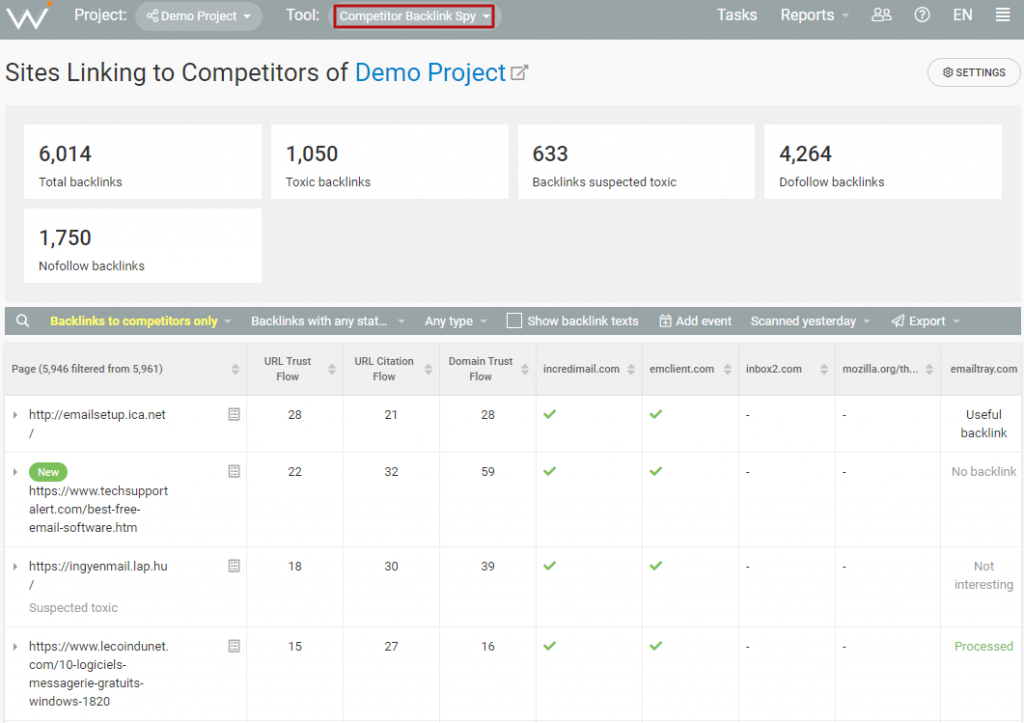 Somebody recently said guest blogging is no longer a successful strategy. Others still support the idea of guest blogging being a beneficial technique. We tend to agree with the second group.
Guest blogging has become more difficult for those who want to use it. The aim of every writer is to see his or her name and – what is more important – a link to their source on a hugely popular website with a high domain authority and then enjoy a traffic boost. However, it does not work this way most of the time. Now there is a great variety of decent and popular writers who themselves alone may bring a lot to a website they want to write for. As a result, webmasters may allow themselves to choose and even refuse.
So, how can I be a successful guest blogger?
Start by writing for minor websites because it is easier to get their permission to be published.
How can this help?
By writing for several minor sources where audiences may vary, you will get readers acquainted with you and your knowledge regarding specific topics. Your name will become more and more recognizable; more people will find your posts on the Internet and even intentionally look for them. As a consequence, you will gain more popularity and authority.
You can learn more about guest blogging here.
This tool aims at detecting the best and the most niche related places for a website owner to submit his or her content. Search engines and directories, blog promoting sites, local business listings, and so much more! It also shows your submission history, so you can remember where you submitted to.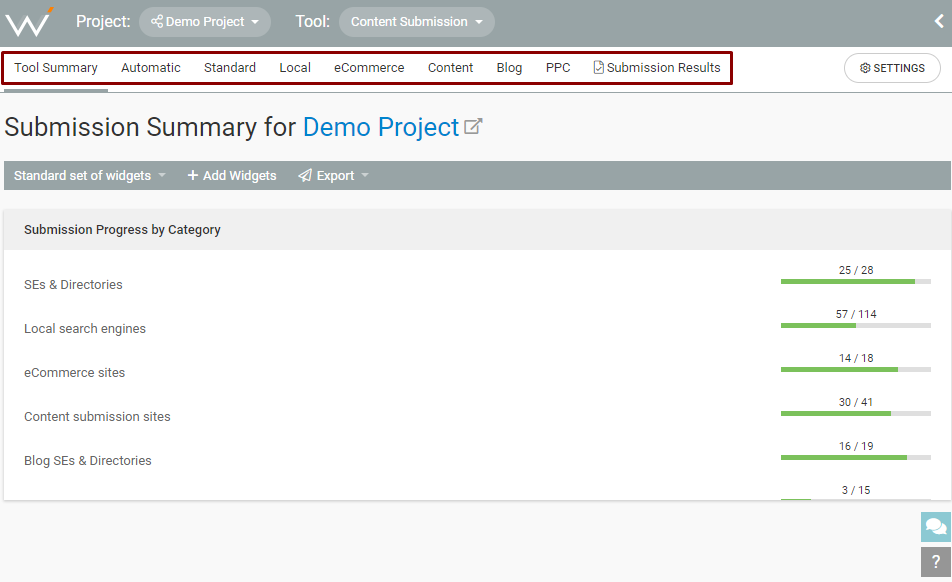 You can learn about these link building ideas in detail and even pick up some more ideas to build links like a guru, even if you are just a beginner in this business.
Links may be both beneficial and harmful to your website. Spammy and toxic links cause rankings to decrease, so always be on your guard. WebCEO's Backlink Quality Check will help you control all the links leading to your website and alarm you about any danger: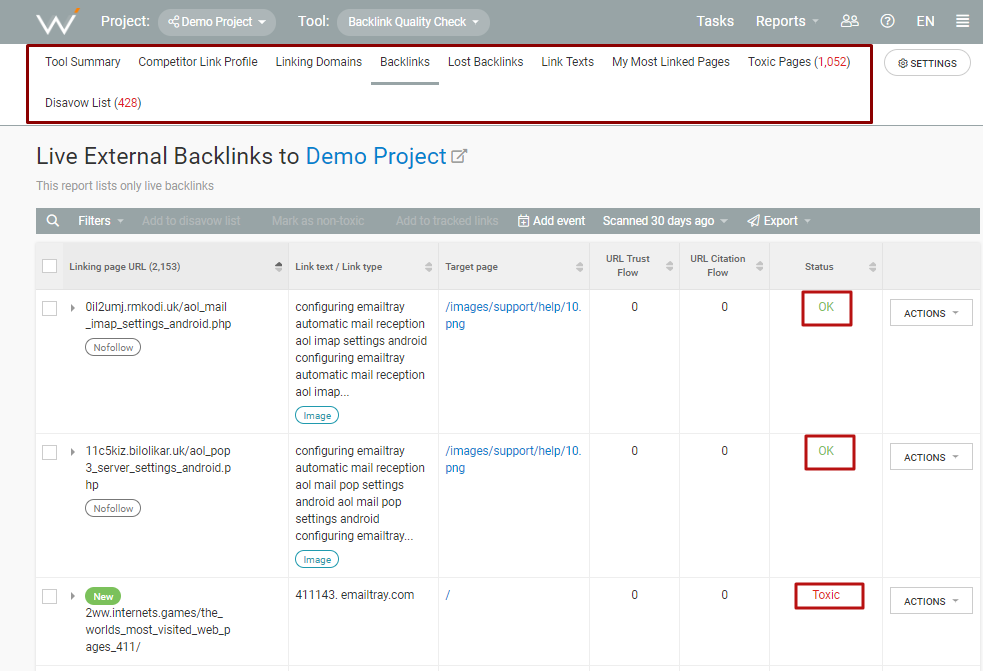 If you do something by an agreement with another website owner, you may want to monitor them in terms of the link presence on their website, such as what they have for anchor text and link effectiveness issues like DoFollow status. WebCEO's Chosen Links Watch may help your links to live a long life and not stop bringing traffic.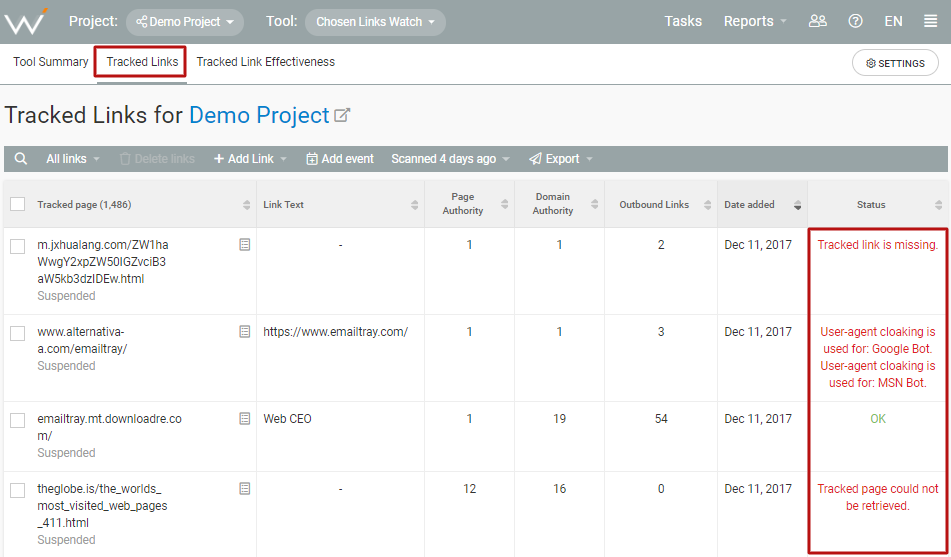 Directories and listings for local websites
While Google is great for finding things, directories beat the search giant at finding businesses, especially when you need something specific. So if you run a local business and have a website, directories are an absolute must for you.
Submit your website to every directory that's relevant to your location and niche. Look them up yourself or pick a few from our Content Submission tool. Actually, do both.
Crowd links from blogs, forums and other sites
User-generated content is always a decent source of backlinks – as long as you leave them on reputable sites and without breaking any rules.
If you can find any blogs, forums or other sites which are related to your niche, consider becoming a regular there before posting your own links. The better people know you, the more likely they are to click on your links – not to mention avoiding looking like a spammer.
Other than links you can clearly see in text form, they can also be embedded into other elements. Banners, widgets – surely you've seen more than a few. They can be really effective when used properly.
Of course, this sort of backlinks is more tricky to make than most, since it's unlikely you'd be able to create your own widget or banner on somebody else's site. Such things will require prior negotiations with the site owner.
GROUP #2: TRAFFIC
Backlinks are not the only off page SEO factor. Another important element is traffic, the quantity of visits to your website, or sessions. This will exemplify your website's authority and popularity among users better than anything else will.
The more people come to you and – what is more important than just a visit – stay on your website, the more authoritative you will be for other webmasters and search engines. Now the question is how to increase traffic?
Part I: Get Links and Exposure from Press-Releases
Creating new content is the best way towards more backlinks. Any SEO specialist will agree. However, it's never enough to simply create a good piece; you also need to show it to lots of people so they'd start linking. Which is why content creators actively look for places they can share their content, and there's a really good option for that: press-releases.
Makes sense, doesn't it? If you have content on a specific topic, post it where people like to read about your topic. If you like this idea, then follow these steps:
1. Find a few press-release platforms which host content related to your niche. No matter what you use – Google or WebCEO's Content Submission tool, you will have to visit the platforms and see with your own eyes that they suit you.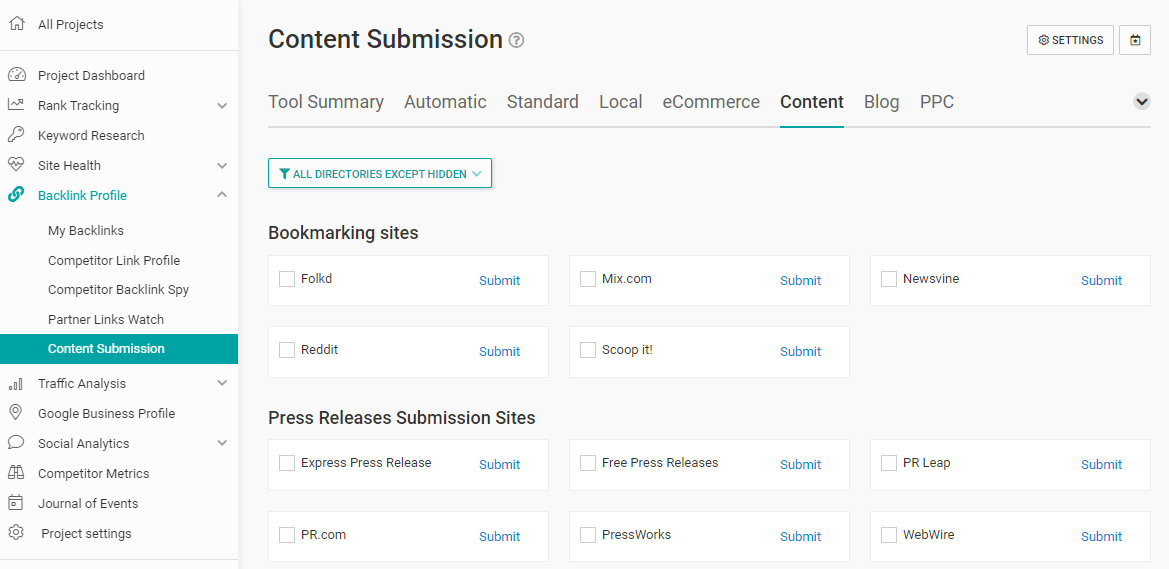 2. Research the platforms you like, namely their content AND audience. You will have to create content that matches (or even exceeds) their standards. Competition on press-release sites is fierce!
3. Negotiate with the platforms about scheduling the release of your content.
4. Create excellent content. Hopefully your research was good and you know by now what the audience needs.
5. When your content is released, share it on your own social channels for an extra exposure boost.
Part II: Drive Traffic Building Citations And Increasing Brand Mentions
CITATIONS or, in other words, NAPU will serve you exquisitely if your website is about selling goods, services, or online tools. They are mentions of your website regardless of whether there is a link. You will have your name, address, phone number, and URL mentioned on other websites and in local directories.
Google counts NAPU as a ranking factor when it comes to the local search results. Correct information about your business on Google My Business listings and other websites will increase the level of your credibility because Google will see that you are a real company.
Whitespark will be your best helper with this business. Their team places any citations by hand, checking up all the tiny pieces of information and tracking down the spots where your contact information will fit the most and will be relevant to the website's niche.
Important: if you ever need to change your NAPU, you will have to check every page of your website and other websites where your citations were placed. Correct your NAPU; otherwise Google will punish you, decreasing your rankings.
BRAND MENTIONS is a linkless way to show people that you exist and webmasters find you quite authoritative. Your name or the name of your company on various high value websites are always noticed by Google. It processes this information and portrays this as important while "working on" your rankings. The more mentions your brand has, the more trust you obtain in the "eyes" of Google.
More people will recognize your brand if they encounter its name on different websites or blogs, even social media, obtaining more trust for your company and its products or content.
Part III: Squeeze Traffic From Your Social Media


The main aim of social media promotion is higher traffic and popularity. Expect 25% of your traffic to come from social media if you know what you are doing.
How does this work?
People see pieces of your content on different social media platforms and – hopefully – get interested in the things you present. As a result, people will go to your website in order to know more in terms of you as an author and professional, your content, and future possibilities, even how they can benefit from you.
How to achieve this?
Engaging with the posts of influencers and your potential or current customers, update your permanent profiles to maximize your SEO and brand image, place carousel ads, post stories, case studies, live videos, and everything else each platform allows you to do.
Social media is a two-edged weapon: you may succeed a lot and, at the same time, you may get nothing. What is the reason for the second outcome? Two main points for reaching your goal on social media are engaging content and properly optimized social media accounts with a history of publications. If you ignore these two points, you risk wasting your time.
However, empty accounts are not a death penalty. You can ask other people to advertise your material. Of course, not for free. If you choose this way for promoting, you will surely need to figure out what Influencer Marketing is and why it is so popular and in-demand.
Part IV: Get Traffic By Starting An Email Marketing Campaign
Email Marketing means newsletters you send to your current or potential clients via email in order to attract them to some new features in your product, or share some news regarding your company, or even acquaint them with the product from A to Z, if there are any newcomers.
Of course, there are plenty of ways one can use email marketing, even down to daily "good morning" wishes. And that would be really nice, right?
Although people say that email marketing doesn't take any effort, we strongly disagree with them. Although email marketing is a clear advertisement, haven't you noticed that people do not go crazy about it one way or the other? Our emails have become huge unsorted boxes with tons of email advertisements and we are still okay about that.
The reason is that any time we leave our emails while signing up we are actually ready to receive those advertisement letters. Most do not unsubscribe from those newsletters. So why not sparingly but effectively use the chance to directly mail them at strategic times?FIRST, we all are used to different kinds of advertisements and notifications, whether those are simple and straightforward: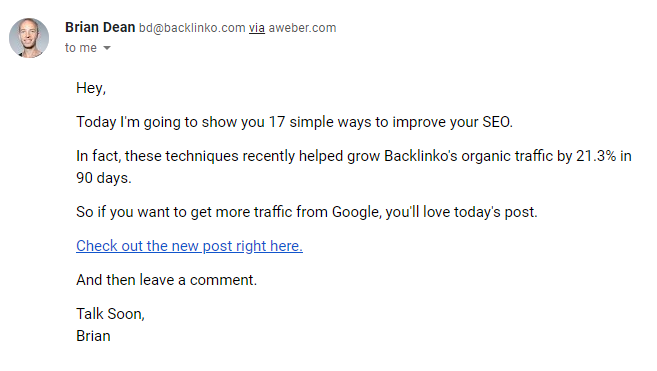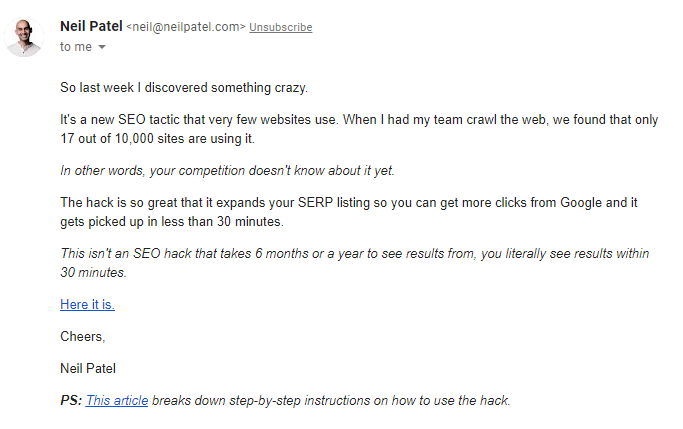 Or cutely designed and short: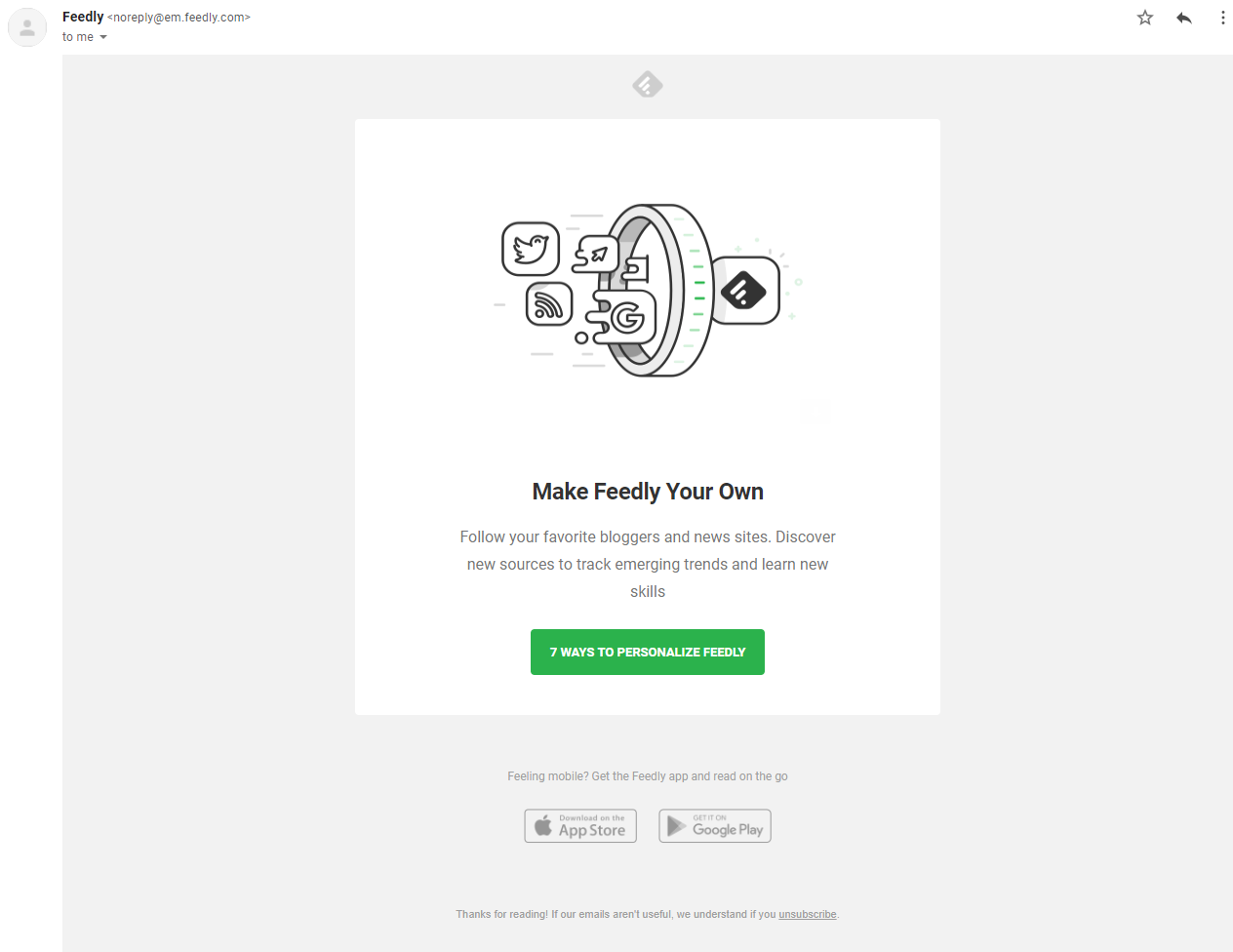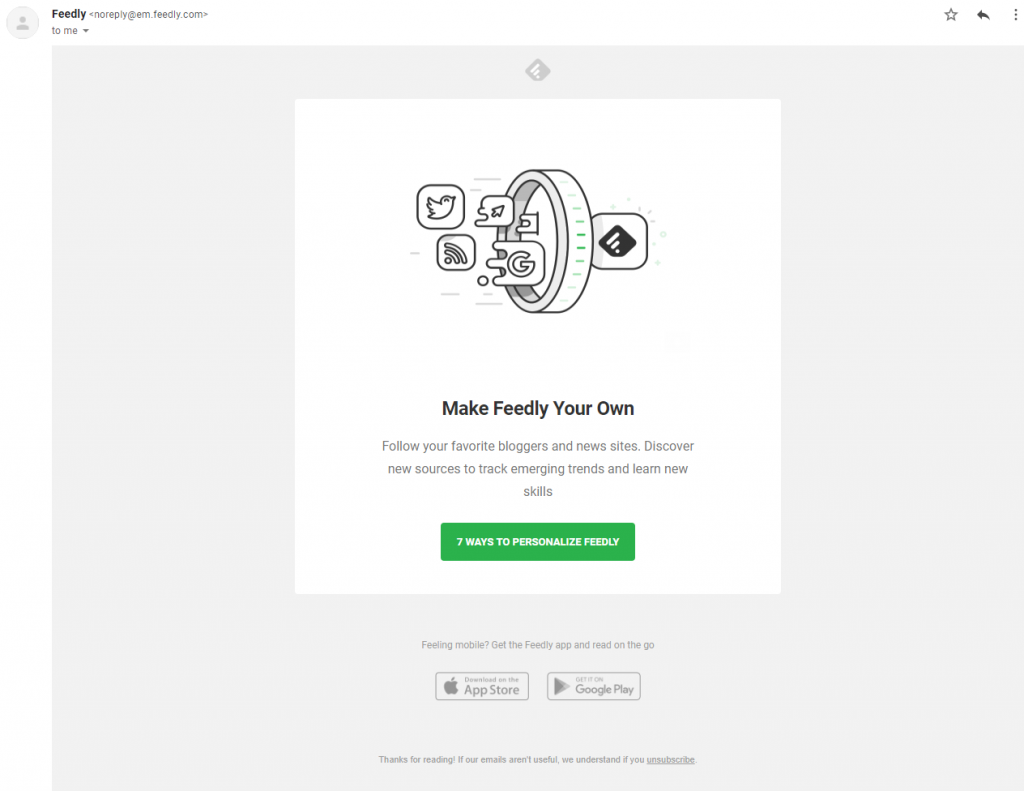 Or bright and composed with a theme: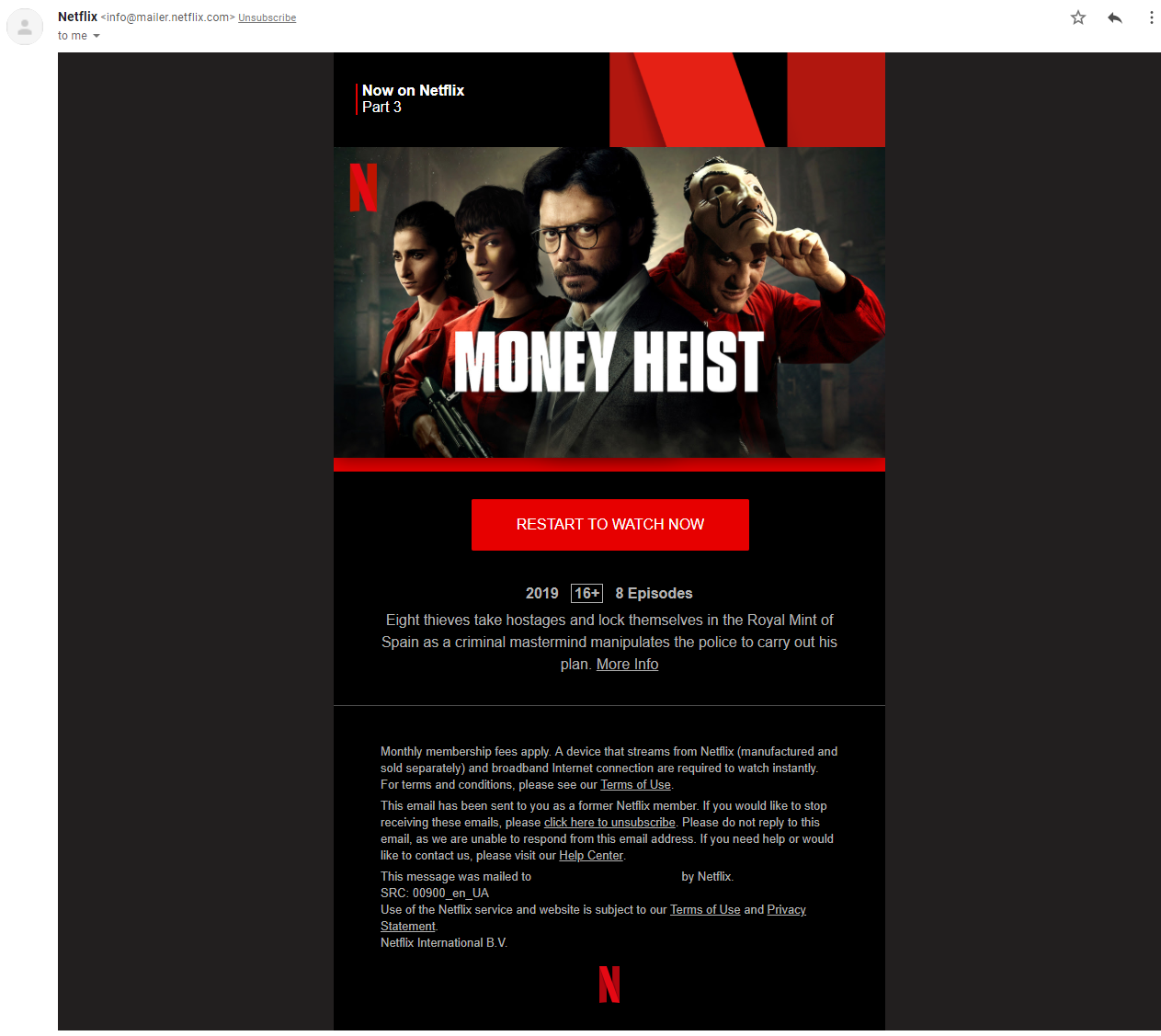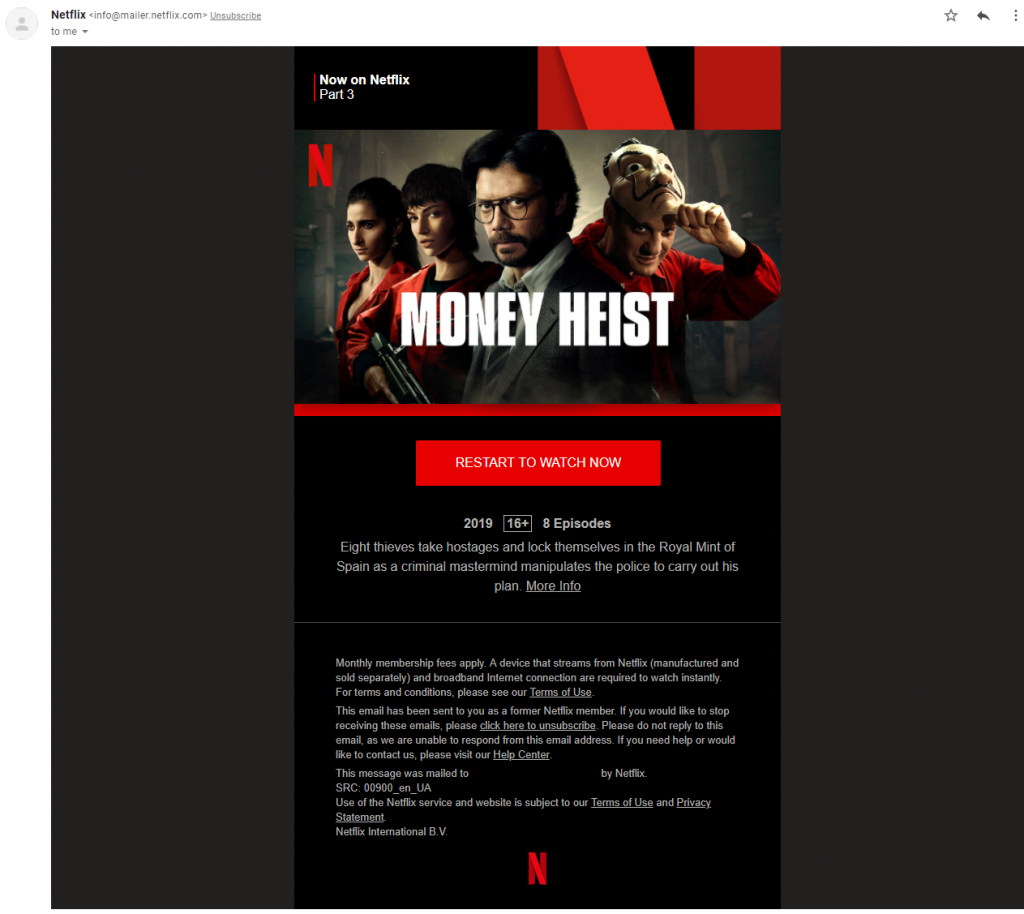 There are a lot of variants of newsletter designs with which to attract your audience. However, you should keep in mind the following points while preparing your email marketing campaign:
What's the purpose of your campaign and what type of letters are you going to implement?
If you want to send an ordinary notification, remember that important information is processed best when it's presented in a simple way and there are no elements which may distract a reader.
If you want your potential customers to be interested in your company or you want to present something new to them, it's high time to build a bright picture. The first impression plays a big role in the process of someone's acquaintance with a product. Analyze your product first! Netflix did well with their newsletters because the company's dark colored logo is a perfect match for a dark plot. A simpler product, however, may need a brighter form of introduction, and so on.
It is important to take into account your average customer's age and line of work. Why? It is no use sending plain and boring texts to a teenager, where you will do a favor to a busy businessperson who does not need any pictures. You should think carefully about your audience, current and potential, and meet the needs of each type.
Are your letters mobile friendly?
This concerns mostly the font size. On mobile devices, the default desktop font size is significantly smaller and, therefore, uncomfortable for reading. It makes sense to optimize your letters for smartphones and tablets. Configure easy access to links and pictures if there are some of them on your newsletters. Make sure they are of a small size, compact, and understandable.
SECOND, you will need to decide on the time when your letters should be sent. It depends on your customers' time zones and periods of time when they are not off for lunch or other private activities and have an opportunity to read your letter. Conduct experiments with the time and types of letter formats in order to understand what time and design are the best for your campaign. Keep in mind that people tend to check their emails during work hours. If your customers are office workers it makes sense to use a time when they are sitting at their computers.
THIRD, think accurately about the subject of those letters. The fact that we are ready to receive letters does not mean you will not need to outmatch those others who send them newsletters. Your subject must be interesting enough for a receiver to click/tap on it and forget about your rivals who may offer the same product. Your competitors always play hard and try to impress audiences with their ideas. Work as hard and you will get the results!
Part V: Drag Traffic From Other Channels
You do not even need to go anywhere or create anything for a new channel, just repurpose your existing content.
We cannot say that content repurposing is a hundred percent off page SEO because you can work with different types of content derived from the original material only on your website. Of course it will be better If you try to place original content on the outside. By outside sources we mean platforms that are cut out for specific formats of content like YouTube is for video, Podbean is for podcasts, Instagram is for photos, and so on.
Why is content repurposing so important?
By repurposing your content and promoting it on appropriate platforms, you will broaden the circle of your audience. People prefer to diversify the formats of the content they are interested in. Our eyes are sometimes tired of letters and videos; our ears are not ready to listen to something twenty-four seven. There appears a necessity to present your material in a way that meets people's needs and preferences. Let your content exist not only at your site but submit your material to the sources that may bring you some value. You will introduce yourself to a brand new public.
This is also quite popular now, so let us follow the trend!


Here we take into account a human factor. Not all of us are visual types who easily learn any type of information by looking at it or reading it. There are also audiophiles with advanced listening skills who will be beyond grateful if you provide them with great content.
WHAT'S NEXT?
Next, you monitor your performance with off-page SEO tools. So what should you monitor and how?
1. Keep an Eye on Your Backlinks
Backlinks are great! You are a real winner if your backlink profile has a significant list of valuable links from multiple domains. However, even at this stage, the work will not be fully done yet. Aside from gathering those links, you should also constantly monitor each of them. Let us see what off page SEO tools you can use:
WebCEO's Backlink Quality Check Tool will give you the fullest list of your backlinks and help keep your backlink profile "clean". Since this tool shows valuable statistics regarding dangerous links and even helps add them to a Google Disavow list without leaving WebCEO, you can be sure your website will be safe and protected with WebCEO tools on their guard.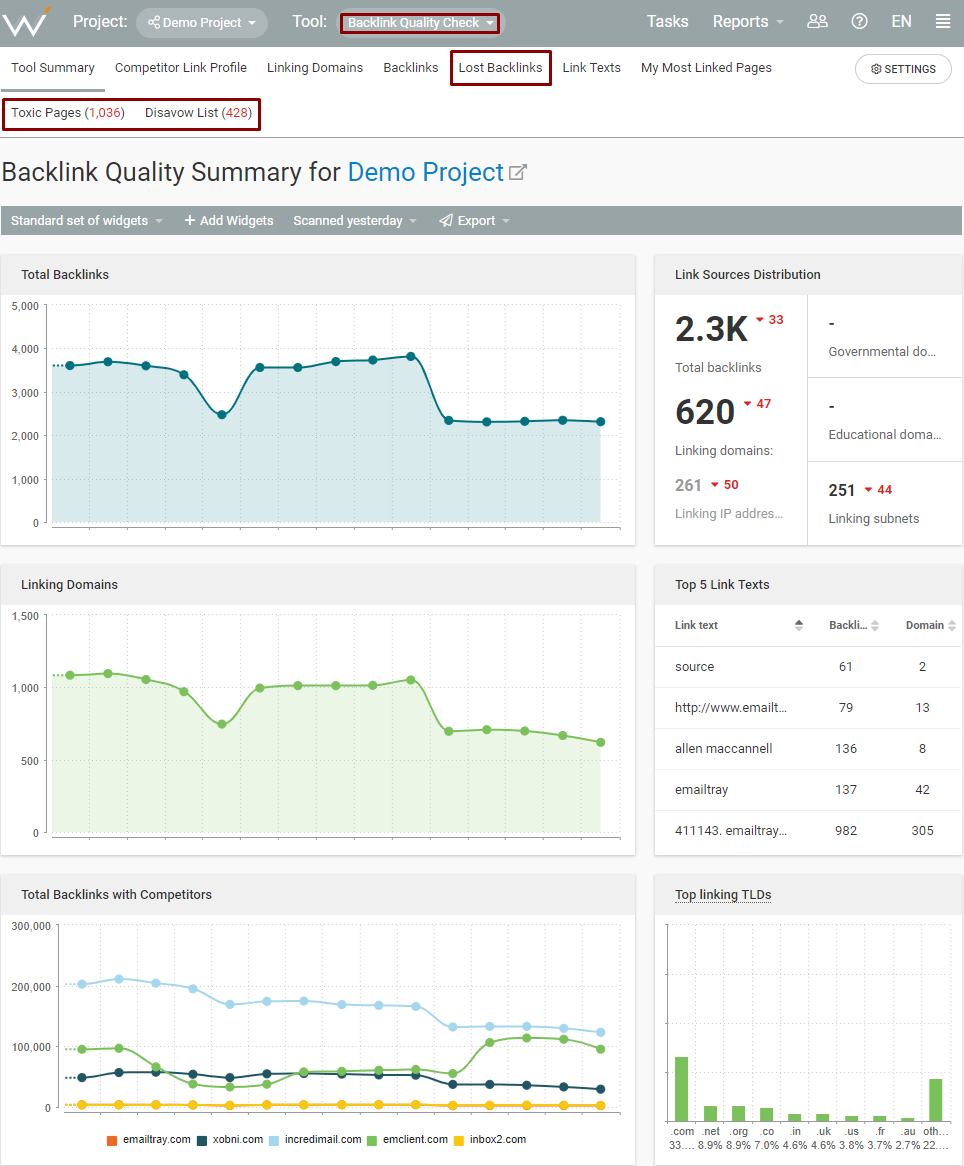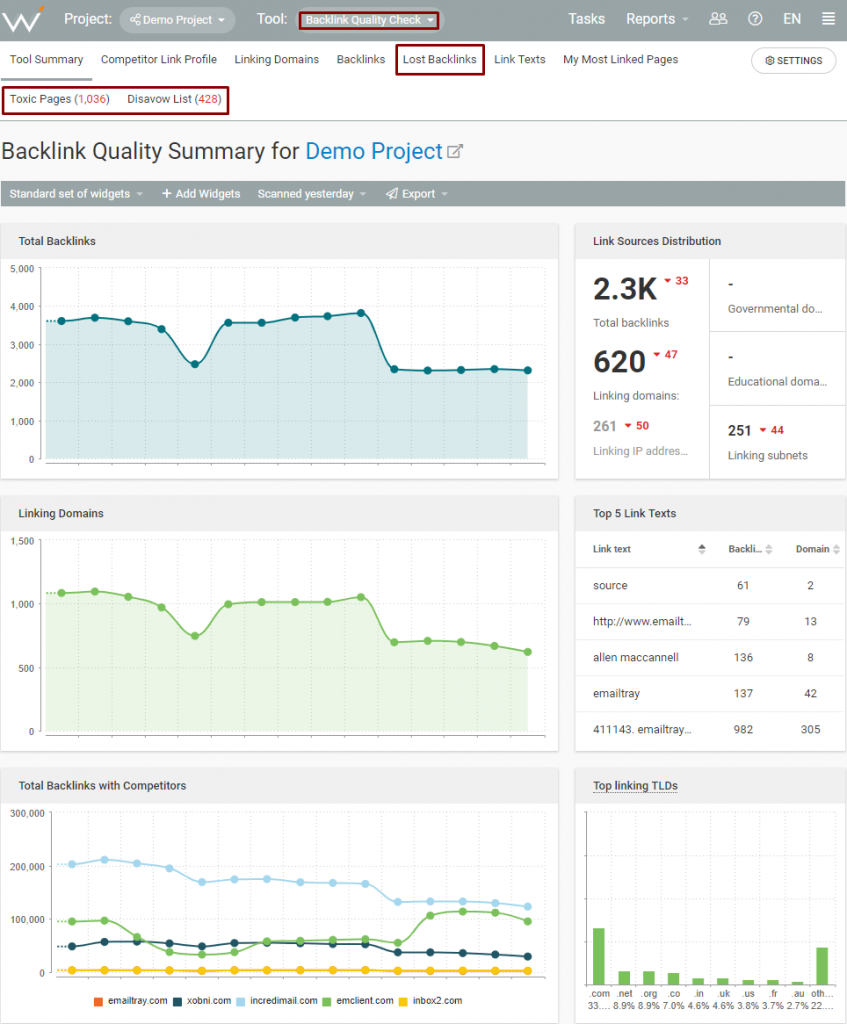 WebCEO's Chosen Link Watch Tool is a must-have in the process of creating backlinks. This tool helps webmasters to monitor agreement links and will send an email alarm if the owner of another website has deleted a link or changed its anchor text or DoFollow status. Besides, this tool shows the domain authority stats of the websites you have an agreement with.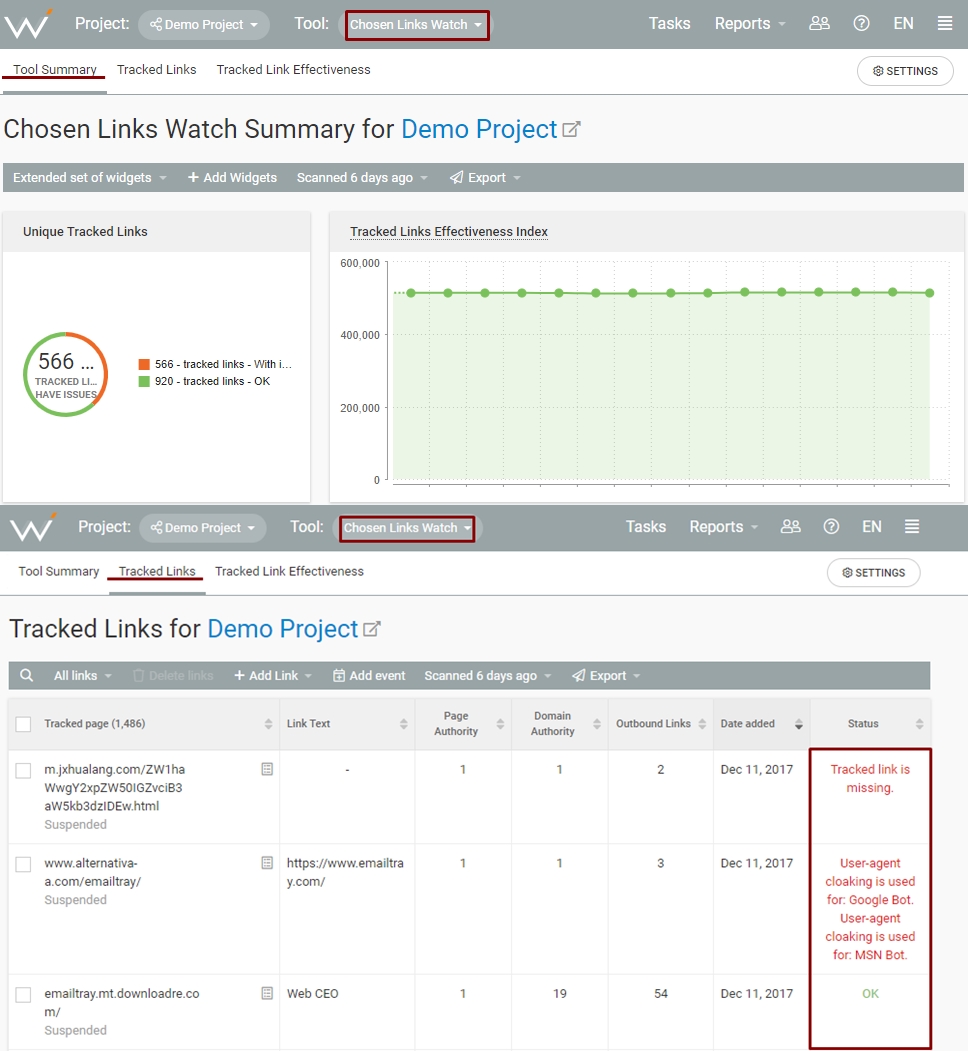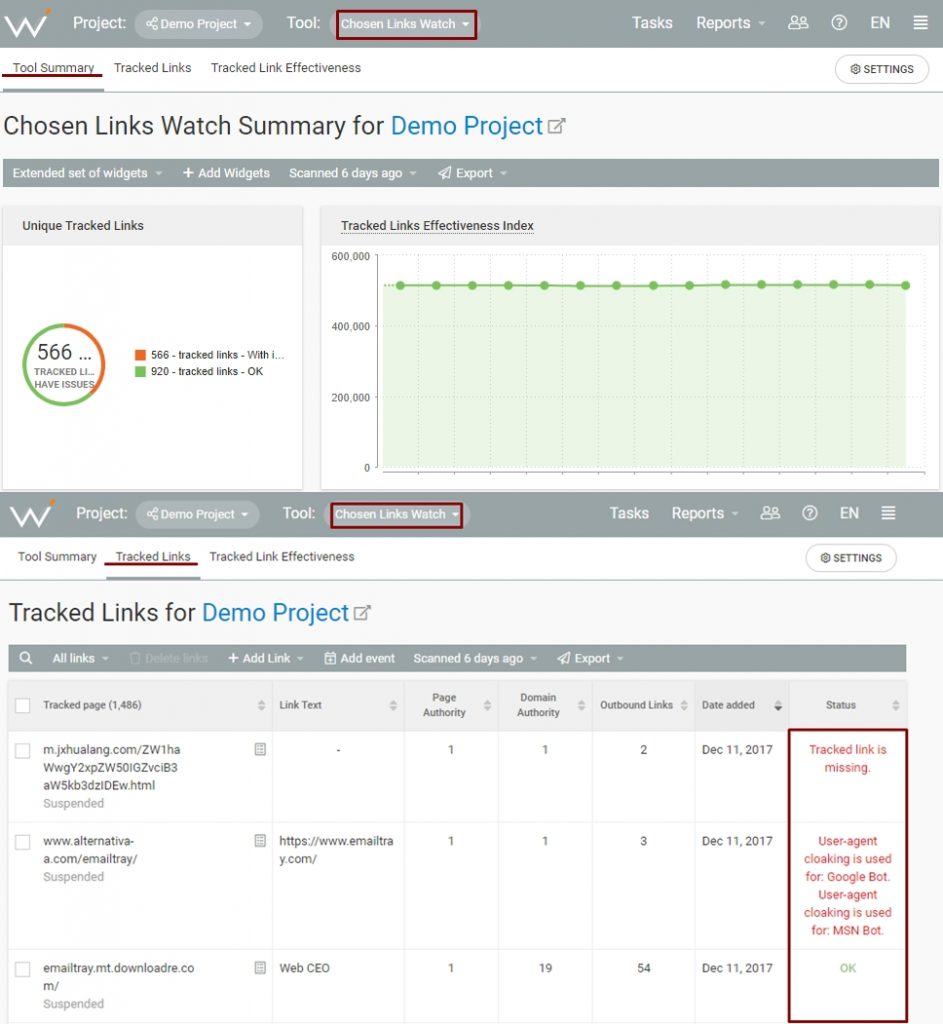 2. Analyze Your Traffic
Backlinks are great. However, those are not everything you need. Traffic is also an important thing you need in order to get your website to the highest positions on the SERPs. What can you analyze here?
Sources that bring you the most value.
WebCEO's Web Analytics Tool will show you a full traffic profile of a website by sources (organic search, social traffic, paid results, etc.), languages, countries, and cities; you will have an opportunity to see such data as Alexa traffic rank by competitors and bounce rate by sources.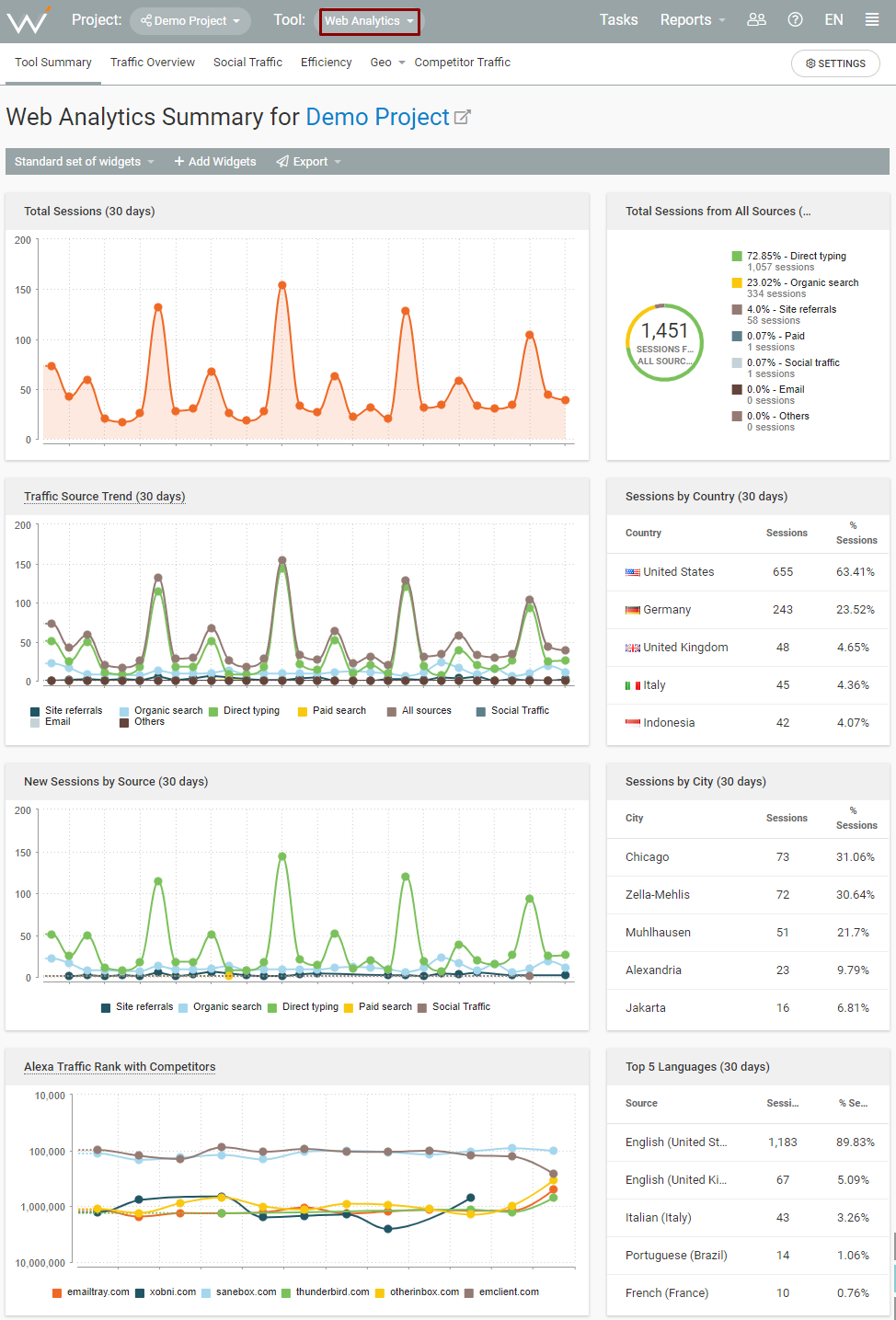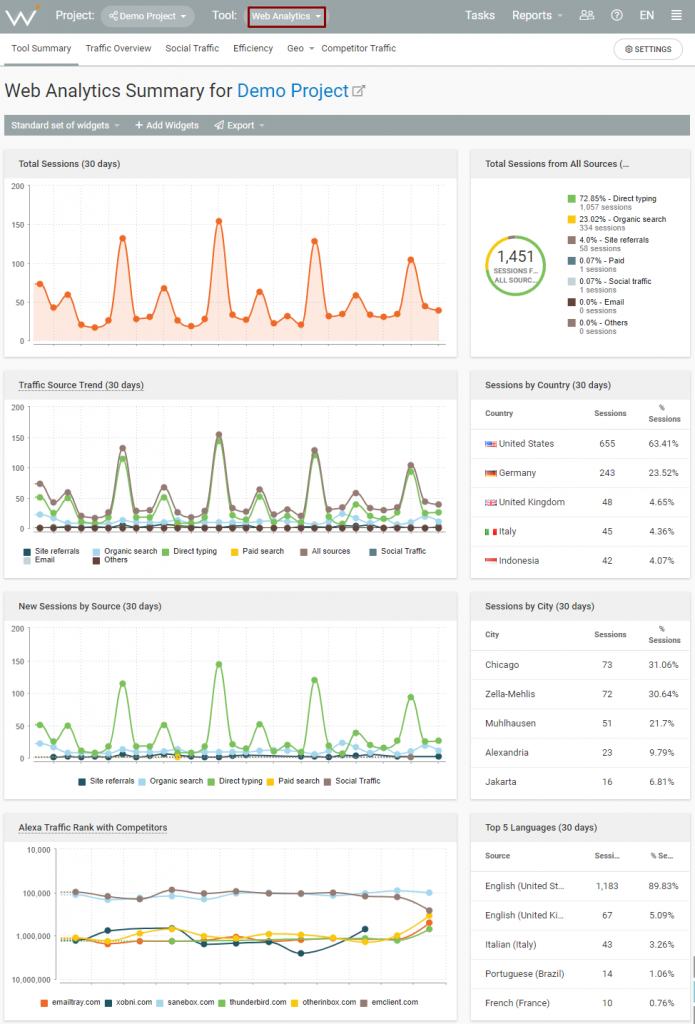 3. Be Aware of Your Social Analytics
Social Analytics tools show you the results of your social media performance whether it concerns marketing campaigns or ordinary posts (publications).
WebCEO's Web Buzz Monitoring Tool is helpful if you are mentioned somewhere, especially news websites, blogs, and tweets. The statistics on the likes and shares of all tweets are presented.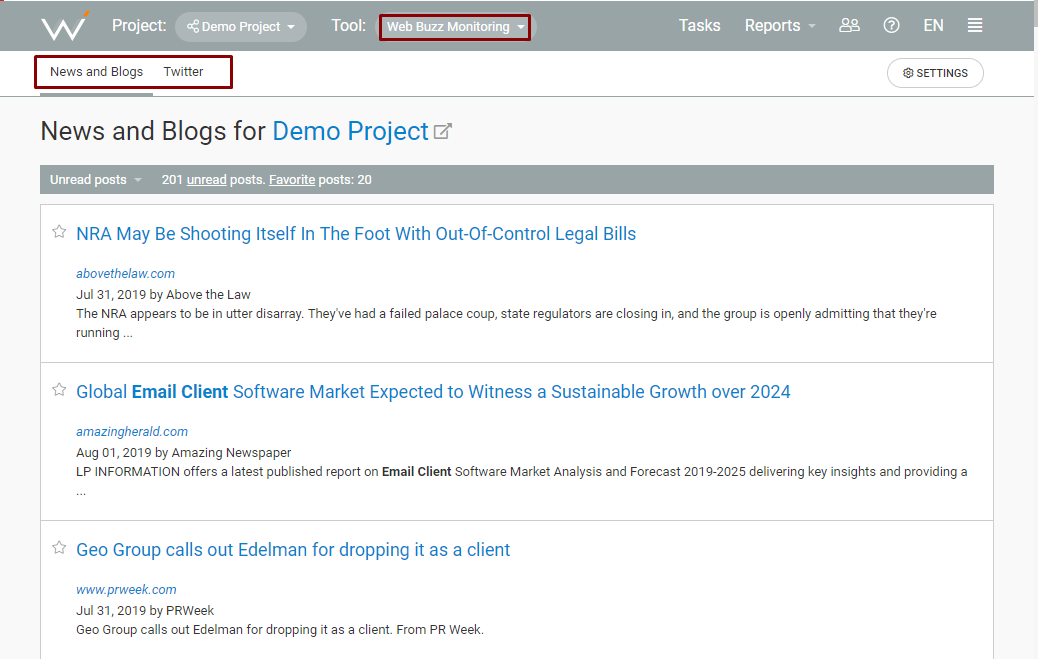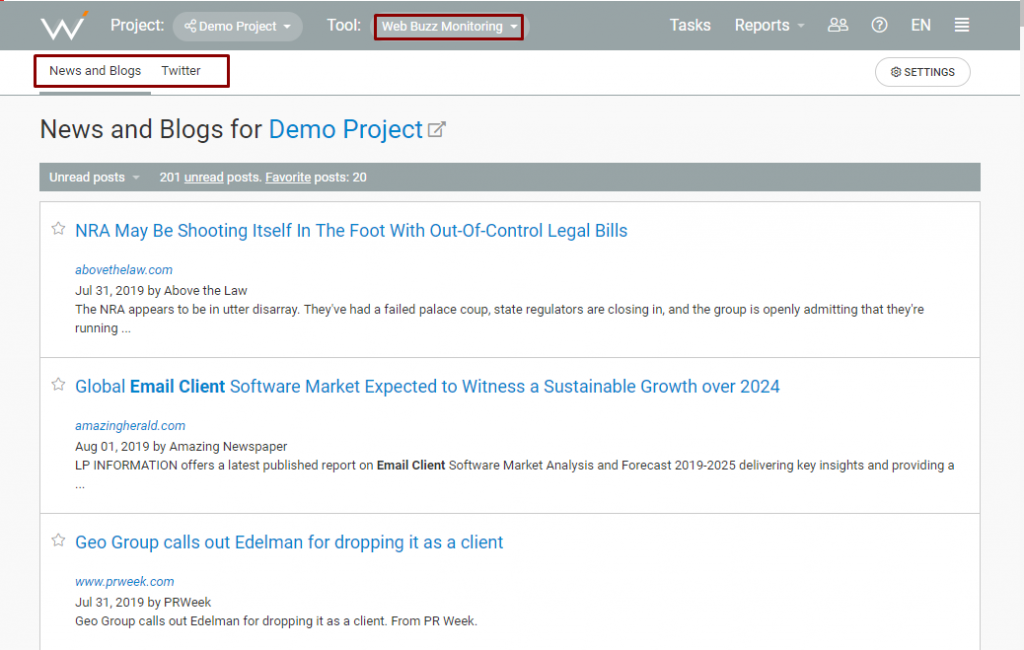 WebCEO's Social Engagement Tool is all about your social media business. With this tool, you will know everything about your and your competitors' social citations including shares, visits, level of engagement, and your social traffic in detail: bounce rate, conversion rate, completions, value, etc.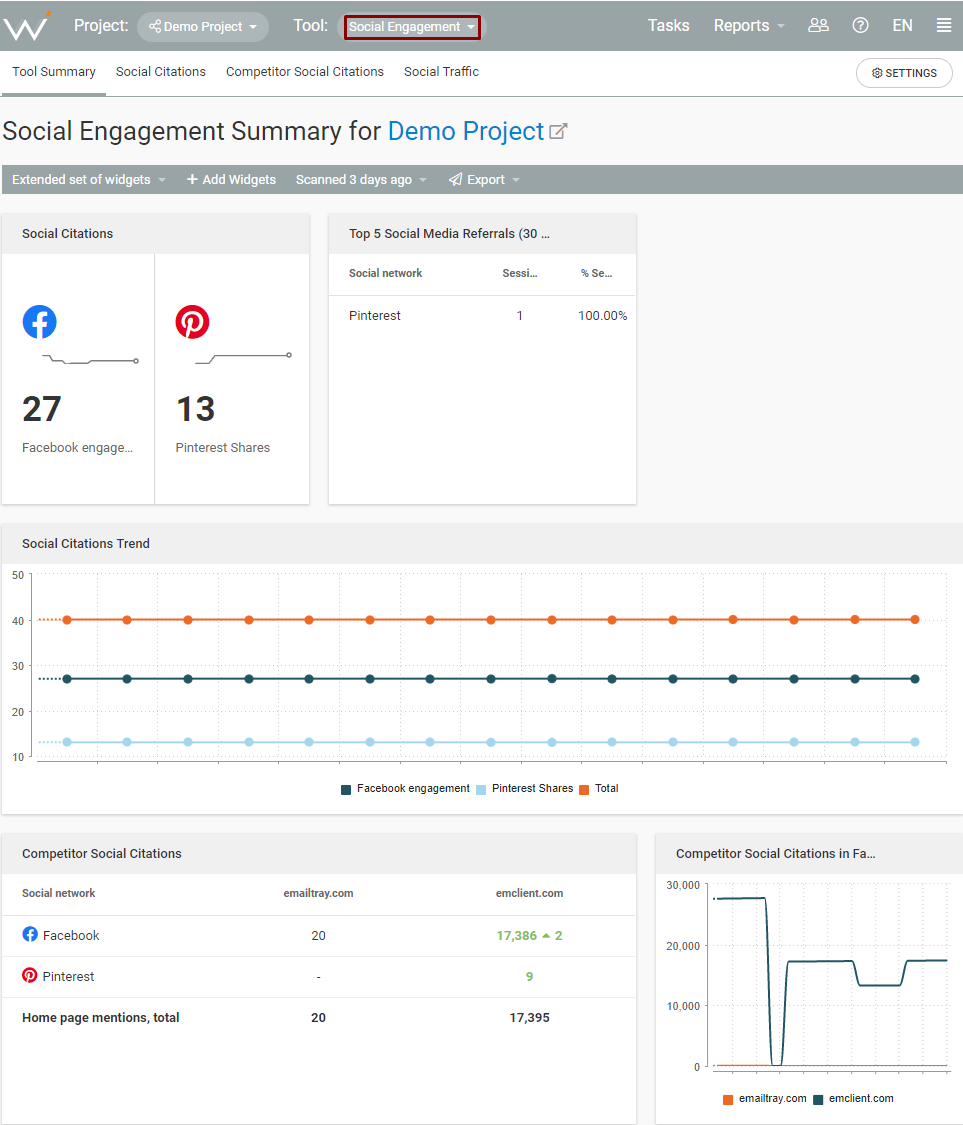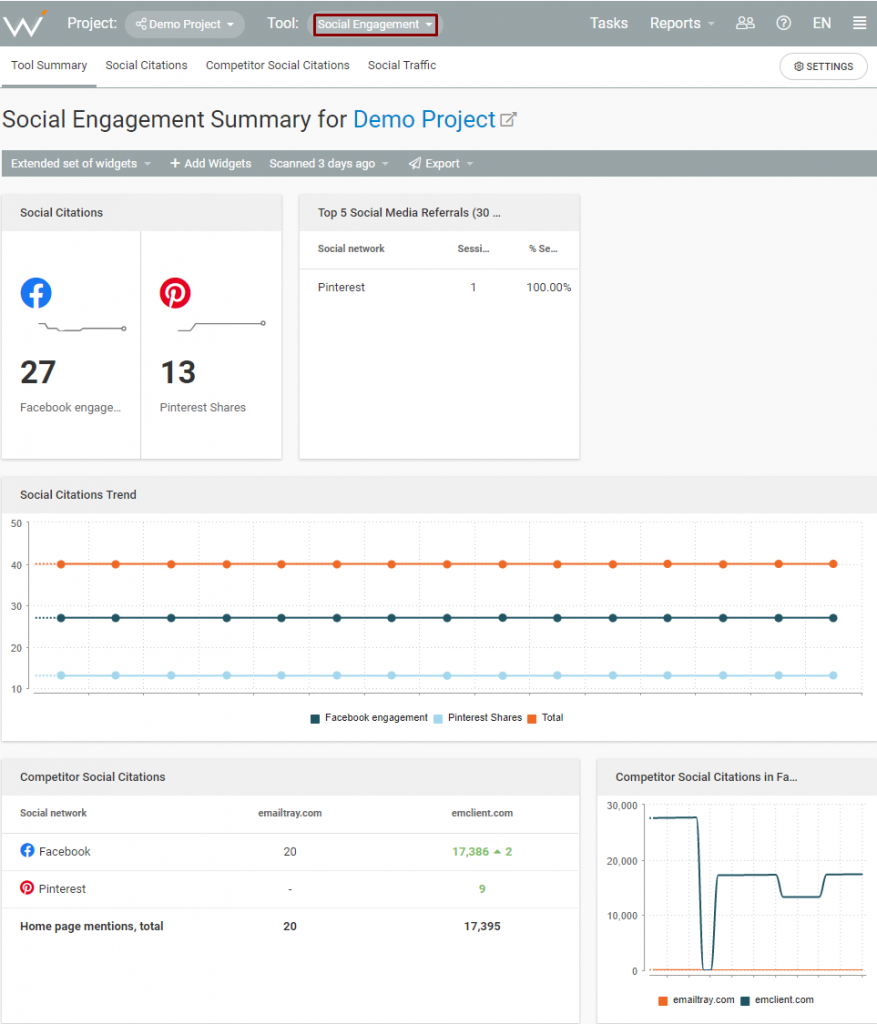 WebCEO's Facebook Insights Tool is here for you if Facebook data is needed. Learn everything about your Facebook engagement in comparison with your competitors, down to the amount of likes, shares, comments, and reactions; analyze your audience by country, city, and language; consider its age and gender. Find out which posts are topical in your niche.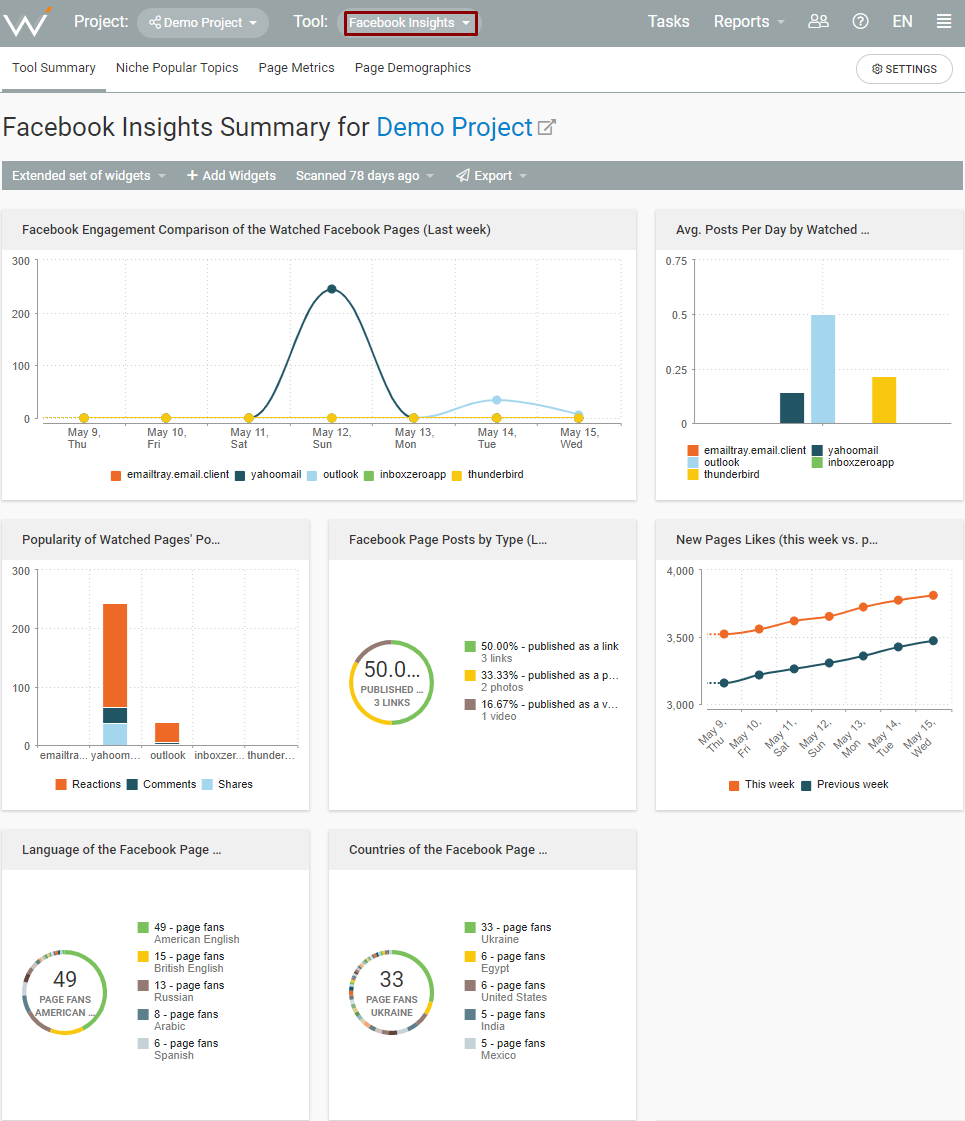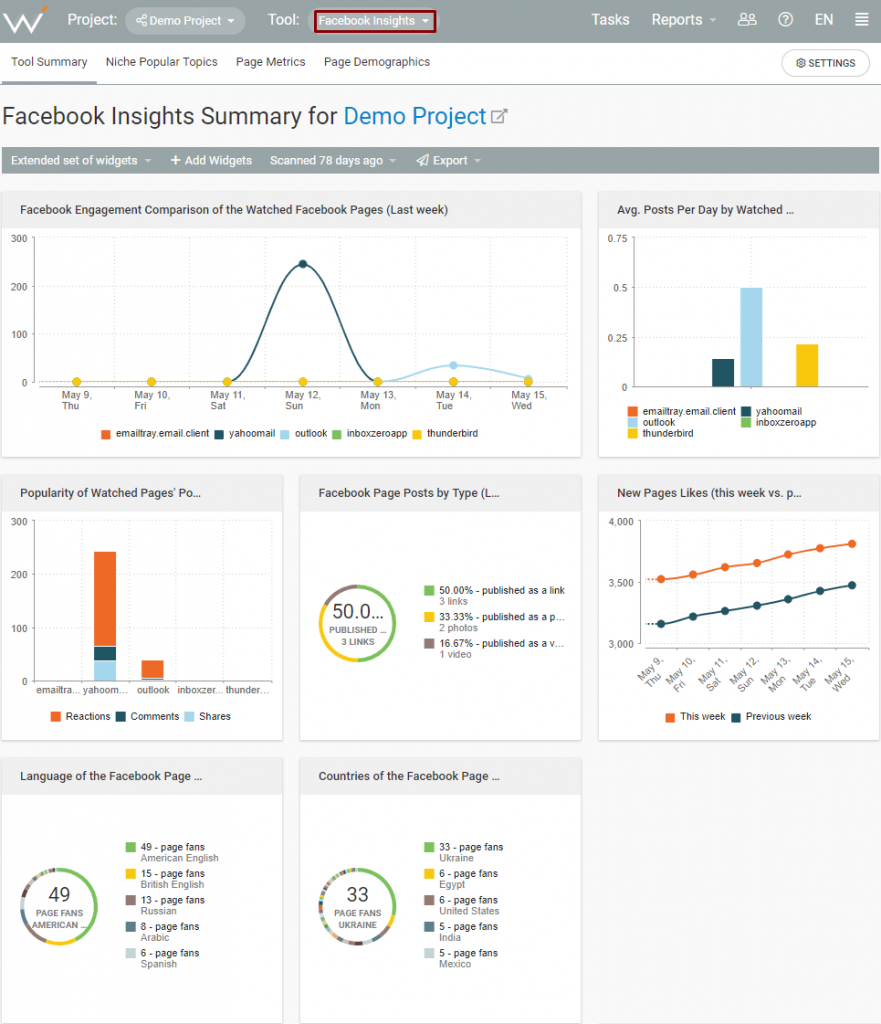 IN CONCLUSION, off page SEO plays an important supportive role in the process of general website optimization. A nice picture and well worked design are definitely a big deal which should be done with great effort because this is the first thing people notice when they visit your website.
However, without appropriate off page SEO it is unlikely you will see a lot of people coming to your site. Start your off page website optimization with WebCEO's Competitor Backlink Spy! Get the better of your competitors and start building backlinks. Let people know that your website exists and awaits them!