14 SEO Agency Tools for Lead Generation, SEO Jobs, Link Outreach and Project Management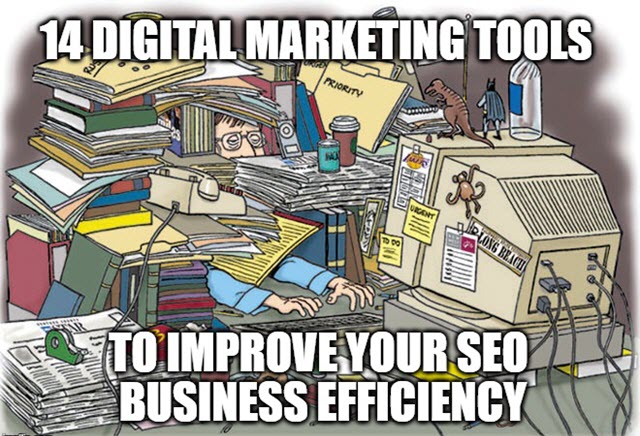 As the developers of SEO software designed for digital and SEO agencies, we know how frustrating it can be running multiple SEO projects, analyzing dozens of clients' website, delegating multiple SEO tasks to team members, keeping an eye on customer satisfaction and constantly looking for new SEO leads via email or cold calls.  It's hard work that requires second guessing your every move.
Regardless of the size and direction of your SEO service, be it a local SEO firm with tens of patrons or a large-scale SEO agency with thousands of projects, you can't cope without rock solid digital marketing tools. We tried to analyze dozens of digital marketing tools and we have singled out those which would best serve an SEO agency specialist in his or her daily challenges.
Lead Generation
Any SEO business chokes if one doesn't feed it with fresh SEO leads on a regular basis. SEO lead generation has evolved into pointing to potential clients' pain points and issues, offering solutions to the same. There are several ways of generating leads for your SEO business: cold calls, email marketing, PPC, webinars, form generated free SEO reports and gated content campaigns. Here are several SEO lead generation tools that will help you keep your sales team busy.
1. MySiteAuditor is a clean and simple lead generation tool that provides an unlimited number of free SEO reports for your potential clients. The website audit tool can be embedded on your site. It allows site visitors to run an audit for a specific page for a target keyword. It has a free 10-day trial and then you will be charged as much as $1.3 per lead a day.
Cost: $39/mo
2.  SEO Lead Generation tool from WebCEO is another white label SEO audit tool that helps you generate your SEO leads right from your site. It comes as an additional feature to your tools package, so you don't have to pay for it as a separate tool, the package allows to generate 5 SEO audits a day in the Startup plan to unlimited number of audits in the Agency Unlimited plan. API integration can help you collect and manage SEO leads right from your CMS platform.
Cost: With WebCEO, this lead generation functionality comes as a part of any package.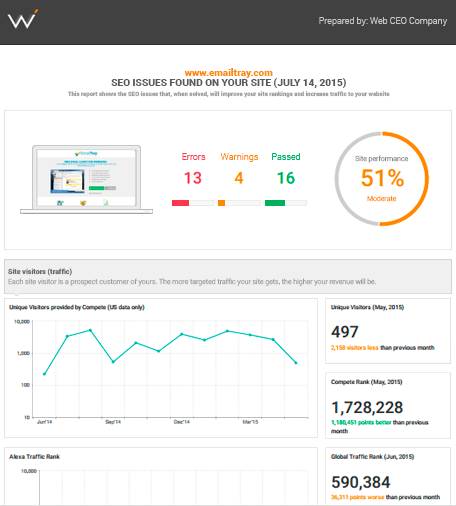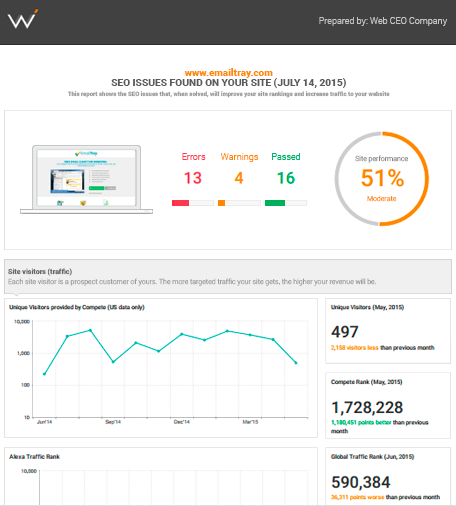 3. Found.ly is a great automated B2B lead prospecting tool that will help you save a lot of time and the effort needed for you to find the public info and contact details of your SEO leads. For now, Found.ly provides a BETA version of its service and you should send a request to get access to its features.
Analytics & SEO Reporting
Choosing ideal SEO software can be really frustrating and time-consuming. The problem with some SEO tools is that they often provide only the what and not the why of SEO data. Another problem is that most SEO tools have poor reporting options or don't have them at all.  There are only a few advanced SEO software providers out there that can fit SEO agency needs based on the following criteria:
Accurate and informative SEO data (keyword rankings, backlink data) backed by advice and how-to tips.
Simple and user-friendly interface.
Integration with 3rd party tools
API access
Regular SEO data backup
Two-sided levels of accessibility for both clients and SEO team members.
Easy-to-customize SEO reports with the ability to set an individual scan schedule and automatic email delivery.
Taking into account the above criteria, we picked several options you may want to consider, in case you haven't yet.
4. Moz Pro
Pros: Where Moz really shines is in having the biggest SEO community. It is well-recognized among SEO newbies and small business owners who optimize their websites without professional help and need some SEO advice.
Cons: Features provided in the Moz Pro fall short of expectations once you dig deeper into the tools. The SEO data is often limited. There is no possibility to track rankings for specific locations, much less multi-location business mobile rankings.  It has no white label access options for an agency's clients.
Cost: starts at $99/mo
5. Raven Tools
Pros: Raven Tools is an aggregation of 3rd party SEO and Marketing tools which can set you free from logging into several types of marketing automation platforms (like email mailing) and let you see and analyze data under one roof. Instead of paying to multiple providers you invest your money into one proven platform.
Cons: The Raven Tools report customization is basic. It only shows the average rank tracking data which is taken from Google Search Console and it doesn't provide a detailed picture of your page-by-page rankings on Google and other SEs, while also not providing competitor, local and mobile rankings.
Cost: starts at $99/mo
6. WebCEO
Pros: WebCEO is well-equipped for both SEO jobs and client reporting.
It provides the most accurate and detailed keyword rankings for the Google local, mobile and YouTube search engines as well as hundreds of country specific search engine. You can clearly see client rankings alongside their competitors. It does a great job in terms of keyword research, technical and code audits, internal and external backlinks, competitor backlinks sorted from high to low value, web buzz and social media monitoring, content submission, sitemap submission, landing page optimization analysis and much more. The SEO reports are supported by helpful advice for troubleshooting.
WebCEO's intuitive, easy-to-customize SEO reports with an automatic report mailing tool is a great find for SEO agencies which want to pitch their SEO services.
Multi-user and multi-level access provides unlimited possibilities for team collaboration.
Multilanguage versions of the SEO platform interface and reports allow agencies to go native in almost any country.
Cons: The platform is designed for professional use and the plethora of options sometimes overwhelms those who barely know HTML tags or rarely use social media.
Cost:  starts at $99/mo
Compare Moz, RavenTools and WebCEO here.
Backlink Analysis & Outreach
Link building campaigns now take much more of your effort and time than back in the old days when you might ask someone for a reciprocal link or you would simply place links on local directories, forums and comment sections. Today, link building is now a good mix of building brand awareness, credibility and influencer outreach.
7. Ahrefs
Originally built for backlink checking, Ahrefs has evolved into a full-fledged SEO platform. But it still remains one of the best backlink analysis tools with an index of 12 trillion known links.
Cost: starts at $99/mo
8. BuzzStream
Buzzstream is designed for link generation by means of researching leads, sending them customized messages in order to earn links and to track the progress of such outreach activities. The service allows you to send messages directly from the tool interface, enables setting reminders to send messages, and tracks and helps continue correspondence on outreach campaigns.
Cost: $24/mo for 1 user and 30 prospecting searches.
9. Mention
Mention is a great influencer outreach and link building tool. It provides an opportunity to get juicy links from non-linked brand mentions. You find your brand name somewhere and then ask a webmaster to please turn it into an actual link.
Cost: $29/mo for 2 basic alerts and 3000 mentions
10. WebCEO's Competitor Backlink Spy
The tool lets you see the best backlinks your competitors have, sorted by factors such as Domain Trust Level or social media mention popularity.

Cost: $99/mo
Project Management and Collaboration
To operate, manage and track the progress of digital marketing efforts and keep up-to-date on the activities for all your SEO projects, you should have trouble-free project management tools. Unless you are Shiva.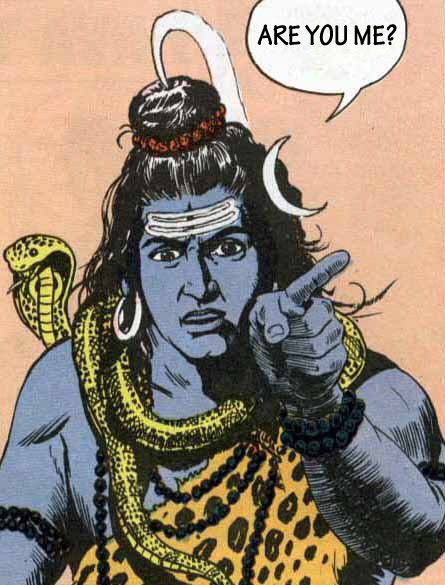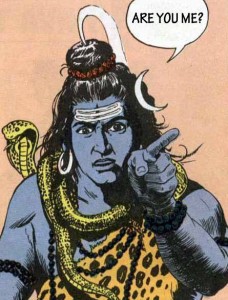 Here are several tools for project management and collaboration.
11. Basecamp
Basecamp is great for an SEO project management perfectionist. It consolidates team discussion in a collaboration center, a company projects board, along with your personal assignments and schedule. It doesn't say anything about having an API or integration with 3rd party toolsL The guys at Basecamp believe in karma. They provide their software for free to teachers and students and they give 50% off the price to non-profits and charities.
Cost:  be ready to pay $99/mo if you are not a teacher/student and a non-profit organization.
12. ActiveCollab
Active Collab shows even higher potential than Basecamp. It provides solutions for project management, task management, team collaboration and management, client management, time tracking and invoicing. Unlike Basecamp, Active Collab enables integration with additional 3rd party add-ons for absolutely free, no matter what plan you have.
See how some of the well-known project management tools compare.
Cost: $25/mo for 5 members and 5 GB of space.
13. Slack
Slack is a great app for team communication. It helps an SEO agency outsource work to SEO specialists in other countries.
Cost: starts at $8/mo
14. WebCEO
WebCEO's Agency Unlimited plan offers Task Management specifically designed for digital marketing work delegation.
Cost: $99/mo + $2 per active project + $4 per 1000 rank queries
There are much more digital marketing tools for SEO agencies and I am sure you have some that you use regularly. Please point some out in the comment section so I can add them to our list.