2 Passive Ways to Generate Five-Star SEO Leads Using Web CEO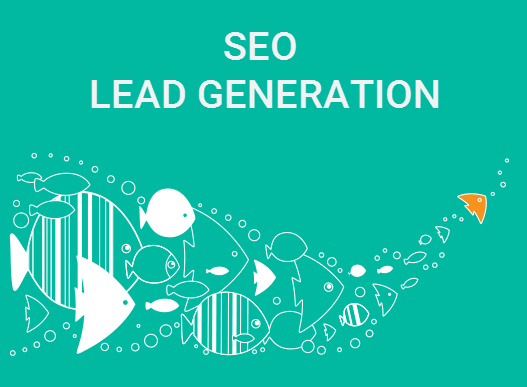 The trends in SEO shift like a clock. Several years ago, internet companies worked hard to generate traffic. Today, high traffic is not a long-run objective and it doesn't always bring you high ROI. With a new generation of big data players the stakes are high in SEO industry. SEO gurus and internet marketers spread themselves out to build a strong online presence and create an effective conversion funnel. Lead generation is the critical point in any conversion funnel, the liaison between traffic generation and customer acquisition.
According to the SEO survey provided by Conductor, [Tweet "60% of surveyed enterprise companies consider lead generation one of the leading marketing objectives in 2015."]
What are the most common ways to generate SEO leads?
Now, that you are ready to improve your lead generation strategy for your SEO agency, choose the best ways and techniques. There are 2 well known ways to generate some prospects:
Paid lead generation. The most common ways of generating SEO leads is email marketing, cold calls, PPC, Facebook/Twitter ads, remarketing. There is also a direct way of buying leads via third-party services.This is the worst technique, because paying for SEO leads is now considered an old-fashioned and rotten technique. You'd better walk on by when you get generic propositions of getting # of SEO leads for $500 -…Let's face the truth. You don't know what quality these leads are, how many of this crowd are cash prospects and how many are blanks. You would have better luck with your own,"manupropria" leads than with uncertain junk that may have also been sold to someone else.
Organic Lead Generation. Organic SEO leads come from organic traffic through Google (Bing, Yahoo!) search and social media channels as a result of your content optimization and promotion. It is the hardest indirect way to convert visitors into customers. Sometimes it works, but in most cases it can take months to generate leads and convert them with the help of just content. You can produce hundreds of posts, infographics and guides on SEO topics with "Ask about our Services" links and forms, but only a few such leads will pan out.
Lead Nurturing as a key part of lead generation
When you go fishing you always take the most attractive and nurturing live bait in order to get a fine catch. The same strategy should be used when you "fish" for leads. Before capturing SEO leads, you should give them satisfying information, specifically about them, that would attract their interest to your offer and make them want your services.
The best strategy for you to generate qualified leads and convert them into loyal customers is to run lead nurturing campaigns. Lead nurturing is the process of capturing, informing, educating, involving and converting your site visitors. There are a lot of techniques and practices of lead nurturing, which include display and social ads, emails, supporting content, online interactions via social media, forums and communities, etc.
How can Web CEO help you easily generate and nurture five-star SEO leads?
We, at WebCEO, have just released an innovative Lead Generation Module that comes as a bonus to our Agency Unlimited SEO tools set. Instead of promoting your SEO services to your prospects through exhaustive cold calling, expensive display ads, annoying email newsletters, you can cost-effectively place our Lead Generation Widget button on your website and issue Express SEO Audit reports even while you're sleeping.
There are two strategies for the double-quick generation and nurturing of the SEO leads you will get with the help of the Web CEO Lead Generation tools.
Free-of-charge Express SEO Audits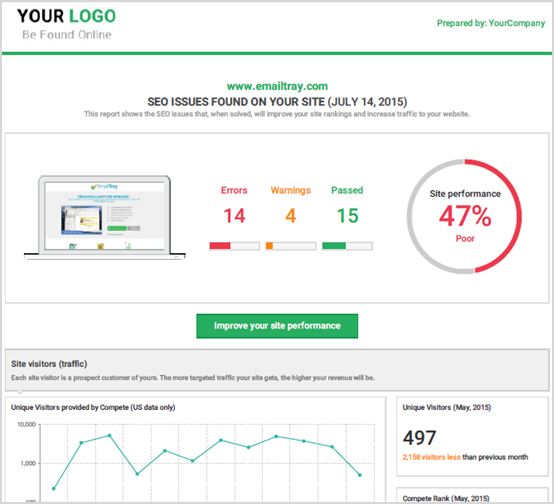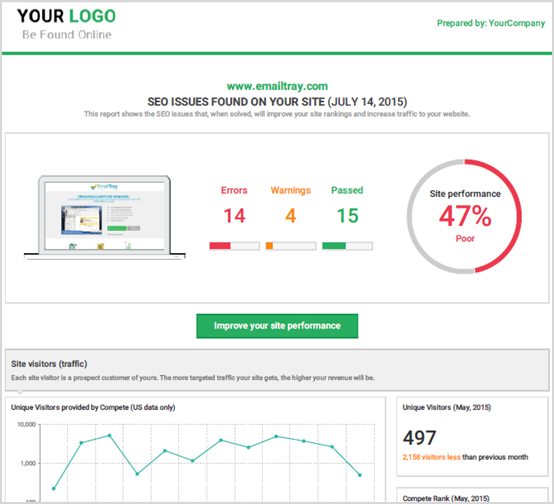 Let's say you already have some prospects in mind. You make arrangements for a meeting, phone or Skype call. An Express SEO Audit can serve as a good SEO tool at hand that will help you persuade her to order your SEO service on the spot. It takes no longer than a couple of minutes to generate an express SEO report. You will not have to add a new project and run multiple tools at once. All the SEO data you will need, including SEO analysis, technical audit, rankings, backlink data and web analytics will be provided within one single SEO report after one-click effort.Chances are, your lead contacts will understand that they have some serious issues with their sites and they will WANT to order your services after seeing a BOOtiful SEO report that discusses (without revealing more detail than you want them to have at this point) all the SEO issues which keep their site from high rankings.
An SEO Lead Generation Widget button placed on your site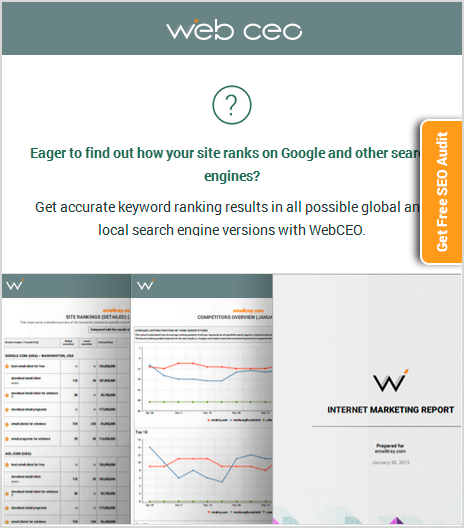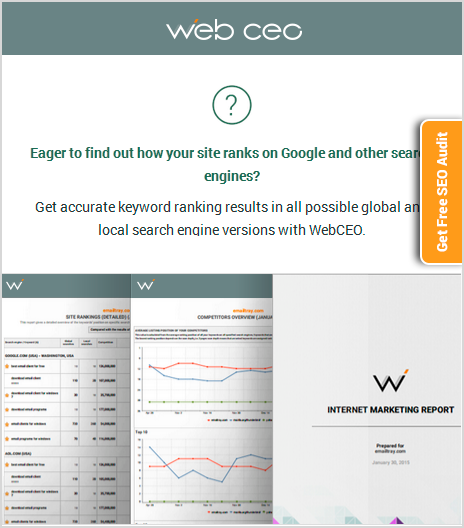 For those who offer SEO services, the best way to get SEO leads is to showcase your potential to your prospects. The best way to demonstrate your business solutions is to provide your leads with a quick analysis of their SEO status with all the issues they have. An Express SEO Audit is what you and your future customer need. Once you have added a branded SEO leadgen button provided by the Web CEO SEO platform on any page of your website in the most fitting part of the page, you will start to automatically generate free-of-charge SEO reports to your visitors which show an overall performance of visitors' sites via the popup fill-in-the-form widget. Every lead that was captured with a free express SEO audit report will automatically appear in the SEO leads tab of your Lead Generation module. You will be able to see contact details and look through the SEO insights of your prospects' sites.
Build an effective SEO lead generation strategy with the help of the Web CEO lead generation tools in order to get more high quality SEO leads into your business's fish net and increase your sales revenue.