Spring-Cleaning: 3 Things You Can Do for Your Site Right Now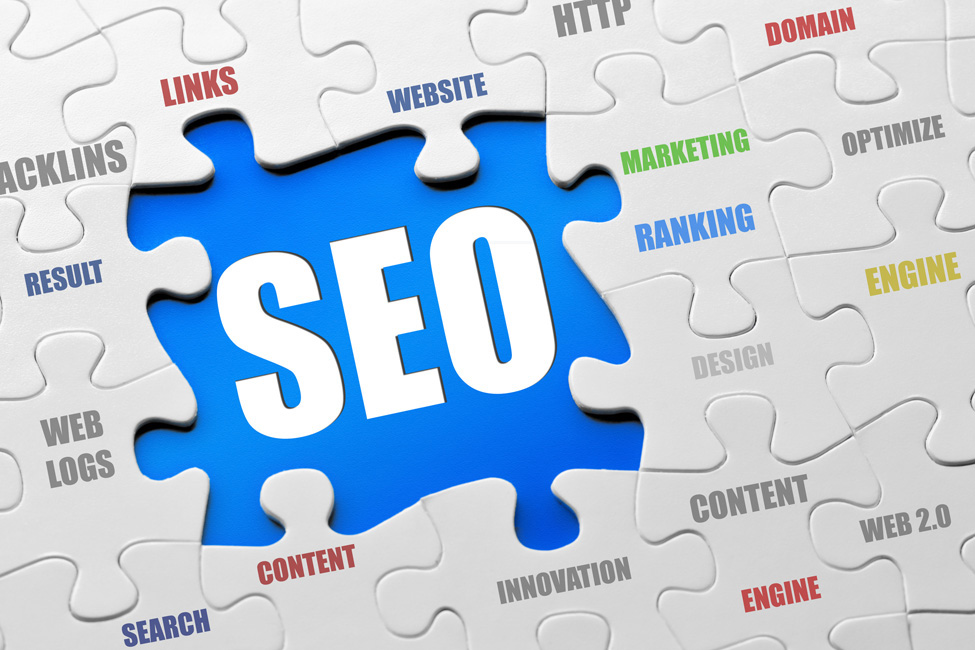 Spring is in the air and we're here to give your old stuffy marketing efforts a spring cleaning with the latest in website promotional technology.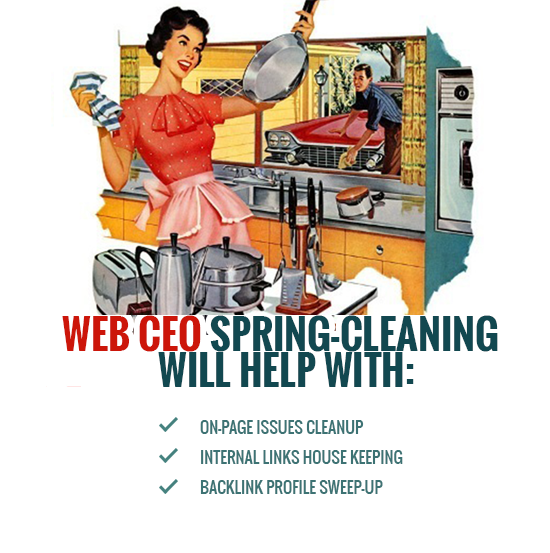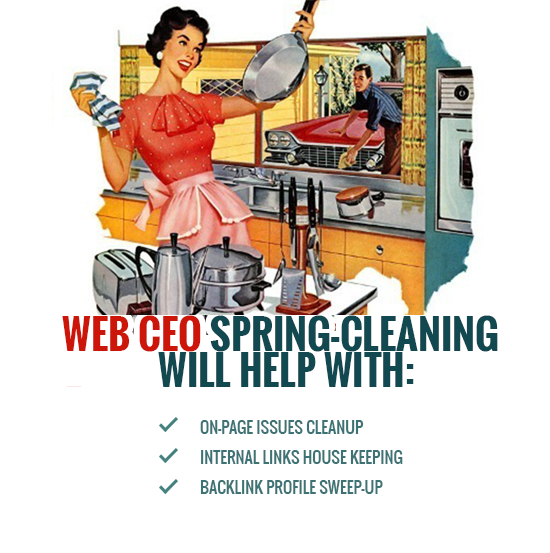 Nobody loves to do cleaning. That is why WebCEO wants to do it instead of you! All you need is to sign up for a 14-day Free Trial at WebCEO, if you still don't have one and add a website you want to analyze.
On-page issues cleanup
A webpage can't rank high if it has on-page optimization issues. The Web CEO Content Optimization tool will check whether you have on-site SEO problems like missing or duplicate Titles and Descriptions, a missing XML sitemap, an excessive number of outgoing links, H1 stuffing or non SEO-friendly redirects.
The Landing Page SEO report will analyze your most important pages and check if the most SEO-valuable areas are optimized properly.
What you'll get: a report listing on-site SEO issues and pages on which the issues were found and a detailed analysis of how well specific pages of your site are optimized for chosen keywords.
Internal links house keeping
This step needs more actions from you than the previous one. However in the age of the Google Hummingbird update it is vital to optimize your internal links structure. The WebCEO Page Authority Analysis report will show you what pages look important to search engines with your current site structure. Mark your landing pages and proceed to the Landing Page Analysis. Here you will get a list of your own pages that may, with better internal links, help you improve the authority of your more important landing pages.
What you'll get: a list of the pages to link your landing pages from to improve your landing pages authority.
Backlink profile sweep-up
Rank drops are the biggest SEO nightmare. To prevent your website from any possible penalty, you should remove all signs of search engine results manipulation. The WebCEO Backlink Quality Check tool will analyze your backlink profile and point out toxic and suspicious backlinks. You can even define the parameters that define what "toxic" means.
What you'll get: a list of low quality links you may want to remove to protect your rankings from the Google Penguin algorithm.
These 3 easy steps performed with the help of the WebCEO tools will give you a direction to move with your SEO. We hope your rankings (and your conversions of course!) will grow this spring as every plant should. 🙂