5 Spookily Effective Social Media Tactics to Drive Your Marketing This Halloween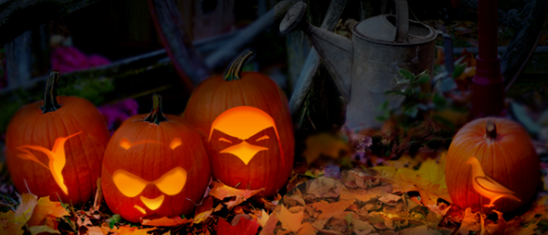 Welcome to Fright Night (also known as All Hallows Eve which comes before All Saint's Day)! We are all anxiously awaiting the second most commercially successful holiday in the United States. Social media explodes during this time of year, whether they are posting pictures of their cutely costumed kids or showcasing their ornately carved pumpkins, the social network platforms light up like a Jack O' Lantern in October.
Americans spend over 7 billion dollars a year on Halloween related items with the average consumer bleeding around $77 dollars from their wallets. How can we cast a spell on all our social media trick or treaters and have them coming to our haunted house for Halloween? What sort of tools do we need to carve out our niche on these pumpkin filled platforms for some screaming success?
Here are five, eerily effective and uniquely unmasked ways to watch your online cauldron boil over with devilish delight:
#1 – SCARY SWAP
Facebook has a site for National Costume Swap Day, which is a relatively new trend online. See if there is already one in your area and if not, start one up. Whether you are promoting your own event or sharing one with others, you can still have a ghoulishly good time connecting with your freaky new friends.
#2 – TERRIFYING TWEETS
Consider challenging your audience to a "most terrifying tweet" contest or perhaps a "cutest costume" campaign for kids or pets (kids, cats and dogs rule social media).
To get your hashtag really moving, think about turning your brand or company into something more Halloween relevant just for the spooky season. For example, Mary's Pizza could become #scarymaryspizza or Ted's Auto Repair might be termed #terribletedsauto. Search for Halloween terms online and you'll see a whole vocabulary of frightening words and phrases to use.
Even if you don't promote an actual contest or event, you can still Tweet, post and pin your Halloween themed messages and ask that others do the same. You will connect positively with your audience, engaging them to share their own macabre messages.
#3 – FREAKY FREEBIES
Everyone loves free stuff, especially around the holidays. Offer your audience a variety of different Halloween themed items, for example you can upload pumpkin carving templates, party planning tips, alternative pumpkin recipes, any other unique or original ideas you may have. When you post these on a social media site, give a partial intro for your item and then link it back to your website or blog.
#4 – ZOMBIE ZONE
Using a specific theme or popular character, like zombies, sponsor a new local event that you can repeat annually. You could have a Zombie Zone at a neighborhood park, play Zombie football, baseball, basketball or go golfing with Ghosts and Ghouls. Start a new charity, a Witches Walk for Wildlife Preservation or a costumed run for disease research. Promote your event on various platforms, link registration and other details back to your website or blog. These types of get-togethers are growing in popularity and give your brand a positive image.
#5 – PULVERIZING PUMPKINS
Smashing pumpkins (not the defunct rock band) is a popular Halloween pastime. Start a campaign or contest inviting users to upload their photos and videos of them doing so. Ask for original ways that they are pulverizing their Jack O' Lanterns, carved or whole. Offer your own unique method with which you destroyed your Halloween fruit. Don't just drop one off a rooftop, try something different, a sledge hammer perhaps, maybe drive over one with your pickup truck. You'll see a lot of traffic and attention for viewing these images.
Now that Halloween is almost here, before long we will be ringing in the New Year. Get your spook on and be ready to ramp up your marketing strategies for the holiday season. Make sure to analyze your social media marketing effectiveness using the social media monitoring tools from Web CEO.