Social Media Optimization: How to Nail It with SEO Copywriting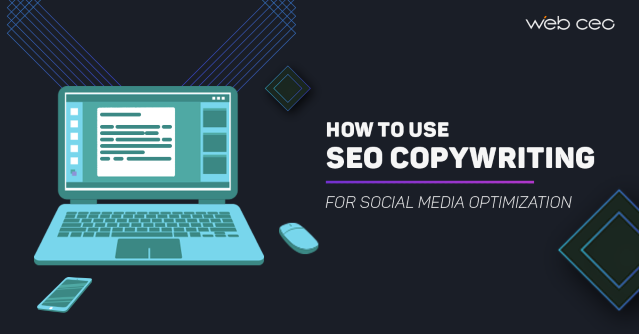 The SEO and social media departments of many brands often operate as their own entities. In reality, however, the two are inextricably linked. As such, they should work in unison, aligning their strategies, processes, and goals. How can you improve your social media optimization by using SEO-friendly copywriting?
Let's explore how it's done on some of the most popular social networks.
Wait, But What Do SEO and Social Media Have to Do With Each Other?
SEO (Search Engine Optimization) and social media are two distinct but interconnected aspects of digital marketing and online presence management. While they serve different purposes, they can work together to enhance your overall online visibility and brand authority. Here's how they are related:
Content Promotion: Social media platforms are excellent channels for promoting your website's content. When you create content on your website, such as blog posts, articles, or videos, sharing them on social media can help increase their visibility and drive more traffic to your site.
Backlinks and Authority: High-quality content shared on social media can attract attention from influencers, bloggers, and other website owners. If they find your content valuable, they may link to it from their own websites or blogs.
Brand Awareness: A strong social media presence can help your brand become more recognizable, and this can indirectly benefit your SEO efforts. When people are familiar with your brand, they are more likely to search for it by name, which can lead to increased branded searches.
Engagement Signals: Social media platforms provide a way for users to engage with your content through likes, shares, comments, and click-throughs. When your content receives a high level of engagement on social media, it can indicate to search engines like Bing that your content is relevant and valuable to users, potentially improving your search rankings.
Local SEO: For businesses with physical locations, social media can be crucial for local SEO. Platforms like Facebook and Instagram allow businesses to create profiles with location information, reviews, and other details. Optimizing these profiles and encouraging positive reviews can improve your local search visibility.
How to Use SEO Copywriting for Social Media Optimization
In terms of SEO copywriting, you only need to follow two rules:
1. Use relevant keywords throughout your social media posts, including in the title, meta description, and body copy.
2. Write clear and concise content that is easy for users to scan and understand.
While social media optimization and SEO constitute a vast theme, this article aims to provide you with a foundation that will assist you in leveraging social media to promote your website. Let's go!
Pinterest
Pinterest gets more than two billion searches a month. Woah. If you're not optimizing your pins and profiles, you must do it to not miss out on serious traffic.
There are simple steps you can take to make significant progress. First, find relevant keywords.
Go to the search bar and start typing the general topic of your pin content. For instance, if you're pinning a blog about the keto diet, start typing "keto diet" into the search bar. Here's what you will see: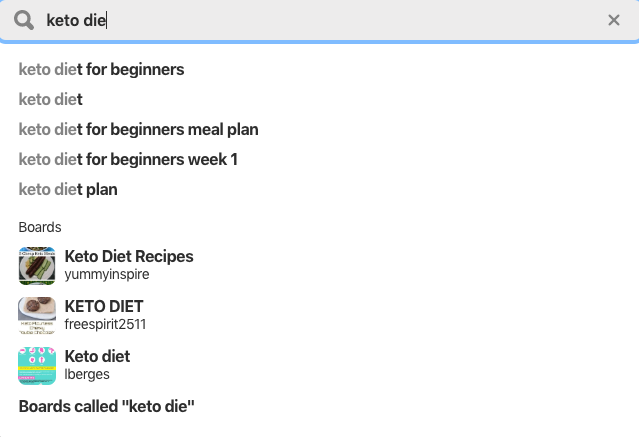 Not unlike Google, what you will see in that drop-down are related search queries people have actually typed in. In other words, Pinterest is helpfully handing you relevant and related keywords.
Pick one that makes sense for your pin. Then, use it in the:
Pin title.
Pin description.
File name of the image you pin.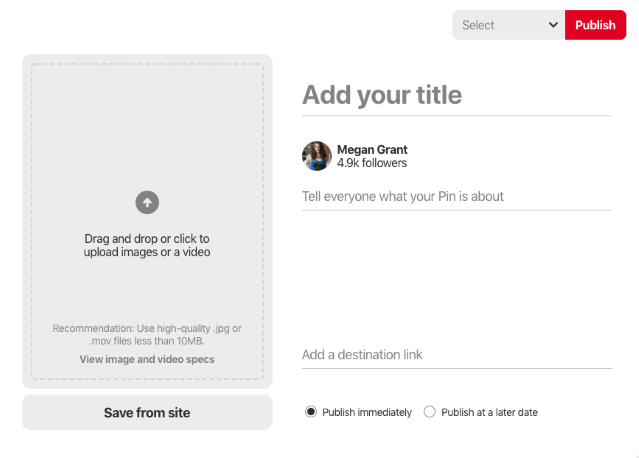 Word on the street is that Pinterest might even be analyzing the text on your pin image, so you might consider having the keyword there, like this: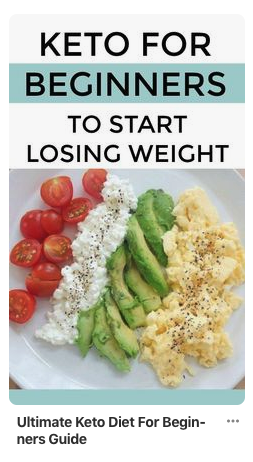 (Source)
This isn't the only place you can use optimized copy on Pinterest to increase your traffic and engagement. Your boards have titles and descriptions — how about putting some keywords in there?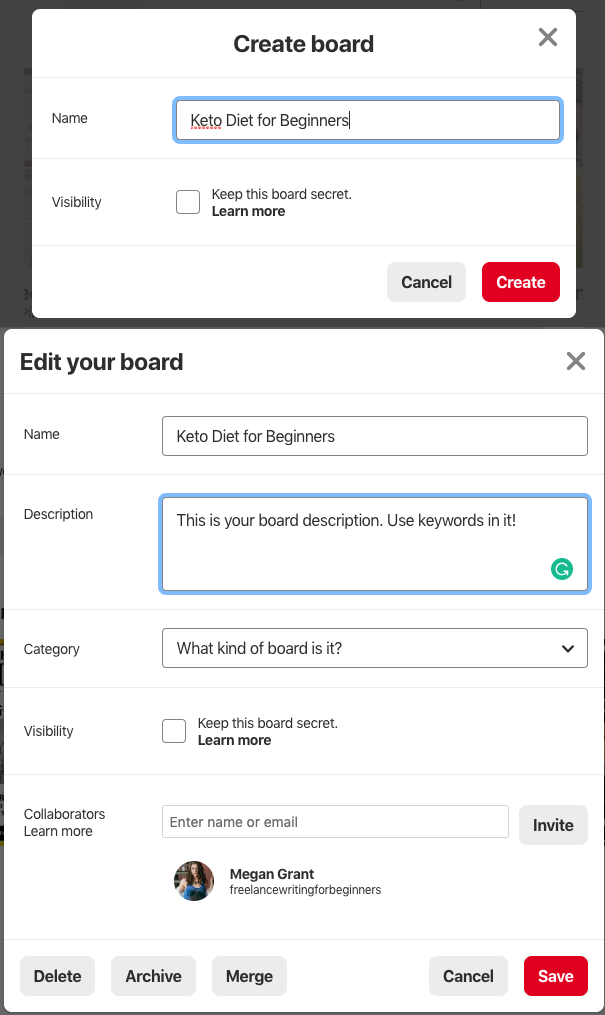 Don't forget that Pinterest also gives you a little space to share some information about yourself. This is another great place for a keyword.
Remember that Pinterest is also like Google when it comes to keyword stuffing, meaning don't do it. It creates a bad experience for your visitors, it looks spammy, and the platform will take note of it and react accordingly.
P.S. Don't forget to add a few hashtags!
YouTube
Google owns YouTube, and that should tell you how important it is to optimize your profile and the videos you post. Thankfully, YouTube gives you plenty of opportunities to do this.
YouTube SEO starts with finding the right keywords. Notice anything familiar?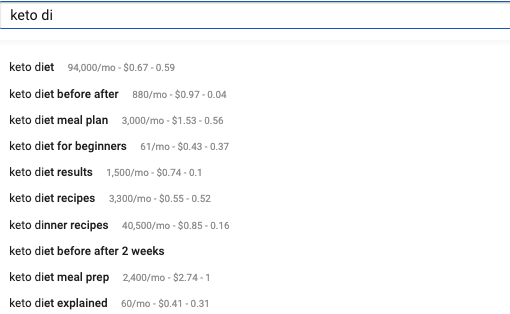 Once you have a relevant keyword (or two), use it in your title and description, plus in the name of your video file, if possible.
Also, did you know that you can use hashtags in video titles and descriptions? They're not just for show, either. They're clickable and fully functioning. You can put them in your video descriptions, too.
This will make it easier for people to find you when they're looking at videos that are related to yours. Bonus.
YouTube is quite literally Google for videos. If you don't optimize content when posting videos, people won't find you — period.
LinkedIn
It might not have all the bells and whistles that Instagram and Facebook do, but LinkedIn matters. If you're on it and you're not optimizing what you write, you're missing out on traffic and engagement.
We know we're starting to sound like a broken record here, but we're going to say it again: keywords, keywords, keywords!
What's the purpose of your LinkedIn page? What are you using it for. Let's run through an example and say you're a freelance social media manager looking for work.
If that's the case, you want people who are interested in hiring a social media manager to find you when they look for candidates.
Perhaps unsurprisingly, you're going to want to make sure the words "social media manager" are sprinkled throughout your page. This includes your:
Headline.
Bio/summary.
Job descriptions under your employment history.

Considering we use LinkedIn for business purposes, you're going to want to stack the odds as much in your favor as possible when it comes to making it easy for people to find you. Social media optimization is key.
X
When you think of using "keywords" on X, you probably think of hashtags. Those are indeed important, but they're not the only way to optimize your tweet.
Notice what happens when we search "SEO tips." For starters, the two pages featured at the top have #SEO — in their bios! Is this the only reason they're featured? No. Does it help? Most likely.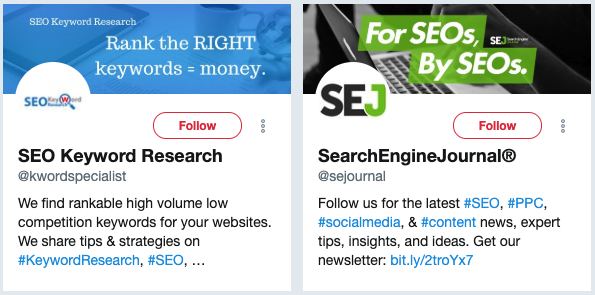 Next, let's look at the first three tweets that show up in the search results.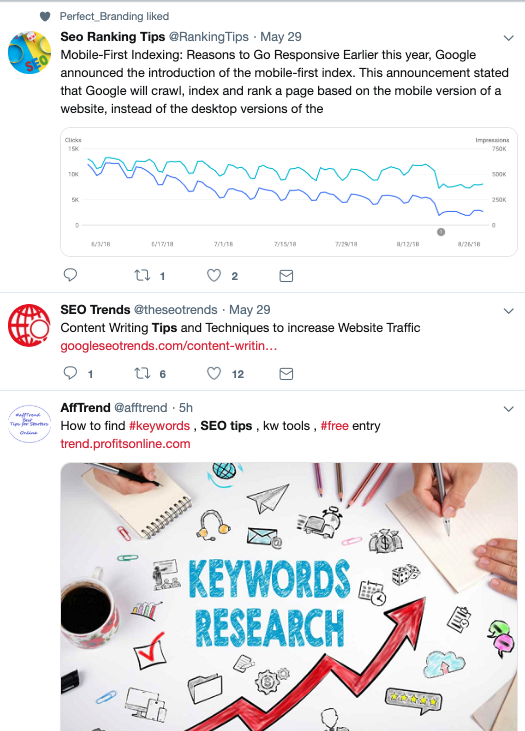 For the first result, the username — Seo Ranking Tips — contains our search term (SEO tips). In the second result, "SEO" is in the username and "tips" is in the tweet. In the third, "SEO tips" is in the tweet.
These aren't even hashtags.
So, yes, Twitter is absolutely paying attention to the words you choose to put in your tweets and on your main profile page. Choose wisely!
Similar to Pinterest, it definitely can't hurt to put relevant keywords into the file name of any pictures you tweet, as long as it makes sense.
Instagram
Create compelling visual content that complements your blog articles and videos. Use high-quality images and engaging visuals to capture your audience's attention. A carousel with your article's text will be a powerful tool to move traffic to your site and get a lot of MQLs. Furthermore, you must use emojis, but not too much. Research suggests that emojis make your content more memorable and also increase engagement.
Utilize the clickable link in your Instagram bio to direct users to your latest blog articles, videos, or landing pages. Ensure that the link is optimized for SEO and leads to valuable, relevant content.
Be active in communicating with your Instagram audience through comments, likes, and shares. High engagement rates can indirectly influence your SEO rankings, as search engines may interpret user engagement as a sign of content quality.
Another easy trick is to prioritize hashtags that get more engagement and traffic. Instagram itself tells you how many times a hashtag has been used, and tools like eClincher will measure their engagement.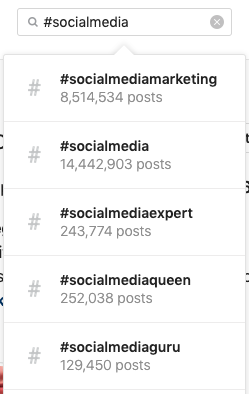 Optimization in every social network is an art that needs to be learned over many years, especially Instagram. If you've never done it before, don't hesitate to hire a professional to help you create social media profiles that will bring you profit.
Facebook
We love hashtags, and using them helps optimize your posts because it makes it easier for people to find you.
However, when it comes to Facebook, go easy on the hashtags. In fact, try laying off completely.
Research says that Facebook posts without hashtags perform better than posts with hashtags. Don't worry, though. There are other ways you can optimize your page.
Fill your profile out in its entirety, including the About section and Our Story.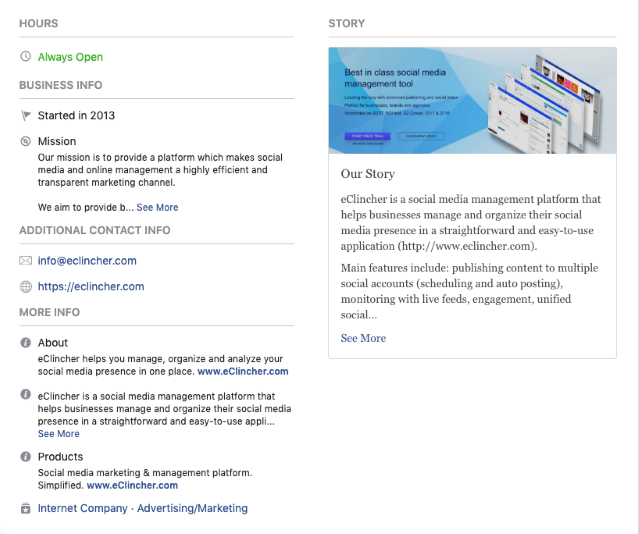 Also, be sure to incorporate important keywords that are relevant to your product or service. For instance, we have "social media management platform" in the first sentence of Our Story.
Now, are people using Facebook like a search engine to the same extent as we are on platforms like YouTube, Pinterest, and LinkedIn? No. But here's the thing. Social media profiles often show up on page one of Google when people are looking for your business.
And, while we don't have a conclusive answer, your social pages might be acting as quality backlinks — meaning they link back to your website. Google notices this.
Any way you cut it, social media optimization is important, and so is observing its results. Keep track of user activity and engagement on your Facebook page with the WebCEO Social Analytics Tool.