Video Marketing: The Future of SEO (Infographic)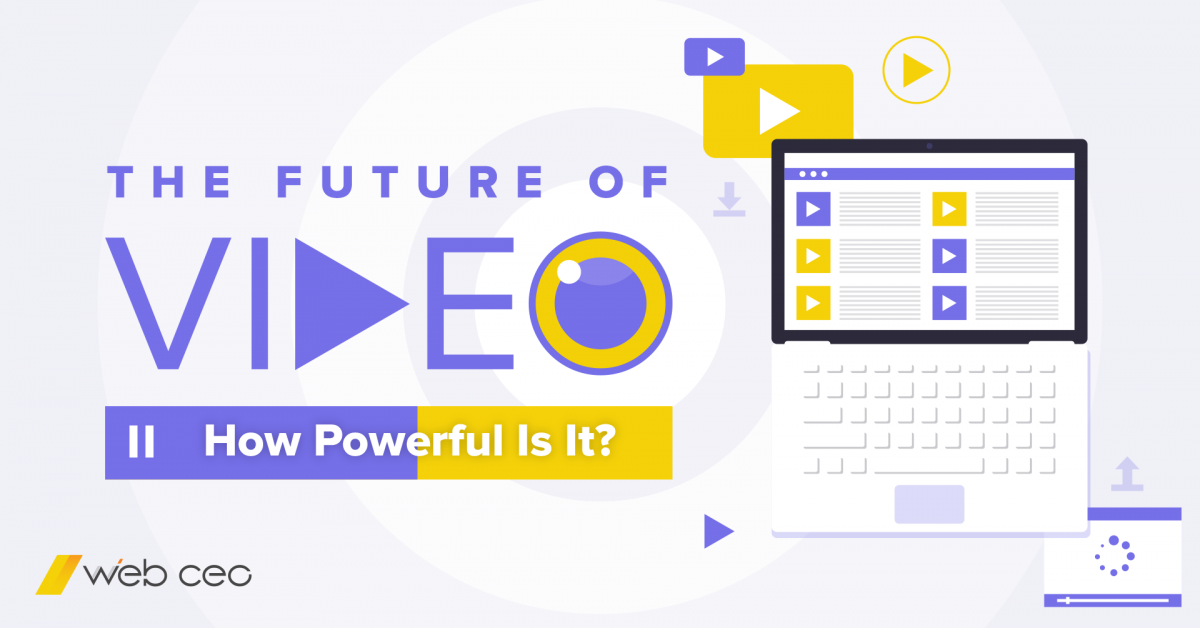 Content is the common thread tying together SEO and digital marketing. Want your website to be at the top of search results? Make great content. Want to sell something? Make great content. Since that's where the two goals intersect, it's clear that superior content is the gateway to greater rewards in each.
And video might just be the winning ticket you were looking for.
Want proof? The most prominent example is YouTube. Video content helped it become a giant on par with Google itself, enough to make YouTube SEO its own thing – to say nothing of all the ad revenue generated there. Video can be packed with more information than any other medium, which makes it such a potent tool in communication. And that's what SEO, digital business and video marketing are all about: reaching and communicating with your audience.
Need more reasons to start using videos? Don't worry, we've got plenty.
Video Marketing Statistics in 2022
"The 2020s will be the decade of video." How I wish I had a dollar for every time I'd heard that over the previous decade. I'd have enough to make Elon Musk cry!
Two and some years into the new 20s, how is this prediction holding up? Spoiler alert: very accurate so far. Countless businesses have bet on video content and they did not regret it – quite the opposite, in fact. Numbers can do a great job describing the impact video has had on digital businesses – and, as they say, a picture is worth a thousand words.
Here is an infographic: the fruit of Renderforest's research on video content and how it has been used by businesses in the 2020s. Below the infographic itself, we are going to highlight the most impressive points.

1. Benefits of video content
Videos are widely used (and that's an understatement). There are plenty of businesses and marketers to vouch for the benefits. What does the majority say?
Using videos in your marketing campaign increases:
Return on investment
Brand awareness
Lead generation
Site traffic
Every single thing that matters, as you can see.
85% of businesses use videos in marketing and consider them a vital part of their strategy. What's more, videos have proven to be especially effective during the COVID-19 pandemic, according to 91% of marketers.
2. Video consumption
They didn't lie when they said the 2020s would be the era of videos. Halfway and some into 2022, global video traffic is climbing past the 82% mark – as expected. And thanks to such a high percentage, we can see how users prefer their videos:
33% of viewers will stop watching a video after 30 seconds. That's how little time you have to hook them in!
25% of viewers finish videos that are over 20 minutes long. Not great, not terrible.
75% of viewers prefer horizontal videos to vertical ones.
3. Types of videos
There are many kinds of videos out there. What do businesses prefer? How effective are those preferred kinds at their job?
Explainer videos: these are used by 62% of businesses, as well as by 82% of B2B businesses. This type of video has an enormous audience: 94% of people who want to know more about the product will watch an explainer video. Also, 93% of millennial viewers love how-to videos.
Logo animations: they are present in 46% of videos made by businesses, and in 58% of B2B business videos.
Video ads: they are less common than you'd think. Only 38% of businesses use them!
Demo videos: these are even less common, employed by 33% of businesses.
The 3 most popular types of videos are webinars, demos and social videos.
And the most effective types (as reported by businesses) are informative and entertaining.
4. Videos and platforms
Now, everybody knows YouTube is king when it comes to videos. But what about other places?
It turns out businesses use videos quite effectively on their own sites. Putting a video on a landing page can increase your conversions by up to 80%!
What's more, having a video on your landing page increases its chances of appearing on Google's first SERP by 53%. Naturally, that includes homepages.
And here's my favorite part: videos are effective even in emails!
44% of people are willing to watch a video included in an email. In fact, a video can increase an email's CTR by up to a whopping 300%.
However, only 25% of businesses use videos in email marketing as of now (partly due to people being cautious about spam in emails, but that's where verification tools like SPF record checkers come in). Sounds like a powerful, untapped niche you could use!
5. Videos on social media
We've seen how effective landing pages and emails can be. But when you want to post a video somewhere, what comes to mind? YouTube first, social media second, right?
Let's look at the numbers.
81% of social media users say videos are their favorite type of content.
75% of people are more likely to follow a brand's page if it has video content.
For 74% of businesses, their videos receive the most engagement in social media.
Twitter in particular is going through a video Renaissance of sorts: its video views are 220 times greater in 2022 than last year.
Lastly, 56% of businesses post at least 5 videos per month on their social media.
Afterword
I think it won't be long before augmented reality becomes the next booming trend. But for now, video content is king, and these statistics should be enough to convince you. It can be tough to make a good video, but this type of content has the highest ROI – that's a proven fact.
When you are making a video, have fun! The audience respects professionals who love their work. Enjoy what you do, and the viewers will happily join in for the ride.