An Ultimate Guide to SEO Mobile Ranking Factors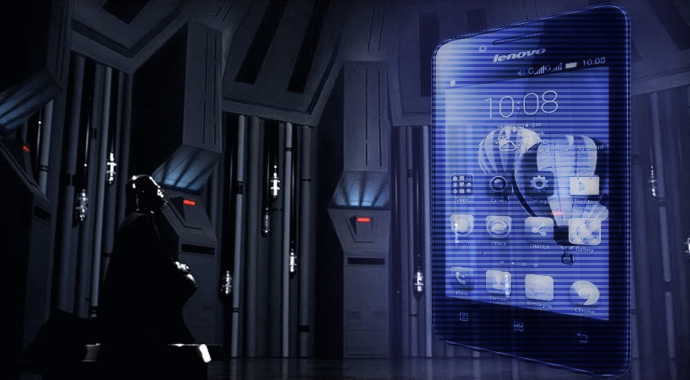 Even Darth Vader kneels before the power of the mobile side.
Previously, we published a blog post which had an infographic talking about this year's most relevant mobile ranking factors. In the same post, we promised to give you the infographic's extended transcription in our following update. And today, we make good on our promise in this very update, kicking off with a short preamble.
Did you know that the mobile Internet has been around for 20 years? That number is also how long it took mobile devices to attract a majority of Internet users and become a conduit for nearly 60% of Google searches. After two decades, the mobile Web surpassed its desktop kin and brought about the beginning of a new era. Now handheld computers make up an unstoppable force that dominates searches and brings the largest chunks of traffic to online businesses, and their influence is only going to expand further and further. All glory to the mobile overlord!
And although the rebelling SEOs will not face the wrath of the Death Star, ignoring the changes will be as risky a decision as ever. This field isn't one where you can just stubbornly hold onto old and outdated techniques; you adapt, or you fall behind. But this isn't something to be displeased about. Think positively! Difficult challenges often go hand in hand with new possibilities. That's exactly the reason for Google's switch to mobile-first: to open new possibilities in the art of website optimization. But to seize them, we need to answer one question first: namely, how does one improve website rankings with mobile SEO.
There are a number of factors which make your mobile website rank higher (or lower) in Google, and they can be safely divided into three major groups: technical, user experience and content. There's also an additional group for a few other factors that can't be included into the previous three, but still deserve mention. To help you get better acquainted with them, we have composed this list of mobile SEO ranking factors that matter the most in 2017.
Legend:
Green means a factor that is good for your site
Red will affect your rankings negatively
Grey can go either way depending on your approach
1. TECHNICAL FACTORS
According to a Mobile Ranking Factors study by Searchmetrics, the average loading time in the mobile top 10 is 1.10 seconds, and being only a tad slower (1.17 seconds on average) sends you further down in the top 30. The line separating successful sites from the poorly optimized ones is shockingly thin, wouldn't you agree? By the way, if the site doesn't load in 3 seconds, mobile users just close the browser's tab.
AMP (Accelerated mobile pages)
Thanks to their ability to load 30 times faster than regular pages, AMPs have a positive effect not only on rankings, but on click-through rates as well. No wonder they show up in almost every Google search result: they offer the best of the best user experience.
Most mobile browsers don't support Flash content and thus can't display it. Not only can users not see what you wanted to show them on your website, but you also risk a penalty from Google for hidden content.
If your site has issues that need fixing, users are most likely to run into errors such as faulty redirects leading to the site's desktop version and non-existing pages (good old 404 errors). Small problems can turn exploring your website into one big problem, so don't take too long dealing with them.
2. USER EXPERIENCE FACTORS
Google seems to reward mobile sites for having unordered lists even more generously than desktop sites. This is not surprising because a neatly organized list is easy to scan. However, rankings begin to fall when the lists have too many elements in them. Because a small screen can display only so much at a time, the golden number of bullets for mobile devices is 9.
Visual media are an integral part of creating an enjoyable site. However, one must not forget how abundant content affects the site's loading speed. Optimize your images to reduce their dimensions and file size and avoid using too many. On average, a single mobile page has 4 images.
Pop-ups are the most hated enemy of all Internet users, desktop and mobile. And because a mobile device's screen is significantly smaller, a single annoying pop-up form can obstruct an unfortunate site's content with a lot less effort. Google knows this, which is why they've rolled out an update that will smack the more selfish website owners with a good penalty in rankings. The algorithm still needs some work, but I hope you know better than to underestimate Google.
If you've ever tried opening a desktop site on a handheld device, you probably had trouble reading its contents. That's to be expected when a page made for your standard PC display is shrunk to a mere 540×960 pixels. That's why you should use large (recommended value is 16 pt.) font on your pages – at least above the fold, where visitors can see the page's headline and understand what they are about to read.
Do you use interactive elements on your site (like buttons)? They shouldn't be so small that the user's finger has trouble pressing on them. It could get even worse than a simple nuisance: if such elements are placed next to each other, the user might press the wrong one and end up posting his or her credit card information online for all to see! Well, that's just an example.
Mobile pages tend to have around 75% fewer links on them than desktop pages. This is due to the limitations placed on their size and content in order to improve UX. Avoid placing the links too close to each other, as it's too easy for a human digit to slip.
3. CONTENT FACTORS
Keywords and related phrases in body
The longer the text, the more keywords and related terms it's likely to have naturally. But mobile sites normally have shorter texts, so it would be strange for them to have as many keywords and phrases. Keep it natural for the amount of words you have.
Keywords in external links
If you know how backlinks work and what kind of advantage they provide, it should be easy to see how this could work against you. Don't help your competitors rank higher for your own keywords. Also, remember that Google might interpret an outbound link with a valuable keyword in it as indicating a source that is more relevant to the page's topic than your own site.
While desktop sites remain ahead of mobile ones in terms of how many words per page they use, the mobile sites' word count appears to be growing little by little. Curiously, a higher number of words places you further away from the top position in rankings, but URLs ranked worse than the top 10 have roughly the same text length as in the top 3.
Setting aside the confusing statistics, you should try to make your content rich by the mobile screen's standards rather than the desktop's. Between 700 and 1000 words is plenty.
4. ADDITIONAL FACTORS
Rich social engagement provides a ranking boost for a site regardless of the platform. Users browse social networks on mobile, too. There's no reason why you shouldn't use this to your advantage.
An average user spends about 30 minutes a day on Facebook alone. Over 77% of all content shared via mobile goes through messaging apps like Facebook Messenger and WhatsApp, making them an excellent platform for attracting visitors (through means such as newsletters, invitations or ad targeting). Don't forget that social media's primary purpose is communication, and communication equals feedback! You won't find it in such abundance anywhere else.
Local search optimization
Local SEO is essential for every business with a brick-and-mortar location. Additionally, mobile devices can be taken anywhere with ease and thus are more often used for finding places (including places to shop). Putting these two facts together, mobile SEO will give your business an even stronger presence on the Web.
But you may get discouraged if you try to research the conversions. According to data from Q4 2016, desktop websites got a 26% cart conversion rate, while smartphones brought only 16%! What gives? Well, there's a really simple explanation: it's because the shoppers prefer to make purchases on a larger screen. They use a mobile device to find what they want and then switch to desktop to enter payment information. Anyway, if you want to improve your conversion rate –  here are 25 great tips on eCommerce conversion optimization.
See how important it is to have a site tailored for each type of platform?