6 Ways to Empower Your SEO with Google Search Console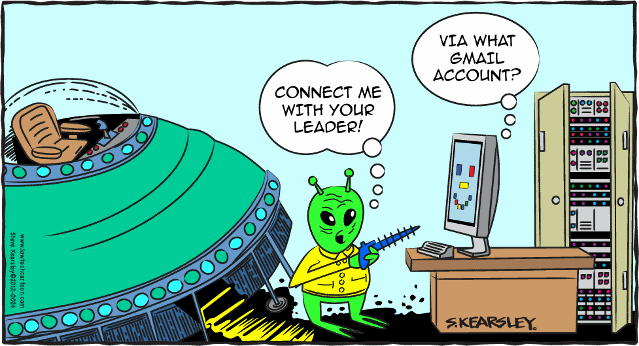 I am pretty sure that one of the dreams from the "Top 10 list of SEOers dreams" is to get data from Google itself. Google shares invaluable insights with site owners through Google Analytics, Google Search Console, PageSpeed Insights, etc. Your task is to interpret the data and get insights.
How using Google Search Console for SEO will improve your business
With the help of the Google tools you can:
See what channel is the most profitable for your business (organic search, PPC, referrals, email newsletters, GDN, etc.).
Define what user segments are the most valuable for you.
Draw paths users follow when they arrive on your site.
Check whether a Googlebot can crawl your site.
Find the most popular pages of your site, or what queries lead users to your site, etc.
Get information on how your site is seen on mobile devices and how fast it is either on desktop or on mobile devices.
How you benefit from connecting Google Analytics & Search Console with WebCEO
Information from your Google Analytics will drastically change how you select what keywords to target and what pages to optimize these keywords for. With Google Analytics connected, your decisions will be really data-driven.
Your keyword strategy will be data-driven
Get keywords from Search Console
Go to the Keywords from Google Search Console report and connect your Search Console. Now you will know how many times your site was shown in Google search results for a specific keyword, the number of times web surfers clicked on your site, the click-through rate and the average position of your site for each keyword. Add keywords with high avg. positions but low CTR and keywords with high CTR and low avg. positions. These keywords are your prospect workhorses.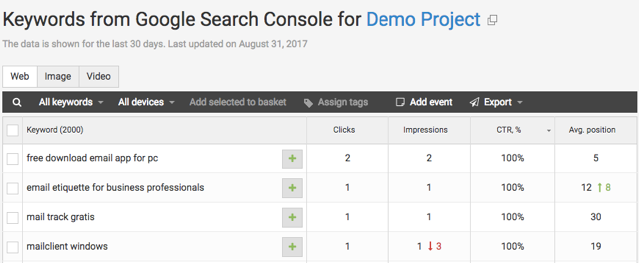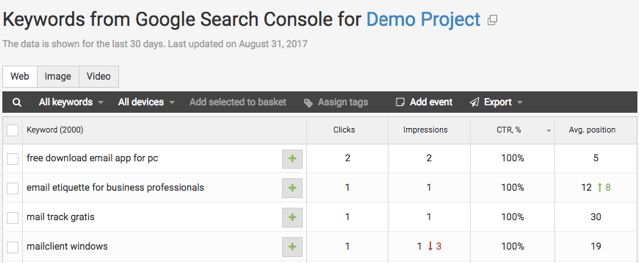 See the number of organic visits in the Keyword Basket
If your keyword strategy is backed up with data, you are halfway to success! Go to the WebCEO Keyword Research tool Settings and select the "Organic visits" option. If your Google Analytics is not connected yet, you will be asked to do it.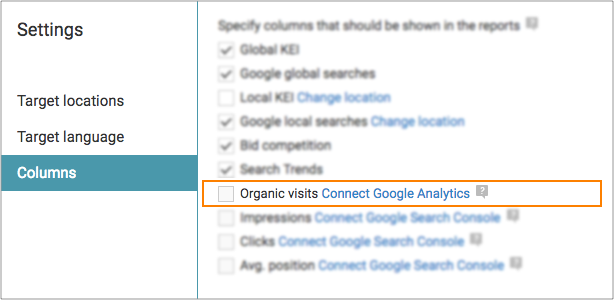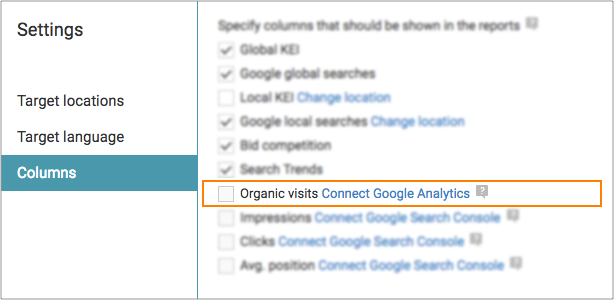 When done, check how the Keyword Basket looks now. You will see a new column "Organic visits" where you can see how many visitors have come to your page with this search term. Use this data to refine your keyword basket and pay more attention to keywords that already work for you.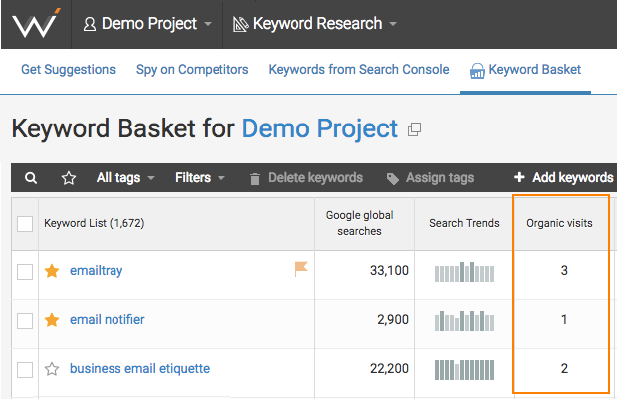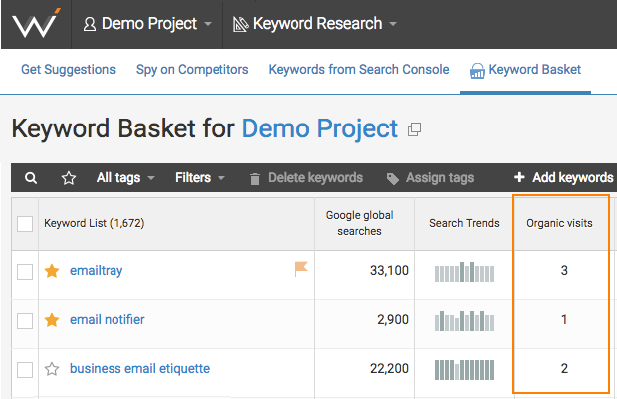 You will know what pages to optimize to get more traffic
Optimize popular pages
How do you select what pages to optimize? One of the most profitable tactics is to find pages that are already shown on the SERPs and fine-tune them to get even higher results and higher CTR.
The Most Popular Pages report will show how many times your site pages were shown in Google search results, the number of times web surfers clicked on them, the click-through rate and the average position of your site pages. To get this report, connect your Google Search Console with WebCEO.
Remember that the first result in Google gets almost 33% of the traffic while the tenth result gets less than 5%. If one of your pages with an avg. position of 11.9 gets 5,700 impressions with 10% CTR, you can expect to double impressions and clicks if the page makes it to the first page of the SERPs.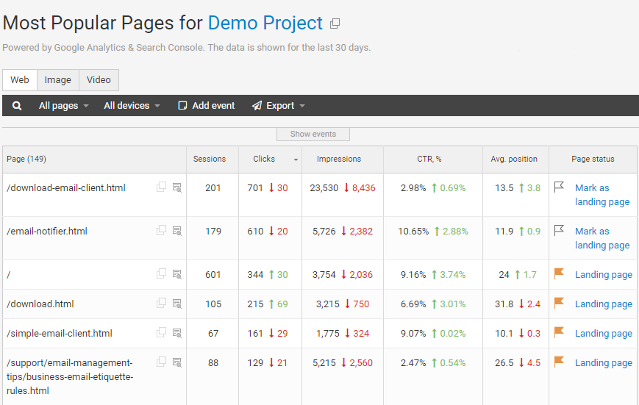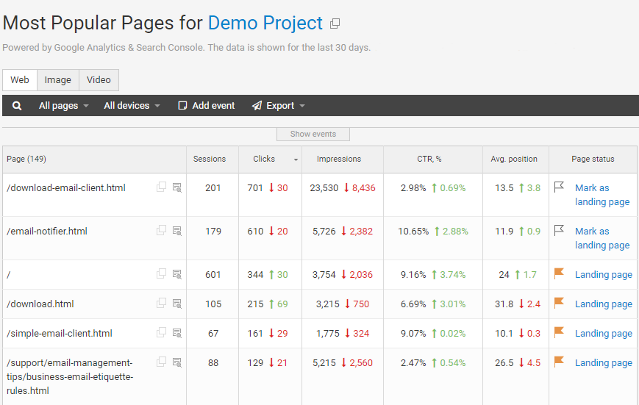 See how many visits your landing pages get
The Landing Pages Overview report helps you to keep track of your landing page progress. When Google Analytics and Search Console are connected, you can see the number of visits your pages get and the avg. position of each page. The data is compared with the previous results so you can easily see if the trend is positive and notice if any of the pages needs more attention.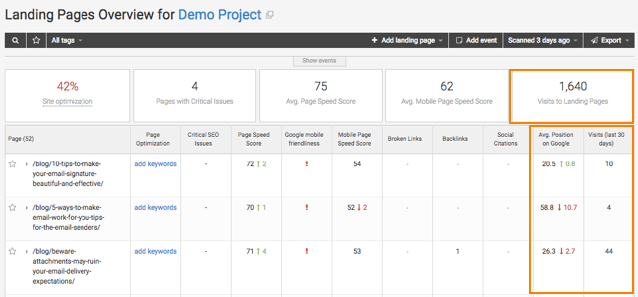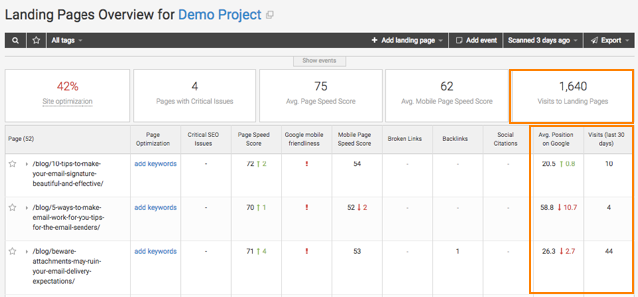 Check how much traffic your high-ranked keywords bring
Another report that benefits from integration with Google tools is the Rank Tracking report. Make sure that the Visits from other SEs and Visits from Google options are selected in the Settings of the Rank Tracker (go to the Columns tab). When done, you'll see the number of visits brought by a keyword from various search engines. This information is crucial for successful traffic prediction.


You will find out how to tune your SMM
Monitor how much traffic social networks bring to your site
With the reports from the Social Engagement tool you can analyze how effective your social activity at Facebook, Google+, LinkedIn and Pinterest is. Use this data to fine-tune your SMM and get the most from it.


Search engine optimization is meticulous work based on data and analysis. Google itself provides you with valuable data that can be combined with data from the best-of-breed SEO tools by WebCEO.