Safe Link Building: How to Find and Remove Bad Backlinks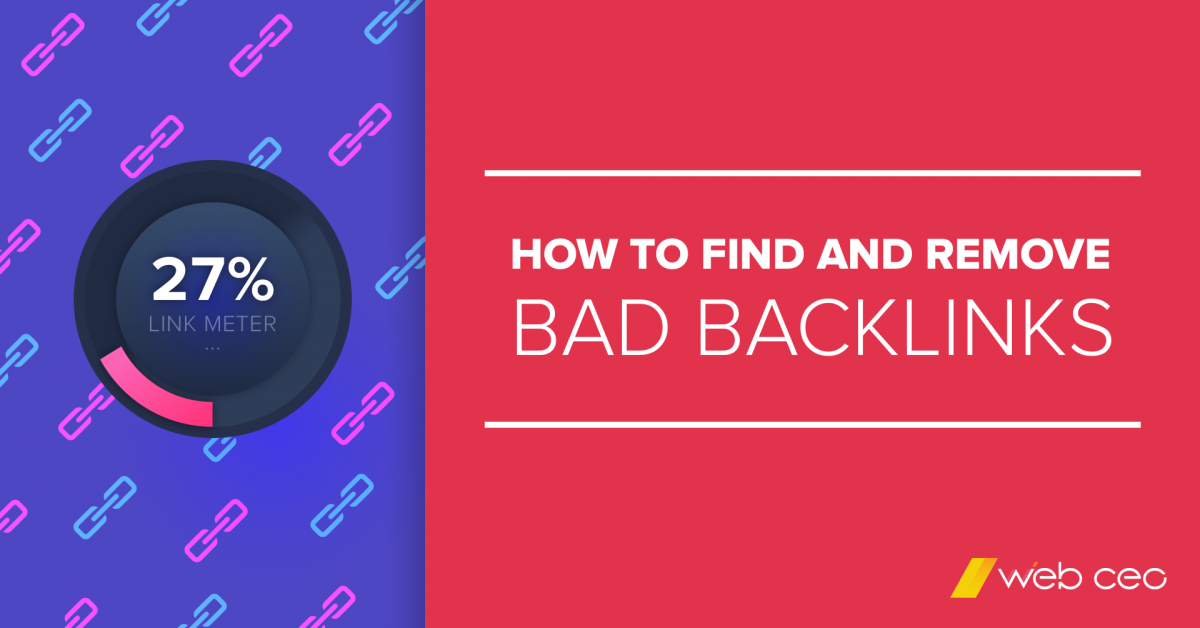 What is the most powerful ranking factor in SEO? That would be backlinks. Everybody knows: if you want to rank high, you will have to build links to your own site from other sites. Problem is, not all backlinks are equally good at helping you rank higher.
In terms of quality, backlinks can be categorized as such:
Really great: these come from websites that are an authority in the niche they represent and boast a strong reputation.
Good: these backlinks are from websites that can't really be called an authority, but still have high-quality content, and their overall quality is high, too.
Potentially dangerous: backlinks from sites you'd rather not visit at all (such as low-quality or obviously harmful) or sites whose specialty is way too different from yours.
That last one is clearly not like the other two, is it? It raises a few questions you probably want answered now. Let's not keep you waiting.
Q: What does "dangerous" mean?
A: Google used to penalize sites for having too many low-quality backlinks, even going so far as to remove them from its index and prevent them from showing up in search results. That doesn't happen anymore. These days, Google Penguin (the link-evaluating update to Google's algorithm) does little more than devalue those backlinks. The result is a lot less dramatic: a mere drop in site rankings.
Q: Why are such backlinks dangerous in the first place? What does Google have against them?
A: Backlinks mean that someone voted your site as an authority. If that was all there was to it, everybody would be gaming the system with sheer numbers of links (and that's indeed how it was at the dawn of SEO). Google realized that quality trumps over quantity and made the votes unequal – in a meritocracy-like way.
That's why there's a difference between a site which has proven its worth over time and a site which has not (or one that has even proved the opposite). A vote from the former carries more weight than a vote from the latter. Now, if you keep collecting "bad" votes, what does that speak of you?
So the obvious takeaway is: if you want your link building activities to bear fruit, build as many good backlinks as you can while gaining as few bad ones as possible (preferably zero). But what are you to do if you've already collected too many bad backlinks?
Then you have some cleaning up to do.
How to find bad backlinks
Undesirable backlinks generally come from three sources:
Dubious, unauthoritative sites
Sites thematically unrelated to yours
Spam
The bad part is, 99% of the time you aren't the one creating backlinks. Other people do it, and you have little to no control over what backlinks you are getting. It's therefore an easy job for a nasty competitor to use shady backlinks to pollute your link profile and cause your rankings to take a nosedive. This is called "negative SEO."
Fortunately, there's a way to prevent that. All you need are SEO tools – namely, a toxic link checker.
Step one is to check your site for bad backlinks. For that, you can use WebCEO's Toxic Links tool.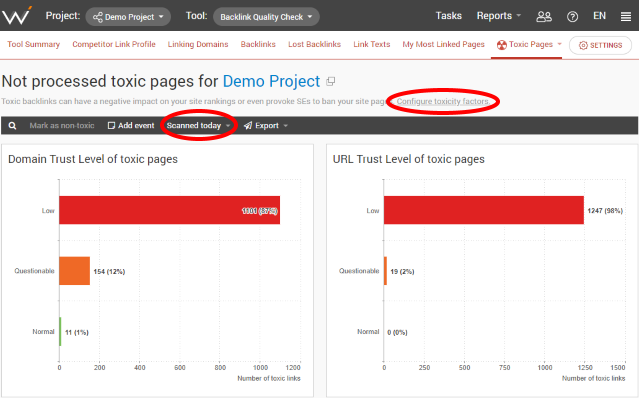 It's easy as pie. If it's your first time using the tool, it will scan your site automatically once you open it. Otherwise, you'll just need to click the part saying Scanned X days ago (or Scanned today) and then Rescan. Now take a moment to sit back and relax until the tool finishes doing its job.
When it's done, Toxic Pages will display a table with the most suspicious linking sites. This is how the tool evaluates them:
URL trust level and Domain trust level. These are metrics provided by Majestic and are very similar to Moz's Page and Domain Authority. Low numbers (below 0.5) indicate potentially harmful backlinks. Emphasis on "potentially": good low-authority sites do exist, such as new websites that just haven't made a name for themselves yet.
Alexa Traffic Rank. This metric rates a site based on how much traffic it gets compared to others. Obviously, a reputable and authoritative website would be getting tons of traffic, and vice versa.
Total number of outgoing links on the page. Unless you are Wikipedia, chances are, you can't point to a big number of external domains from the same page at once without looking like a link farm. This only applies to dofollow links, though.
Number of backlinks pointing to the same domain. Same reason as above.
If you want to change how the tool should evaluate backlinks, click on the Settings button or on Configure toxicity factors at the top of the screen. Other than configuring the factors listed above, here are a couple more things you can do:
Tell the tool which links it should consider toxic and which ones it shouldn't. That is, if you are confident your own preferences will be more accurate than the default settings.
Automatically label links from specific domains as toxic. The reverse is true, as well.
Lastly, you can also manually mark URLs in the report as non-toxic. Such URLs will be moved to the Pages manually marked as non-toxic report and stay there in case you decide to change your mind.
How to remove bad backlinks
Okay, scanning is over and you have a list of offending backlinks. What's the next step?
Getting rid of them, of course.
Remove them manually. If you can edit those websites' content yourself, the backlinks there will be an easy target.
Contact the person who can remove those backlinks. This method is tricky because it can fail in so many ways. Maybe there's no "contact me" section, maybe the person won't receive your message or just won't listen or care. But if it works, then you're golden.
Disavow those backlinks. You can just ask Google to not consider these specific undesirable backlinks as part of your link profile. There are two ways to do it: with the help of Google Search Console or right in WebCEO's Toxic Pages tool.
How to disavow backlinks in Google Search Console
We'll assume you have already created a Gmail account and registered your site as your property in Google Search Console. Let's jump straight to disavowing backlinks.
First, you will need to create a .txt file with the links you want to disavow. In this file, you can list individual pages or entire domains.
For individual pages, simply put their full URLs (e.g. https://example.com/page).
Domains are described in this format: domain:example.com.
Once your file is ready, you can start using the Google Disavow tool.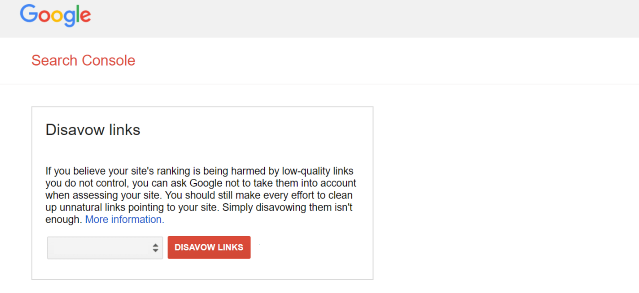 Choose the affected site (if you own more than one) and click Disavow Links. The next page will warn you to be careful while using the Disavow tool; click Disavow Links again. It will display a popup window that will ask you to choose and upload your disavow file. Do that and click Submit.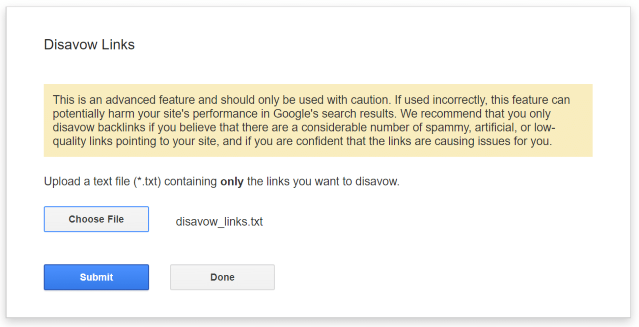 The rest is up to Google. It might takes weeks to disavow the backlinks, so be patient.
How to disavow backlinks in WebCEO
The Toxic Pages tool displays an instruction for disavowing links right above the table with problematic links.

1. Select the links from the table.
2. Click the Download button to automatically generate a disavow file.
3. If you want to disavow an additional domain, add domain:example.com, then save.
4. Click the Disavow Tool button to open the Google Disavow tool.
5. Click Done after you've finished using Google Disavow.
Not having to create a disavow file manually saves time and is definitely a plus, isn't it?
The pages you've sentenced to disavowal will be listed in the Toxic pages reported to Google report.
Now what's next?
With the toxic links gone, your link profile is now cleaner than before. But the possibility of getting more of them in the future is always around the corner. In fact, it's almost guaranteed to happen again.
In order to protect your link profile and Google rankings, you can make it a regular practice to scan your site for toxic backlinks and repeat the cleaning procedure. At least once a month should be fine. You can even automate the scanning part to make this task easier.
Safe link building to you!